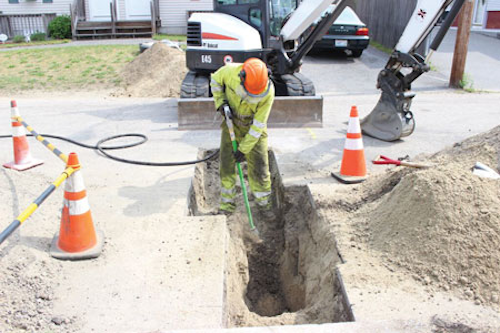 By Rick Sweet
When arriving on-site to begin work, the first thing that should come to mind is how safe and efficient the tools at hand are. Safety and efficiency are essential equipment features, especially when working with live gas lines and other utility applications such as laying pipe cable; key holing; potholing for line location; crack, joint, and valve box cleaning; and roadwork.
Air excavation has become the preferred method for digging on various types of utility jobs. The advantages of compressed air tools over conventional tools-such as picks, shovels and backhoes-include speed, comfort, ease of use and safety. Digging with compressed air, for example, can be two to three times faster than hand excavation, leading to less worker fatigue. Compressed air tools also eliminate the danger of sharp metal edges (as featured on picks and digging blades), make excavation of rocky soils easier, and effortlessly break soil into small particles-all while being powered by common, tow-behind air compressors.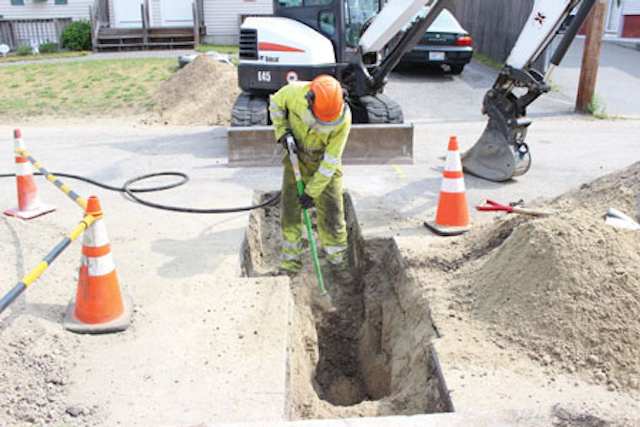 Besides the usual hard hat, gloves, glasses and steel-toe boots uniform, utility workers need to make sure every aspect of their equipment meets the highest standards of safety, which is why using Occupational Safety and Health Administration (OSHA) compliant tools is recommended.
Although it may seem like an obvious requirement, certified tools are not always provided for utility workers. Sometimes low-quality, handmade tools are used instead of high quality, professional tools, which increases the risk of injury among users, but function at an inefficient rate vs. certified tools. Part of what makes certified tools the best choice is their quality design and ergonomic features.
Handmade tools are often made with heavy piping and materials not commonly used for air excavation. Features such as lightweight fiberglass barrels and dead-man triggers are standard requirements of OSHA-compliant hand tools. A dead-man trigger prevents the tool from moving rapidly and unpredictably if it is dropped. Features such as these prevent injuries and help regulate the tool while in use. Compressed air tools can reach high temperatures because of the intense airflow, and handmade tools made with heavy metal piping cannot protect users properly.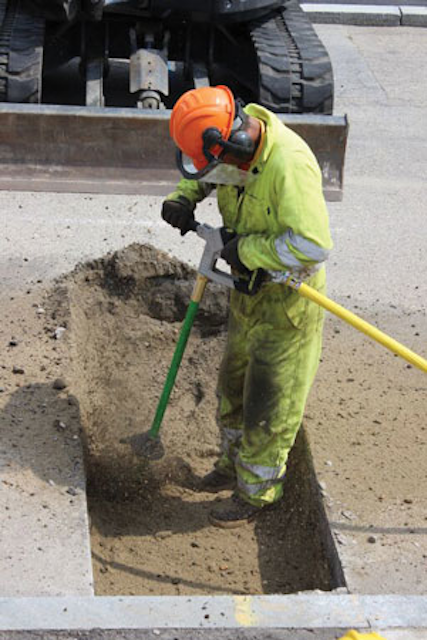 Handmade tools are not regulated and inspected in the same manner as OSHA-compliant air excavation tools. Pounds per square inch (PSI), for example, must be measured in relation to the air excavation tool to ensure the compressors deliver pressure at the correct level. Otherwise, the pressure being used can be a potential risk to the user.
The latest OSHA statistics reveal that on average there were 4,585 annual fatal work-related injuries. While fatal injuries do occur, numbers are down in areas that deploy compliant tools and enforce the highest standards of safety. Safety directors have reported a rapid decrease in injuries and injury reporting after replacing handmade excavation tools with OSHA-compliant compressed air tools.
The Utility AirSpade uses the power of compressed air to excavate soil quickly and without damaging underground root systems or utilities. By using compressed air tools, the risk of striking sensitive objects with a shovel or backhoe during excavation is significantly reduced. Being able to cut through all types of ground, and even breaking through shale, can help workers complete assignments in a more timely manner.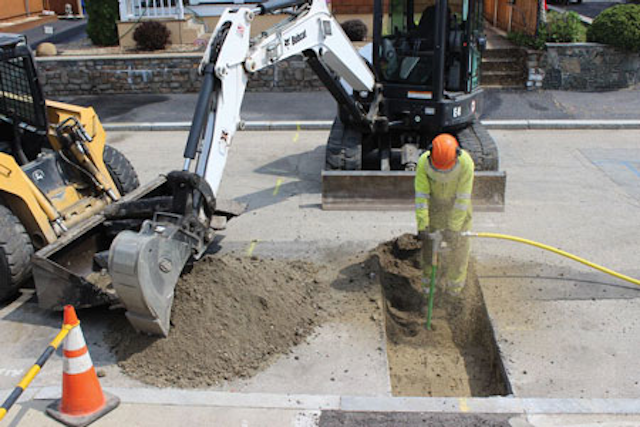 Clearing a utility site before work can begin is a painstaking task that can take time and tire workers. By loosening the ground, compressed air tools can cut digging time in half, and when workers aren't fighting against hard soil and clay, they are often less fatigued and can work longer.
With varying types of utility applications, the benefits and features of using OSHA-compliant compressed air tools exceed other options. Safety always comes first, followed closely by efficiency, and the two go hand-in-hand when working with a compressed air tool such as the Utility AirSpade.
---
About the author and company: Rick Sweet is AirSpade Product Specialist at Guardair Corp. AirSpade, part of the Guardair portfolio of brands, is the largest manufacturer of air-powered soil excavation tools in America. AirSpade products are American-made and are used in place of traditional digging methods by utility workers, arborists and landscapers to efficiently excavate delicate areas more efficiently and safely. For more information and to order online, visit www.airspade.com.
More Utility Products Current Issue Articles
More Utility Products Archives Issue Articles