To Tablet or Not to Tablet -- That is the Question
Some 400 hundred years ago, a certain Prince Hamlet pondered, "To be, or not to be, that is the question." While not as profound as the prince's thoughts, utility companies face their own quandary: To tablet, or not to tablet; that is their dilemma.
May 22nd, 2015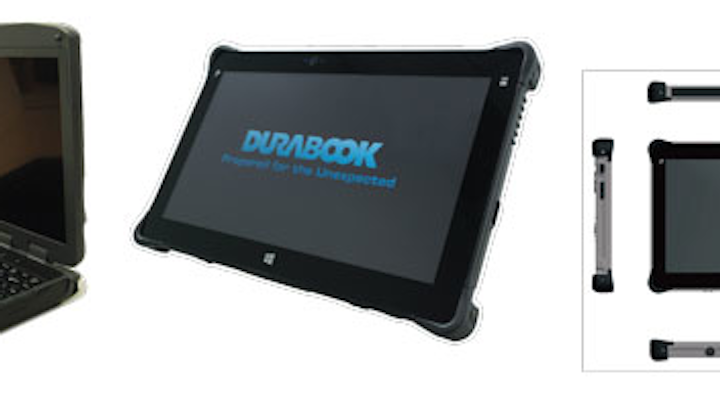 Some 400 hundred years ago, a certain Prince Hamlet pondered, "To be, or not to be, that is the question." While not as profound as the prince's thoughts, utility companies face their own quandary: To tablet, or not to tablet; that is their dilemma. Referring, of course, as to whether they choose a tablet or laptop computer for their field/mobile personnel to use.
Workers in public utilities and the oil and gas sectors often are called on to work in remote and challenging environments. They need computers that are lightweight and easy to move from location to location, and are durable and reliable enough to get the job done. While either a tablet or laptop can work, let's concentrate on why a tablet makes a good choice.
Mobility
It stands to reason that a mobile device be just that--mobile. Tablets are extremely mobile, with the majority of them weighing under five pounds, making long treks through remote areas or hours-long stretches holding the device more manageable.
But lightweight doesn't necessarily translate into small, hard to discern screen sizes. Although compact, tablets feature screens from 7 inches to 12 inches, large enough for easily viewing charts, documents and images.
Durability
Many tablets are also built rugged and survival tested to withstand the rigors associated with the utility industry, such as a daily dose of drops, bumps and rides over rough roads, moisture and dust. Some are even designed for use in aircrafts.
When selecting a tablet for use by mobile utility workers, be sure it meets or exceeds the most demanding specs and guidelines, ensuring it will be up for even the toughest, harshest environments. These include: MIL-STD 810G 514.6 for shock resistance; MIL-STD 810G 516.6 for drop resistance; MIL-STD 810G 509.5 for salt/fog protection; MIL-STD 461F CE/RE 102 for aircraft and space system applications; and IP65 for water/sand/dust resistance.
"Many tablet models today are rugged enough to handle the demanding applications and environments faced by the utility industry, yet still maintain a thin, lightweight design," said Jen Chen, president of GammaTech Computer Corp., a manufacturer and supplier of notebook and tablet computers.
Usage
Another consideration is how much inputting the user is doing in the field. Most utility workers don't need a full keyboard and touchpad in the field--a virtual keyboard is all that's necessary. Notebooks can be heavy and cumbersome, and, as a result, can be left in the truck, leaving users to write down the information they need before heading out. A tablet allows them to have the information they need, when they need it, without wasting time writing it down. When the day comes to an end and field personnel may need to input larger amounts of data, a Bluetooth keyboard is an easy solution.
Connectivity
No pun intended, but connectivity can go a long way in selecting the right tablet. To personnel in the field who need to send back data or receive information from workers at the office, wireless connectivity is indispensable.
Connectivity items to consider in selecting a tablet include: some variation of Bluetooth, Wi-Fi Link 6235 series combo, Intel mini-express wireless local area network (LAN) 802.1, wireless wide area network (WWAN) (3G), and wireless local area network (WLAN).
A built-in antenna and integrated WWAN antenna as well as a global positioning system (GPS) module with built-in GPS antenna are also important. In addition, Intel Dual Band Wireless 6235 delivers up to 300 Mbps speed as well as superior range and reliability.
The right wireless connectivity increases a tablet's productivity and efficiency.
Displays
As already mentioned, screen sizes found on tablets are large enough to provide good viewing. Other panel features to look for in a tablet are high definition, multi-touch capability--either capacitive or resistive, depending on use and personal preference--sunlight-readable screen for extreme-light conditions, and a digitizer with or without an active stylus. Some tablet manufacturers, such as GammaTech, offer a touch technology that works with latex gloves and in wet environments.
Another tablet panel feature that is recommended for utility workers is the use of tempered or toughened glass, a type of safety glass that crumbles into small granular chunks when broken, instead of injury-causing jagged shards.
Security
When using a computer, security is always an issue, whether working at remote locations miles away or in a secure office. A tablet device should include a quality security system, preferably built in, but minimally as an option.
Some security features to consider include: TPM 1.2 data security technology, Kensington lock connector, Intel anti-theft technology, Computrace remote asset management and data protection system, fingerprint scanner, and an UHF RFID reader.
Other Features
Depending on specific needs, aside from those previously described, other features to look for in tablets include:
Powerful processor;
Variety of I/O ports, such as expansion slots for SD, Smart and Mini Express cards; PCMCIA compatibility; RJ45; USB and Mini USB; serial; audio jack; docking connector; barcode scanner support 1D/2D bar code reading; and RFID reader support;
Bluetooth compatible keyboard;
Suitable software programs;
Long battery life;
Dual hot-swappable battery packs;
Expandable memory;
Quick-release HDD-storage capability to inter-swap HDDs with a simple click of a button;
Front and back integrated webcams;
High-definition audio; and
Warranty protection.
To Tablet or Not to Tablet
So, while either a tablet or laptop will do the job, the right choice comes down to what is best for you and the specific tasks and challenges you face. Include cost considerations and you are ready to choose. The right tablet can stand up to the harsh realities encountered by utility workers in the field, while also improving productivity and lowering operating costs.
A tablet computer makes an excellent choice for the utility industry.
More Utility Products Current Issue Articles
More Utility Products Archives Issue Articles