By Guy Weitzman
Providing power to our homes, businesses and schools, utility poles are the literal backbone of the electric utility industry—and with more than 180 million poles across the United States, it is apparent that the task of assessing and maintaining the integrity of our power system is a big one.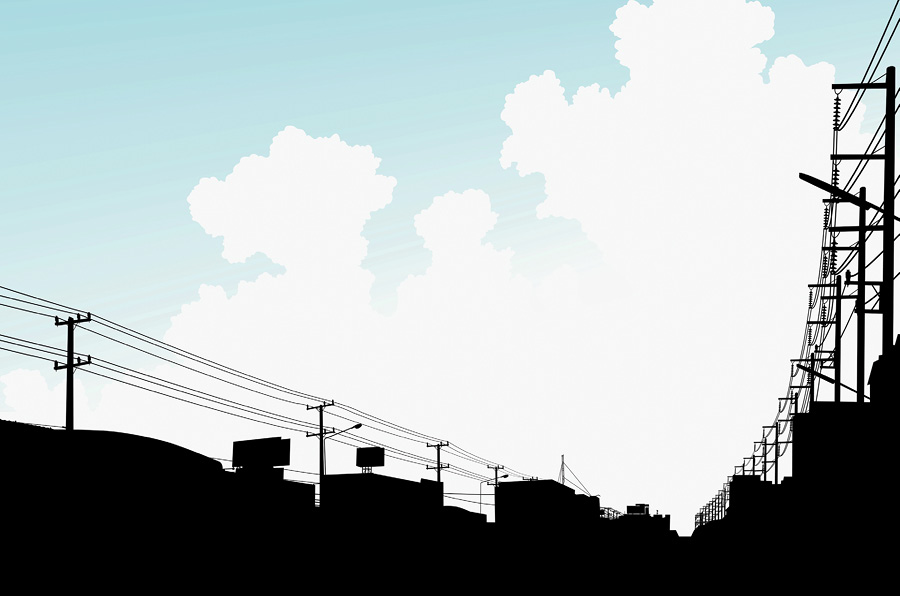 Taking on the elements—from woodpeckers to windstorms—the vast team of maintenance workers and inspectors responsible for keeping utility poles healthy will soon have the cloud to thank for making their jobs safer and their findings more accurate.
Currently, to determine each utility pole's stability and structural integrity, as well as check for damage or decay, workers physically perform a variety of tests—a time-consuming, expensive and potentially dangerous process. Now, however, utility companies can be more efficient in this inspection process with the power of Internet of Things (IoT) technology. By attaching "smart" sensors to the poles that connect to the cloud, utility companies can gather previously unavailable data, allowing for real-time decision-making to improve performance and safety.
Ameren UE, one of the top electric and gas service providers in the Midwest, has taken advantage of the emerging IoT trend by partnering with Atomation—a U.S.-based company that connects objects to the internet with a complete, flexible, robust and scalable IoT platform. Together, the two companies recently launched a pilot program in Champaign, Illinois, that connects utility poles to the cloud, giving Ameren access to the data it needs to be proactive in pole maintenance and repair.
The connection is facilitated by credit card-sized inertial measurement unit (IMU) sensors that are attached to utility poles and track all beyond-the-norm movement: left to right, up and down, and back and forth. To customize the nature of the measurement, Atomation uses edge computing, which ensures that only the exception occurrences are reported, ultimately maximizing the sensor's data usability and battery life. The monitoring hub is alerted in real time of shifts that should cause alarm without being inundated with unnecessary information.
Because utility companies still are required by law to send inspection crews to physically check on poles, IoT does not completely eliminate the task. However, IoT technology improves the inspection process by increasing predictive maintenance ability while also decreasing the chance for injury and saving time and money.
According to the Bureau of Labor Statistics, in 2015 electrical power-line installers and repairers had a 20.5 percent fatal work injury rate, putting it among the top 10 most dangerous jobs in the country. Between 2011 and 2015, both electrical power-line installers and repairers, and telecommunications line installers and repairers suffered 201 fatal occupational injuries—about 40 per year—and 6,250 nonfatal occupational injuries. Because of the danger associated with these jobs, the nonfatal injuries tend to be severe, resulting in an increased number of recovery days away from work. In 2015, electrical power-line installers and repairers spent an average of 20 days away from work, and telecommunications line installers and repairers averaged 42 days away, which is strikingly higher than the eight-day average for all occupations.
With workers out for extended periods of time because of injuries, utility companies are likely wasting both time and money paying injured workers that cannot perform. This is in addition to the hundreds of dollars per hour they are already spending on paying the workers who can perform to conduct time-consuming utility pole inspection tests. These tests include the Resistograph test, where inspectors use a Resistograph to drill into poles to look for internal holes or decay. Additional tests include the bore test, where the inspector bores into points of probable decay with a drill, and the hammer test, where the inspector starts at the bottom of the pole, strikes the pole sharply with a hammer, continuing every few inches for about six feet to test the structural stability.
While most line installers and repairers work full-time during regular business hours, unforeseen pole damage and decay does not work 9 to 5. A pole can fall or a power line can fail at any hour, causing workers to be called in at night or on weekends and holidays—resulting in possible overtime pay and riskier nighttime work. But now, by implementing IoT technology, utility companies can proactively fix these previously unpredictable problems and reduce the number of workers being deployed after hours.
Aside from predictive maintenance, utility companies can also implement IoT to save money and decrease pole damage caused by theft. The National Insurance Crime Bureau reported that between January 1, 2014, and December 31, 2016, there were 28,040 claims of metal theft, with 98 percent being copper theft. The number one type of copper stolen, with 5,693 claims, was pipes, and copper wires ranked second with 3,193 claims in the two-year period. And while the number of metal thefts as a whole has decreased since 2014, it is still an existing risk for utility companies. The illegal removal of copper can result in increased power outages and unnecessary repairs for workers, raising costs and the chance for injury. With IoT, utility companies can connect sensors to the lines and receive alerts in real time when unusual movement or activity is taking place, and determine whether security should be sent to the scene.
The utility industry has recognized the array of benefits IoT can provide and is jumping on board. The IoT utilities market is set to exceed $15 billion by 2024—and it is not alone. According to some analysts, 2018 is set to be the year of "IoT everywhere," and with the exceptional adaptability of the latest sensors, they can be used in many facets of all types of industries. Sensors may be installed to detect gas leaks, control power, assess motor health, or monitor transformers and switches remotely. They save time and improve worker safety by removing the need for a human in sometimes remote or volatile situations. UP
About the author: Guy Weitzman is the CEO and co-founder of Atomation, a U.S.-based company that connects any object to the internet, making the object alive, smart and able to communicate previously unavailable data. Weitzman learned the skills of an entrepreneur during his 12 years serving as a military intelligence technology officer in the Israeli Defense Forces. Prior to founding Atomation, Weitzman was a director of business development and operations, and a director of M&A at an international investment firm. He has more than 10 years of experience in product, operations and business development in the internet and mobile fields.