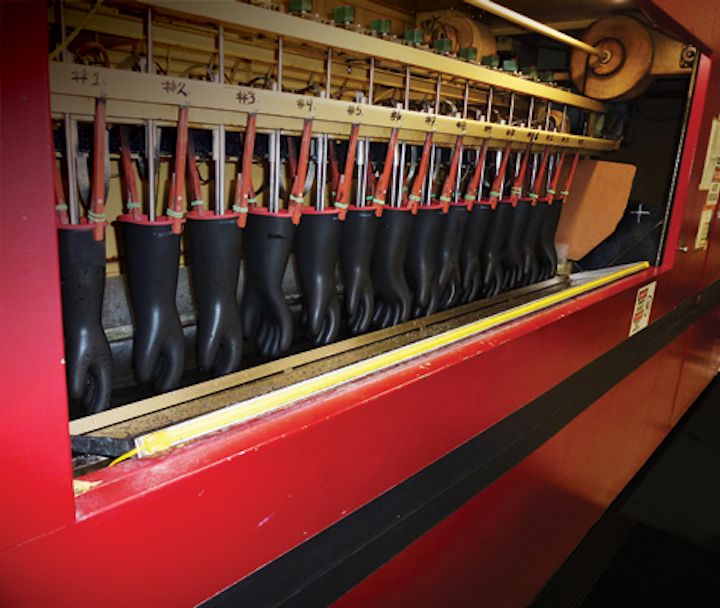 Safety, compliance, and peace of mind when lives are on the line
By Richard Rivkin
For utility workers, being dressed for safety is more than fashionable, it is a life saver. Rubber insulating products used by utility workers today such as gloves, blankets, sleeves, line hose and hoods are manufactured in accordance with industry consensus specifications under the auspices of the ASTM, the American Society for Testing and Materials. These ASTM standard specifications are referenced in the OSHA regulations dealing with electrical safety, specifically 29 CFR 1910.137 covering Electrical Protective Devices, and 29 CFR 1910.269 covering Electric Power Generation, Transmission and Distribution.
But wearing the appropriate personal protective equipment is not enough. OSHA, ASTM and NFPA regulatory standards require the use, regular inspection and testing of in-service rubber insulating equipment in order to maintain compliance and ensure the products' safety and integrity when exposed to a wide range of voltages. OSHA 29 CFR 1910.137(b) covers in-service care and use of electrical protective equipment, specifically insulating blankets, covers, line hose, gloves and sleeves made of rubber and specifically references the relevant ASTM specifications.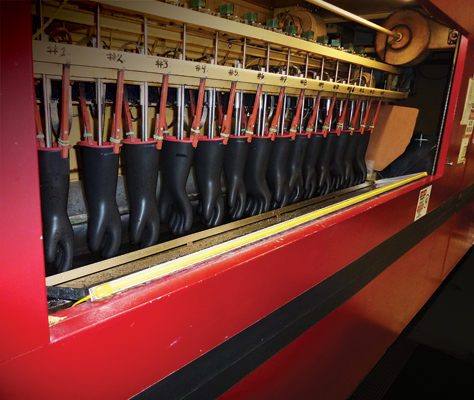 Damage to many types of PPE can be apparent when inspected by the user, but rubber electrical insulating products are more complicated.
ASTM In-Service standards stipulate the regular inspection of in-service equipment before each use. Visually inspecting rubber gloves identifies physical, chemical or ozone damage. Direct light is recommended because it enhances the ability to see surface imperfections on the rubber. Inflating the gloves with air or otherwise stretching the surface helps identify age and ozone damage as well as other physical damage such as snags, rope burns, deep cuts and punctures. Common problems to look for include the following:
• Cracking and Cutting: Prolonged folding or compressing can cause this type of rubber damage.
• UV Checking: Storing in areas exposed to prolonged sunlight causes UV checking.
• Chemical Attack: Oils and petroleum compounds can cause swelling of the rubber.
• Folding: The strain on rubber at a folded point is equal to stretching the rubber to twice its length.
• Snags: Wood, metal splinters and other sharp objects can snag or tear rubber.
• Physical Damage: Rope burns, deep cuts and puncture hazards are cause for rejection.
Damage to many types of PPE can be apparent when the equipment or devices are inspected by the user, but rubber electrical insulating products are more complicated. The reduction in effectiveness can be caused by a variety of factors that may not be noticeable to the user, which is why rubber insulating product testing/retesting is also a critical and necessary component to maintaining utility worker safety and compliance. Moreover, rubber insulating products are costly, and often those costs are unnecessarily increased by purchasing replacements for products that could've remained in service with the proper testing and recertification.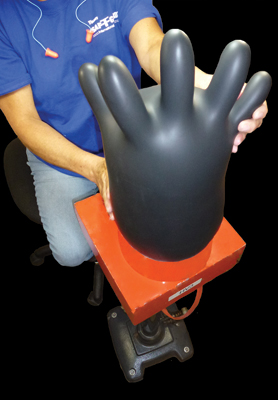 Inflating rubber gloves with air stretches the surface and helps identify damage.
ASTM Manufacturing and Acceptance standards mandate the testing of rubber insulating products by the manufacturer or supplier prior to the first delivery to the end user. Users also have the option of performing or requiring an acceptance test upon receipt of the goods and prior to placing rubber insulating products into service. Once placed into service, there are periodic retest intervals specified in the following ASTM standards:
• ASTM F496 Rubber Insulating Gloves – six months (under very limited conditions this can increase to nine months)
• ASTM F496 Rubber Insulating Sleeves – twelve months
• ASTM F479 Rubber Insulating Blankets – twelve months
• ASTM F478 Line Hose & Covers – When field inspection or company policy warrant
These in-service retest intervals are the maximum permitted and are in addition to daily field care and inspection. It is quite common for users, including power utilities and contractors, to specify shorter intervals. However, do not place rubber insulating products into service unless they have been electrically tested within the previous twelve months.
Goods should be marked according to your company's safety protocols, and previous testing markings should be removed prior to use.
If you do not have the equipment required to perform these electrical tests, there are independent testing facilities/test labs that can perform the acceptance and in-service testing on behalf of end users. At a minimum, ASTM standards require that the inspection and testing process include the following steps:
1. Check-in
2, Removing previous testing marking
3. Washing using cleaning agents that will not degrade the insulating properties
4. Visual inspection of all services (inside and out)
5. Electrical test
6. Final inspection
7. Recordkeeping
8. Marking
9. Packing in appropriate containers (i.e., boxes or similar sturdy packaging materials to prevent folding, creasing or similar loose storage that can cause stress on the rubber) for storage or shipment
With so many utility workers using rubber insulating equipment and so many testing interval variables to consider, it's easy to see how compliance can fall through the cracks. Consider partnering with an electrical test lab that can test your rubber goods and manage the rubber goods change-out process for you. Oftentimes, this process includes cleaning, visual inspection, electrical testing, markings according to your company's safety protocols and/or shipment to your warehouse or jobsite when they are needed.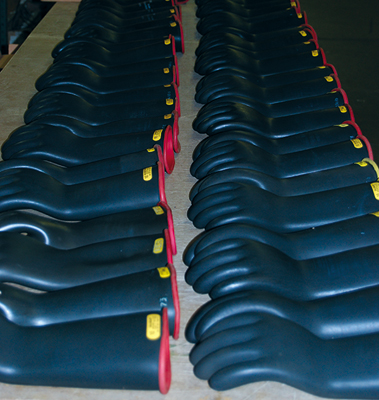 ASTM Manufacturing and Acceptance standards mandate the testing of rubber insulating products by the manufacturer or supplier prior to the first delivery to the end user.
Keeping these services bundled together under one roof will minimize out-of-service time and save money by delivering a start-to-finish solution that monitors, tracks and manages your rubber insulating products' in-service use and testing intervals for you so that your workers can focus on other work priorities while staying safe, productive and compliant.
A qualified electrical testing laboratory helps ensure that rubber insulating products are safe and effective for their intended use. When selecting a test lab, ensure that it is accredited by the National Association of Independent Laboratories for Protective Equipment Testing. Commonly known as NAIL or NAIL4PET, this group incorporates the only laboratory accreditation for the electrical equipment test labs program in North America. These criteria include laboratory facility, equipment, training and knowledge of staff, quality control work procedures and more. NAIL4PET helps develop uniformity in testing and works in close association with ASTM International.
All things considered, the utility worker profession is steeped in several potentially life-threatening challenges, including low visibility, high-voltage contact, working at heights, working in confined spaces, challenging weather conditions (rain or snow), work zone safety and arc flash risks. With all of these occupational hazards encountered on a daily basis, utility workers shouldn't also have to worry about whether or not their rubber insulating goods have been tested within the specified intervals for compliance.
Performing the required inspection and testing can become somewhat unwieldy if you don't have the necessary resources to complete it yourself. Luckily, there are solutions available that you can easily employ to help prevent injuries and OSHA fines and promote compliance when you partner with a qualified electrical test lab to manage your rubber insulating goods inspection, testing and usage. UP
the Author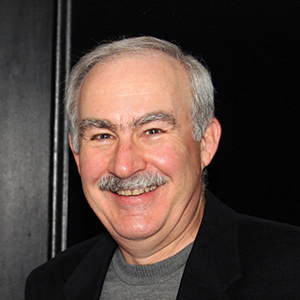 Richard A. Rivkin is president and chief executive officer of Saf-T-Gard International Inc., a privately-held, family-owned and -operated global supplier of industrial safety products based in Northbrook, Ill. Founded in 1936 as Latex Glove Company, Saf-T-Gard carries on the tradition that was started more than 80 years ago: bringing customers the products, training and service they need to keep employees safe in the workplace. Saf-T-Gard actively operates the Voltgard® Test Lab, one of the largest, independent, NAIL4PET-accredited test labs for rubber insulating products in the United States. To learn more, visit saftgard.com or call (800) 548-GARD.