By Kelsey Rzepecki
The accurate interpretation of safety signs is crucial for preventing injuries and saving lives. OSHA has set industry standards that clearly define what a safety sign is, how it should be used, and where it should be placed. However, when it comes to deciding whether to use a sign or a label to convey a message, OSHA leaves that part up to you.

Every facility will have different priorities and constraints when choosing safety labels and signs. It may often require experimentation with different kinds of materials and designs to determine what is most effective, but these basic definitions apply:
• Safety labels are most commonly made of an adhesive-backed vinyl material designed to apply directly to a surface.
• Safety signs are constructed from a hard-backed material designed to attach to walls, doors, fencing, and more.
These definitions are not set in stone, and OSHA does not specify whether a sign or label should be used to communicate vital safety information — as long as the message is communicated in an obvious, long-lasting and legible way. To help choose between a safety label or safety sign, it's important to have a breakdown of the most important factors to consider.
Labels
Labels are most commonly made to convey identification or instruction. They are typically made of an adhesive vinyl material peeled and instantly applied directly to a surface. This makes labels convenient to apply to a variety of items and areas for inventory labeling, product packaging, identification of tools and materials in a warehouse or office, and equipment instructions and warnings for machine guarding, lockout/tagout (LO/TO), and much more.
The main drawback of generic labels is that they are temporary and need to be replaced often. The adhesive will likely corrode and text will fade when exposed to light and moisture, which makes them ideal for work environments that have little to no exposure to harsh elements.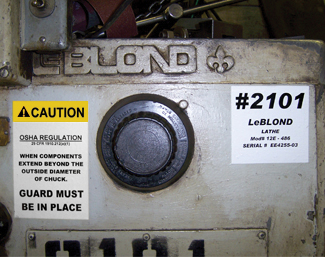 Safety labels are most commonly made of an adhesive-backed vinyl material designed to apply directly to a surface.
However, some labels are designed for harsh environments. DuraLabel Premium Vinyl label stock material, for example, provides lasting durability to keep labels intact in a variety of environments without fading or peeling away from UV light, moisture or chemicals. There are a variety of other labeling supplies that are engineered for use in specific environments including low/high temperatures, laboratories, electronics and more. Labels can also be applied to difficult areas such as piping systems and valves using tag stock that provides a rigid backing.
Signs
Signs consist of a hard-backed material for durable, long-lasting messages that can be hung or mounted onto many surfaces. They can be used to create large wayfinding messages, safety instructions and procedural signs for a variety of workspaces, and other general facility signs that need to remain intact in work environments with different degrees of exposures.
The drawback to signs is that they are a bigger investment because of their often-larger size, higher-quality material, and more complex design elements such as graphics and specialized text.
Factors to Consider
Ask yourself the following questions to determine whether a sign or label will be the best choice for your needs:
• What kind of environment will the message be in? Will there be minimal industrial and environmental exposures, or will the message likely come into contact with light, moisture, solvents, chemicals or other materials?
• How durable must your message be? Can the material be flexible or must it remain rigid?
• Will the message be indoors or outdoors?
• Who needs to see this message and where? Consider the amount of information you need to convey. It is important to ensure your messages remain clear and legible to viewers at all times.
Transform Labels into Durable Signs
You can save significant time and money on extra supplies and materials by turning adhesive labels into sturdy signs using sign blanks. Sign blanks are an easy way to communicate safety messages in hard-to-label areas and locations that need temporary signage, such as construction sites, warehouses and more.
The rigid surface ensures your messages remain reliable and long-lasting. You can also get the most out of your labeling supply by applying multiple labels onto sign blanks to create custom signs that may require more information or to make a bigger impact, such as communicating site-specific PPE requirements and miscellaneous safety procedures. For example, you can make larger signs by doubling up on labels. Make an 8-inch tall sign using 4-inch label supply by applying two labels to a sign blank to instantly double its size.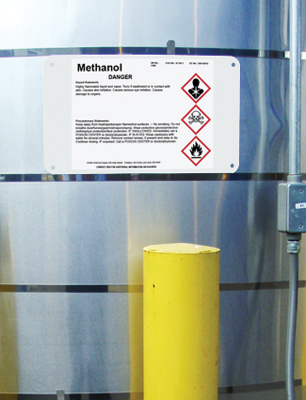 Safety signs are constructed from a hard-backed material designed to attach to walls, doors, fencing, and more.
Choose the sign blank size and material that is best for the environment, ranging from strong fiberglass and aluminum to corrugated plastic for temporary sign applications. Sign blanks also have the ability to provide visibility from all angles with one-way, two-way, and three-way design options for both indoor and outdoor use:
• One-way: A flat, one-sided, semi-rigid, white plastic material allows viewing from one direction. Attaches to fences, walls and doors.
• Two-way: A flat, two-sided, durable, translucent white plastic material allows viewing from two directions. An ideal solution for posting in hallways and areas where visibility is limited.
• Three-way: A flat, three-dimensional, V-shaped, durable, translucent white plastic material allows signs to be seen from 180 degrees. This is ideal for critical safety signs that need to be seen from multiple angles, such as emergency exits and wayfinding.
Sign Blanks
Sign blanks are available in a variety of materials that range in durability and purpose so you can have confidence you are choosing the best option for your specific needs. They also come with pre-drilled holes at the corners to make them easy to hang on walls or mount to a variety of surfaces and building fixtures using cable ties, nails or screws.
Sign blank materials include steel, corrugated plastic, aluminum, reflective aluminum and fiberglass. Here's a breakdown of each:
• Steel: A steel sign blank is made of a ferrous metal (iron) material with a solid 24-gauge steel backing for a heavy-duty sign that also allows magnets to stick to it. It's highly resistant to most chemicals, stands strong to impact, and withstands low temperatures.
This material is mainly for interior signage because it will rust fairly easily. Apply to piping, shipping containers, refrigerators and more.
• Corrugated Plastic: Use this low-cost sign blank for temporary mounting locations. The tough corrugation provides a thick material that is lightweight and retains its flat surface shape, even after being bent. This material is made for mild environments that will come into little or no contact with prolonged UV exposure, low temperatures or strong solvents.
Perfect for temporary sign applications on poles, fences and more to communicate wayfinding, site-specific hazards and warnings, and other general safety information in warehouses and other indoor facilities.
• Aluminum: These sign blanks are lightweight and reliable in locations that contain harsh environmental exposures including chemicals, abrasion, moisture and sunlight. This is an ideal material for DIY sign creation using multiple adhesive labels, which apply seamlessly to this surface.
This corrosion-resistant material can withstand low temperatures. It won't rust, making it highly durable for outdoor applications. Apply aluminum signs on fencing, poles or other difficult-to-label locations that conventional labels cannot adhere to.
• Reflective Aluminum: This material offers the same lightweight construction and durability as the aluminum sign blank but can also instantly add extra visibility to your message. Enhance visibility indoors and out with reflective aluminum signs to keep messages highly visible both day and night. This material is perfect for low-light conditions and for signs that need to be seen from long distances.
An ideal solution for construction sites, mining operations, confined spaces and more.
• Fiberglass: This is the sturdiest of the sign blank materials. It provides the highest resistance to impact and is stronger than most metals. The thick material lasts 25+ years outdoors and will retain its shape and durability in high and low temperatures as well as exposures from various external stresses. However, contact with strong solvents such as acetone, methyl ethyl ketone (MEK), and trans-dichloroethylene will jeopardize this material.
Fiberglass provides a smooth, clean surface for labels that is ideal for placement in areas where label application is difficult, such as mounting on walls with challenging textures that most signs cannot adhere to. It is a worthwhile investment if you need a permanent sign solution.
When choosing the material for your sign, it is critical to also consider the environment and installation method.
Environment
• Will the message be indoors or outdoors?
• Does the sign need to endure certain temperatures?
• Will it be in direct sunlight or low light?
• Is there a chance it will come into contact with moisture, oil, solvents or chemicals?
Installation Method
• Will the message be permanent or temporary?
• Where will you apply this message (e.g., on a post, wall, door, barrel, storage container, fence)?
Invest in Label and Sign-making Solutions
You can streamline the safety-labeling process by designing and printing materials on-­demand whenever you need them. A DuraLabel industrial label printer allows you to design custom signs and labels using label design software. Built-in templates simplify the label creation process, enabling you to produce compliant labels for common industrial applications such as 5S, GHS, pipe marking and more. Print safety messages small to large on 1/2-inch to 10-inch wide tapes, depending on the printer model.
To improve safety instantly, choose from a variety of premade, installation-ready labels. Graphic Products offers premade labels and signs that consist of general and industry-specific safety messages.
In addition to sign blanks, you can improve visibility to dangerous work areas all the way down to the floor using tough adhesive floor signs. Simply peel and apply to your facility floor to instantly improve safety awareness and wayfinding. You can also customize floor signs with your own message to tailor them to the work environment.
Prevent OSHA fines for a lack of hazard communication and make your own rigid signs directly from your facility.
the Author
Kelsey Rzepecki writes for Graphic Products, makers of the DuraLabel line of industrial label and sign printers. For more information about customized visual communication, visit graphicproducts.com or call (800) 788-5572. Learn more about OSHA standards for signs and labels, and assess your own facility needs with Graphic Products' free Best Practice Guide to OSHA Safety Signs.