Air N Arc I300 All-in-One Power System Features Six Forms of Power
Vanair's Air N Arc I300 is cited to be the first system to offer six forms of power in a single 48-in. unit. Based on Air N Arc 300 diesel system technology, it provides an integrated 40-cfm rotary screw compressor, 7-kW ac generator, 300-amp welder, battery booster and battery charger-with the newly added power of a 10.5-gpm hydraulic pump, all driven by a single engine. Designed to provide full functionality with the truck engine off, mechanics can remain productive in all areas of their workday with enough power to run a crane. The I300 reduces chassis fuel consumption, noise and engine maintenance while meeting anti-idling laws.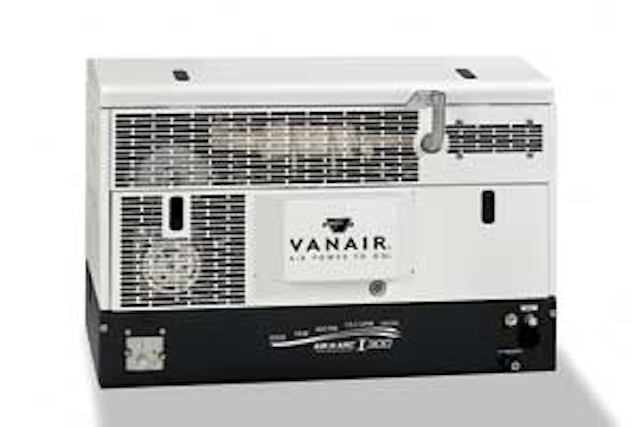 Small enough to fit behind the cab or on the side pack of the vehicle, the unit saves money, space and weight when compared to purchasing and installing individual components. With the I300, there is no need to purchase a separate welder, compressor or generator. The system ties directly into the vehicle's electrical system, allowing the truck's battery to be charged to support work and safety lights and shares the diesel fuel source for maximum ease of use.
Vanair
CIRCLE 110 ON READER SERVICE CARD
---
VersaPad Medium Voltage Padmount Switchgear for Outdoor Installations
ABB has released the VersaPad, a new medium voltage metal-enclosed switching product suitable for outdoor installations. With safety as the number one priority, the VersaPad uses a dead-front enclosure where all energized components are enclosed within an inner grounded steel compartment-providing electrical isolation and protection from contamination.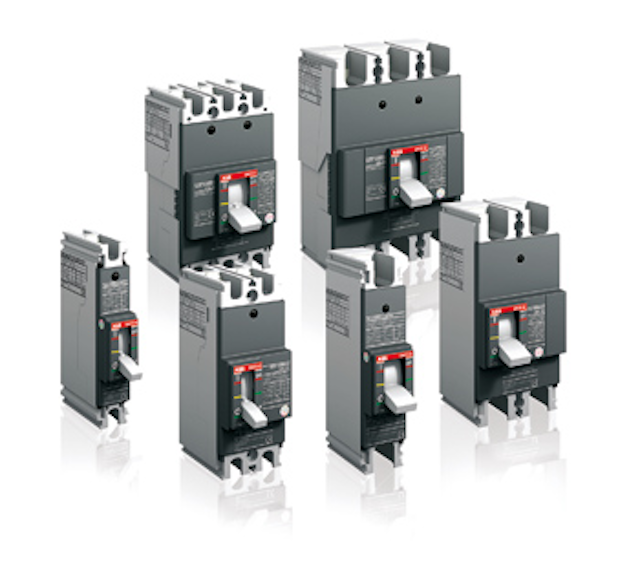 The VersaPad uses the ABB VersaRupter switch as the main component, bringing the customer a field-proven switch applied worldwide with millions of units in service. Technology combined with the arc-extinguishing system make the VersaRupter a dependable load break switch.
The footprint allows easy one-to-one replacement of existing field units, providing an alternative to the current market offerings without changing the pad, cables or incurring additional costs for retrofitting and adapting existing installations.
ABB
CIRCLE 111 ON READER SERVICE CARD
---
Fleet and Asset Management Software Update Provides New Functionality
Collective Data Inc., a provider of fleet and asset management software solutions, has officially released Core Update 6.0.32, a software update that provides a variety of new functionality and enhancements to its comprehensive system.
Features in the latest update include improvements to report email options, an easy-to-use ad-hoc import module, user vs. global save options for desktops, filters and ad-hoc reports-and other beneficial improvements. The update is compatible with all applications powered by Collective Data's core6 and is provided free of charge to customers on active support contracts.
Collective Data
CIRCLE 112 ON READER SERVICE CARD
---
NESCO Sales and Rentals Acquires Penske Utility Rentals
NESCO Sales and Rentals has acquired Penske Utility Rentals fleet. The purchase will strengthen NESCO's East Coast and Mid-Atlantic presence and provide customers access to more than 2,500 units and a nationwide parts and service network.
Acquiring these assets further broadens NESCO's fleet offering and expands its ability to service its customer's equipment needs nationwide. The acquisition solidifies its position as one of the premier service and equipment providers in the utility and telecommunications rental markets, and demonstrates NESCO and Platinum Equity's commitment to growth.
NESCO Sales and Rentals
CIRCLE 113 ON READER SERVICE CARD
---
Test Switch Barriers Meet New American National Standards Institute Standards
Brooks Utility Products, a supplier of metering security products for the electric utility industry, introduces its test switch barrier product. The new switch barriers allow utilities to easily install safety barriers to currently installed test switches-instead of completely replacing the switches to conform to the new American National Standards Institute (ANSI) standards.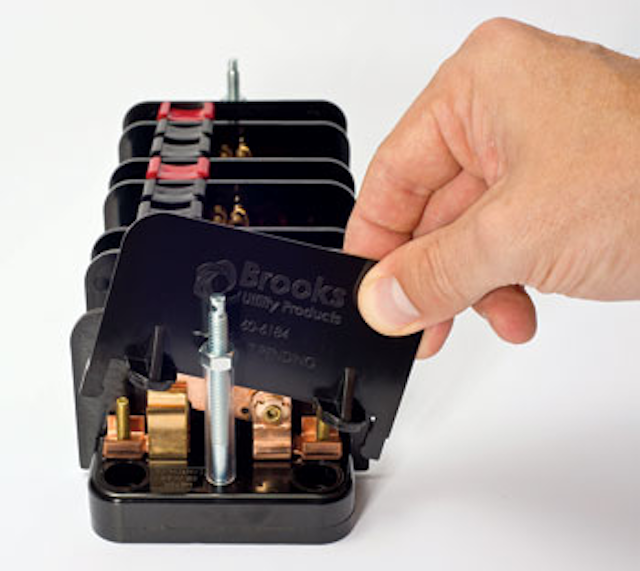 The pending ANSI C12.09 standard answers a growing safety concern of separating voltage switches when adjacent to current switch or to another voltage switch at a different potential. The new standard is expected to take effect as early as the end of 2012.
Beginning in January 2013, Brooks will also begin supplying new test switches with end barriers installed to conform to this new ANSI safety standard.
Brooks Utility Products
CIRCLE 114 ON READER SERVICE CARD
---
Pre-assembled Liquidtight Connectors Reduce Installation Time by 25 Percent
Appleton has added a pre-assembled KO sealing ring with lock nut to its Liquidtight ST series of electrical cable and conduit connectors, eliminating the need for additional purchasing and helping contractors achieve installations 25 percent faster than with competitor's fittings-because of a simplified three-piece design. Bar stock steel or malleable iron construction offer long-lasting performance for maximum value.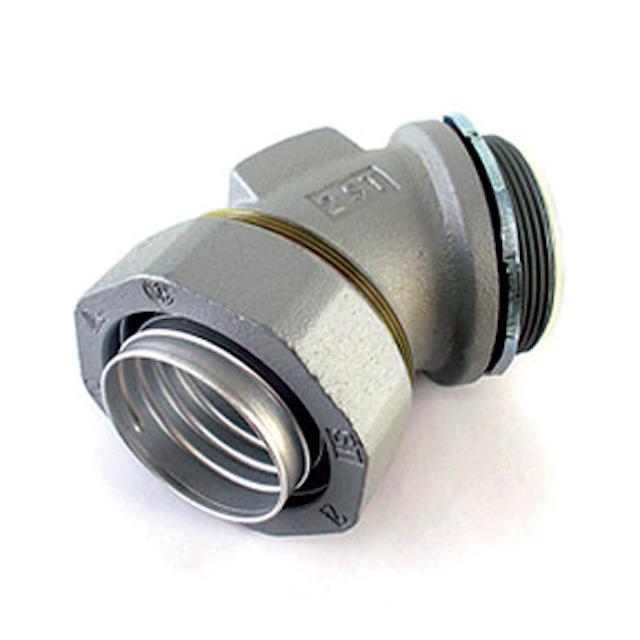 The connector's design and materials provide easy field assembly and long-term protection for equipment from water, dust, oil, grease, fumes and hostile contaminants. Other highlights include:
• Compact, slim profile with a small turning radius allows easier installation in tight spaces;
• Crimpable ferrule to secure mechanical grounding;
• Deep ferrule threads four times greater than Underwriters Laboratories (UL) pull-out requirements; and
• Decimally equivalent to conduit sizes to reduce errors and transaction costs.
Appleton ST Liquidtight cable and conduit connectors secure ground and seal Liquidtight flexible metal conduit to electrical machinery in wet and adverse environments, making them useful for challenging industrial and original equipment manufacturer (OEM) usage. In addition, the connectors are UL Listed for use in Class I, Div. 2 hazardous and wet locations.
Appleton
CIRCLE 115 ON READER SERVICE CARD
---
Work Smarter and Safer With Insulated Mighty Probe
Independently tested up to 50,000 volts following American Society for Testing and Materials (ASTM) F711-89 procedures, Forestry Suppliers' insulated Mighty Probe features a 3/8-in. diameter x 48-in. long high strength steel alloy shaft that resists bending and bowing for easy probing of hard ground. The solid steel handle is easy to grip with both hands, even when wearing gloves. An optional slide adapter quickly converts your probe into a mini-slide hammer probe.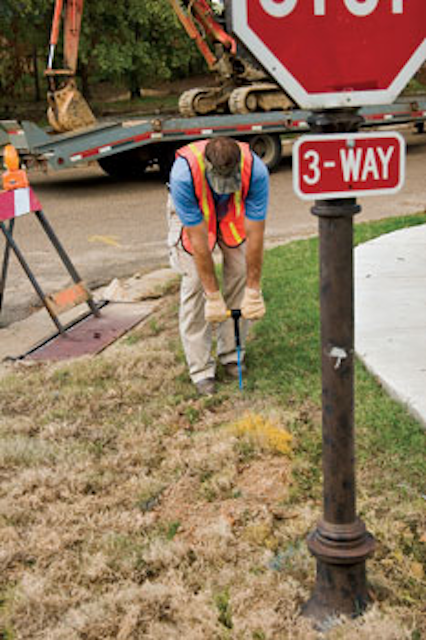 A complete selection of environmental products and equipment can be found in Forestry Suppliers' current catalog.
Forestry Suppliers Inc.
CIRCLE 116 ON READER SERVICE CARD
---
Radio Ohmstik Live-line Power Quality Meter
SensorLink Corporation's Radio Ohmstik is available for micro-ohm measurements in utility environments up to 500 kV. This live-line micro ohmmeter communicates by radio and provides engineers with data to predict connector failure years in advance, allowing for replacement on a planned basis before failure occurs.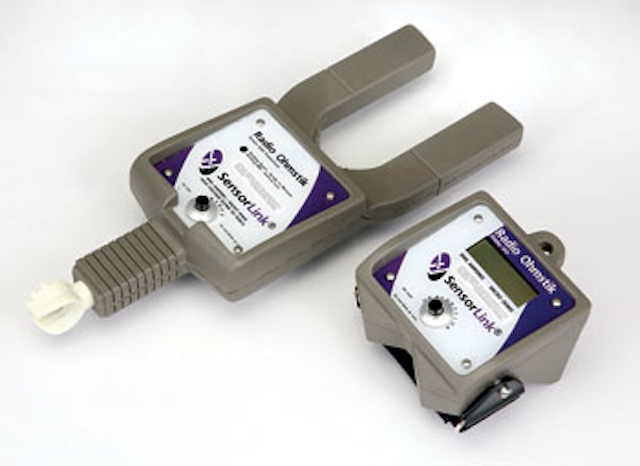 The unit measures the micro-ohm resistance of conductors, connectors and splices on energized, high voltage lines and transmits the data to a remote display unit and to a computer. The radio upgrade greatly improves the speed and efficiency to collect resistance readings of transmission splices.
The remote display unit may be mounted directly to the hot stick so the user can receive instant measurement feedback. The same data is simultaneously transmitted to the Radio Ohmstik Software that is running the user's computer. With the provided global positioning system (GPS) universal serial bus (USB) device installed, measurement and location data is automatically written and saved to a comma separated (CVS) file for future analysis.
The Radio Ohmstik can be used on almost any utility connection, either at installation or surveyed after years of usage.
SensorLink Corp.
CIRCLE 117 ON READER SERVICE CARD
---
Coax Radial Stripper Strips Utility and Standard Cable Sizes
Klein Tools introduces a Coax Combination Radial Stripper that extends its Voice/Data/Video (VDV) line of tools, connectors and testers. This single tool strips utility and standard cable sizes. It also strips two levels (outer jacket and dielectric) in one step. A sliding depth gauge pre-measures cable for quick, accurate and repeatable strips. The radial stripper is especially useful for audio/visual coax applications.

Klein Tools' new VDV Coax Combination Radial Stripper (Cat. No. VDV110-095) works on standard and utility size cables including RG6, RG6-QS, RG59, RG11 and RG7. The one-step, two-level (5/16² X 1/4²) stripping, along with the sliding depth gauge, takes the guesswork out of repeatable cable end preparation. The stripper also eliminates the need for the installer to use his or her fingers as a backstop for sharp wire tips, reducing irritation. Durable high-carbon steel cutting blades automatically adjust to different cable diameters, and a finger loop facilitates easy, controlled rotation. The simple design makes cleaning out debris effortless.
Klein Tools
CIRCLE 118 ON READER SERVICE CARD
---
Long-lasting 320 Series Clamp Meters Deliver Reliable Results
Fluke Corp. introduces the Fluke 320 Series True-rms Clamp Meters, a complete line of tools engineered to produce noise-free, reliable measurements in the toughest environments. Designed to be long-lasting and easy to use, the Fluke 323, 324 and 325 clamps meters are for rugged, all-purpose use in residential, commercial, HVAC/R and light industrial electrical applications.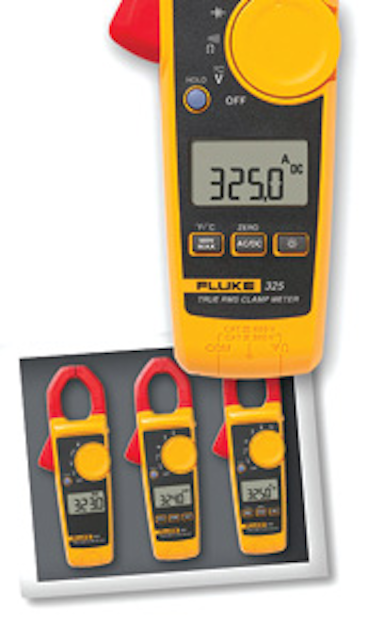 The Fluke 320 Series features:
• Slim, ergonomic design for comfortable all-day use;
• Large, easy-to-read display;
• CAT III 600 V/CAT IV 300 V safety ratings;
• True-rms ac voltage and current for accurate measurement of non-linear signals; and
• Dc current, frequency and resistance up to 40 kilohms for motor testing.
The 324 and 325 models offer a backlighted display for easy viewing in any setting, contact temperature readings from 14F to 752F and capacitance measurements from 100 to 1,000 microfarad. The 325 model also offers dc current measurements up to 400A, frequency measurements from 5 to 500 Hz and Min/Max function.
Fluke Corp.
CIRCLE 119 ON READER SERVICE CARD
---
Motorized Reeler and Winder
Eraser's Model DE600M motorized reeler and winder easily reels wire or cable without operator fatigue and quickly de-reels large amounts of wires or cables with no pulling. The 1/6 HP motor turns the shaft at a constant speed and can handle reels of material up to 75 lbs. The unit features a handle to enable manual reeling and dereeling. Reels are easily loaded and unloaded.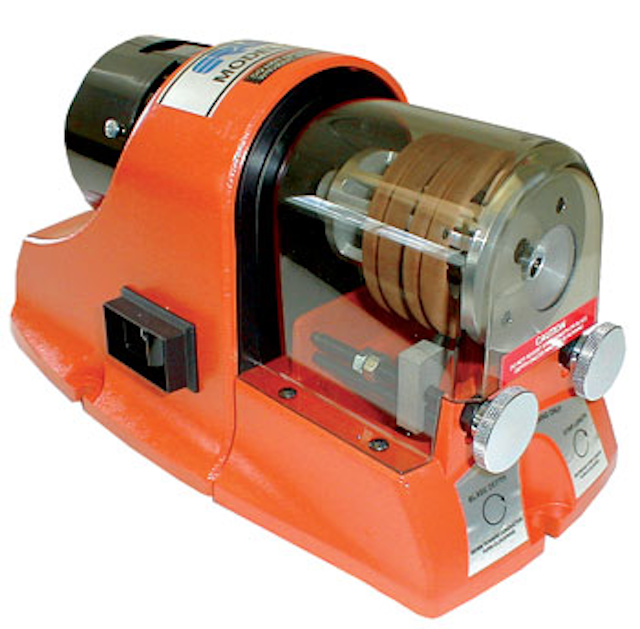 Eraser offers a wide variety of reelers, dereelers and winders that allow your production line to operate more efficiently and effectively. Eraser's reelers, dereelers and winders are available in manual or motorized and can handle the smallest to largest jobs. Eraser offers collapsible reelers and dereelers for producing neat coils of wire and dereeling hanks or coils of material by reversing the reeling operation. For highest productivity, reelers, dereelers and winders should be paired with an Eraser wire, cable or tubing cutter.
The Eraser Company Inc.
CIRCLE 120 ON READER SERVICE CARD
---
Raptor 800 Tracked Mulcher is Reliable and Productive
Developed for the most difficult tasks such as heavy clearing, vegetation management around power poles and pipelines, creation of firebreaks and re-cultivation tasks in professional plantation and forestry, the Raptor 800 combines productivity and reliability. Everything is designed for durability, ease of maintenance and a high level of efficiency.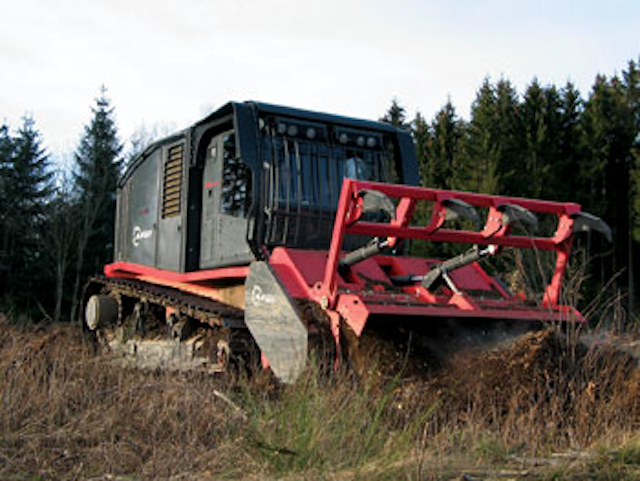 The high-performance, electronically controlled six-cylinder Caterpillar C18 engine develops 630 hp and a maximum torque of 2,042 lb∙ft at 1,400 rpm. The engine has been low emission certified and meets the Environmental Protection Agency (EPA) Tier 3 standard. Optimum weight distribution and low center of gravity make the Raptor 800 a good low ground pressure tracked vehicle for all terrain conditions. The Roll Over Protective Structures (ROPS) and Falling Object Protective Structures (FOPS) safety frames that run around the outside of the cabin provide protection from falling objects for the driver and cabin during heavy forestry work.
AHWI-PRINOTH
CIRCLE 121 ON READER SERVICE CARD
---
Concentrated Rear Main Seal Repair Affordably Stops Oil Leaks
As part of its commitment to providing low-cost vehicle stop leak solutions, Bar's Leaks introduces Concentrated Rear Main Seal Repair. The concentrated formula provides the same blend of polymers, lubricity agents, anti-oxidants and conditioners as the original Rear Main Seal Repair in a much smaller bottle: 16.9 oz. vs. 32 oz.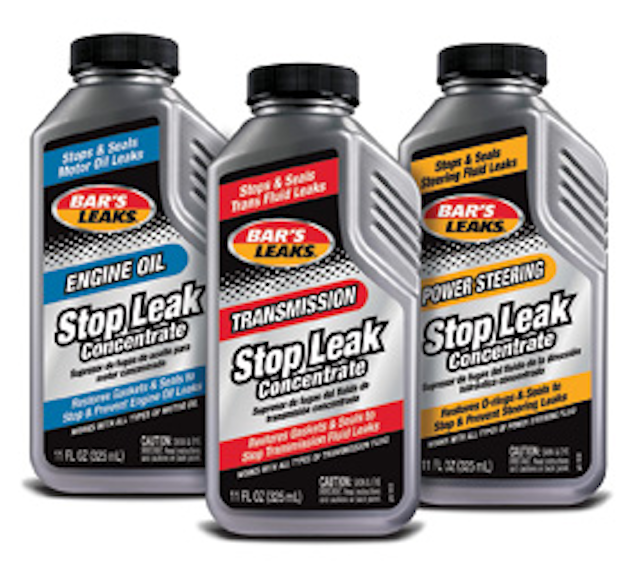 As the cost of some of the non-essential ingredients in the product has increased, the company has looked at the best ways to keep the price low. Reducing the base oil while maintaining the same level of key additives allows Bar's Leaks to offer a Concentrated Rear Main Seal Repair that will affordably stop all oil leaks.
Bar's Leaks' Concentrated Rear Main Seal Repair (p/n 1040) is formulated to stop leaks at the rear main seal and is cited to work better than a conventional stop leak on all other oil leaks, including those at the timing cover seal, O-rings, and other seals and gaskets.
Bar's Leaks' Concentrated Rear Main Seal Repair restores seal size, flexibility and elasticity. Chemical polymers in the product also fill in gaps and grooves in the crankshaft caused by normal engine wear and build a protective film around the seal to prevent leaks.
Bar's Leaks
CIRCLE 122 ON READER SERVICE CARD
---
Insulated Work Platform Increases Use of Cranes and Digger Derricks
Responding to requests for work platforms capable of providing electrical insulation at voltages up to 765 kV, Diversified Products introduces the IWP-765kV Insulated Work Platform. Designed to enhance worker productivity and increase job functions performed with hydraulic telescoping cranes and digger derricks, the platform permits bare-hand work and de-energized line construction, and reduces lineman fatigue by eliminating the need to climb towers.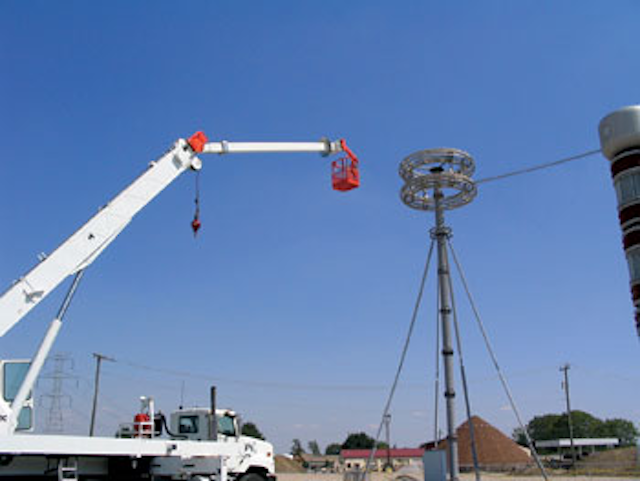 Featuring a tried-and-proven design, the IWP-765kV provides electrical insulation to personnel working on live transmission lines and equipment at voltages up to 765 kV. The insulated jib consists of a main structural fiberglass member, which is filament wound with computer-controlled, continuous-roving epoxy/anhydride resin. It's also sealed with bulkhead covers to minimize maintenance and protect from contaminants that may reduce insulation properties. A desiccant canister detects any moisture within the sealed jib and is visible from the ground when the jib is in a stowed or un-stowed position. In addition, a high-performance, sharp-edge corona ring reduces current leakage and is rated up to 765 kV.
Diversified Products
CIRCLE 123 ON READER SERVICE CARD
---
Serpent Vented Safety Helmet
According to the U.S. National Oceanic and Atmospheric Administration, heat is the number one weather-related killer in the U.S. Hot safety helmets on the jobsite can literally make workers sick. To combat heat buildup under the helmet that can cause fatigue and heat stress, Gateway Safety's Serpent Vented Safety Helmet does the job with a CoolSense airflow system, along with six vents along the peak of the helmet, that promotes heat release and keeps workers cool. Other beneficial features include a cushioned brow pad that absorbs moisture and perspiration and a rain trough to divert water from workers' faces.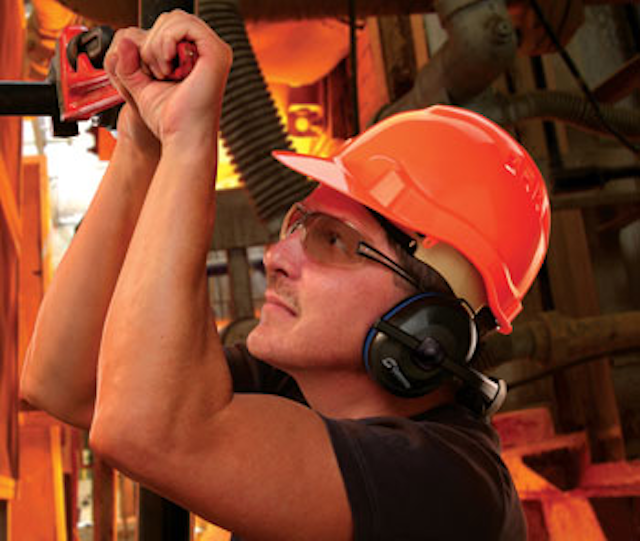 The Serpent safety helmet is for employers who want to fulfill their duty under the Occupational safety and health (OSH) Act to protect workers from heat-related hazards. In addition, its ultra-light weight of 13.1 ounces ensures comfort for all-day wear. For a customized, secure fit, Serpent features a six-point nylon suspension and a rotating ratchet adjustment system.
In addition, the Serpent shell is made of a sturdy, high-density polyethylene material that provides high impact protection without adding weight.
Gateway Safety
CIRCLE 124 ON READER SERVICE CARD
---
PVC Boots With Steel Toe Keep Feet Comfortable and Protected
Galeton, a supplier of gloves and work gear, has introduced 15-in. PVC boots with a steel toe. Galeton's economical steel toe PVC boots feature quality, waterproof construction and a seamless inner lining to keep workers' feet comfortable, dry and protected. The traction-grabbing outsoles make them especially useful for working outdoors in wet, muddy conditions.
Not only does Galeton offer a wide variety of gloves ranging from premium quality to economy-line, but its 164-page catalog features a broad selection of brands and products. Its selection also includes high visibility work wear, disposable apparel, coveralls, safety glasses, work boots, fall protection gear, coats, hard hats, respiratory, hearing and face protection, as well as other personal protection and safety equipment items-all designed to help keep the worker safe, comfortable and productive.
Galeton
CIRCLE 125 ON READER SERVICE CARD
---
TLA300 Tel-Scope Telecomm Test Set
T3 Innovation, a provider of advanced handheld test equipment for the cable/telecommunications, datacom/networking, electrical design and maintenance, and residential/Custom Electronic Design and Installation Association (CEDIA) custom install markets, has announced the new TLA300 Tel-Scope Telecomm Test Set. The Tel-Scope is cited to deliver more line condition and status information than any other telephone line tester.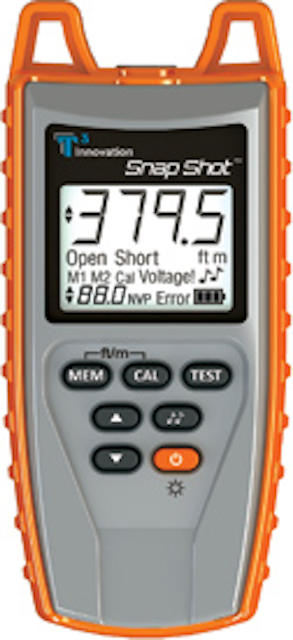 Using Independent Technologies' patented Data Defender system, the Tel-Scope offers a complete menu for measuring data, monitoring and detection of high line voltages. The Data Defender feature also includes Digi-Secure features that protect digital lines from disruption by outside test equipment.
The large backlit display shows information clearly, and, with a glow in the dark keypad, the unit can be used in low light environments. In addition, it's 100 percent weatherproof for outside use.
T3 Innovation
CIRCLE 126 ON READER SERVICE CARD
---
Gear Keeper Modular Retractable Lanyard System
A 1-lb. tool falling 30 feet will hit the ground in less than 2 seconds. It is a site safety issue. Even a screwdriver that hits someone after being dropped 1 ft. is going to cause serious injury. Most of these accidents could have been prevented with the use of a properly mated lanyard and tool.
The modularity of Hammerhead Industries' Gear Keeper retractable lanyard system offers the flexibility to correctly and specifically match the tool, worker and application. Conversely, a poorly matched off-the-shelf lanyard can actually become a safety hazard. The challenge to the safety engineer is to provide a lanyard that is friendly to the user and appropriate for the work environment.
The Gear Keeper Retractor is at the core of an extensive product line using four different retractors from light to heavy duty. Each of the retractor mechanisms is engineered for retraction forces that are balanced for the weight of the tool being used. The result is effortless extension and retraction without arm strain or harmful snap-back. An employee can use the tool and then let it go as it safely returns to Gear Keeper's secure tool position.
The Gear Keeper Modular Retractable Lanyard Systems allow users to fine tune lanyards for their own specific needs. Originally engineered for underwater use, the Gear Keeper Retractor is a rugged tool attachment system. It is designed to use and protect tools, even in severe environments, with maximum break strength and durability.
Hammerhead Industries Inc.
CIRCLE 127 ON READER SERVICE CARD
---
M12 600 MCM Cable Cutter for Large Diameter Cable
Milwaukee Electric Tool Corp. introduces a new solution for cutting large diameter cable with the M12 600 MCM Cable Cutter. With a compact design and powerful cutting mechanism, this tool will eliminate two of the most difficult aspects of installations: fitting the cutting tool in panels/boxes and generating enough force to get the job done.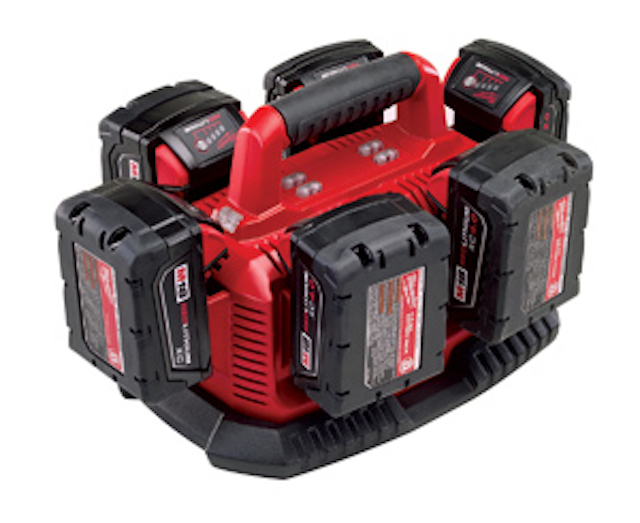 Because of the cost of most cordless options, users have been forced to use hand tools that require a tremendous amount of force and can be extremely awkward to use in crowded panels, it's reported. With an open jaw and a powered ratcheting mechanism, Milwaukee's tool delivers 5,000 pounds of force, fits into tight spaces, and simplifies one of the most difficult jobs an electrician, datacomm, utility or service contractor faces.
With a two-speed gear case, the M12 600 MCM Cable Cutter delivers the power necessary to cut large cable-but also enables the user to switch into high speed and quickly slice through more frequent wires that are some 4/0 and lower.
Milwaukee Electric Tool Corp.
CIRCLE 128 ON READER SERVICE CARD
---
Flame Resistant Performance Fabrics
Polartec LLC, the developer, manufacturer and marketer of Polartec performance fabrics, and Bulwark, a manufacturer of workwear for electric utility, power generation and other markets, have partnered to offer a range of Polartec flame resistant (FR) fabrics to build a FR workwear layering system.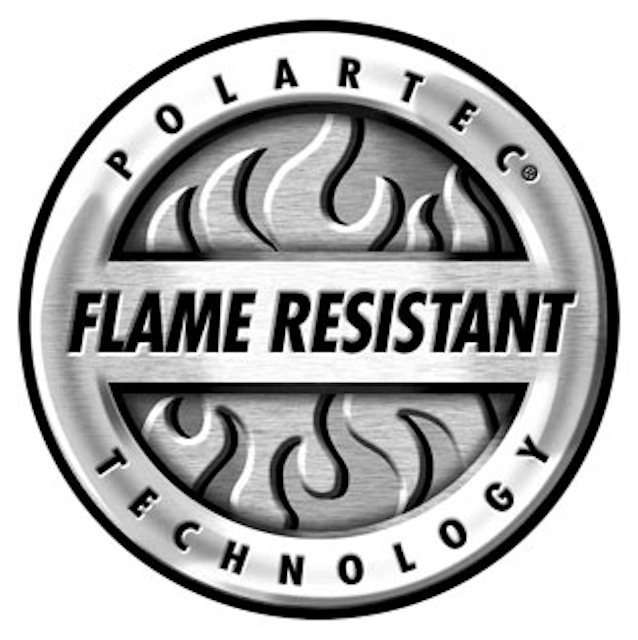 Providing permanent flame resistance inherent to the yarn that does not wash out, Polartec FR fabrics will not melt or drip on skin and are designed to keep you safe, warm and comfortable in a wide range of demanding conditions. With over 10 years of development with the U.S. military, Polartec FR fabrics provide performance and durability. Polartec FR fabrics are significantly warmer than traditional FR woven fabrics, while offering more breathability, lighter weight and more stretch with National Fire Protection Association (NFPA) 70E and NFPA 2112 compliance. Bulwark's new line of next-to-skin, insulation and weather protection layers focuses on comfort, worker image, moisture management and flame resistance. Joint marketing initiatives including hangtags on each garment explain the full benefits and advantages of the performance fabrics used in the collection.
Included in the FR line are: high-visibility, long-sleeve T-shirts; sweatshirts, fleece and jacket liners; and jackets.
Polartec LLC
Bulwark
CIRCLE 129 ON READER SERVICE CARD
---
Samsung Galaxy Phone Mount
When something is designed to travel with you no matter where you go, you need mounting solutions that are up to the task. Even before the Samsung Galaxy became available, RAM was making sure that no matter where you go or what you do, RAM has you covered. With product offerings such as the X-Grip, you will find the mount that is right for you.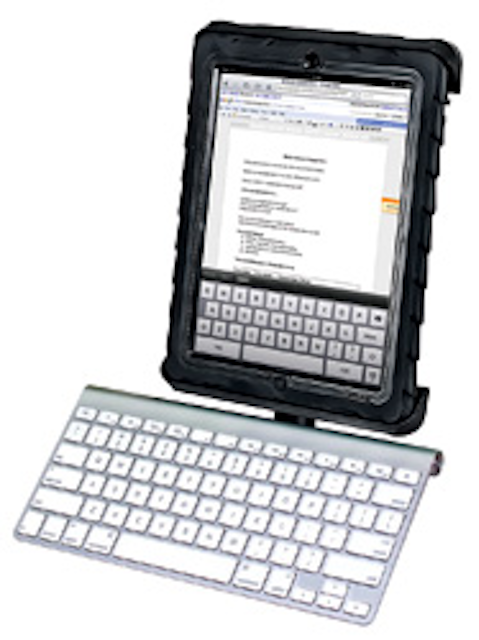 RAM is your one stop shop for mounts. The company makes it easy to get the most out of your Samsung Galaxy-keeping it safe, secure and ready.
Compatible Phones:
• Samsung Galaxy Note;
• Samsung Galaxy Nexus Android Smartphone;
• Samsung Galaxy S II (U.S. Cellular);
• Samsung Galaxy S II Skyrocket Android Smartphone;
• Samsung Galaxy S II, Epic 4G Touch;
• Samsung Galaxy S II, available at T-Mobile;
• Samsung Galaxy S II, available at AT&T;
• Samsung Stratosphere a Galaxy S phone; and
• Samsung Galaxy S Blaze 4G Android Smartphone.
RAM Mounts
CIRCLE 130 ON READER SERVICE CARD
---
Transformer Design Optimizes Overload Capacity and Reliability in a Smaller Footprint
PEAK transformers from Cooper Power Systems are designed to manage increased loads and temporary overload capacity with a four times greater life expectancy when compared to mineral oil-filled transformer alternatives. Utilities are able to operate PEAK transformers beyond full rated load to at least 112 percent to more precisely size transformers based on unpredictable periods of peak demand.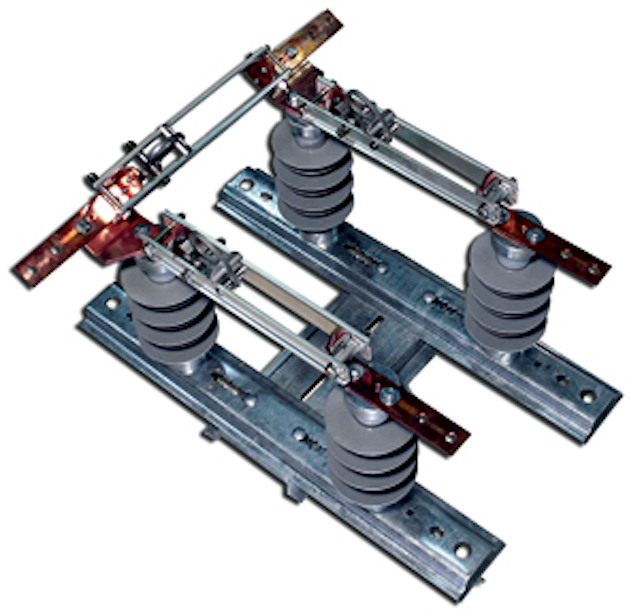 Using an advanced high-temperature insulation system comprised of thermally upgraded kraft paper, an optimized core and coil design, and Envirotemp FR3 dielectric fluid, a 75-degree Average Winding Rise (AWR) PEAK transformer results in a smaller footprint and lighter unit capable of the same ratings as a physically larger 65 AWR rated unit. PEAK transformers are filled with the biodegradable alternative to transformer oil, Envirotemp FR3 dielectric fluid, a critical enabling technology that extends transformer life and raises fire ignition resistance. In addition, this soybean oil-based fluid creates a barrier against water at the surface of the insulation, making the thermal kraft paper in the coil windings stronger and longer lasting. All of these attributes combine for a lower total cost of ownership vs. comparable fluid-filled transformers.
Cooper Power Systems
CIRCLE 131 ON READER SERVICE CARD
---
Dual Pressure Tier 4i-compliant Portable Air Compressors
Doosan Portable Power introduces three new models of dual pressure mid-range air compressors-P425/HP375WCU, HP450/VHP400WCU and P600/XP535WCU. The portable air compressors are built to withstand the most challenging applications and perform efficiently in the harshest environments. They are useful in a variety of applications, including general construction, abrasive blasting and pneumatic tool applications, and are a good complement to any rental fleet.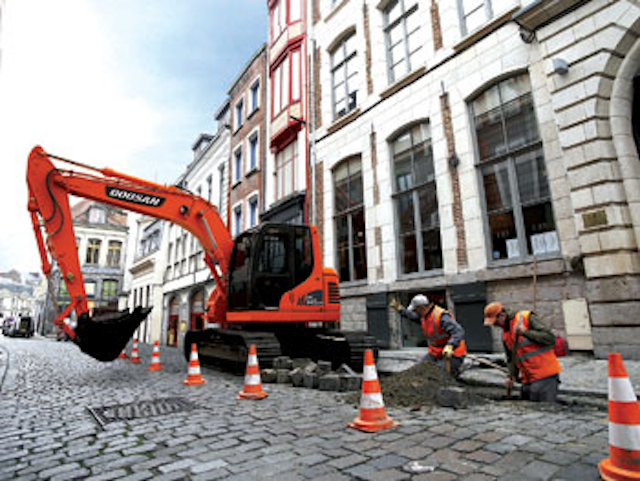 The two-in-one dual pressure units deliver airflow ranging from 375 to 600 cfm and pressures ranging from 100 to 200 psi, depending on the model. With no increase in dimensional size from previous compressor models offered by Doosan Portable Power, users in a variety of markets will appreciate the small footprint. The compact size and a less running gear option allow the unit to be mounted on truck beds for increased flexibility.
All three air compressors are powered by Cummins QSB Tier 4i-compliant engines. The Cummins engines-engineered with Diesel Oxidation Catalyst (DOC) emissions technology-offer compact, zero-maintenance design with no regeneration cycles.
Doosan Portable Power
CIRCLE 132 ON READER SERVICE CARD
---
Pelican ProGear 9420 LED Work Light
To offer another light-emitting diode (LED) area lighting solution, Pelican Products Inc. has introduced the Pelican ProGear 9420 Remote Area Lighting System (RALS)/LED Work Light. Designed as a lightweight, portable and powerful LED area light, the 9420 RALS is the latest offering from Pelican's Remote Area Lighting Group.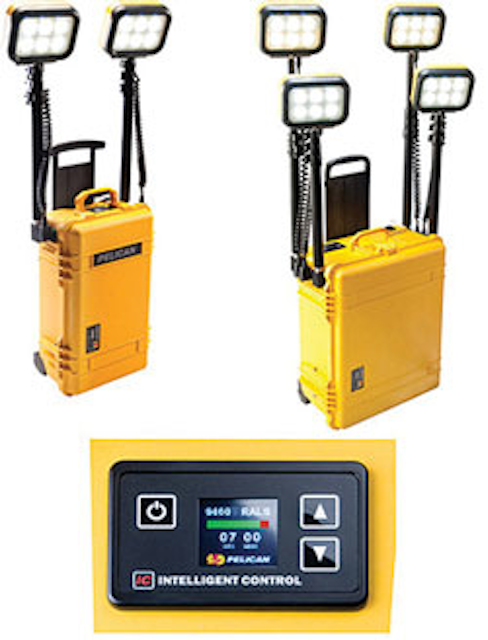 The light's two LEDs shine up to 1,000 lumens in high mode for two consecutive hours and 500 lumens in low mode for up to four hours. Powered by a "no-maintenance" hot swap, rechargeable lithium ion battery, the 9420 RALS is cordless and weighs 8.4 lbs. For instant light almost anywhere, its 5-foot mast and integrated tripod legs are fully collapsible and deploy in seconds.
Pelican Products Inc.
CIRCLE 133 ON READER SERVICE CARD
---
New 3.5 Version Mobile Workforce Management Software
Clevest Solutions Inc. has announced enhancements for managing crews with the new 3.5 version of its mobile workforce management software solution, which automates any utility field work activity. The new capabilities allow utilities greater flexibility in scheduling crews and managing the composition of crews, and provide for increased crew productivity, improved customer satisfaction and enhanced workforce satisfaction.
With this latest release, utilities can now distinguish between individuals and their orders and an individual's role within a crew and the crew's orders. In addition, the solution can now accommodate planned or last-minute changes in crew composition and resource availability in real-time, which empowers utilities to make more timely decisions and complete work more accurately in the field.
A key component of mobile workforce management, enterprise scheduling helps utilities improve the responsiveness of field operations by eliminating manually-compiled, paper-based schedules and automatically assigning work. With the 3.5 release of the solution, more sophisticated scheduling capabilities take into account crews and the workers within them when assigning or reallocating orders.
In real-time, the solution accommodates expected changes in crew composition because of temporary circumstances such as an appointment or vacation. It also supports unanticipated temporary events because of illness, vehicle breakdowns or task completion times. Orders are then scheduled or, if necessary, rescheduled based on an accurate representation of resource availability. Utilities are also now better equipped to manage more permanent changes in crew requirements over time.
Clevest Solutions Inc.
CIRCLE 135 ON READER SERVICE CARD
---
Fleet Safety Information in New Smartphone App for Fleet Managers
GreenRoad has announced availability of the GreenRoad Central mobile app for managers-a full-featured smartphone app making fleet driver performance and safety information available anytime, anywhere for fleet operations and safety managers. The app serves as a mobile companion to the online GreenRoad Central dashboard that provides driver performance and safety management data and reports. The app runs on Apple iOS devices (iPhone, iPad, iPod Touch) and Android mobile and tablet devices, and is now available to download from app stores.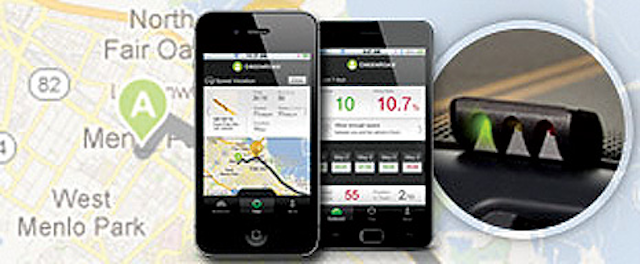 The company also has upgrades to GreenRoad Central, the cloud-based hub of the GreenRoad service. The upgrades include smarter report functionality, new speeding reports, a My Reports navigation capability and vehicle-based dashboard metrics.
The GreenRoad Central mobile app for managers enables fleet and safety managers to have full fleet visibility at any time, away from the office, at home or in the field through smartphone. The app is a complement to the previously announced GreenRoad Central mobile app for drivers.
GreenRoad
CIRCLE 134 ON READER SERVICE CARD