Products of the Year
This issue of Utility Products magazine brings you products that received the highest reader response in 2011. While all the products featured in each issue are useful and relevant to your industry, some attract more attention than others. See which products featured in the magazine caught readers' eyes.
Jan 1st, 2012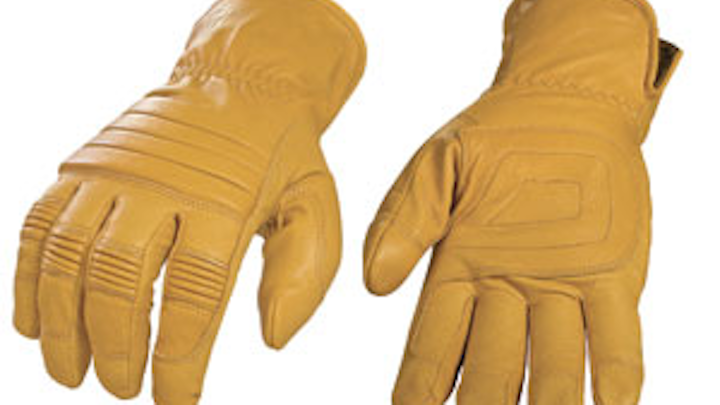 This issue of Utility Products magazine brings you products that received the highest reader response in 2011. While all the products featured in each issue are useful and relevant to your industry, some attract more attention than others. See which products featured in the magazine caught readers' eyes.
---
Ropework XTTM Gloves Keep Hands Safe, Comfortable
Youngstown Glove Co. introduces the new Ropework XTTM glove. Understanding that a comfortable grip can make all the difference in a job safely and well done, the Ropework XTTM glove employs many technologically advanced features delivering both comfort and protection.
For the Ropework XTTM, Youngstown partnered with C.O.R. Ergonomic Solutions. Together, the team built features such as the tacky Ropegrip palm reinforcement that works to enhance grip while reducing hand fatigue. Ropegrip reinforcement is also used in the saddle between the index and thumb, allowing the worker to grasp tightly and securely with the highest level of dexterity possible.
The Ropework XTTM is built extra tough for the most rugged of applications and designed with extra protection in mind. The top of the hand is lined with Kevlar for high cut-resistance protection.
Youngstown Glove Co.
CIRCLE 100 ON READER SERVICE CARD
---
Omega FR Outerwear System
The Omega FR is an all-season, waterproof, breathable, windproof and insulated outerwear system. The Omega FR offers protection from multiple hazards including electric arcs (American Society for Testing and Materials [ASTM] F1891), flash fire (ASTM F2733), traffic hazards (ASNI 107) as well as cold weather (ASTM F1868).
For winter wear, the Omega has two removable liner options. A 150g FR Thinsulate insulated liner provides maximum warmth in sub-zero temperatures. For added versatility, an FR Nomex fleece provides winter warmth and is a convenient FR jacket for cool temperatures.
NASCO
CIRCLE 101 ON READER SERVICE CARD
---
Cable Pullers for Variety of Electric Cable Pulling Applications
Condux International offers a complete line of versatile cable pullers for a variety of electric cable pulling applications. Condux CableGlider cable pullers offer portability and easy setup. The units are completely self-contained and adapt to a variety of pulling situations.
The Condux CableGlider STD cable puller provides 6,500 pounds of pulling force and two-speed operation. The CableGlider Plus offers the same pulling force and two-speed operation as the STD model but comes equipped with a heavy-duty frame and extra pivot arms for challenging pulling situations. The Cable-Glider HD provides maximum pulling power for longer runs, offering 12,000 pounds of pulling force.
A lightweight CableGlider LW accommodates both vertical and horizontal pulling applications. A pivoting arm also allows the CableGlider LW to work with a range of jobsite conditions. The one-speed motor and gearbox provide up to 3,000 pounds of pulling force and a maximum pulling speed of 30 fpm.
Condux International
CIRCLE 102 ON READER SERVICE CARD
---
RD7000+ Utility Cable and Pipe Locator Launched
More than two years ago Radiodetection launched the RD7000 range of utility-specific locators offering high performance in an ergonomic and exceptionally user-friendly platform. The RD7000+ products that replace them focus on core user requirements by incorporating dynamic overload protection to improve locate performance in electrically noisy areas and compass, which determines and displays the orientation of the target cable or pipe, simplifying route determination and helping improve depth measurement accuracy.
Locating specific pipes and cables in large underground networks is becoming increasingly complex, making the operator's job more difficult and more time-consuming. Radiodetection research into this area identifies improved locator ease of use, accuracy and reliability as key to user requirements. The RD7000+ range addresses these needs with new features that deliver accurate, reliable and repeatable measurements.
Radiodetection
CIRCLE 103 ON READER SERVICE CARD
---
Rubber Insulating Gloves and Accessories
Protective Industrial Products' (PIP's) Novax products exceed all requirements of American Society for Testing and Materials (ASTM) D120, ensuring compliance with Occupational Safety and Health Administration (OSHA) regulations and satisfying National Fire Protection Association (NFPA) 70 E requirements for protection against electrical shock hazards.
The natural rubber construction of Novax insulating gloves offers very good dielectric properties combined with flexibility, strength and durability. Other features include a contoured shape, which reduces hand fatigue and a rolled cuff for increased durability during donning and doffing. PIP offers a complete line of rubber insulating gloves, leather protectors, storage bags and electrical safety kits.
Protective Industrial Products (PIP)
CIRCLE 104 ON READER SERVICE CARD
---
SpaceKap Compak Slip-in Utility for Trucks
Truck cap and tonneau cover manufacturer A.R.E. is now offering the new SpaceKap Compak slip-in utility body as part of its commercial fleet product line.
The SpaceKap Compak, manufactured by Canadian-based Fibrobec Inc., is a cab-high, insert-type commercial unit with a low-profile roof line that allows safe access to parking decks and other low-clearance areas—making it a good height design for urban areas and municipalities. The Compak is available for 6-foot and 8-foot truck beds and comes standard with a 40/60 rear door for easy access.
Additional features include a light-emitting diode (LED) interior lighting package, stainless steel hinges, automotive-grade door retainers, aluminum door sill and aluminum diamond plate panels to protect the rear doors from shifting cargo.
"Designed to increase efficiency, the SpaceKap Compak has practically unlimited interior customization options and a tie-down system that allows users to quickly install or remove the cap in minutes," said Jim Blayne, commercial/fleet division sales manager at A.R.E. "Plus, its low-profile design provides less wind resistance, which translates into savings at the gas pump."
A.R.E.
CIRCLE 105 ON READER SERVICE CARD
---
Electric Power Short Form Product Catalog
HD Electric Co.'s new four-color Short Form Product Catalog is available. This 52-page catalog contains product offerings in two categories for the electrical power industry: test, measurement and safety, and controls and system monitoring. The catalog provides a description of each product along with photos, part numbers and a website search term for additional information.
HD Electric Co.
CIRCLE 106 ON READER SERVICE CARD
---
Thermometric 9.5 CTI Winch is Newest Addition to WARN Ultimate Performance Winch Series
The 9.5 CTI winch, one of Warn Industries' top-selling winches, is the newest addition to the WARN Ultimate Performance winch lineup. This thermometric winch offers the following qualities:
• New contractor control features exceptional durability, extra-long life and superior weather sealing;
• Series wound motor and three-stage planetary geartrain deliver 9,500 pounds of pulling capability;
• Extreme-duty winch sealing system;
• Motor-mounted thermal sensor relays temperature information to winch operator by way of the handheld remote control with light-emitting diode (LED) indicator;
• Redesigned remote control with thermometric indicator light;
• High-gloss, chip-resistant, black powder coat finish over a massive cast-aluminum alloy housing;
• Comes with 125 feet of 5/16-inch wire rope, hook, remote control on 12-foot lead and roller fairlead; and
• Available in the Multi-Mount portable winch configuration.
Warn Industries designs, manufactures and markets reliable, high-performance winches, locking hubs and a full line of off-road equipment and accessories.
Warn Industries
CIRCLE 107 ON READER SERVICE CARD
---
MRC840AL Hand-operated Crimper Tool is Versatile
BURNDY, a manufacturer and provider of electrical connector solutions and application tooling, announces the release of the MRC840AL crimper tool designed specifically for use on aluminum BURNDY HYLUG (type YA-A) and HYLINK (type YS-A) terminals and splices ranging from #8 – 4/0 AWG. It features heat-treated steel jaws to reduce jaw buckling and misalignment under heavy loading. Plated jaws provide enhanced corrosion resistance. The rotatable, color-coded die wheel is marked with conductor size. The MRC840AL crimper is an integral part of the BURNDY Engineered System of coordinating connectors, dies and tools.
BURNDY is committed to providing consistent excellence in quality, reliability and service to the electrical industry, in the safest possible manner, at a competitive cost and to the highest possible standards.
BURNDY
CIRCLE 108 ON READER SERVICE CARD
---
Wooden Pole Testing and Inspection
Pole Inspection US' pole-testing device uses acoustic wave resonance in a fiber medium to test and inspect wooden poles. The nondestructive technology is based on the difference of time runs of acoustic waves in two mediums: through healthy wood fiber and decay clusters inside the wooden pole.
Once the sonic velocity is known in the decay medium, the size of the decay clusters can be calculated inside the pole based on run times of the sonic waves through the pole. The longer it takes for the sonic wave to run back and forth through the pole, the more decay there is. According to a utility's policies, Pole Inspection.US can apply chemicals on and inside the pole. The nonintrusive testing determines pole strength and if injection is needed.
Pole Inspection.US Div., TrandWorld Inc.
CIRCLE 109 ON READER SERVICE CARD
---
Sidewalk Sleever Quickly Installs Electrical Conduit Under Sidewalks, Other Structures
The patented Sidewalk Sleever features a shaft with a pointed tip and a strike plate for easy installation—no boring and no voids around the installed pipe.
Simply place the Sidewalk Sleever inside a piece of precut polyvinyl chloride (PVC) and position it just under the concrete. Hammer the Sidewalk Sleever under the sidewalk until the tool and the pipe are visible on the other end. Lightly tap the tip of the Sidewalk Sleever and then pull it away from the pipe. Pipe installation is complete.
Forestry Suppliers Inc.
CIRCLE 110 ON READER SERVICE CARD
---
New Packaging for Specific Small HYDENT Compression Connectors
BURNDY, a manufacturer and provider of connector solutions to the industrial, utility, construction, telecommunication, power generation, original equipment manufacturer (OEM), data center, oil and gas industries, introduces its new, made-in-the-USA packaging for specific small HYDENT compression connectors.
Combining an eye-catching look with function, the patent-pending lid features the BURNDY "Bug" identifier and the ability to hold product when inverted while providing a stable base for spill prevention. The lid design allows for hanging on a one- or two-prong rack. The bottom of the jar body is indented to allow for safe stacking.
The jar body is translucent; the color-coded lids offer visual verification. Identifying reds, blues and yellows (gray lid signifies uninsulated product) are easy. The threaded lid design requires only one-quarter turn but locking feature keeps the contents secure.
BURNDY
CIRCLE 111 ON READER SERVICE CARD
---
M12 Rotary Tool Offers High-performance Motor Design
Milwaukee Electric Tool Corp. continues to expand the versatility of its M12 LITHIUM-ION system with the introduction of the M12 Rotary Tool. Featuring high-performance motor design, optimized electronics and REDLITHIUM battery technology, the tool provides a compact and portable cut-off solution.
The M12 Rotary Tool features a powerful motor, grinder-style exhaust ports, and a design to protect the front bearing from contaminants. These key features not only allow the tool to exceed performance expectations but ultimately provide up to 10-times longer life, it's reported.
With a variable speed of 5,000-32,000 revolutions per minute and a collet that is compatible with all 1/32-inch through 1/8-inch shank accessories, the tool delivers thousands of cutting, grinding, sanding and polishing solutions that a user would expect from a traditional rotary tool. It then goes a step further to deliver a close-quarter cut-off and grinding solution.
Milwaukee Electric Tool Corp.
CIRCLE 112 ON READER SERVICE CARD
More Utility Products Current Issue Articles
More Utility Products Archives Issue Articles