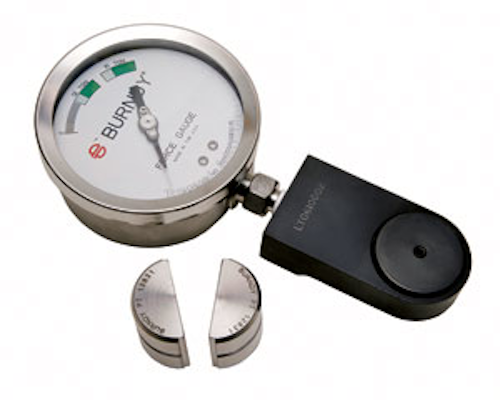 FORCEGAUGE12 Test Force Gauge Introduced
BURNDY, a manufacturer and provider of electrical connector solutions and application tooling, announces a force gauge designed to ensure their BURNDY 12- or 15-ton tool is supplying sufficient force to crimp connectors properly.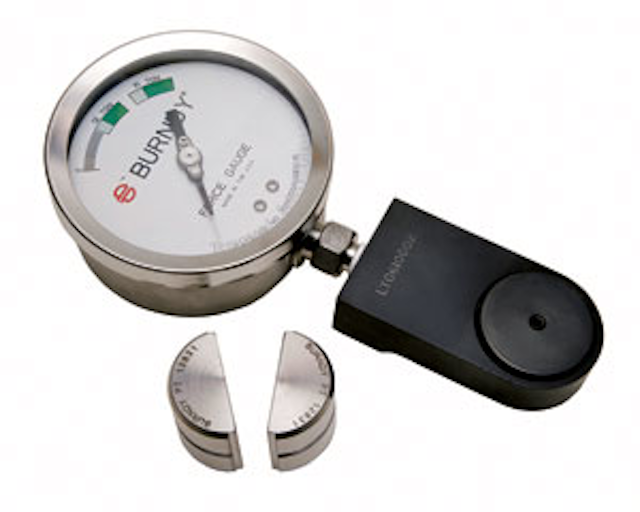 A precision, self-contained load cell converts the tool's output force into a pointer motion on a calibrated dial. With two different green ranges, it's easy to identify that the correct output force for either a 12- or 15-ton tool is obtained.
Specifically designed for the BURNDY PATRIOT PAT46 and PAT750 tool line, the FORCEGAUGE12 can also be used with the Y750 and Y35 self-contained tool line. It's supplied with two blank "U" dies, force test gauge and operating instructions in a molded carry case.
BURNDY is committed to providing consistent excellence in quality, reliability and service to the electrical industry, in the safest possible manner, at a competitive cost and to the highest possible standards.
BURNDY
CIRCLE 120 ON READER SERVICE CARD
---
Free Version of TopView Alarm Management and Notification Software
Exele Information Systems, an application and process control software company, announces a free version of its TopView Alarm Management and Notification software. TopView Free is a fully functional, non-expiring version of TopView designed for applications with a limited number (five) of monitored points and provides for one remote viewer (TopView client) connection.

There are many processes and systems with a limited number of critical measurements where it is imperative that measurement conditions be monitored and the appropriate personnel notified of abnormal events. With the release of the TopView Free alarm management and notification software, Exele makes it possible for users to download a fully functioning TopView version capable of monitoring up to five points/tags as well as supporting one connection from the remote viewer TopView client.
TopView Free is not a watered down version—it has all the same notification, alarm logging, alarm reporting and alarm analytic capabilities as the full TopView version. And, it's not a trial system that runs only for a limited time period.
Exele Information Systems
CIRCLE 122 ON READER SERVICE CARD
---
Temporary Conductor Support Provides Additional Conductor Clearance
Diversified Products introduces its Temporary Conductor Support (TCS) for holding energized conductors above the crossarms when additional clearance is needed. The TCS is lightweight, yet durable, and attaches to most crossbar sizes.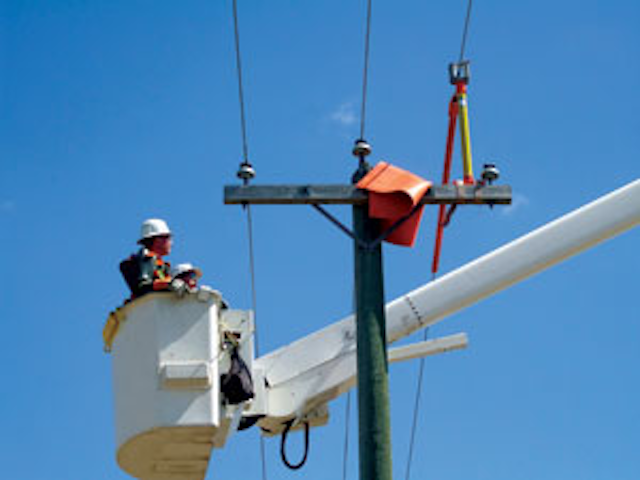 Field-tested and approved by transmission and distribution maintenance professionals, Diversified's TCS features a foam-filled fiberglass rod and aluminum wire holder. At 49.5 inches tall, the TCS consists of 32-inch, clear span insulation. Weighing only 23.5 pounds, it has a vertical load capacity of 300 pounds and a horizontal load capacity of 150 pounds.
The TCS comes with a wire holder with a spring-loaded latch for easily securing lines, and it uses non-metallic rollers to protect conductors. The unit attaches to crossarms via dual ratchet straps with quick-release ends. It fits crossbar dimensions of 6 inches by 6 inches, 5 3/4 inches by 4 3/4 inches, 4 5/8 inches by 3 5/8 inches and more.
Diversified Products
CIRCLE 121 ON READER SERVICE CARD
---
Power Line Carrier Gateway is Fast, Cost-effective
Cooper Power Systems' new CCU-721 Gateway offers utilities fast, cost-effective, two-way power line carrier (PLC) communications to advanced metering infrastructure (AMI), demand response (DR) and grid automation endpoints. The CCU-721 provides utilities easy installation and integration, as well as a user-friendly front panel interface for field personnel. The CCU-721 is an Internet Protocol- (IP-) -based gateway that also supports a myriad of wide area network (WAN) options for utilities via Cooper Power Systems' SelectComm technology.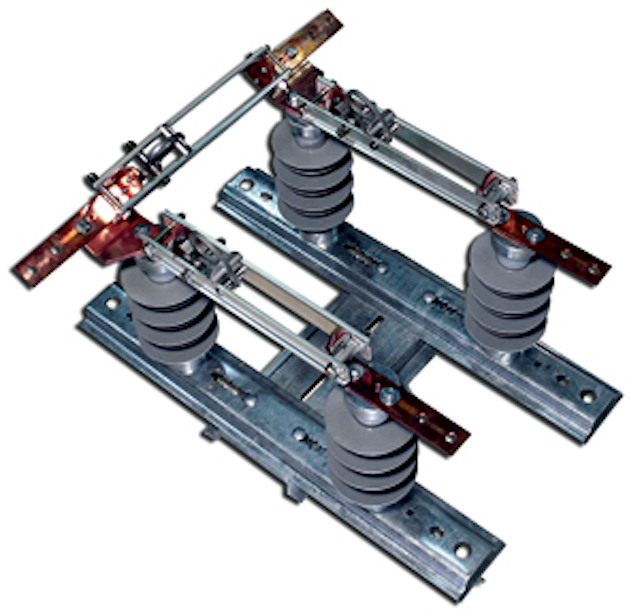 The CCU-721 PLC gateway joins the line of PLC solutions offered within the Cooper Power Systems advanced metering infrastructure, demand response and grid automation solutions portfolios.
Cooper Power Systems
CIRCLE 123 ON READER SERVICE CARD
---
Safety Vest Offers Quality and High Visibility
Designed to comply with ANSI/ISEA 107-2004 Class 2 standards for high-visibility safety apparel, the JIM-GEM Mesh Vest helps you work safely and stay organized. Each vest features eight convenient pockets: a compass pocket, a pencil pocket, a notebook pocket, two pockets at the waist (one with a flagging dispensing grommet and both with Velcro closures), two inside pockets at the waist and one large pack pocket on the back that stretches across the full width of the vest. The vest also has a mic tab.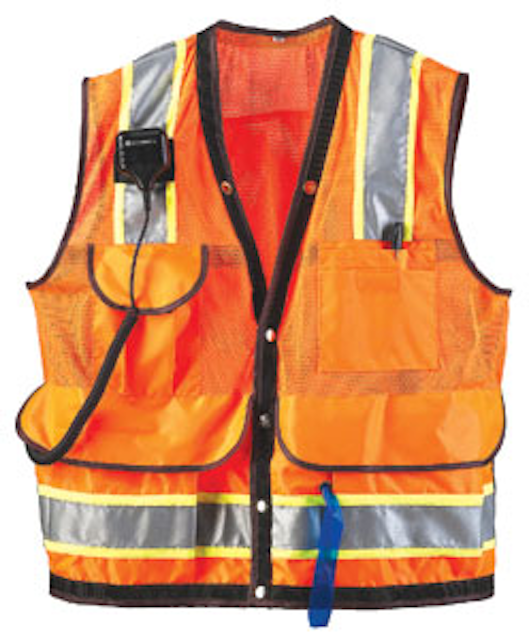 Forestry Suppliers' current catalog offers a complete selection of surveying, engineering and safety equipment.
Forestry Suppliers Inc.
CIRCLE 124 ON READER SERVICE CARD
---
PENTA-DRIVER range of products features the Tri-Penta Wrench
MADI LLC is a manufacturer and marketer of utility tools for the lineman. MADI's product portfolio includes the DEVINER, DOUBLE-HEADER and the new PENTA-DRIVER range featuring the Tri-Penta Wrench. MADI has launched the second of many new product platforms focused on delivering utility solutions for the lineman.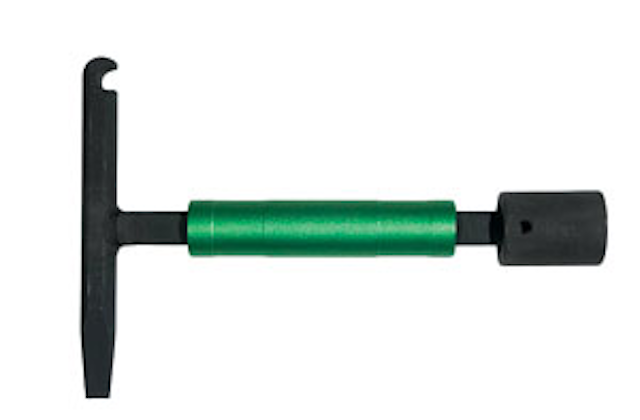 The PENTA-DRIVER range of products features the Tri-Penta Wrench. This underground utility wrench combines three everyday functions into one convenient tool. Open transformers or switch gears, lift hand hole lids and open secondary or primary doors are just a few of the key applications. The convenience of the Tri-Penta Wrench is complimented with the addition of a high-visibility, patent pending Speed Sleeve that helps linemen open transformers and switch gears up to two times faster than standard penta sockets or wrenches.
MADI has also launched the Penta drill driver and the Penta socket driver, both featuring the new speed sleeve. The Penta drill driver incorporates a 3/8-inch shank that allows use with any 3/8-inch or larger drill. When using the drill, the speed sleeve helps stabilize the operation and keeps your hand or gloves from experiencing any twisting or friction.
MADI LLC
CIRCLE 125 ON READER SERVICE CARD
---
New Mobile Generators Meet EPA and Tier 4i Emissions Standards
Doosan Portable Power now offers four new models in their mobile generator portfolio that have been designed to meet federal Environmental Protection Agency (EPA) Tier 4 Interim (Tier 4i) emission standards.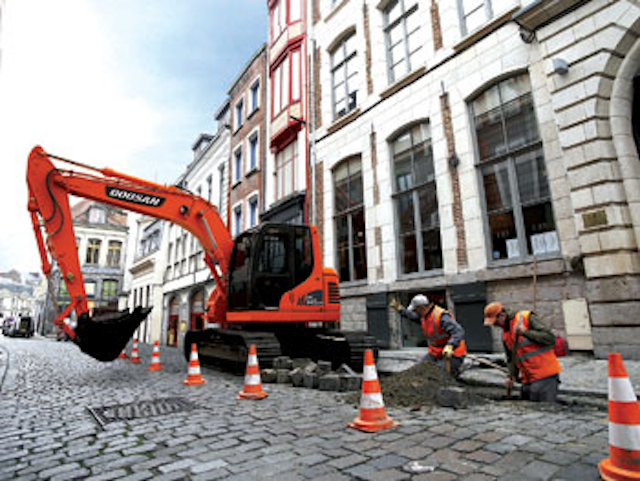 The new models include:
• The G150, with a prime power rating at 152 kVA / 122 kW;
• The G190, with a prime power rating at 194 kVA / 155 kW;
• The G240, with a prime power rating at 238 kVA / 190 kW; and
• The G325, introduced earlier this year, with a prime power rating at 326 kVA / 261 kW.
These new Doosan generators have been substantially redesigned from their predecessors to incorporate numerous innovations based on customer input to improve the operator experience. Controls are simplified for easy operation. The new operator-preferred analog control panel has been enhanced featuring large, brightly lit meters for at-a-glance monitoring.
All four generators feature a voltage selector switch for quick and easy configuration for the three most common voltages. The signature protection feature on the generators prevents operators from switching voltage during operation—a common cause of downtime and expensive component failure.
Doosan Portable Power
CIRCLE 126 ON READER SERVICE CARD
---
HazLoc Lantern is Intrinsically-safe, Rechargeable, LED Lantern and Area Light
KH Industries has introduced its intrinsically-safe HazLoc Lantern featuring 405 lumen output, 10-hour runtime and a 340 degree rotating head with 70 degree pivoting angle.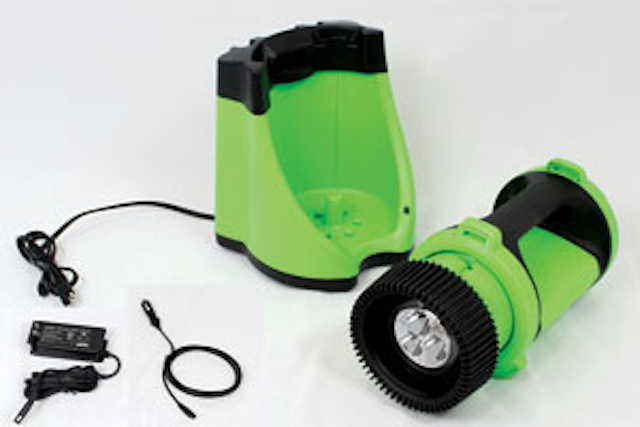 "What differentiates the HazLoc Lantern is that it is cUL certified for Class I; Division 1; Groups A, B, C and D; and it provides the user with a 405 Lumen LED work light that can be positioned vertically or horizontally towards the work area," said John Herc, vice president of Sales and Marketing, KH Industries. "I want our customer's to clearly understand this is not a Flashlight," Herc said. "With the HazLoc Lantern, inspection and maintenance professionals can safely trouble-shoot and perform repairs/maintenance with a singular light."
Features on the HazLoc LED rechargeable lantern (part number GX3M-BG-16TA) include:
• Intrinsically safe design, no exposed metal;
• Induction charging with no charge contacts;
• Water resistant materials, lantern is buoyant;
• 10 hour run time;
• Luxeon Rebel ES LEDs—405-lumens; and
• Versatility in use—340-degree rotating head with 70-degree pivoting angle.
KH Industries
CIRCLE 128 ON READER SERVICE CARD
---
Freedom SW Inverter/Chargers Offer Many Features
Xantrex Technology Inc., a subsidiary of Schneider Electric, has launched the second generation Freedom SW inverter/charger models. The original series in 2010 featured an entry level 2,000 watt and feature-rich 3,000 watt models. The second generation 2,000 watt model has been redesigned to include many of the same features found in its high-power counterpart.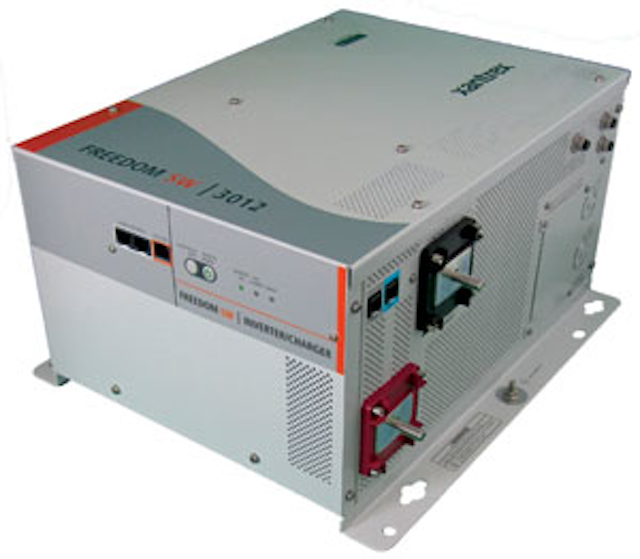 Both models now offer new parallel and series stacking features that were unavailable in the previous generation. Parallel and series stacking allows two units (either 2,000 watt or 3,000 watt) to work in synergy to provide up to twice the rated current and charging output, resulting in the ability to operate high power loads while charging large battery banks. Series stacking, for example, allows operation of 240-Vac applications, such as a dryer.
Another feature enhancement is Generator Support Mode, which enables the Freedom SW to automatically supplement a generator when ac loads exceed the generator's capacity.
Xantrex Technology Inc.
CIRCLE 127 ON READER SERVICE CARD
---
Expanded Air Compressor Line Offers Reliable, Powerful Performance
Iowa Mold Tooling Co. Inc. (IMT) has announced three new air compressors—the CAS45R and CAS60R rotary screw air compressors and the CAS40P reciprocating model. For utility and construction service solutions, as well as other markets, the three compressors deliver reliable, durable, powerful performance at a competitive value.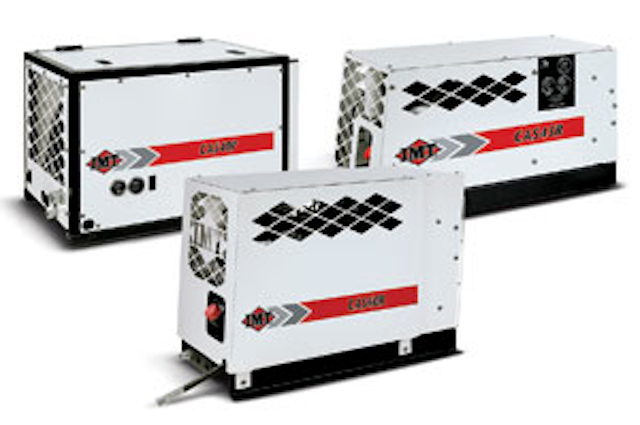 The CAS45R offers a rated capacity of 45 cfm at 150 psi, while the CAS60R provides air delivery of 60 cfm at 150 psi. Both hydraulically driven, continuous-duty rotary screw units are single-stage, pressure-lubricated compressors designed for mobile applications. For heavy-duty use, the rotary screw models provide high-volume air for use in pneumatic tools and other mobile or stationary compressed-air needs.
The CAS40P reciprocating compressor is a hydraulically driven, intermittent-duty model that delivers a rated capacity of 40 cfm at 100 psi. The unit is a two-stage, four-cylinder compressor designed for mobile applications that do not have high-volume air needs. For field mechanic use, it can effectively operate most pneumatic applications that support service work.
Iowa Mold Tooling Co. Inc. (IMT)
CIRCLE 131 ON READER SERVICE CARD
---
FLIR E30 Infrared Camera Delivers Affordable, Pro-grade Diagnostics
FLIR has introduced a compact, professional thermal camera that delivers powerful infrared diagnostics. Designed for electrical, HVAC, predictive maintenance and other professionals who routinely perform temperature-based diagnostics, the FLIR E30 is the newest addition to FLIR's E-Series. With 160x120 resolution, 350C temperature range, 3.5-inch touchscreen and the convenience of a built-in 2.0MP visible light camera with LED lamp, the FLIR E30 offers high-level capabilities at an affordable price point.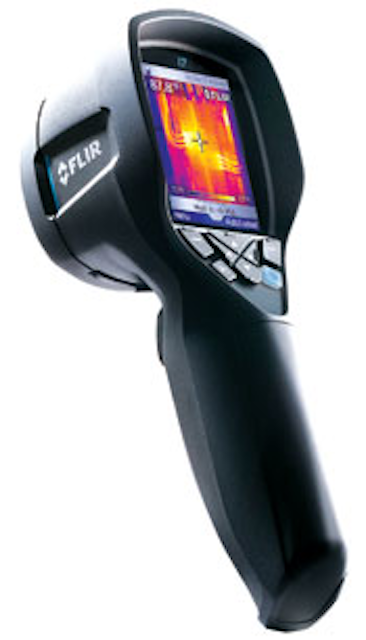 For identifying electrical and mechanical problems, the affordable FLIR E30 camera quickly pays for itself by revealing problems, before a failure, worker hazard or expensive tear-down occurs.
FLIR Systems
CIRCLE 129 ON READER SERVICE CARD
---
Single- and Two-stage Duplex Compressors Feature ASME-certified Air Tanks
Jenny Products Inc. announces its complete line of single- and two-stage duplex compressors. Each unit is equipped with two pumps and two electric motors, which can be operated separately or at the same time. This allows the second pump to serve as a backup or complement the first pump to accommodate greater airflow needs.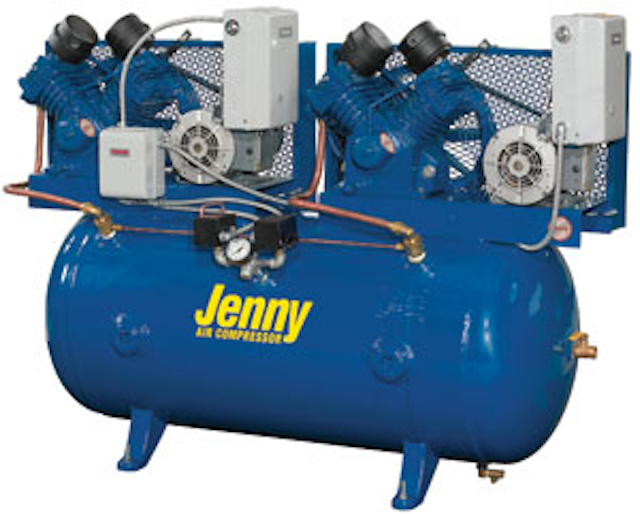 The duplex compressors are powered by industrial-duty electric motors and come with ASME-certified air tanks. Single-stage models are available with 60- and 80-gallon tanks and provide 19.6 to 55.6 cfm at 125 psi. Two-stage models are offered with 120- and 240-gallon capacities and produce 36.6 to 214 cfm at 175 psi.
Multiple standard features are included to maximize service life. For instance, a directional air shroud and large flywheel keep pump temperatures low. In addition, Jenny's professional-duty "Ultimate Blue" synthetic pump oil protects the units' pistons, crankshaft, bearings, rings and cylinders through a splash lubrication system. Additional items have also been built into the compressors to prevent damage from harsh jobsite conditions.
Jenny Products Inc.
CIRCLE 130 ON READER SERVICE CARD
---
T925 Wireless Cellular Controller Connects Remote Equipment
Xenon announces the T925 Wireless Cellular Controller for connecting remote sites with central control and monitoring stations through cellular networks. A T925 remote communications network eliminates the need to make hardwired Ethernet connections to the Internet or to an intranet at each remote site and at the central control and monitoring station. In addition, the network operates from any location worldwide with cellular coverage.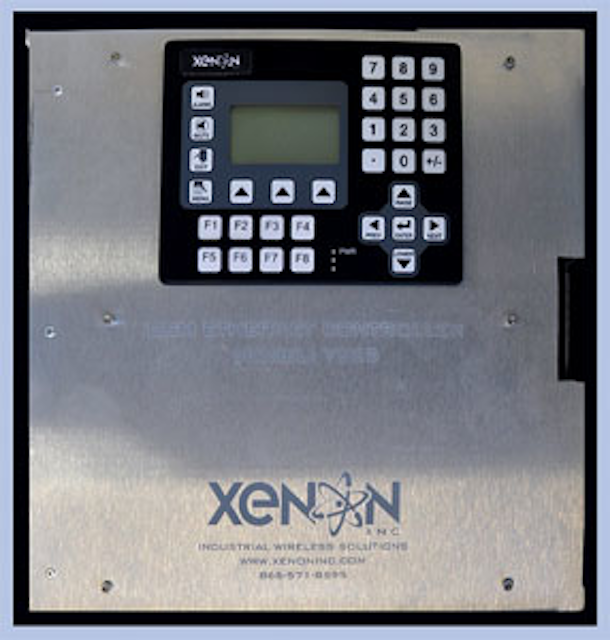 A T925 remote communications network allows end users, machine and skid builder OEMs, RTU and SCADA OEMs, security monitoring system OEMs and other firms to monitor and control their automation and monitoring systems through the cellular network at sites thousands of miles away. Typical applications include electrical substations, pipelines and pump stations.
A T925 remote communication network is usually configured with a T925 at each site. Up to 250 T925s can simultaneously communicate through the cellular network with a VPN router installed at a central control and monitoring station. Each T925 is custom-configured by Xenon and is ready for deployment and operation with no communications programming required by the user.
Xenon
CIRCLE 132 ON READER SERVICE CARD
---
Leather Utility Plus Glove Ensures Safety First
When electrical utility workers need hand protection, they look to Youngstown Glove Co. for gloves that provide safety, durability and a good fit. Youngstown introduces the new Youngstown Leather Utility Plus glove, which is ARC rated and National Fire Protection Association (NFPA) 70E-2012 compliant—resulting in a product that is a leap forward for the utility glove category.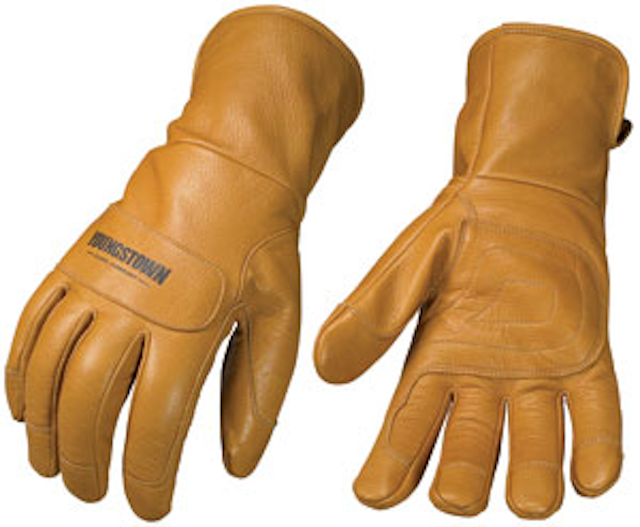 The new Youngstown Leather Utility Plus glove can significantly reduce the risk of injury or death. You can be confident hands are safe with a glove that boasts a National Electric Safety Code (NESC) ARC rating of 20.8 Cal/cm2 and ranks at a level 2 Hazard Risk Category (HRC). ARC ratings, or the amount of energy a fabric can withstand before the onset of a second-degree burn, are fast becoming a standard to compare a number of products including gloves. Simply put, the higher the calorie rating the better.
Youngstown Glove Co.
CIRCLE 133 ON READER SERVICE CARD
---
M12 Cordless Ratchets are Compact, Powerful
Milwaukee Electric Tool Corp. continues to expand the versatility of its M12 LITHIUM-ION system with the introduction of the M12 cordless 1/4-inch and 3/8-inch ratchets. At only 10 3/4 inches long and 1.9 pounds, these ratchets are compact and powerful, providing a very good fastening solution for automotive mechanics and maintenance-repair professionals wanting maximum performance, portability and productivity.

The M12 cordless ratchet not only provides a compact, battery-powered solution, but also presents a clear and effective solution for users who are frustrated with the hassles of using pneumatic tools, it's reported. The new cordless ratchets provide a portable solution for professionals who struggle with dirty, cumbersome air hoses and the inherent service costs of pneumatic tools on a daily basis.
Delivering up to 35 inch-pounds of torque and 250 rpm, the M12 cordless ratchets are cited to deliver best in class power, speed and durability in a compact form.
Milwaukee Electric Tool Corp.
CIRCLE 135 ON READER SERVICE CARD
---
CMControl Meter Testing Tool Extends Functionality Range
CMControl, the flexible front panel control for OMICRON CMC test sets, now provides a completely new test tool for meter testing. With this tool, CMControl users now have the possibility to test not only various power system protection devices but also electricity meters on-site in an easy and cost-efficient way.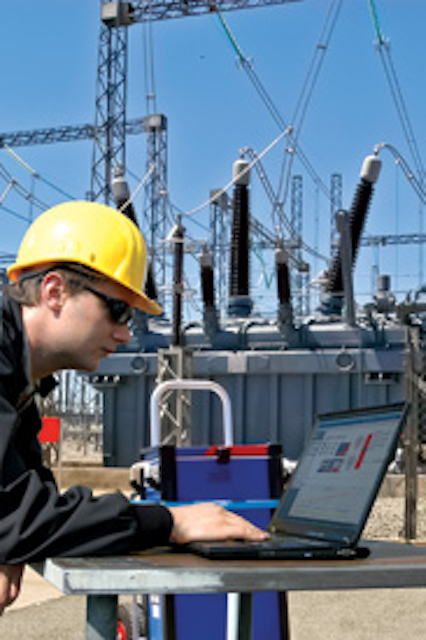 The functionality of the CMControl meter testing tool includes the calibration of the Wh and varh measurements, each in both load directions. Depending on the CMC test set used, the calibration of meters up to an accuracy class of 0.2 is possible. Start-up and no-load checks can also be performed to assess the proper function of electromechanical meters.
All newly-ordered CMControl devices will be delivered with the meter testing functionality at no extra cost. Users of existing devices can download a free software upgrade from the customer area of the OMICRON website. The new software version includes the meter testing tool and other enhancements.
OMICRON
CIRCLE 136 ON READER SERVICE CARD
---
Arc Flash Labels for Outdoor Labeling
Graphic Products Inc., a safety and industrial label printer and supplier, has released new die-cut DuraLabel outdoor-durable labels for arc flash labeling. Electrical arc flash explosions can occur in outdoor locations as frequently, if not more frequently, than indoor locations.
Arc flash labels serve four purposes:
• Convey information about arc flash hazards,
• Inform people to stay away,
• Help electricians know precautions must be taken when interacting with electrical equipment, and
• Inform workers about personal protection equipment (PPE) should they need to work on or near equipment that represents an arc flash hazard.
These tough labels are resistant to UV light and are pre-printed with OSHA/ANSI compliant headers including WARNING, DANGER, CAUTION and NOTICE. The die-cut labels have better outdoor durability because the rounded corners are less likely to peel than the continuous supply.
All DuraLabel arc flash labels are formatted for printing with the DuraSuite software. Each DuraLabel Printer comes bundled with DuraSuite, making it easy to print professional quality labels with all the required NFPA 70E information.
Graphic Products Inc., DuraLabel
CIRCLE 134 ON READER SERVICE CARD
---
SCM Series Hi-Ranger Aerial Devices
Terex Utilities introduces the new SCM48, SCM50 and SCM55 overcenter material handling models to its Hi-Ranger aerial device equipment lineup. These models feature the Terex lower boom cylinder design for low travel height and the Terex-patented Tri-Link elbow design for easy maintenance.
The lower boom cylinder design on the SCM series offers more open bed space and an overall height of under 11 feet on a 40-inch frame. The low profile of the SCM series allows for low platform stow near centerline of the truck to provide good clearance of overhead obstructions such as bridges, trees and power lines during travel.
The field-proven Tri-Link elbow design has been incorporated into Terex aerial devices since 1995. This mechanical design features easy access to greasable bushings and bearings, no lift chains or cables, and does not require a mandatory overhaul during the truck's lifetime.
All models have a gross vehicle weight rating of 31,000 pounds.
Terex Utilities
CIRCLE 137 ON READER SERVICE CARD
---
RD5000WL Single-frequency Cable and Pipe Locator is Fast, User Friendly
With single-button operation and clear visual and audio guidance, the RD5000WL utility locator and transmitter is designed for easy use. The RD5000WL features two operation modes: guidance mode, which directs the operator to the target pipe or cable centerline using proportional directional arrows and differentiated left/right audio tones, and signal strength mode, which displays only the field strength given by the target pipe or cable. Both locator and transmitter are controlled using a single button, making them easy to use.
Locating specific cables and pipes in large underground networks is becoming increasingly complex; with this in mind, Radiodetection has developed ClearTRACK, a digital signal processing engine that automatically rejects other signals from adjacent conductors, leading to more accurate location of a target pipe or cable. This feature helps ensure that operators using the RD5000WL can confidently trace their target pipe or cable through increasingly congested underground utility networks.
Radiodetection
CIRCLE 139 ON READER SERVICE CARD
---
No-Drill Laptop Mount Installs Fast
The RAM No-Drill vehicle laptop mount is designed for almost any truck, fleet vehicle, car, van and big rig on the road. These heavy-duty, steel laptop bases are custom formed to fit specific vehicle models—providing a laptop mounting platform for any RAM vehicle mounting system.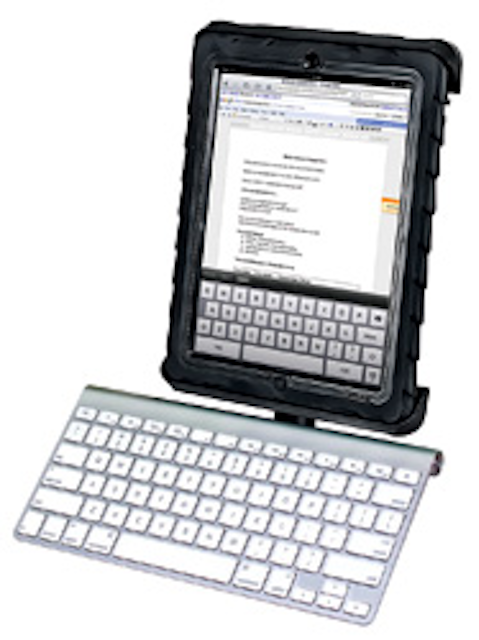 Using the front bench or passenger side seat rail bolts as attachment points, existing hardware in the vehicle is all that is required to secure the laptop bases. If needed, additional hardware is supplied for your laptop auto mount. Because of their ability to absorb damaging shock and vibration, the RAM laptop bases are a good choice for securing computers and electronics of any type.
RAM Mounting Systems
CIRCLE 138 ON READER SERVICE CARD
---
Centurion CONCEPT Linesman Helmet Assures Head Retention, Comfort
MPS Centurion, a unit of Mine & Process Service Inc., has introduced the Centurion CONCEPT linesman helmet. This lightweight helmet meets ANSI Standard Z89.1- 2003, Type 1, Class E and assures retention to the head with a four-point, quick release harness and its comfortable, six-point headband cradle. It is also available with an optional ratchet headband.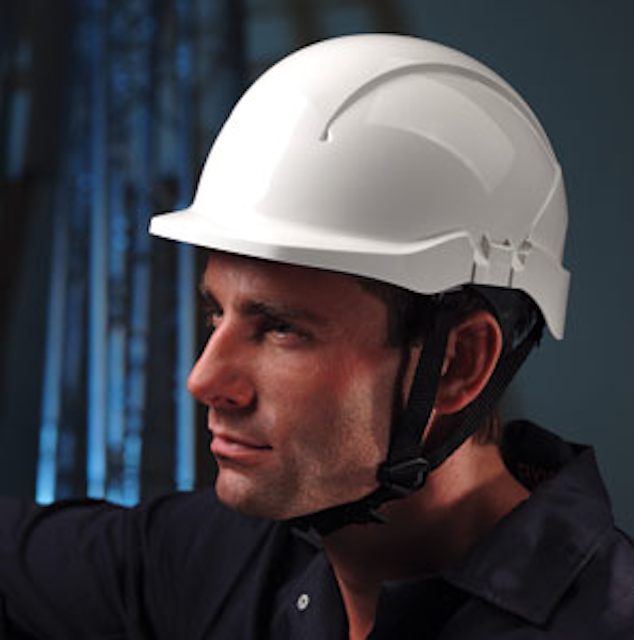 The helmets feature a variety of colors including hi-visibility orange and yellow. A range of accessories including face and hearing protection is also available.
The CONCEPT helmet is manufactured in the UK by Centurion Safety Products. Their products are available in North America through MPS Centurion.
MPS Centurion
CIRCLE 140 ON READER SERVICE CARD
More Utility Products Current Issue Articles
More Utility Products Archives Issue Articles