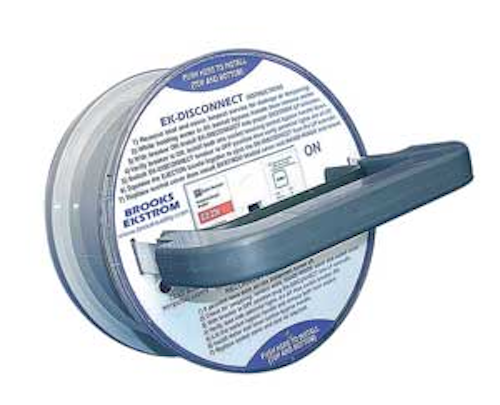 As utilities see departures in their experienced workforce because of baby boomer attrition, Brooks Utility Products (UP) has focused its engineering resources on developing more job-ready products to assist their replacements. It is difficult for utilities to replace the knowledge of a seasoned workforce, and the need for safety device and product design assistance as the replacement force gains field experience becomes more important.
Field Safety Always a Priority
Brooks UP understands the need to design and build products that promote worker safety. Products such as the S-120 socket tester protect meter installers with a last-check safety test for short circuits, grounds, back-feed and wiring errors before a residential meter is installed. The EK disconnect device allows field personnel to safely and easily disconnect and reconnect a lever-bypass service under load. These are two examples of field safety devices that assist and protect the new generation utility field workers.
In addition to socket test and safety products, the company offers a series of products for increased worker safety. Additional worker efficiency benefits have been an area of focus to assist utilities seeking to provide improved service to meet the growing needs of their customers.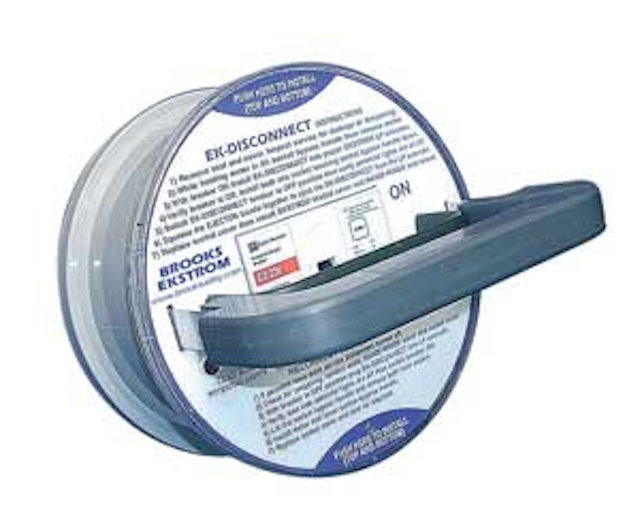 "Worker safety is paramount in design of our products as we continue to provide answers to utility industry needs," said Jeff Hanft, Brooks UP's president. "We have a proven track record in research and development, product quality and close ties to our customers," Hanft said. "We have the resources to link utilities and their employees with products that enhance workers' safety, comfort, productivity and efficiency."
Making Primary Metering Cabinets Safer to Install, Repair
The ELECTRAK primary metering cabinet features two galvanized, steel roll-out shelves, each holding up to 400 pounds of current transformer/potential transformer (CT/PT) equipment. The ergonomic design means repair teams won't have to crawl inside a small cabinet to service the equipment. Instead, a shelf pulls out for easier transformer access.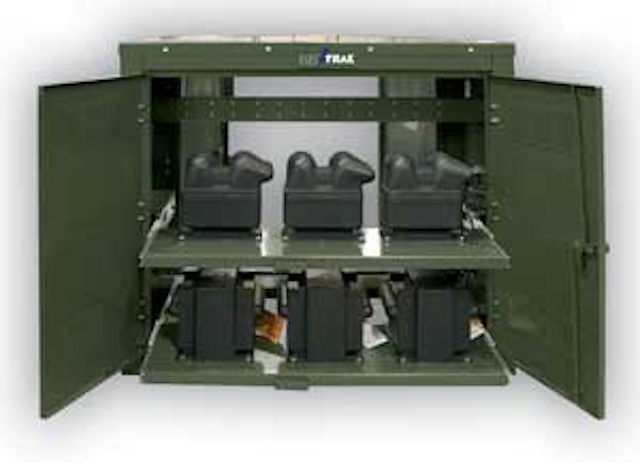 The ELECTRAK design is more cost-effective than ordinary primary metering cabinets because utility workers can service transformers in half the time, resulting in quicker customer outage response times.
Reducing Arc Flash Danger
The FlashSentry meter enclosure protects workers from 480-volt arc flash accident injuries. The 480-volt service is isolated in a separate, sealable compartment from the metering section, which handles 120 volts at the meter.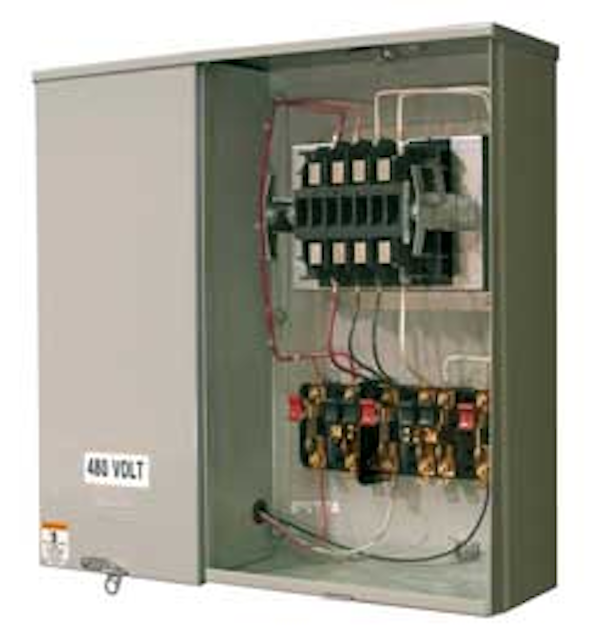 In the past, removal required the conversion of existing, self-contained 277/480-volt services to transformer rated services. FlashSentry offers a solution to the threat of worker injuries from 480-volt arc flash. By isolating the 480-volt service in a sealable compartment separate from the 120-volt service, it provides utility workers-especially those with limited field experience-with reduced arc flash fault risk. This reduces the requirement for additional flame retardant clothing and allows utilities to adhere to more stringent Occupational Health and Safety Administration (OSHA) standards driven by the latest National Fire Protection Association (NFPA) 70E standards for personal protective equipment (PPE).
New American National Standards Institute Test Switch Standards
As early as the end of 2012, new American National Standards Institute (ANSI) C12.9 standard for test switches for transformer rated meters can take effect. This new standard answers a growing safety concern of separating voltage switches when adjacent to a current switch or another voltage switch at a different potential. Brooks UP has developed a test switch barrier product that will allow utilities to install safety barriers to currently installed test switches to conform to the new standards. And, the company will begin supplying test switches with barriers as an integral part of each test switch section, as well as a barrier on the end cover that covers the screw hole.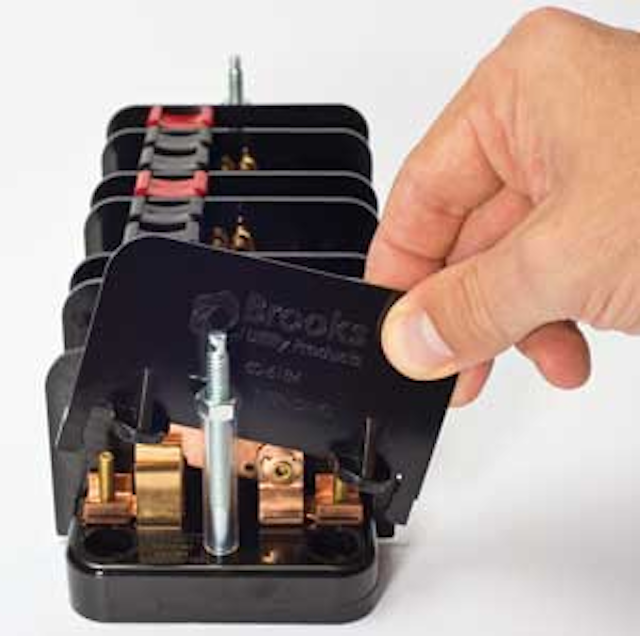 The solution brings installed and new switches that are supplied after the standard takes effect up to date.
Protecting Customers from Sudden Power Surges
Utility companies look at providing customers with protection from sudden power surges as an integral part of their on-going safety program. A new, low-profile adapter-the SurgeGuard-is for installation at the meter socket to provide "whole house" protection.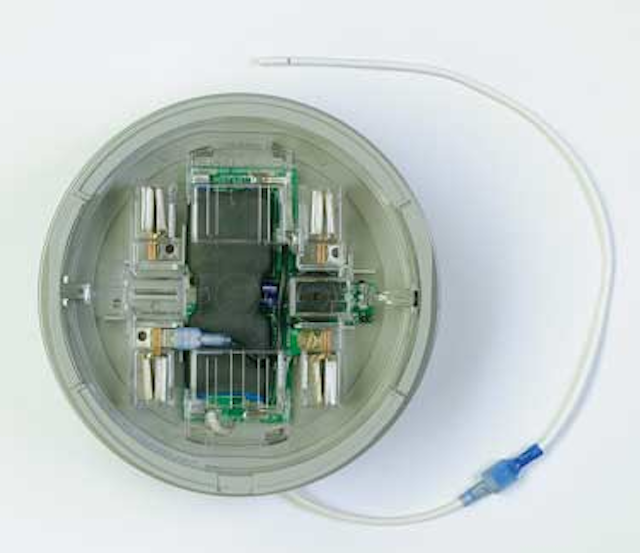 Working in tandem with stand-alone plug strips, the SurgeGuard absorbs large surges that plug strips cannot handle, offering added surge protection.
Because customers see the instant advantage of this product, utilities can offer it as an added feature and charge a small, additional monthly fee for this protection. After a few months, the fee for this service will pay for the SurgeGuard, and these fees then become additional, continuing utility revenue.
Installation is fast and easy. And, because it has been tested by the National Electric Energy Testing Research and Applications Center (NEETRAC), it can be confidently installed. In addition, it comes with a 15-year warranty and is designed to perform through any disaster.
Built in Worker Safety
Brooks UP approaches enhanced worker safety from product development through design and manufacturing.
"We've worked closely with our utility customers to uncover their real concerns for increased worker safety and efficiency," Hanft said. "So, when we develop new products or refine existing ones, worker safety and efficiency are the main goals we strive for to help our customers."

Circle 162 on reader service card