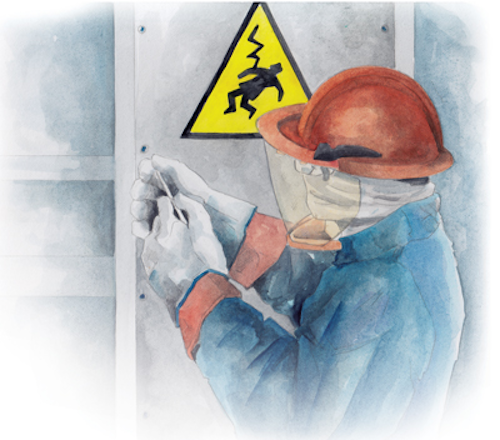 Don't wait until an arc flash causes damage and injury before you are prepared for it.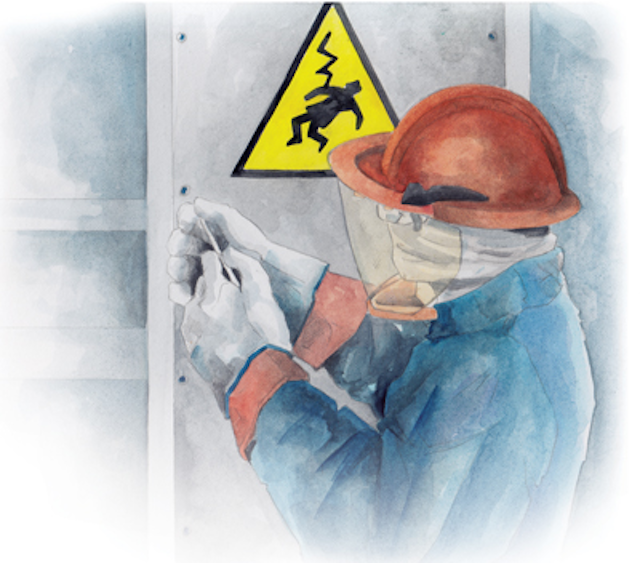 By Paul Hull
When I was a boy in elementary school, we sometimes would have three air raids during the school day. The siren sounded, the headmaster rang a hand bell, and we went in file to the shelters. The entire school reached the shelters in a short time and the bomb-proof doors were closed. No one was ever hurt, although some houses that bordered the playground were destroyed, and, one day, we lost all the windows in our classroom. Why did no one get hurt? It was mostly because we had been prepared to act correctly. An arc flash gives no loud warning, but you can be prepared if it strikes.
Arcing faults can free dangerous levels of radiant heat energy and the arc blast pressure waves can cause deadly damage and injuries. Equipment can be destroyed and workers—plus anyone nearby—can be injured or killed. Arc flashes don't often occur, but, when they do, they can be expensive. Apart from worker injuries and equipment damage, you could be liable for costs related to lost productivity, extended treatment for injured people, increases in premiums for workers' compensation and, in the worst scenarios, legal defense costs and Occupational Safety and Health Administration (OSHA) fines. You can and should consult arc flash hazard calculations based on Institute of Electrical and Electronics Engineers- (IEEE-) 1584 or National Fire Protection Association (NFPA) 70E guidelines. These are not government interference—they are helpful, well-researched formulas. You should know the status of all equipment as it relates to arc flash events. You will use labels to mark the dangers of equipment; ultraviolet- (UV-) resistant vinyl labels seem to be the most popular and practical. Labels are useless, however, if no one reads them or understands them—so that should be a priority procedure for employees.
Many people don't like regulations—as if they are in place to hinder work. We all benefit from regulations in our work and leisure activities, and it only takes one accident to make us realize why regulations have been designed and written. Regulations that might stabilize cynics' thinking could be: People on the same lane of an interstate should be traveling in the same direction; surgeons should have clean hands; and television sets should come on to the station you select, not just to a program picked at random. The more hazardous the work, the more likely and numerous the regulations—so you know anything related to arc flash accidents will demand study, knowledge and understanding.
For all energized work more than 50 volts, except diagnostic work, NFPA 70E Article 130.1 requires an Energized Work Permit. There's more to the work permit than permission. Work permits document the safe work practices and procedures you use, planning and briefings for the job, the hazards of arc flash, and the personal protective equipment required for a specific task in a project. Work permits require management and electricians to confirm the task can be performed safely; they are a sensible, essential step in all work that could involve arc flash hazards.
Personal Protection
Once the location and power of arc flashes are known, you can protect employees. Anything the worker can use in a possible arc flash event should be considered and provided. It's not just a suit and not just protective gloves—it's the entire outfit, including tools. Protection for the face, head and neck could include protective face shields, protection hoods, protection for the eyes and even cooling devices. Insulated hand tools are an obvious choice; they could be non-sparking, non-magnetic tools. The worker will use these hand tools with insulated rubber gloves.
Protective clothing is designed and sold to anticipate arc flash dangers. Arc flash hazards are usually rated on a cal/cm² scale; most good protective clothing offers a range from 8cal/cm² to as much as 100cal/cm²—so it's important to know beforehand the level of danger in any situation. Some protective clothing is bulky and can hinder the movements and productivity of the worker. It has seemed practical in recent years to change old-fashioned breakers, which react slowly, to more modern breakers. If breakers can trip quicker, the flash danger may be reduced and more wearable protective clothing could be appropriate—category 1 or category 2 instead of traditional category 4. Being too cautious or conservative in your short circuit analysis can mean workers and technicians have to wear clothing that is too cumbersome, too hot and with poor visibility. The appropriate preparations and research for arc flash problems demand serious attention and commitment.
Equipment must also be considered. Some older electrical equipment is now dangerous because it has aged and suffered natural deterioration. There is now safer, more efficient equipment. You'll find familiar names among the companies behind the improvements—names such as Brooks UP, ABB, NASCO, Hastings, Salisbury, Enviro Safety Products, Davis Instruments, Chicago Protective Apparel and Carhartt. What better companies than these for experienced sources of reliable arc flash information? Brooks UP, for example, has a product called the FlashSentry meter enclosure. It's a simple way to protect workers from 480-volt flash accident injuries. The 480-volt service is isolated in a separate, sealable compartment from the metering section, which handles 120 volts at the meter. In the past, removal required the conversion of existing, self-contained 277/480-volt services to transformer rated services. By isolating the 480-volt service in the sealable compartment separate from the 120-volt service, FlashSentry gives utility workers a reduced arc flash fault risk. This reduces the need for additional flame retardant clothing and allows utilities to comply with the more stringent OSHA standards driven by the latest NFPA 70E standards for personal protective equipment.
For protective clothing, Salisbury by Honeywell has introduced the AS1200HAT Weight-Balancing Arc Flash Protection Face Shield. It stows in a balanced, compact position with the center over the top of the head when it isn't needed. For the wearer, that balance is an advance in comfort. The AS1200HAT has an Arc Thermal Performance Value (ATPV) rating of 12cal/cm² and uses nanotechnology to give a more transparent window for better visibility. The shield/window is easily replaced without tools. The face shield unit includes ventilation ribs that allow a natural convective airflow through the top of the face shield to reduce visor fogging and lower CO2 levels. In other words, these advances help the user be more efficient and productive. The Salisbury AS1200HAT meets American National Standards Institute (ANSI) Z87.1, Canadian Standards Association (CSA) and is listed to American Society for Testing and Materials (ASTM) F2178 specifications.
Chicago Protective Apparel—in business for some 100 years—offers arc flash protection kits, and you can choose between 8, 12, and 20 cal/cm² versions. You might want a Coverall Kit or a Jacket and Bib Kit. With the Coverall Kit, you'll find a coverall, hard cap, face shield, chin cup, cap bracket, knit Nomex hood, rubber gloves, leather protector gloves, a 12-inch glove bag, gear bag, safety glasses and earplugs. The Jacket and Bib Kit includes many similar components except with a jacket and bib overall instead of a coverall. Chicago Protective Apparel also offers a Coat and Legging Kit and a Jacket and Pant Kit—all including the items previously mentioned.
There are many innovations in arc flash protection equipment and clothing, some with new technologies and others with new construction materials. So, possibly more than in any other aspect of our work, keeping current on what is available is essential for managers and supervisors. The products we've always used may have been improved and the techniques we've always used may have been fine-tuned; it's all to make the work safer and more efficient for employees. There is probably a no more dangerous mistake than to underestimate arc flash dangers. The first and most important step is to know when arc flashes can occur and to teach your workers about the dangers. Make sure good labels are in place. Make sure everyone knows what to look for and what to wear when there is danger of arc flash.