New Products Showcase
May 1st, 2012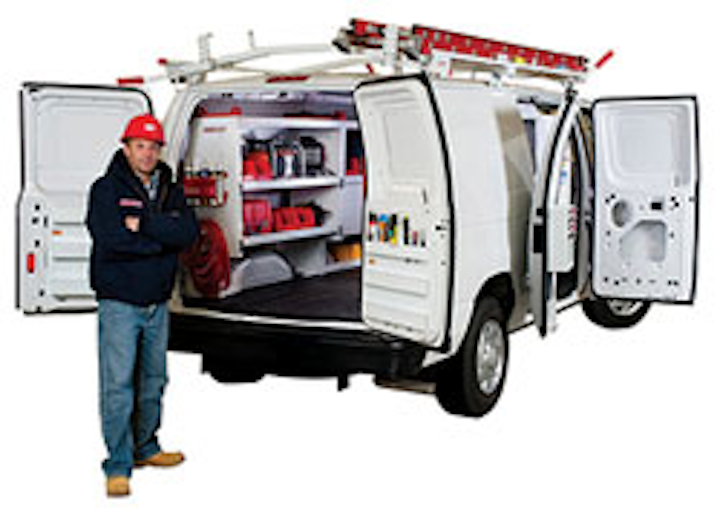 WEATHER GUARD Van Solutions Storage Equipment and Professional Trade Packages
Knaack LLC announces new WEATHER GUARD Van Solutions-including professional trade packages, new bulkheads and shelving, new accessories, and new specialty and secure storage, along with enhanced organization and quick installation features.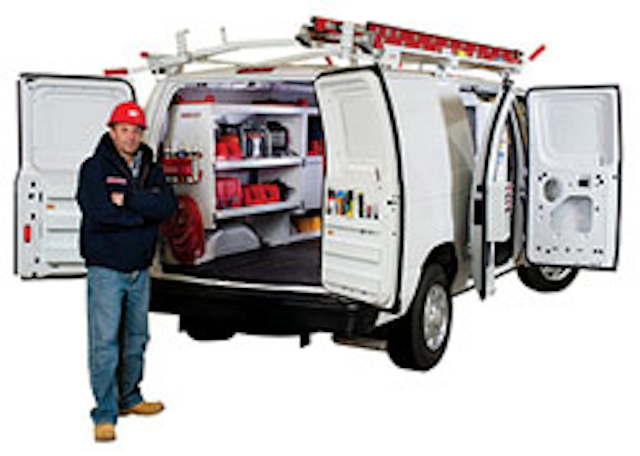 WEATHER GUARD profession-specific van storage packages are customized for the unique job requirements of electricians, telecom, general contractors and remodelers, plumbers, mechanical/HVAC, security and more. Pro-packages are available for all full-size, high-roof and compact vans.
The new WEATHER GUARD Rapid Mount Shelving has deeper, fully-hemmed, 162 shelves to fit large tool cases and boxes, and tool-less adjustable shelves and dividers. New secure storage door and drawer modules offer extra theft-resistance. End panel caps have easy-to-reach tie-down points. In addition, Rapid Mount Shelving comes with notched floor clearance for PACK RAT drawer units or wide supplies.
A wide range of new 3Red Zone2 accessories is announced that mount to shelf end panels, bulkheads or van doors for easy access to frequently used items. New tool and parts cabinets, cases, bin boxes and locking cabinets are available, as well as the Cab Command Center-a between-the-seat organizer-and the Grab & Go tool cart.
Knaack LLC
CIRCLE 110 ON READER SERVICE CARD
---
SL-CB Battery-powered Cable Bender for Electrical Utility Industry
Huskie Tools has introduced the SL-CB battery-powered cable bender for the electrical utility industry. The SL-CB uses the pull-pin design, allowing technicians to change jaws from compression to cutting to cable bending. The SL-CB is cited to be just one of the many ergonomic solutions provided by Huskie Tools to help reduce strains and sprains associated with the daily tasks of a powerline technician.
The SL-CB has several different settings, so the tool can be used on either secondary or primary conductor in a variety of sizes. Featuring a low profile, the SL-CB can be used in a variety of close-quarter environments-such as underground vaults, meter bases and substation applications, and wherever cable bending is required. Note: Contact cable manufacturer for specified cable bending radii and cable bending requirements.
Huskie Tools
CIRCLE 111 ON READER SERVICE CARD
---
Fast-poll, Multi-point, Leased Line Modem for Utility Applications
Synxcom introduces its newest fast-poll, industrial grade, leased line modem-the SM19202FP. The high-performance, point-to-point and multi-point modem offers a training time of 17.5 ms (RTS-CTS delay) over voice-band Telco leased line or private line circuits.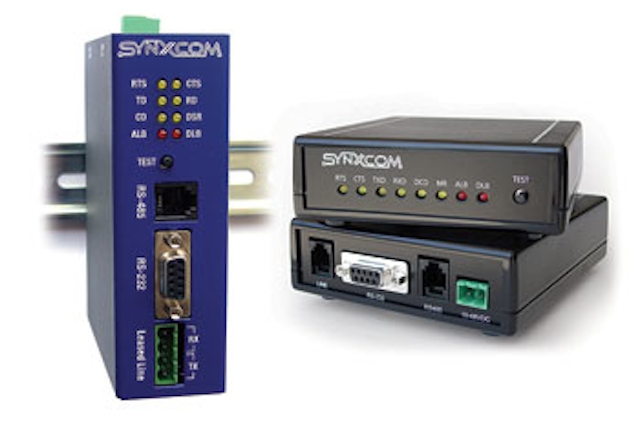 The multi-speed SM19202FP modem series is now offered in desk-top, DIN rail mounting and rack-mount configurations. The SM19202FP is especially useful for industrial communication applications including supervisory control and data acquisition (SCADA) systems, remote terminal units (RTUs), traffic monitoring and control, and industrial automation networks. The modem supports RTUs with EIA RS-232 and RS-485 interface at speeds of 19,200, 9,600, 4,800, 2,400, and 0-1,800 bps. The SM19202FP fast-poll modem operates over four-wire full-duplex or two-wire half-duplex unconditioned lines or private circuits. The modem is housed in a metal enclosure and operates between -40F to +185F.
Synxcom Inc.
CIRCLE 112 ON READER SERVICE CARD
---
Mini-Blower/Pusher is Portable Solution for Installing Micro Fiber and Traditional Fiber Optic Cable
The new Mini-Blower/Pusher from Condux is a lightweight, portable solution for the installation of micro fiber and traditional fiber optic cable. The compact unit is designed for difficult job sites and "last mile" fiber installations. The unit's updated design has made operation easier, allowing the user to drive the system with a cordless, corded or pneumatic drill. The universal stem provides for right side and left side connections for forward drive and reverse drive.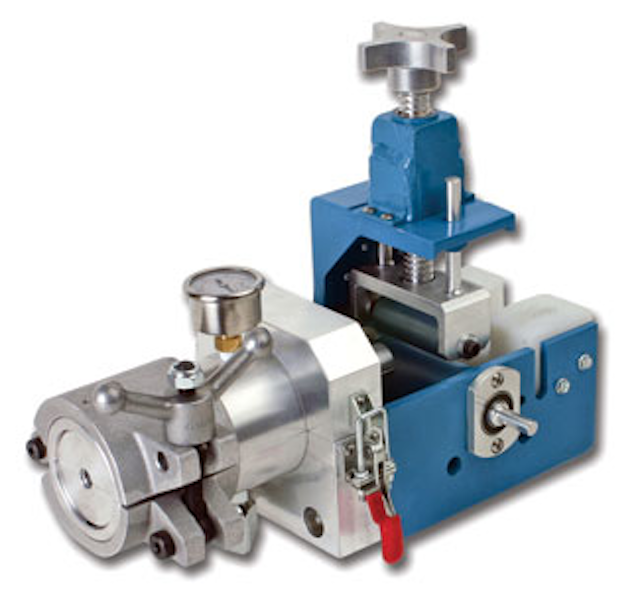 The Mini-Blower/Pusher's machined aluminum construction provides a lightweight profile with long life and durability. The unit can install fiber optic cables with diameters from 0.23 inch to 0.50 inch into micro duct, 0.3937 inch to 0.7087 inch, or traditional duct from 0.50 inch to 1.5 inch. The unit can be further configured to push/install duct rod into conduit and inner duct.
Condux
CIRCLE 114 ON READER SERVICE CARD
---
Grundodrill 4X Drill is Compact and Less Intrusive
TT Technologies' compact Grundodrill 4X is designed for residential service, small diameter main installations, last mile operations and gas pipeline applications-offering 9,800 lbs of thrust and pullback. Using the compact drill is less intrusive and useful for areas where larger units are not an option.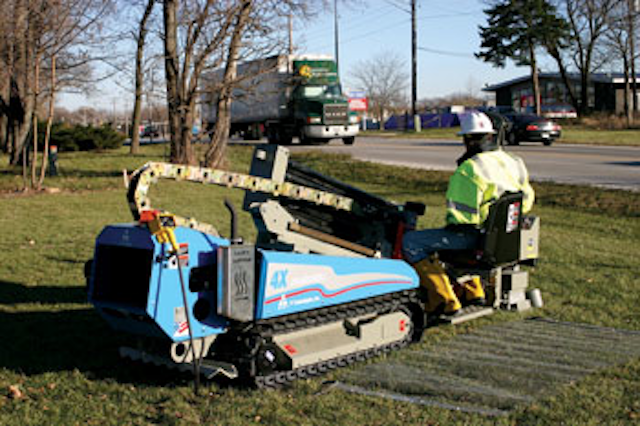 The drill features a dual hydrostatic pump system and a four-auger stake down system that provides greater stability. The Grundodrill 4X also comes with the Smart Vice system that automatically performs vice cycling operations.
TT Technologies Inc.
CIRCLE 113 ON READER SERVICE CARD
---
Model C100S Rotary Wire Stripper and Twister Provides Quick, Clean Strip
Eraser's Model C100S Rotary Wire Stripper and Twister will process insulations from solid and stranded wires such as Teflon, P.T.F.E., PVC, Nylon, KEL-F and many more. Strip length and blade depth adjustments are easily made while the machine is running. The C100S will remove the insulation while twisting the stranded conductors at the same time. With the strip length stop, the C100S can strip lengths from 3/16 inch up to 1 1/2 inch, depending on the material, and can strip wire from 0.031 inch up to 0.228 inch in diameter measuring over the insulation.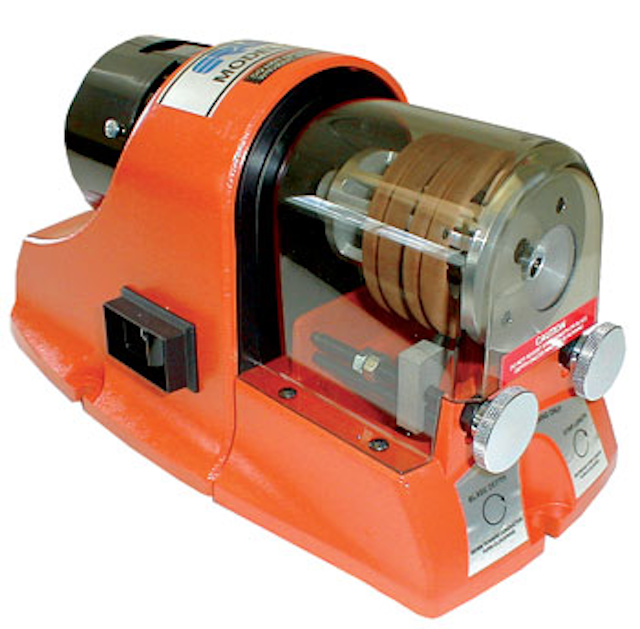 The Eraser Co. Inc. manufactures a wide range of industrial products including wire, cable and tubing cutters, wire and cable strippers, wire twisters, wire brush wheels, dereelers, infrared heating equipment, measuring tools and FybRglass erasers. The company is ISO 9001:2008 certified.
The Eraser Co. Inc.
CIRCLE 115 ON READER SERVICE CARD
---
NightRay Spotlight: Vehicle-mounted Spotlight is Brighter and Competitively Priced
KH Industries' vehicle-mounted NightRay spotlights now have the option of a 360,000-cp spotlight-only bulb. The Par 46 H3 Halogen spot-only bulbs are extremely bright, provide hundreds of hours of run time and cost 50 percent less than dual filament bulbs.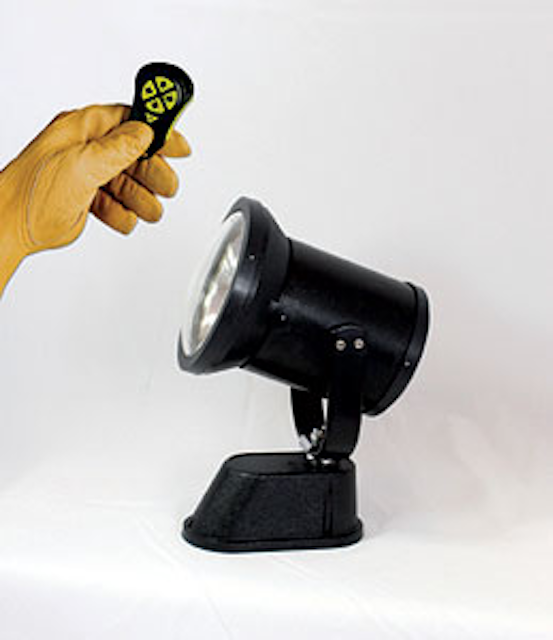 The NightRay spot-only has the durability of the traditional dual-filament NightRay spotlights, but with a much brighter bulb. Last year, the company introduced its HID NightRay, which is cited to be the brightest vehicle-mounted spotlight in the utility industry. Not all customers, however, require the intensity of HID or could afford the price tag.
The Par 46 H3 Halogen spot-only is an affordable solution for nighttime inspection and repair professionals who are looking for a bright spotlight that is designed for the rigors of the utility industry. All NightRay spotlights are designed for use in extreme weather conditions, including snow, ice and saltwater.
Models include:
• 775-20: Hardwired NightRay, Par 46 H1 spotlight only-dash-mounted control panel and wiring harness;
• NR-775-20KFDS: Wireless NightRay, Par 46 H1 s transformer and light system potlight only, with key-fob; and
• NR-775-20DDC: Dual Controlled NightRay, Par 46 H1 spotlight only-dash-mounted control panel, wiring harness and key-fob.
KH Industries
CIRCLE 116 ON READER SERVICE CARD
---
Electrical Safe Work Practices
All persons who install, maintain, repair or work near electrical power equipment need electrical safety training. United States labor law spells out safe work practices and employee training requirements. New Standard Institute's computer-based training provides the information required by the Occupational Safety and Health Administration (OSHA) 29CFR1910 Subpart S, as well as other important safety information not required by OSHA.
Topics covered in this training include:
• US OSHA law and other electrical safety standards;
• Unsafe conditions vs. unsafe acts;
• Effects of electric shock;
• Arc flash hazards, protection and compliance;
• Energized equipment;
• Safe work practices; and
• Use of equipment and more.
New Standard Institute
CIRCLE 117 ON READER SERVICE CARD
---
Variable Frequency Drive Cable Provides Economical Cabling
Belden Inc., a signal transmission solutions company for mission-critical applications, announces its new Canadian Standards Association (CSA) Tray-rated Variable Frequency Drive (VFD) cable. Conforming to CSA requirements, the VFD cable is an economical but robust solution for motor-to-drive connections, noise sensitive applications requiring shielded power cable, and other solid state power supplies with variable frequency needs.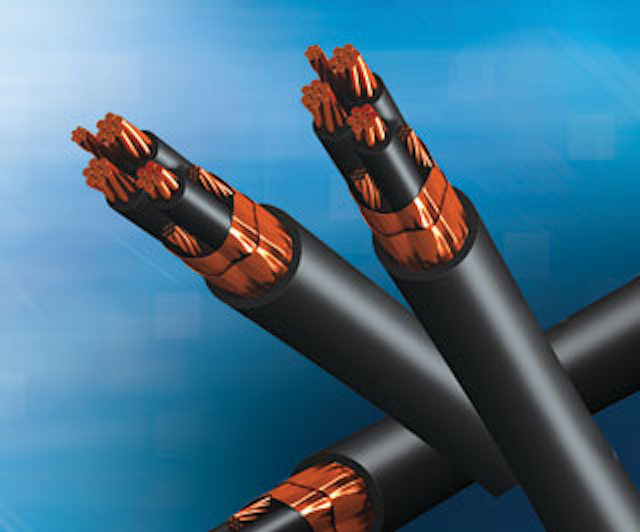 Belden's CSA Tray-rated VFD cable decreases the effects of common mode current containment (CMC), capacitive coupling and reflected wave voltage, and is proven to outperform other types of cabling used for VFD including unshielded cables and other constructions that are susceptible to noise emissions, high-frequency impedance or capacitance coupling.
Belden Inc.
CIRCLE 118 ON READER SERVICE CARD
---
New 14-ton DX140LCR Crawler Excavator Features Reduced Tail Swing for Tight Quarters
Reduced tail swing on the new Doosan DX140LCR crawler excavator makes it especially useful for working on roadways, railroad rights of way and in other tight quarters. The tail swing radius on the 14-ton DX140LCR is 4 feet, 10 inches, which allows it to work on congested jobsites such as streets, highways and rail lines without blocking traffic in adjacent lanes or tracks. Reduced tail swing also minimizes the potential for damage when working close to buildings or walls.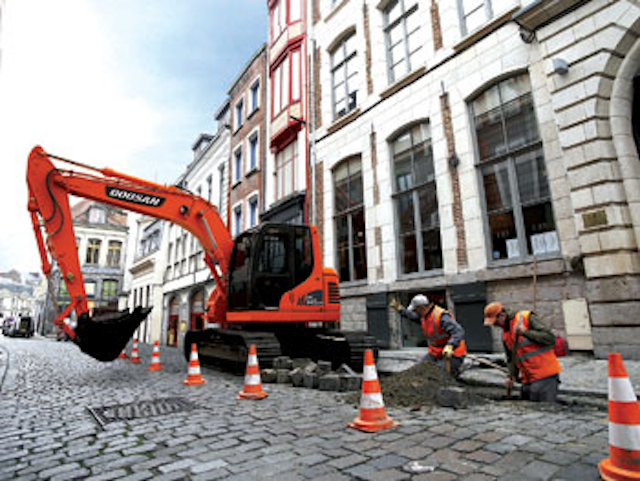 At the same time, the 12-foot-4-inch track length on the DX140LCR provides high stability for digging and lifting operations. An optional dozer blade further increases the machine's lifting capacity.
The DX140LCR is powered by a 108-hp, Tier 3 compliant Cummins diesel engine. It has an operating weight of 32,408 pounds with standard boom, arm and 0.51 cubic yard bucket.
Bucket breakout force is 23,149 pounds with the standard 9-foot-10-inch arm. Arm breakout force is 12,566 pounds. Lifting capacity over front at a 15-foot radius is 11,140 pounds and drawbar pull is 27,558 pounds.
Doosan
CIRCLE 119 ON READER SERVICE CARD
---
Retractable Tool Tether Offers Full Range of Motion, Minimizes Entanglement
Gear Keeper's new RT3-5601 retractable tether, for tools up to 2 pounds, is particularly valuable when working in close quarters or climbing. Available in high visibility orange, the retractable tether's ultra low profile keeps tools close to the body when stored-while still allowing complete accessibility in all directions when in use. The tether's patented side-release clip improves productivity while maintaining drop safety by providing a method for easily exchanging one tool for another.
Like other retractables in the Gear Keeper line, the RT3-5601 is engineered so the tool, application and recoil/retraction force are in balance. When the RT3-5601 retractable tether is extended for use, only minimal force is necessary, thereby avoiding worker fatigue or, in the reverse, causing a kick when the tool is automatically retracted.
The RT3-5601 tether extends up to 42 inches, and, to reduce arm strain, the tether features a ratcheted thumb-controlled device to lock the cable at any extension length. In addition, the Dual-Axis rotation clamp-on clip easily attaches to a tool belt or fall protection harness. Because of the universal movement of the dual action clip, resistance and line wear are minimized and the life of the tether is extended.
Gear Keeper
CIRCLE 120 ON READER SERVICE CARD
---
PUPI Ground Wire Insulator Tubes for Electric Utilities
GEOTEK has added PUPI fiberglass ground wire insulator tubes to its product line for electric utilities. These durable tubes are made of high-performance pultruded fiberglass to provide ground wire isolation and dielectric protection. Protected by SunGUARD, the new ground wire insulator tubes offer the same three levels of ultraviolet (UV) and weathering protection as PUPI tangent and deadend crossarms.
The new ground wire insulator tubes are made to customer requirements and are available in different lengths to adapt to different applications. The company's goal is to offer products that improve the performance and longevity of distribution and transmission systems for its electric utility customers.
GEOTEK
CIRCLE 121 ON READER SERVICE CARD
---
Shark 100B Meter with Native BACnet/IP Protocol
Electro Industries/GaugeTech (EIG) announces the release of its Shark 100B meter with native BACnet/IP protocol. The Shark 100B meter acts as a BACnet server to seamlessly integrate with any BACnet building management system or application.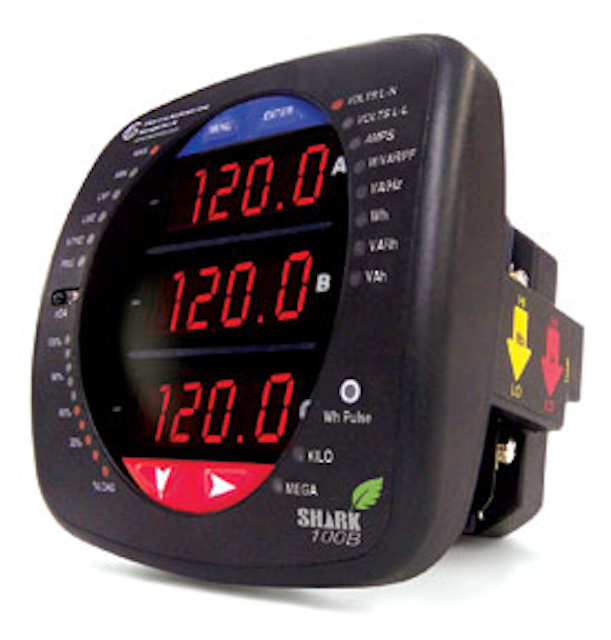 The latest entry in the Shark series, this meter has been developed for "green" buildings, Leadership in Energy and Environmental Design (LEED) certification and other energy management strategies. The highly accurate Shark 100B meter has a Web interface for remote BACnet/IP and Modbus configuration, and tracking of energy readings through the Internet using any standard Web browser.
Electro Industries/GaugeTech (EIG)
CIRCLE 122 ON READER SERVICE CARD
---
Arc Guard System Provides Enhanced Arc Flash Protection
ABB Low Voltage Products Div. has released TVOC-2, a new generation of its proprietary Arc Guard System that protects electrical equipment from electrical arc flashes. TVOC-2 features numerous upgrades and new functions to provide high arch flash protection, detecting faults in low and medium voltage switchgear and disconnecting the power provided to the arc within 30 to 50 milliseconds-preventing serious injury to personnel and damage to expensive equipment. Without the Arc Guard System, an arc flash will typically trip a circuit breaker in approximately 1 second, enough time for the arc to destroy the switchgear and kill or seriously injure a person.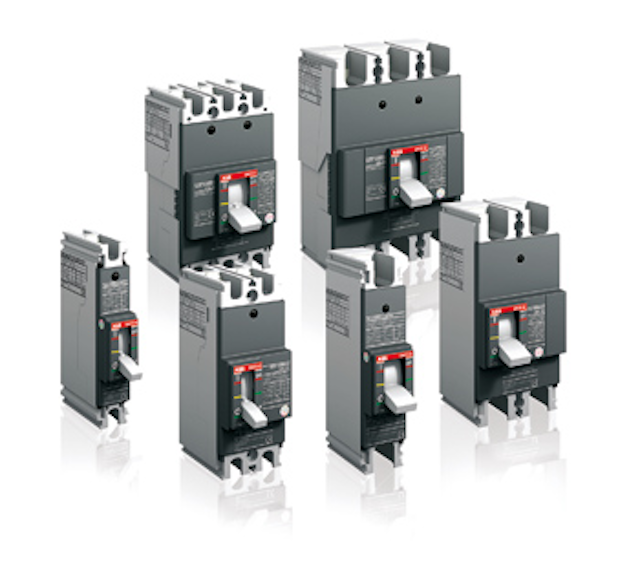 TVOC-2 is now Underwriters Laboratories (UL) listed, and, when installed with ABB's Emax circuit breakers, carries a functional safety rating of SIL-2 as certified by TÜV Rheinland, an independent global provider of safety analysis. The SIL-2 certification confirms that the TVOC-2 has achieved the standard required to protect both humans and equipment.
ABB Low Voltage Products Div.
CIRCLE 123 ON READER SERVICE CARD
---
PRX-500 Proximity Voltage Detector
HDE's PRX-500 Proximity Voltage Detector is a non-contact voltage detector with nine selectable voltage ranges from 120 Vac up to 500 kVac. The PRX-500 provides an audible and visual indication of voltage detected from elbow test points up to the highest transmission voltages. The PRX-500 features an easy-to-use electronic touch pad with large buttons and has a rechargeable internal battery that can be quickly charged from your truck or a wall outlet. Features and benefits include: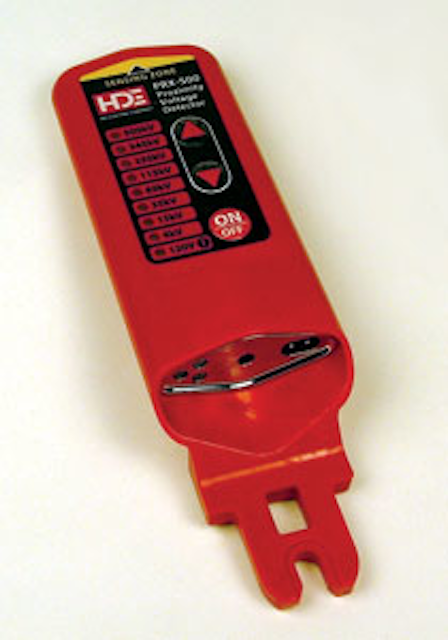 • Rechargeable battery with quick recharge-if battery is low, a quick 15-minute charge provides over one full day of use;
• Nine standard voltage ranges from 120 Vac up to 500 kVac;
• Detects voltages 10 inches or greater from source and most elbow test points;
• Weighs less than 1 pound;
• Loud beeper and light emitting diode (LED) lights indicate voltage;
• A full charge takes only three hours and gives one week of continuous use;
• Made in the USA; and
• Can be used on 50 Hz and 60 Hz systems.
HD Electric Co.
CIRCLE 125 ON READER SERVICE CARD
---
MxVision WeatherSentry Online Wind Energy Edition Lightning Alerting System
Telvent's MxVision WeatherSentry Online Wind Energy Edition warns wind farm operators when lightning strikes are detected within a predefined radius, providing sufficient time for personnel to evacuate before lightning is in their immediate area. The height and locations of wind turbines make them especially prone to lightning strikes, threatening not only crew safety but also operational efficiency.
Telvent's reliable lightning alerting system automatically sends alerts to personnel both in the control room and to crews' cell phones in the field when strikes are detected within a pre-defined radius, giving crews the time needed to evacuate. The accuracy of this technology also helps wind farm managers avoid false alarms and unplanned evacuations because of weather, increasing efficiency and thereby delivering cost savings. Telvent's lightning safety solution is relied on by approximately 60 percent of North American wind farms.
Telvent
CIRCLE 124 ON READER SERVICE CARD
---
Keyless Tool Control Provides Affordable Tool Security for Mobile Boxes
Snap-on Industrial's new Level 5 Keyless Tool Control (KTC) series of tool storage systems fully secure tools by using an electronic keypad or scanning an ID badge to gain tool box entry. The KTC system is for boxes in applications such as fleet garages and more.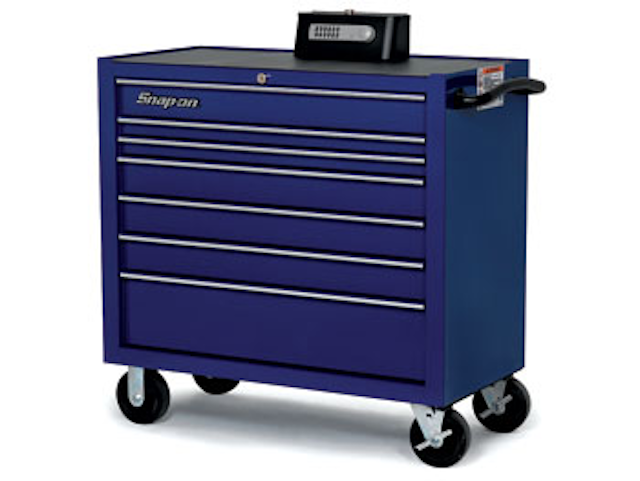 It's easy for technicians in this environment to forget or lose track of their toolbox keys. With KTC, the box is easily accessed anytime and anywhere, achieving the same level of security as a lock and key system while eliminating the inconvenience that keys often produce. The result is a tool storage system that enhances shop and facility productivity.
The KTC entry panel is incorporated into the top of the toolbox for easy access. Because it's designed to work best for boxes on the move, the KTC system can be powered by six D-cell batteries (which can last up to six months), or it can be plugged into an ac outlet.
Snap-on Industrial
CIRCLE 126 ON READER SERVICE CARD
---
Rechargeable and Portable Hazardous Area Light
The RUL-9 portable hazardous area light from Larson Electronics' Magnalight.com provides high power, durable operation, rechargeable capability and five hours of powerful illumination in a Class 1, Div. 2 approved hazardous location rated package. This portable hazardous location light provides a strong light beam and long run times on a single charge of its lithium-ion batteries. Equipped with an integral carry handle, rear mounted LEDs and articulating head, this portable light is suited to a wide variety of uses including utility work, industrial applications and emergency services.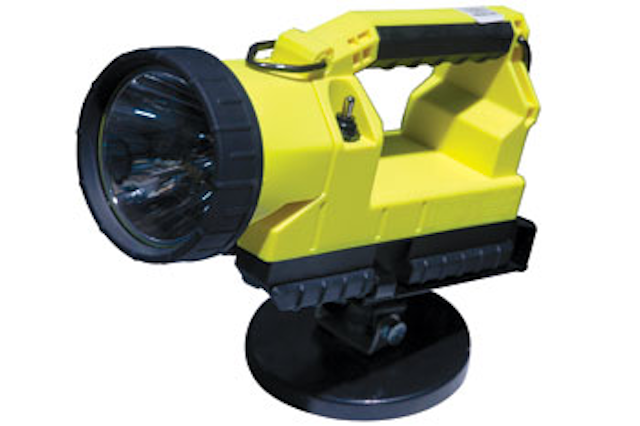 Made in the USA and designed to provide a rugged lighting solution for use in demanding hazardous locations, the RUL-9 portable and rechargeable light produces 120,000 candlepower and can operate for five hours on a single charge of its lithium-ion batteries. Constructed with a high-strength nylon body with rubberized coating, this unit is built to withstand demanding service.
Larson Electronics, Magnalight.com
CIRCLE 128 ON READER SERVICE CARD
---
Sinvert Solar Inverters Offer Peak Efficiency
Siemens Industry Inc. introduces its new Sinvert PVM Underwriters Laboratories (UL) inverter, designed for peak efficiency and maximum plant yields to convert solar energy into grid-compliant ac voltage for infeed into conventional power supply networks. The Sinvert PVM UL inverters are available from 12 kW to 24 kW for small to medium sized plants in the commercial market and are capable of delivering more than 98 percent peak efficiency.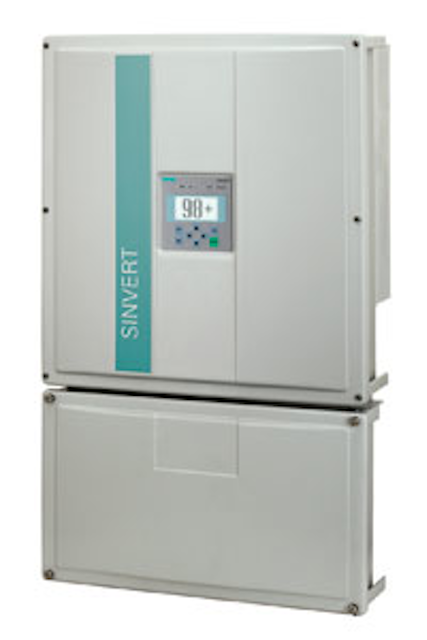 With PVM12 UL, PVM16 UL, PVM20 UL and PVM24 UL models, the Sinvert PVM UL inverters are suited for various applications, including commercial office buildings, public spaces such as schools and municipal buildings, roofs of industrial buildings or ground-mounted plants. Capable of outputs for photovoltaic (PV) plants up to the megawatt range, these PVM UL inverters provide a high degree of economic efficiency over the entire life cycle of a grid-connected PV system.
Siemens Industry Inc.
CIRCLE 127 ON READER SERVICE CARD
---
NaviTEK II Cable Tester Technician Tool for Frontline Network Testing
IDEAL Industries Networks, the networking technology division of IDEAL Industries Inc., has launched the NaviTEK II-this fast, cost-effective Ethernet service and cable tester for frontline technicians. NaviTEK II includes IPv6, PoE+, VLANs, Trace Route and advanced color liquid-crystal display (LCD) screen to view pin-by-pin wiremap capabilities that are standard in modern network deployments.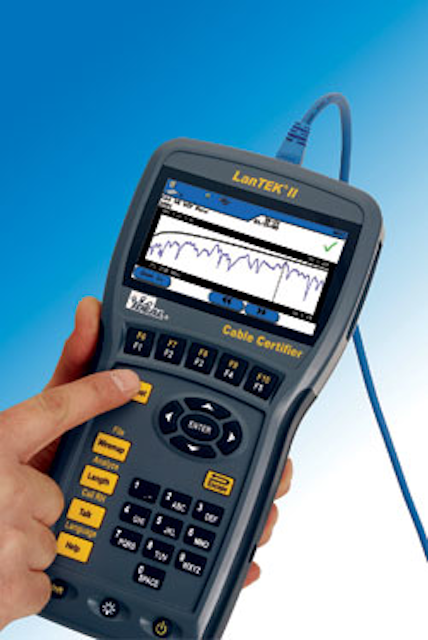 The NaviTEK II is an affordable, handheld tester that lets frontline technicians literally see into copper or fiber networks to identify complex connectivity problems and quickly resolve them. It makes troubleshooting local area network (LAN) physical and network layers more efficient.
Engineered for rapid deployment with a minimal learning curve, the NaviTEK II features a simplified user-interface that allows even inexperienced technicians to quickly get their networks back up and running. One reason is its large LCD; while other manufacturers' testers force technicians to read small letters on 2-inch monochrome screens, the NaviTEK II has a 3.5-inch color LCD with large fonts and an on-screen keyboard to speed data entry of Internet Protocol (IP) addresses and customer information.
IDEAL Industries Networks
CIRCLE 129 ON READER SERVICE CARD
More Utility Products Current Issue Articles
More Utility Products Archives Issue Articles