Reducing the Risk
Fiberglass Crossarms Used to Combat Utility Pole Fires
Oct 18th, 2013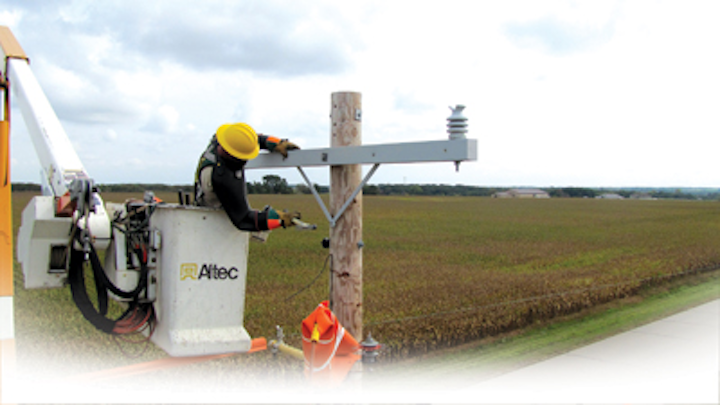 Fiberglass Crossarms Used to Combat Utility Pole Fires
By Amber Reed
One of the biggest and most dangerous challenges facing the utility industry is the risk of pole top fires. This risk of fire can increase or decrease, depending on the type of material used in the pole's construction and design. Some utility companies have added fiberglass crossarms to their electric transmission and distribution infrastructure as a way to reduce the risk.
Installing a fiberglass crossarm
A Potential Fire Hazard
A crossarm is one of the most important components at the top of an electric transmission and distribution pole. Although traditionally constructed of wood, crossarms now are also made of steel and fiberglass.
The challenge with wood, like other biodegradable materials, is that it is susceptible to contamination and deterioration.
"The root cause of most pole fires is electrical tracking across the porcelain insulators and wood crossarms due to contamination being deposited on the surface," said Steve Torres, project engineer for Colorado Springs Utilities in Colorado. "Pole fires are common challenges among electricity providers where contaminations such as coal dust, salt, airborne pollution or dust build up on insulating equipment followed by a weather event. A light misting rain, for example, can combine with contaminants on the insulating hardware and create a bond between the contaminants.
"Contaminated water droplets then begin to form and establish paths from the energized overhead conductor to the crossarm. This provides an electrical path for tracking to occur. When tracking occurs from the energized conductor to the surface of the crossarm, small arcs are generated between the wood and the through-bolt that is used to attach the crossarm to the pole. The crossarm through-bolt is a common area for a pole fire to initiate because of the minimal surface area contact and high electrical resistance. Also, this area tends to be dry, which can cause it to ignite more easily."
According to research presented by the High Voltage Laboratory of the Department of Electrical and Computer Engineering at Mississippi State University, wood has low electrical resistance at alternating currents, especially under wet conditions, and also has low mechanical strength per unit weight. Study results shared at the Australasian Universities Power Engineering Conference in 2008 concur, showing the higher the moisture content of wood, the more its insulating properties decrease-resulting in an increase in the wood's conductivity. The same increased conductivity has been experienced in wood poles with higher concentrations of salt or dust contaminants. And the more conductive the material is, the greater the risk of fire.
Aged fiberglass crossarm shows some discoloration, but is still smooth, clean and 100 percent waterproof.
The challenge with steel is that it is always an electrical conductor, in any condition, so it does not have insulation resistance.
On the other hand, fiberglass crossarms offer the best of both worlds-they are electrical insulators and have a high mechanical strength-to-weight ratio. In addition, fiberglass crossarms have a projected service life of more than 60 years and can be used in any environmental condition-from arid, dry areas to more humid climates.
To sum it up, when insulation levels are compromised because of contamination or moisture consumption, leakage current flow-or tracking-can increase, and, under certain conditions, can potentially create enough heat to result in a pole top fire.
To mitigate the risk of fire, utility companies such as Colorado Springs Utilities are turning to fiberglass crossarms to play a larger role in the composition of their electric utility poles.
Advancements in Electric Utility Pole Construction
Composite materials, such as fiberglass, have about twice the service life of wood products and are impervious to damage caused by nature-such as birds, insects, rot or mildew. For these reasons, as well as its high-insulating value, fiberglass has already replaced many wood products in the utility industry-such as ladders, hot sticks and tool handles-for more reliable performance and longer life.
"Because of its superior qualities over wood and steel, fiberglass crossarms have become more popular in the utility industry as a way to increase the basic impulse level (BIL) and reduce the risk of pole top fires," said Riley George, PUPI regional sales manager. "Fiberglass crossarms are engineered for consistent strength and enhanced electrical insulation properties. To accomplish this, they are manufactured from fiberglass reinforced plastics through a continuous pultrusion process that results in the crossarm being made of a high-strength composite material."
Aged wood crossarm shows significant surface erosion and contamination.
High Voltage Laboratory at Mississippi State University offers the following additional insights into the process: Protective inhibitors are mixed in the plastic resin during the manufacturing process to prevent deterioration from sunlight. Fiberglass crossarms are also coated with polyurethane on the outer surface, and all bonded joints are sealed to prevent moisture penetration. In addition, fiberglass' surface is engineered to be impenetrable by moisture. Its hydrophobic (repels water) surface allows surface contamination to easily wash away.
The result is a smooth, hard outer surface that is self-cleansing and resistant to the contamination and buildup that can cause tracking.
Some manufacturers have taken additional measures to enhance the performance of their fiberglass crossarms. PUPI fiberglass crossarms, for example, employ a patented thermally-bonded SunGUARD UV-resistant coating.
"The unique UV-resistant coating on PUPI fiberglass crossarms is designed to add another layer of protection against ultraviolet radiation on the crossarm's surface," George said. "This feature is critical to the long-term performance of the crossarm-a smooth surface does the best job of shedding water and contaminants, which minimizes occurrences of tracking.
"Because PUPI fiberglass crossarms are primarily made of inorganic materials, they are flame resistant and self-extinguishing-with no afterglow or dripping of material once the flame is removed."
Put to the Test
On March 8, 2010, a wooden utility pole located adjacent to Interstate 25 near Colorado Springs, Colo., caught fire, causing an energized conductor to fall across I-25 and backing up rush hour traffic for miles-leaving the nearby Air Force Academy without power for an hour.
According to Torres, the root cause of the pole fire is believed to have been contamination buildup of magnesium chloride (road salt) on the insulators and crossarms, which caused leakage current to track. This, combined with continuous arcing, eventually resulted in the wooden crossarm catching fire.
New fiberglass crossarms are smooth and resistant to contamination.
"The burning of the wood pole triggered the top portion of the pole to collapse onto itself," Torres said. "The pole fire caused a flashover of the conductors and melting of the phase conductors. This resulted in phase conductors falling across I-25."
This high-profile failure drove Colorado Springs Utilities to research and implement a solution that would prevent a failure such as this one from happening again.
One call the Colorado Springs Utilities team made was to George at PUPI.
"We shared with Torres and his team the experience of an electrical utility in Alberta, Canada, who had once experienced 80 pole fires in two days," George said. "To remedy the situation, as well as to prevent future fires, this particular utility is in the process of replacing their wooden crossarm infrastructure with 10,000 fiberglass ones. To date, they have not reported any pole fires to us."
After this research, Torres and Colorado Springs Utilities have started replacing their existing crossarm infrastructure with PUPI fiberglass crossarms. Colorado Springs Utilities line construction crews have been installing fiberglass deadend crossarms for more than two years, and fiberglass is now the standard for the company's deadend crossarm construction.
Fiberglass crossarms in use.
"Installing fiberglass crossarms with silicone rubber (SiR) insulators has been shown to give superior protection against pole fires," Torres said. "We believe this combination provides us with the best protection against dropping an energized line onto the highway."
George offered these final thoughts: "Fiberglass crossarms have specific properties that make them less susceptible to pole top fires than other materials. Wood, for example, gets very rough and porous over time-but fiberglass crossarms don't absorb water, and the surface stays smooth as they age. This reduces the accumulation of contaminants and increases overall BIL of the entire transmission and distribution system. And, we continue to see that even as they age, fiberglass crossarms offer an increased resistance to electrical tracking and contamination.
"Also, because they are flame-resistant and self-extinguishing, once the heat source is removed, fiberglass crossarms can significantly reduce the potential of damage caused by a pole top flare-up. Based on our customers' successes to date, we will continue to recommend fiberglass crossarms as a way to reduce the risk of pole fires."
---
About the author: Amber Reed is with Signature Style, Coppell, Texas.