Reflect-A-Gard Hi-Vis Vests
Saf-T-Gard International Inc. has expanded its Reflect-A-Gard High Visibility Clothing line with two additional styles. The RG-4000 is a Class 3 lime/yellow mesh vest/shirt with short sleeves, one inner pocket and two horizontal, two vertical, two sleeve reflective stripes. The RG-2005 is a Class 2 lime/yellow mesh five-point breakaway vest with one inner pocket and two horizontal/two vertical reflective stripe. Both new styles are compliant with ANSI/ISEA 107-2010 in their respective class.

The two new styles join other popular Reflect-A-Gard styles such as the RG-8000 Class 3 bomber jacket and the RG-3000 Class 2 tri-color hi-visibility safety vests. Saf-T-Gard partners with other leading global manufacturers, such as Tingley and the Job Sight product line, for flame resistant and arc-rated high visibility clothing.
The Reflect-A-Gard hi-visibility line of products was introduced by Saf-T-Gard in 2006 as an expansion to Saf-T-Gard's line of GARD-branded products. These include, among others, Visi-Gard Safety eyewear, Prim-Gard premium leather work gloves (sewn with Kevlar) and Voltgard electrical safety products.
Saf-T-Gard International Inc.
CIRCLE 114 ON READER SERVICE CARD
---
My X-Perience Program Launched
Xantrex Technology announces a customer-focused initiative called "My X-Perience," which enables the users of Xantrex products to share their story and brand experience. The program is not just about the Xantrex brand, it's about peoples' lives, their adventures and the special moments they enjoy using Xantrex power solutions. With more than three decades of design and manufacturing, Xantrex has created a large base of loyal customers who rely on its solutions for their onboard ac power and battery charging needs.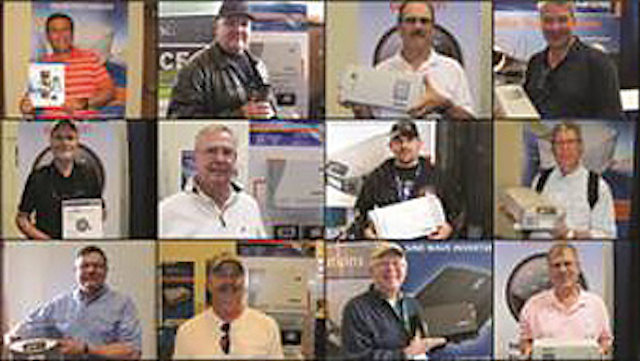 This new concept had its soft launch at two industry events earlier this year. It was fascinating to learn how our solutions were playing a part in peoples' professional and personal lives, it's reported. The many interesting stories were captured on camera, and it was decided to launch a full-fledged campaign on the company's website and social media outlets.
Xantrex Technology
CIRCLE 115 ON READER SERVICE CARD
---
Voltgard Leather Protector Gloves
Saf-T-Gard International Inc. has expanded its Voltgard electrical safety line. Voltgard rubber insulating blankets have long been the flagship of the Voltgard line. After more than 25 years in the market, Voltgard blankets have become recognized as the softest and most flexible rubber insulating blankets available. Now, Saf-T-Gard expands the Voltgard product offering with a full line of leather protector gloves and accessories.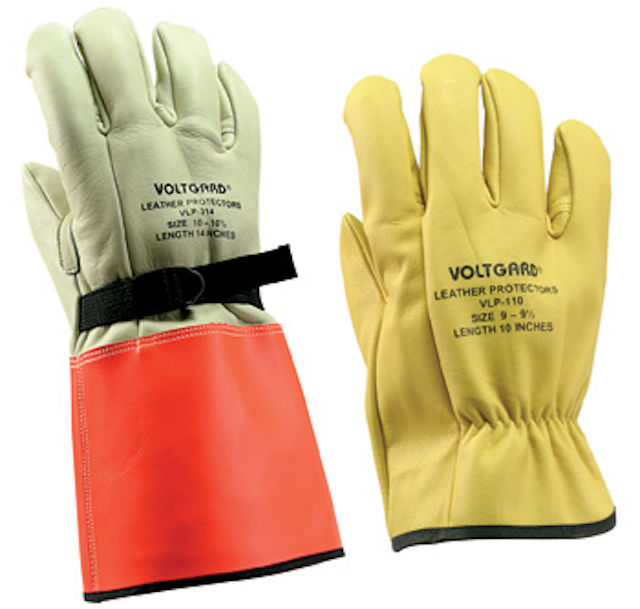 Voltgard leather protectors are constructed of the supplest leather available and are designed to fit industry-standard rubber insulating gloves. Voltgard leather protectors are produced in an ISO-registered facility, in strict compliance with ASTM standard F696.
Voltgard leather protectors are available in two series, VLP-100 and VLP-300, with both series available for low and high voltage gloves. Series 100 protectors are made of gold-color grain goatskin. Series 300 protectors are made of a beige-color grain cowhide and have been treated to be water-repellant-the first water water-repellant leather protector in the market. Styles 11-inches in length and longer, in both series, also feature high-visibility cuffs, for maximum conspicuity in the field.
Saf-T-Gard International Inc.
CIRCLE 116 ON READER SERVICE CARD
---
Fall Protection Grating System
Bilco's new fall protection grating system provides a permanent means of fall protection for the company's line of single and double leaf floor access doors, and meets OSHA standard 29 CFR 1910.23 requirements.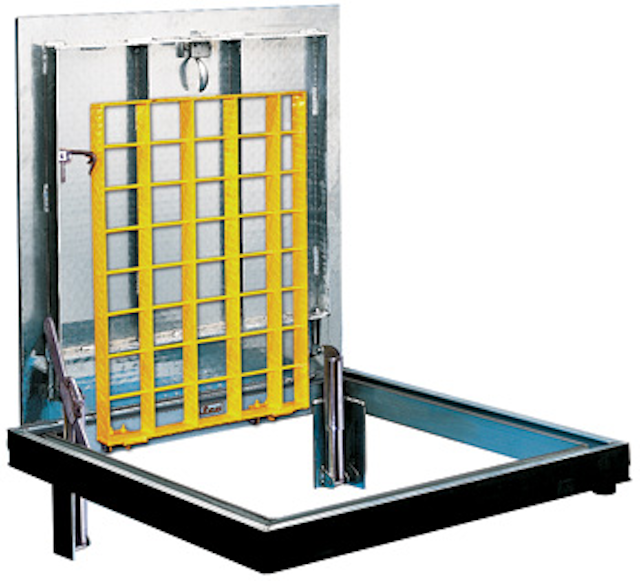 The new system is constructed of light-weight aluminum grating and stainless steel hardware for corrosion resistance. It also features a stainless steel hold-open device that secures each panel in the full 90O position. The grating panel has a safety yellow powder coat finish, making it more durable, attractive and scratch-resistant.
The system is available on all standard size 300 PSF and H-20 reinforced access doors and can be supplied on custom size doors when specified. Retrofit kits are also available for installation on existing Bilco products in the field.
Bilco
CIRCLE 117 ON READER SERVICE CARD