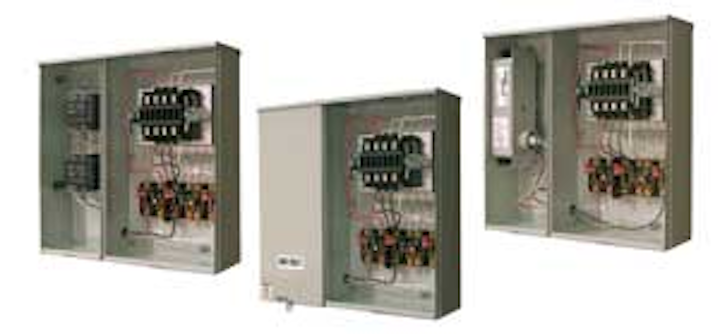 FlashSentry Enclosure Reduces Danger of Arc Flash
Brooks Utility Products, a supplier of metering accessories, security products and meter sockets/transockets to the electric utility industry, is focusing on providing answers to the growing threat of 480-volt arc flash.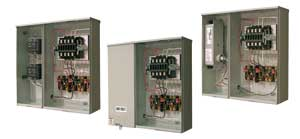 Because worker safety, comfort and productivity continue to be top concerns for utility managers, engineers and field service personnel, Brooks has focused much of its new product development efforts to address those needs. FlashSentry enclosure provides an answer to the ever-present industry threat of worker injury because of 480-volt arc flash. The patent pending Safe-T-Guard barrier technology reduces the threat of arc flash and provides maximum safety for workers.
The enclosure is safer because it isolates the 480 service voltage in a separate, sealable compartment from the 120-volt metering compartment. The voltage is reduced by either the Two-Sockets - Two Meters VT Pack with Molex connections or with conventional voltage transformers. Provisions for either are supplied as standard. This provides utility workers with much lower arc fault risk, reducing the requirements for additional flame retardant clothing. The enclosure also allows utilities the ability to adhere to stringent OSHA standards driven by the latest NFPA 70E standards for PPE.
Brooks Utility Products
www.brooksutility.com
---
Hot Stick for Use with In-line Battery Tools
Hastings is introducing a new product this fall-a hot stick for Huskie and Greenlee in-line battery tools. The hot stick is available in both 6-foot and 8-foot lengths and can be used for both overhead and underground purposes. Battery tools install quickly and easily onto the hot stick and can be used in multiple positions with universal head 0, 30, 60, and 90 degrees. Linemen simply push a lever to activate the battery tool and pull to release.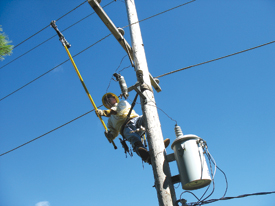 The battery tool can be used on voltages up to 69 kV and the hot stick has been tested at 100 kV per foot.
Hastings
www.hfgp.com
---
ED3766 SAE Class I Dual Color Directional LED
ECCO introduces its new dual color directional LED. The ED3766 offers the flexibility of two different color outputs within a single unit, comprised of 12 high intensity LEDs, six of each color. SAE Class I light output, synchronization capability and the choice of 11 flash patterns allow the creation of an attention-getting multi-color warning system with half the number of lights typically required. Each model can be programmed to flash either color option individually or alternate colors.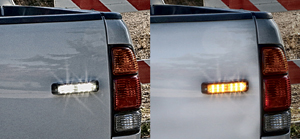 The ED3766 is constructed of durable aluminum and a polycarbonate lens with encapsulated electronics, and is backed by a three-year warranty. Available colors are: Amber/Blue, Amber/Clear, Amber/Green, Amber/Red and Red/Blue.
ECCO
www.eccolink.com
---
Shoes Upgraded for 555 'Triple Nickel' Electric Benders
Greenlee, a Textron Co., has redesigned bending shoes for the 555 "triple nickel" line of electric conduit benders, allowing users to bend 1/2-in. to 2-in. of the same conduit type on the same shoe. This reduces changeovers and allows customers to save time and money on the jobsite.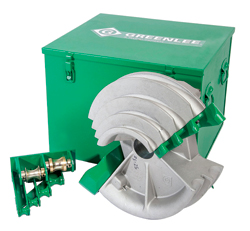 With the new shoes, conduit size is now selected by rotating the shoe-no longer requiring a changeover for different sizes. This reduced handling of heavy shoes also lessens the risk of ergonomic injuries when swapping shoes on the jobsite.
The company has more than 10,000 triple nickel [555] benders in the field and wanted to make the bending process faster, safer and easier for these customers. These new shoes save time, reduce changeovers, and are far easier to use than the outgoing models.
New shoes are compatible with all current-line 555 benders (555C, 555CX and 555DX) and are available for Rigid/IMC, EMT and PVC-coated conduit.
Greenlee / A Textron Co.
www.greenlee.com
---
Bulkhead Ground Connector
BURNDY, a manufacturer and provider of connector solutions to the industrial, energy, construction, telecommunication, petrochemical, data center and transportation industries, introduces its Bulkhead Ground Connector designed to allow ground wires to easily and effectively be connected from the inside of an enclosure to the outside.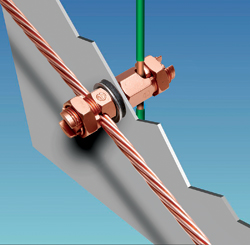 Using proven split bolt BURNDY technology, the Bulkhead Ground Connector incorporates a male SERVIT POST and female SERVIT POST as part of an easy to use kit. The male and female SERVIT portions are made of silicon bronze and the hardware supplied is stainless steel. An optional rubber grommet is also provided to ensure a NEMA 4X rating when installed correctly.
Supplied with an easy to follow application guideline brochure, this new kit provides solutions to an application issue that has been a challenge to many industries for years.
BURNDY
www.BURNDY.com
---
Predictable Trucks for Unpredictable Jobs
The Freightliner M2 106 comes equipped with a reliable and efficient Cummins ISB engine or optional ISL engine. The M2 106 is designed for easy maintenance, keeping downtime to a minimum. Easily accessible transmission and other components, as well as see-through fluid reservoirs, make inspection and service hassle free. The Cummins ISB engine is the lightest in its class, further increasing efficiency.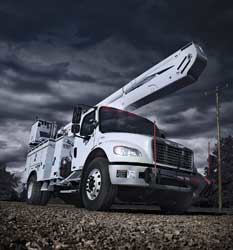 The M2 106 also offers safety features: best-in-class driver visibility, up to a 55-degree wheel cut, and low step-in height for easy entry and exit. Our chassis is designed for customized upfit of complex body configurations. And our SmartPlex Electrical System provides high flexibility for specialized utility needs.
Freightliner
www.FreightlinerTrucks.com
---
Hi-Test Insulator Tester
HD Electric Company's Insulator Tester tests energized or de-energized insulators for non-visible internal failures at any ac line voltage. These non-visible failures are known causes of radio frequency/television interference (RF/TVI), blinking lights, recloser operations and blown fuses. They are also a threat to line crew safety when performing energized maintenance. Detect non-visible insulator failures before they cause operations difficulties or safety threats to line crews.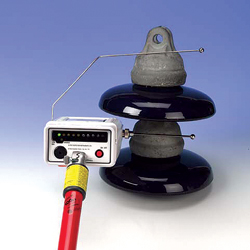 HD Electric Co.
www.HDElectricCompany.com
---
Vizz-IND Headlamp
Princeton Tec's Vizz-IND headlamp features a 165-lumen Maxbright LED and provides a long throw bright white spot beam. Four white ultrabright LED's provide a flood beam for close work and a wider viewing angle. The four white LEDs having a dimming feature to set the light output according to the user's needs. Three AAA alkaline batteries, a nylon head-strap and a rubber hard-hat strap are included. The headlamp is waterproof to 3.28 ft. for up to 30 minutes with a 150-hour burn time.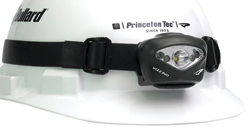 Princeton Tec
www.princetontec.com
---
Circuit Breaker, Transformer Testing Training
OMICRON has opened its circuit breaker and transformer testing training center in Houston as part of its on-going effort to improve the quality of its service and training to customers in North and Latin America. This hands-on training facility-indoors and fully air conditioned-is just minutes away from downtown Houston and area airports.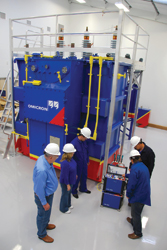 The facility provides versatility for accommodating different training scenarios and everything is indoors. OMICRON can train on circuit breaker testing and transformer testing, 24-7, rain or shine. There is need to cancel class because of weather.
The facility in Houston offers these key features:
• 10 MVA power transformer to perform all typical electrical power, transformer tests as well as advanced diagnostics;
• 69 kV SF6 circuit breaker and a 15 kV vacuum breaker for circuit breaker testing;
• Partial discharge (PD) testing area;
• Hands-on protective relay lab for up to 16 people; and
• Training area for distribution automation including apparatus from various manufacturers.
Built around real testing situations, courses are tailored for technicians and engineers from electrical utilities, industrial plants, equipment manufacturers and service companies. Attendees include technicians and engineers in the fields of design and commissioning, substation maintenance, asset management, protection and metering.
OMICRON
www.omicronusa.com
---
Mach Series of Mobile Column Lifts Save Time
Rotary Lift's Mach Series mobile column lifts can be used throughout the shop and are easy to set up, providing space-saving and time-saving benefits for users. The Mach series features intuitive controls, battery power for increased mobility, and a horseshoe wiring system that leaves one end of the lift open at all times for quick vehicle entry and egress.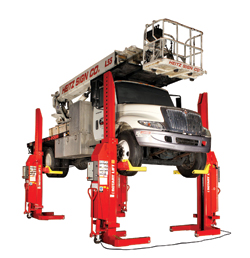 The mobile column lifts' versatility makes them a good fit for public works fleet managers operating on tight budgets. They can be used indoors and out, for any vehicle maintenance and service task. In addition, as your fleet grows, you can add individual columns to meet demand without investing in new facilities or more expensive stationary lifts.
Rotary Lift Mach series lifts are available in sets of two, four, six or eight columns with either 13,000 lbs. capacity or 18,000 lbs. capacity each. A pair of 13,000-lb. capacity columns (MCH213) can lift a standard pickup truck and eight 18,000-lb. capacity columns (MCH818) offer 144,000 lbs. of power, enough to lift nearly anything on the road.
Rotary Lift
www.rotarylift.com
---
Rust-Oleum Industrial Choice Inverted Marking Paint
Rust-Oleum Industrial Choice inverted marking paint is for use on concrete, pavement, grass, gravel and more. It features a precision-line spray tip for easy-to-read, bright, vivid markings with no overspray-and it marks more linear feet than the competition. The "no mess" spray tip keeps paint off fingers and is guaranteed not to clog. It can be applied down to 25°F; water-based paint dries in less than 5 minutes. And, it's USDA acceptable.

A complete selection of marking paint is featured in Forestry Suppliers' current catalog.
Forestry Suppliers Inc.
www.forestry-suppliers.com
---
Stringing Equipment is Safe, Reliable
The Condux Tesmec line of hydraulic pullers, tensioners, puller-tensioners and stringing blocks is cited to represent the safest and most reliable equipment in the power transmission and distribution industry.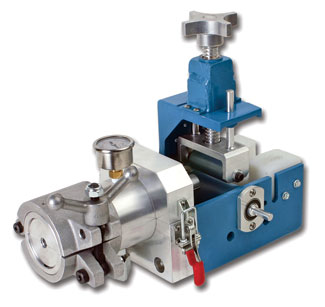 Condux Tesmec hydraulic pullers, tensioners and puller-tensioners offer advanced features such as negative self-acting hydraulic brakes, integrated hydraulic dynamometers, hydraulic cooling systems, complete user controls and more. Hydraulically controlled systems allow Condux Tesmec pullers to eliminate conductor galloping, providing maximum pulling control.
Condux Tesmec also offers one of the largest and most diverse selections of conductor blocks. Conductor blocks include single conductor blocks, three bundled through six bundled blocks, single helicopter blocks and bundled blocks. Condux Tesmec also provides grounding devices for all its single and bundled helicopter blocks.
A full line of productivity-enhancing conductor stringing tools and accessories is also available including anti-twist rope, reel winders, reel stands and more.
Condux Tesmec
www.conduxtesmec.com
---
Design and Build Your Own UL1558 Switchgear
The ABB Low Voltage Products division has introduced the Emax Link, an abbreviated switchgear that provides electrical Distribution Equipment Manufacturers (DEMs) an advanced solution to easily design and build their own UL 1558 switchgears. Developed to maximize the functionalities of ABB's Emax power circuit breakers, the Emax Link is designed and constructed to provide high power distribution, protection and safety, providing DEMs with a solution to withstand the mechanical, electrical and thermal stress found in a variety of manufacturing environments.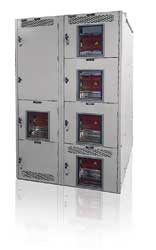 Each Emax Link abbreviated switchgear section includes all frame members, panels, barriers and bussing necessary for metal-enclosed construction, requiring only the addition of control devices, side covers, bus splices, wiring and the Emax breakers. The comprehensive ratings of the Emax Link allow DEMs to complete the switchgear lineup by simply adding the custom controls and wiring required for the specific application.
The Emax Link is available with a main bus rated current up to 10,000 amps at 600V. It is also available in many different configurations, such as main breaker, tie breaker, feeder breaker and auxiliary sections, which can be arranged and assembled to form complete switchgear lineups as required.
ABB Low Voltage Products
www.abb.com
---
Full Line of Tower Wrenches
Lowell Corp. now offers a full line of ratchet wrenches and accessories for tightening nuts on transmission towers. There are six wrenches and an impact socket in the line. Each of the rugged wrenches can handle either two or three of the most common transmission tower nut sizes, and, with a bolt-thru head, can handle nuts on any threaded length. By combining several tools in one, each wrench offers not only greater flexibility but also greater convenience. All tools are covered by a one-year guarantee.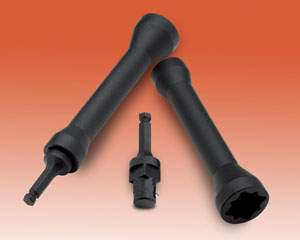 There are three models in the Lowell 100T Series. Each has a permanent socket with three sizes that fit 3/4-in., 7/8-in. and 1-in. hardware as well as 1 1/2-in. hex nuts. The 103T has a 12-in. handle and weighs 2 3/4 lbs.; the 104T has a 15-in. handle and weighs 3 lbs.; and the 105T has an 18-in. handle and weighs 3 1/4 lbs.
There are two models in the 50T Series that feature double square socket openings to fit 7/8-in. and 1-in. hardware and 1 1/2-in. hex nuts. Handle lengths and weights are 15 in. for the Model #52 (4 1/8 lbs.) and 20 in. for the Model #53 (5 lbs.) Also available is a Model #152 with a 15 3/4-in. handle (3 3/4 lbs.).
Lowell Corp.
www.lowellcorp.com
---
Mobile LED Light Tower Provides Full Stand-alone Operation
Industrial lighting specialists Larson Electronics have announced the release of a mobile LED light tower that provides full stand-alone operation and up to 60 hours of run time. The WCDE-4-4X300W-LED Mobile Light Tower produces enough light to illuminate a six-acre work area, and, with LED lighting technology and diesel powered generator, can run continuously for 60 hours on a single tank of fuel.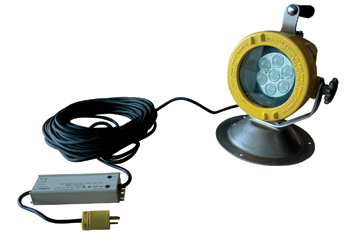 The WCDE-4-4X300W-LED mobile light tower is a full size industrial grade lighting system that provides operators with the ability to illuminate large sites for extended periods without refueling. This tower is designed to be towed behind vehicles and is a fully self-contained system that provides everything needed to produce on demand large-scale illumination. The entire system is mounted on a two-wheel trailer featuring a 2,000-lbs. axle and 2-in. ball style coupling with dual safety chains for connecting to standard trailer hitches.
Larson Electronics
www.LarsonElectronics.com
---
ProMark Active LED Road Flare Kit
SigCorps' new ProMark Active LED Road Flare Kit comes with six powerful flares, each having 16 Epistar 1 watt LEDs that hold a 100,000-hour rating. Flares can operate up to seven hours, use a built-in magnet for disabled vehicle placement, and provide nine flash pattern modes. The kit includes a carrying/storage case with an integrated car and office charger.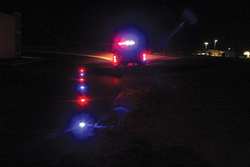 With the press of a single button, operators find these road flares easy to operate and can be deployed quickly. Accident investigators can typically work an entire scene without having to replace flares, while traditional flares must be replaced every 15 to 30 minutes. Road damage and forest fires concerns are eliminated because the Active LED flares produce no heat. The rugged chassis makes flares completely weatherproof and able to sustain a direct run-over by cars and light trucks.
The ProMark Active LED Road Flare Kit uses lithium batteries so it can be reused hundreds of times and hold charges beyond one year. Simple operation and long run time saves time, and flash patterns stimulate increased traffic awareness.
SigCorps
www.SigCorps.com