Leaving Luck off the Line - 10 Steps
Skipping the simple steps of safety is like leaning on your luck. How much is your extra time worth? According to the Census of Fatal Occupational Injuries in 2011, there were 60 transmission and distribution fatalities in the U.S.
May 1st, 2013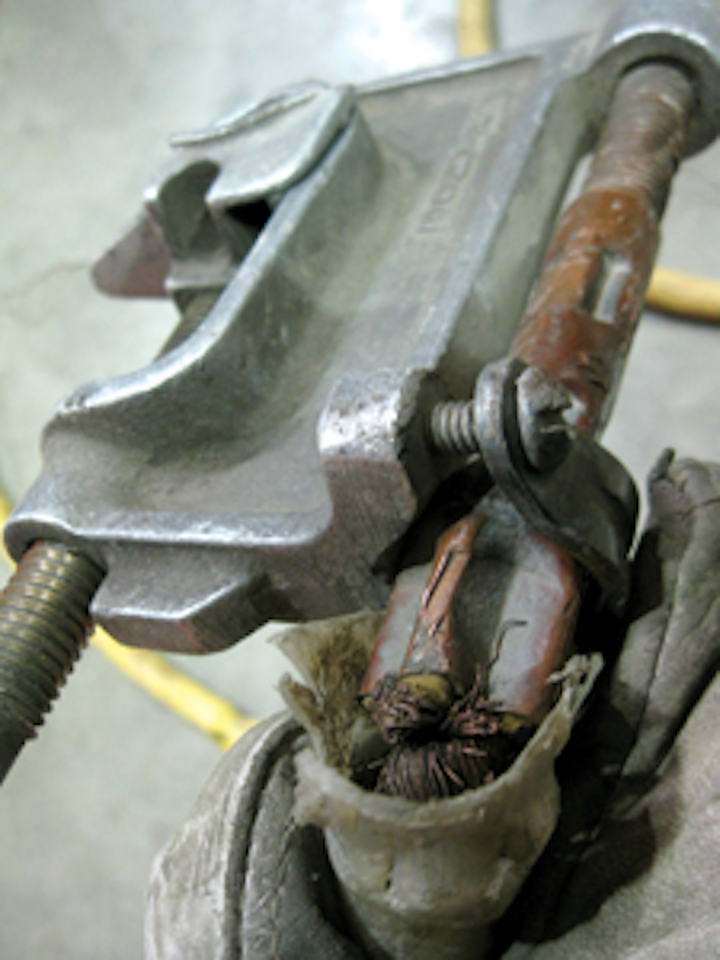 By Matt Dell
Skipping the simple steps of safety is like leaning on your luck. How much is your extra time worth? According to the Census of Fatal Occupational Injuries in 2011, there were 60 transmission and distribution fatalities in the U.S. These are the realities that are faced in the field every day, but the time you take for safety can reduce the risk of an accident.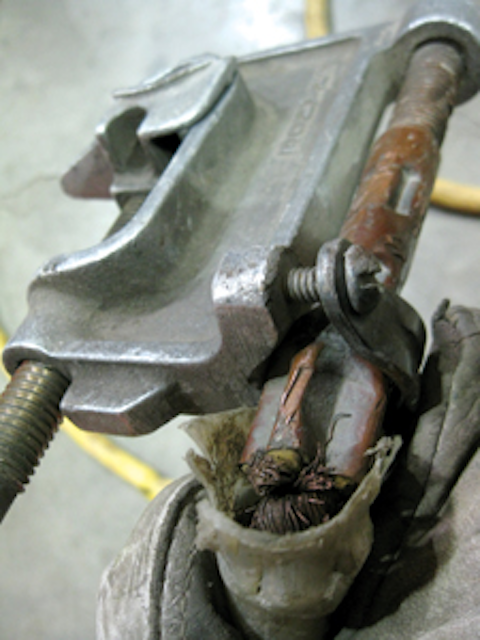 Check grounds for breakage at clamps.
Reviewing your company's safe work practices should always be the first step in your daily safety ritual; this will take you through every step on how to complete a job safely and efficiently, from start to finish, and will be specifically geared to each task. In addition to following these practices, let's walk through 10 additional steps to guide you safely through your day.
1. Keep Yourself Grounded
Grounding cables and jumpers should be inspected daily to ensure they are free from structural defects. Clamps should be free of sharp edges, splits and cracks, and should operate smoothly by hand with no loose parts. See American Society for Testing and Materials (ASTM) F855-09, 10.1-10.5, 23.1-23.2, 36.1-36.2. Special care should be taken to ensure the grounding cable is not breaking or the shrink tubing is not weakened and broken where it meets the clamp. When having new ground sets built, the use of clear grounding cable offers an easy inspection of cable strands and makes inspections easier. Any ground set with suspected damage should be taken out of use and sent in for cleaning, inspection, recertification and repair.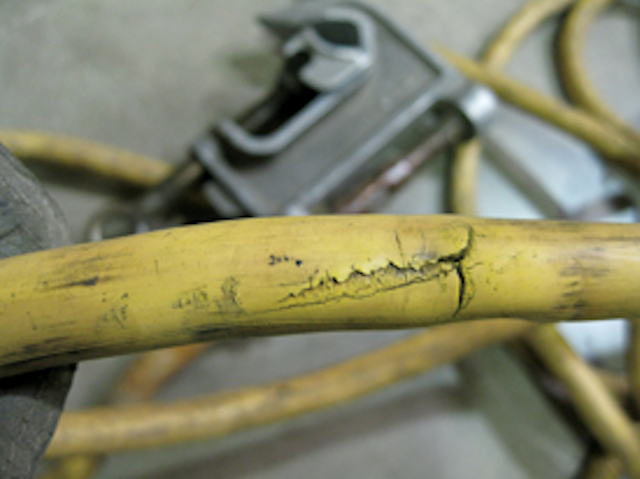 Inspect for damage on grounding cables.
2. Cleaning of Rubber Goods
Water and dirt are enemies to electrical line workers because both conduct electricity. Daily contact with oils, greases and petroleum-based products can weaken rubber and reduce its protective properties. Cleaning should occur regularly and can be done with wipes or cleaners formulated for use on rubber. Mild soap and water can be used, but ensure enough drying time is allowed before using or storing. Gloves should be dried with fingers up to avoid water pooling inside.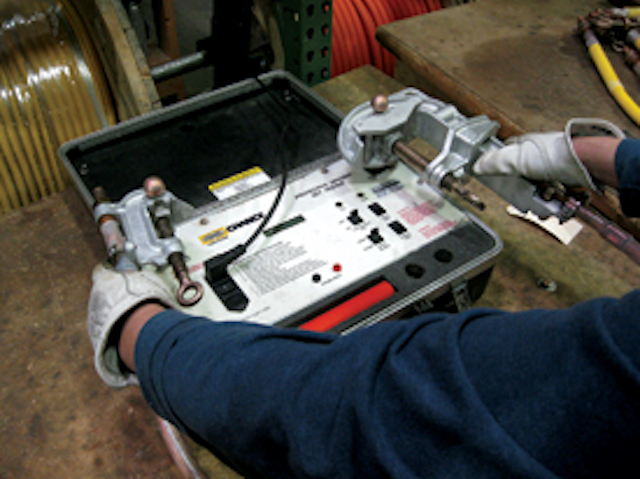 Grounds should be tested regularly.
3. Daily Inspection of Rubber Goods
Per ASTM standards, rubber goods should be visually inspected before every use. See ASTM F496-08, F479-06, F478-06. When beginning your inspection, check for a current test date. If a valid date stamp is present, continue to a visual inspection of the rubber. Inflating gloves with a field inflator can make this process easier, or a field inflation tool can be used to loosely roll the rubber. Make sure the inside and outside are inspected, and also inspect between glove fingers. You will be looking for scratches, punctures, chemical blooms or swelling, hard spots, cracking and dry rot. See ASTM F1236-96, 7. Electrical current can pass through weak spots in rubber and cause harm to the user. For this reason, if rubber is expired or any damage is suspected, the rubber should be taken out of use and sent for re-certification by a North American Independent Laboratories for Protective Equipment Testing (Nail for PET) accredited test lab, such as Hi-Line Utility Supply.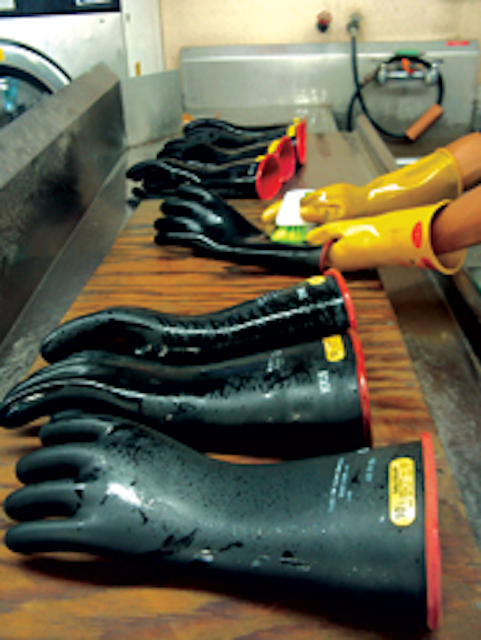 Clean rubber goods regularly with mild soap and water to remove any damaging dirt and petroleum-based products.
4. Wear and Care for Flame Resistant Clothing
In the event of an arc incident, it takes only three seconds to receive third degree burns. Arc flash clothing is designed to provide protection from exposure to heat and flame. Personal protective equipment (PPE) should be worn in accordance with your company's safe work practices and is designed to give you additional time to escape a second explosion-and minimize the severity of a burn injury. Arc flash clothing does not ignite, burn and melt like ordinary clothing that is typically made of synthetic fibers-which often melts into the skin, causing more extensive injuries. To care for your arc flash clothing, make sure you read the manufacturer's care instructions before use and keep track of how old it is. As with other forms of PPE, arc flash clothing should be kept clean because dirt and oils can reduce the protection level in the event of an accident. Wash clothing on a gentle wash cycle, without the use of bleaches. Keeping five sets of arc protection-one for each day of the week-will allow you to clean each piece once a week and will prolong the life of the gear. Each cleaning will reduce the protective properties of PPE. When not in use, arc flash gear should be hung or loosely folded in a protective bag. Before use, arc flash clothing should be inspected for any signs of wear, including holes, tears or wear spots. Any damage should result in the PPE being removed from use.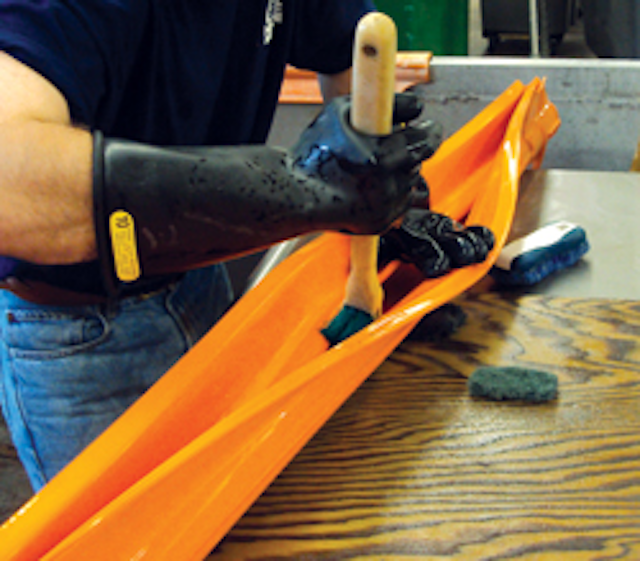 Be sure to check inside line hose for any damage.
5. 100 Percent Continuous Fall Protection
The U.S. Bureau of Labor Statistics listed falls as one of the four most fatal workplace injuries. Occupational Safety and Health Administration (OSHA) standards require the use of a fall arrest system if there is any risk a worker may fall from an elevated position, defined as six feet or more. See OSHA 1926.959. Before each use, fall protection should be thoroughly inspected. On belts, going from one end to the other, roll the belt into a U-shape and inspect for cracking, fraying, pulled or frayed stitches, cuts, chemical damage or burns. Hardware, locking snaps and buckles should be checked for any cracking, wear, binding and bending. Rivets should be flat against the material, not bent, which will cause them to fail. Lubricate snaps at least once a week to maintain smooth operation. Ropes and lanyards should be checked for fraying and cuts. Any variation in diameter of the rope, color or texture should result in the removal of this fall protection from use.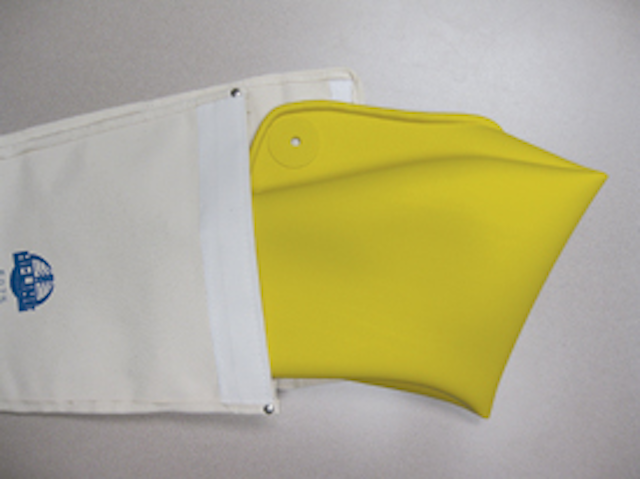 Be careful not to fold rubber for storage and always use proper storage equipment.
6. Proper Cleaning of Fiberglass
As with other PPE, fiberglass should be kept clean and dry to reduce electric conductivity. Fiberglass tools and hotsticks can become electrically unsafe because of dampness, surface dirt and a loss of surface glossiness. Daily cleaning of hotsticks is required per OSHA standards. See OSHA 1926.951(d)(2). Specially designed hotstick wipes not only clean, but often are infused with silicone to give the stick a water repellent coating. Waxing fiberglass, as needed to maintain a glossy surface, is recommended for water to bead off the surface and creates a protective barrier from dirt. See Institute of Electrical and Electronics Engineers (IEEE) 978-1984, 5.5. Clean and waxed fiberglass is also easier to inspect for surface damage.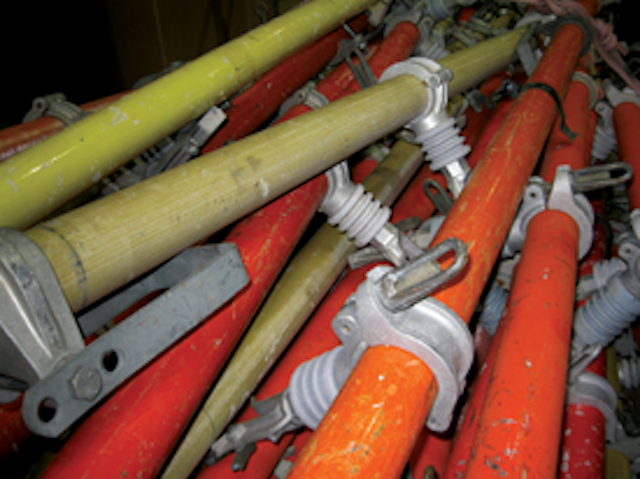 Fiberglass before restoration
7. Daily Inspections of Fiberglass
Fiberglass inspection should occur before every use. The external surface of the fiberglass should be free of abrasions, scratches, blemishes and surface defects. See ASTM F711-02, 8.1. If any damage is present, OSHA requires the fiberglass to be removed from use and examined and tested before further use. A fiberglass restoration and testing facility, such as Hi-Line Utility Supply, would examine, clean, repair and test fiberglass-in addition to refinishing or making any necessary repairs. Proper testing of fiberglass would consist of applying 75,000 volts per foot of length for one minute, under wet conditions. Fiberglass tools are also required to be removed from service every two years for full recertification, even if no damage is suspected. See OSHA 1910.269(j)(2)(ii).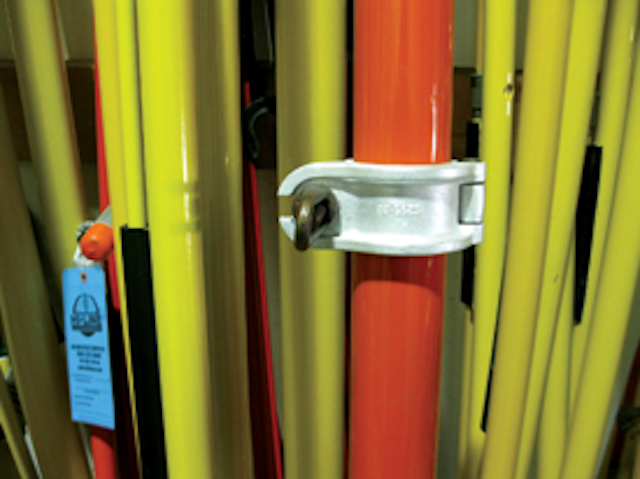 Fiberglass after restoration
8. Have Your Gas Meters Regularly Tested and Calibrated
Gas meters should regularly be bump tested and calibrated to ensure they are functioning correctly. During the life of a testing meter, there are several reasons calibration drift can occur-including natural chemical degradation and electronic component drift, exposure to high levels of airborne particles, extreme temperatures or humidity conditions (both high and low), and regular exposure to vapors and gases. The International Safety Equipment Association (ISEA) states: "A bump test or full calibration of direct-reading portable gas monitors should be made before each day's use in accordance with manufacturer's instructions, using an appropriate test gas." Equipment should be calibrated and bump tested in line with manufacturer's guidelines. See OSHA Safety & Health Information Bulletin (SHIB) 05-04-2004. A bump test verifies calibration through exposure to a known concentration of test gas, then comparing the reading to the actual amount of gas present. If levels are within an acceptable tolerance range, the meter passes the bump test. If a gas detection device fails a bump test, it should be sent in for full calibration. A yearly, professional recalibration is recommended on these devices.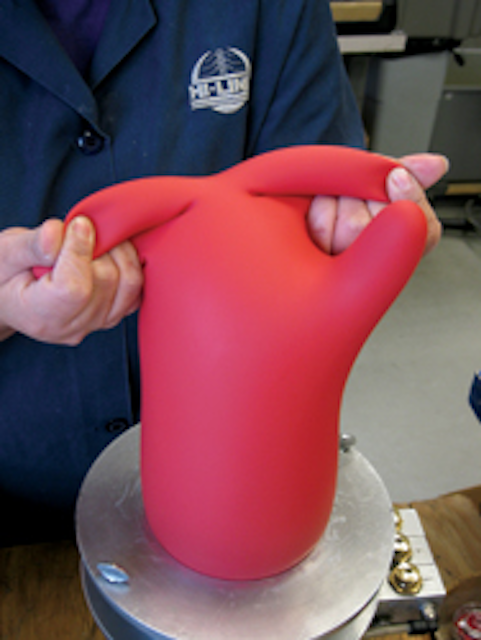 Inflate and check inside and outside for damage, including between fingers.
9. Eye and Head Protection
According to the United States Department of Labor, thousands of people are blinded each year from work-related eye injuries. The American National Standards Institute states that eye protection must suitably protect against workplace hazards, fit properly and be reasonably comfortable to wear-in addition to being durable and cleanable. And, eye protection should provide unrestricted vision, movement and functioning of any other required PPE. See ANSI Z87.1-1989. Factors such as heat, humidity and human exertion can create lens fogging at any time, also restricting vision. Temporary layers of anti-fog can easily be applied with an anti-fogging cloth and can resolve the safety risks associated with fogged protective wear. Fogging is the main reason protective eyewear is not worn in the workplace and can lead to potential OSHA fines for non-compliance.
In addition, OSHA requires the use of a protective helmet, designed to reduce electrical shock hazard when near exposed electrical conductors and when working in areas where there is a potential for injury to the head from falling objects or impact. See OSHA 1910.135(a)(1) 1910.135(a)(2). Proper headgear should fit appropriately and should not slip, fall off or irritate the wearer. A correctly fitting hardhat will also allow clearance between its shell and suspension system, allowing ventilation and distribution in the event of impact.
10. Proper Storage-Protect What Protects You
Proper storage is key in prolonging equipment life, reducing replacement costs and, most importantly, guards safety equipment from the type of damage that reduces its protective properties. All equipment should be stored only when clean in a temperature-controlled environment. Many times, the most needed equipment is tossed on a dashboard in direct sunlight or in the back of a truck-it is these types of practices that cause seen and unseen damage. Fiberglass hotsticks, for example, should be cleaned after use and kept in hotstick bags. Rubber goods should be kept in canvas bags or tubes, and should never be folded to fit in their containers because this could cause weak points in the rubber. Rubber gloves should be clean when stored, fingers up with protectors removed, and gloves and sleeves should also be hung for storage. See ASTM F496-8 section 8, 8.6 and F478-09, section 8, 11.4. Gas meters and voltage detectors should be kept in protective cases when not in use because improper handling can affect electronic components and circuitry, leading to incorrect readings.
A wise man once said, "Luck has a peculiar habit of favoring those who don't depend on it." Follow these 10 safety steps and your company's safe work practices first, and leave luck off the line. As Dr. L. Trey Coleman, president of the University of Nebraska once said, "Luck is what you have left over after you give 100 percent."
---
About the author: Matt Dell is the owner of Hi-Line Utility Supply, a provider of lineman's transmission and distribution tools, equipment and services since 1960. With more than 10,000 products in stock, Hi-Line guarantees every in-stock order placed by 4:00 p.m. Eastern Time ships the same day, guaranteed. Hi-Line's two full service rubber testing labs (Illinois and Massachusetts) test more than 150,000 rubber gloves, sleeves, blankets, line hose, hoods and boots each year. Hi-Line also offers custom grounds, tool repair and fiberglass restoration. Dell can be contacted at 800-323-6606 or matt.dell@hilineco.com. www.hilineco.com.