By Matt Dell
"Nobody wants to be the person to explain what happened to a family member or co-worker when the worst has happened," said Greg Chamberlain, general manager of Hi-Line Utility Supply in Millbury, Mass. "We have all had too many people we know and respect get hurt or lost their lives by skipping the easy steps. One example is inspection of our personal protective equipment (PPE). The few minutes it takes to properly inspect rubber goods is nothing when compared to the life changing potential that is in our hands. That one missed step could change not just our lives but everyone's life we have become close to."
Rubber goods are a key safety tool in preventing electrical current from entering your body and causing injury and even death. The Occupational Health & Safety Administration (OSHA) regulates the way high and low voltage electricity can be worked on. OSHA's regulations for PPE are based on the standards issued by ASTM International (originally known as the American Society for Testing and Materials), an organization made up of professionals from a number of industries, including the electrical industry F18 Committee. The ASTM F18 Committee is the expert in the electrical industry that sets the standards and guidelines, and OSHA enforces and upholds these standards. Complying with ASTM standards, in addition to regular care and maintenance, can reduce your risk of injury in the field, can keep you OSHA compliant, and reduce your risk of an OSHA fine for non-compliance. Maintaining and caring for rubber goods includes inspection, protection, cleaning and testing.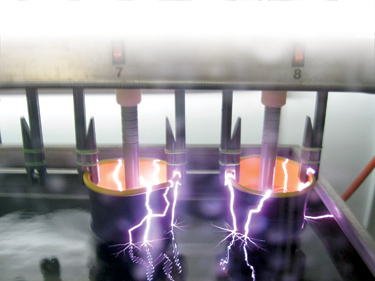 Inspect
Inspections of your rubber goods should take place before every use (ASTM F496-08, F479-06, F478-06). The first step in inspecting your rubber includes checking for a current test date. If your rubber is expired, it must be tested before using. Next, visually inspect your rubber. A field glove inflator will blow air into gloves or a plastic inflation tool can be used to trap air inside or create a loose roll for easy inspection. Type I natural rubber should be inflated up to two times its original size and Type II synthetic rubber should be inflated no more than 1.25 times its original size. You should be looking for punctures, scratches, blooms or swelling from chemicals, hard spots and cracking/dry rot-per ASTM F1236-96, 7. If you are using high-voltage gloves that are two or three color, any sign of the secondary color showing through is cause for concern. Once you have inspected the outsides, gloves should be turned inside out and inspected again. If you see any of these imperfections in the rubber, this can allow electrical current in, and the gloves should be taken out of use and immediately sent for inspection. It is important that a trained inspector and test lab examine the possibly defective rubber after a complete cleaning, visually and electrically.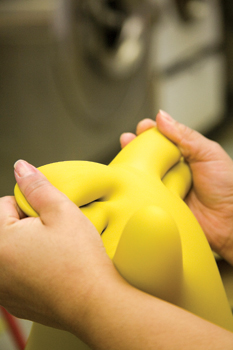 Protect
Protecting your rubber can guard it from damage that can let in deadly current and prolong the life of your rubber. Leather protectors must be used on all rubber gloves. Storing rubber in canvas bags, totes or tubes when not in use can guard the rubber from dirt and reduce the risk of damaging contact. When storing gloves and sleeves, they should be hung in a storage bag, and gloves should be stored with the fingers up, with the leather protectors removed. Avoid folding the rubber to fit them in a storage container because this can cause folds or creases that can result in weak points. Keep your goods away from sunlight, away from extreme hot or cold, and away from chemicals, oils and solvents to reduce the likelihood of the rubber drying out. Storage of rubber goods is defined in ASTM F496-8 section 8, 8.6 and F478-09, section 8, 11.4. Keeping rubber in the original sealed plastic bag will not protect it from dry rot if it is exposed to extreme temperatures such as humidity, damaging vapors or extreme temperatures. It is best to store the rubber in a cool, dark and low humidity location.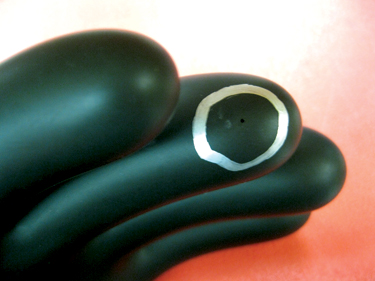 Clean
Cleaning your rubber on a regular basis is critical. Water and dirt can conduct electricity, and oils, greases and petroleum-based products can damage the rubber's integrity. Cleaning can be done using wipes or cleaners that are designed for rubber, or a mild soap and water can be used. You must, however, thoroughly rinse and let completely dry, fingers-up, before storing or using.
Test
ASTM F496, 7.1 states rubber gloves should be electrically tested before their first use and every six months after, and sleeves, line hose, blankets and hoods have their own specific testing cycles. See Chart 1. Cycle dates are determined by the end user, but maximum testing intervals are mandated by ASTM.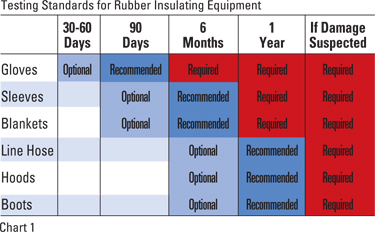 Some state and company regulations may be even more stringent to protect their workers. Larry Martie, the supply manager of Michels Power in Neenah, Wis., routinely has sent his rubber gloves and sleeves to Hi-Line Utility Supply every three months for the last nine years because every day they are in conditions that wear on them.
"It costs a little more, but you would hate to have something happen in the field," Martie said. "I would hate to see a fatality from something that could have been avoided. We have not had an incident relating to rubber failure since increasing the frequency of re-testing."
Regular testing is required to stay compliant with ASTM standards (ASTM 478-09, 7.1, F479-06, 8.1.1, and F496-08, 7.1). A "NAIL for PET" accredited, quality test lab such as Hi-Line Utility Supply will clean the outside and inside, even on items such as line hose, removing old stamps and dirt, then completely dry it before going to a visual test performed by a trained inspector (ASTM 1236-96). During visual inspection of gloves and sleeves, the rubber will be inflated, then turned inside-out where they are inflated and inspected again. Blankets are carefully rolled and scanned on both sides, and line hose are opened up and then rolled. Inflation and rolling allow a better scan of the rubber and will expose physical imperfections. If there are any scratches, punctures or cracking in the rubber, it will not pass visual inspection and will not move to the next step-electrical testing.
Electrical testing of rubber consists of exposing the rubber to an electrical current, and the amount is based on the rubber's class (ASTM F496: Section 7). Rubber is electrically tested beyond its maximum field use to ensure it can hold up to the current it will be subjected to while in use. See Chart 2. An electrical failure will result in a hole burned through the rubber, and it is then stamped as a failure because it is unfit for electrical use.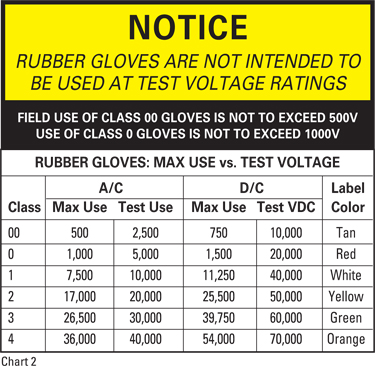 When rubber passes the visual and electrical testing, it is then certified with a date-stamp, which includes either the date of the test or the expiration date; it will also include the voltage the PPE was tested up to and the name of the testing facility. Special ink is used for stamping that is safe on rubber and won't fade or wipe off during normal use. Once the stamps have dried, gloves and sleeves are dusted with 100 percent talc powder to absorb any remaining moisture (ASTM F478, F479 and F496). Gloves and sleeves are then placed in new plastic bags and heat-sealed. Blankets and line hose are securely placed in plastic containers or totes. Proper care is taken to ensure the goods are not crushed or folded when packaged. It is recommended that plastic totes be used for shipping, providing solid protection while in transit.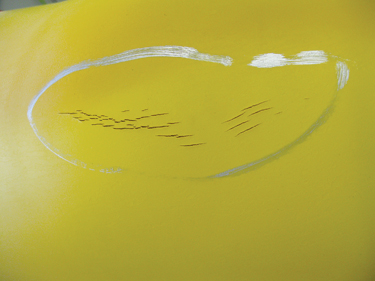 By regularly going through the process of inspecting, protecting, cleaning and testing your safety equipment, you reduce the risk of injury, and even death, from electric shock. We all want to come home at the end of the day to the people who count on us the most. A few extra steps will assist in making that happen.
---
About the author: Matt Dell is the owner of Hi-Line Utility Supply, a provider of lineman's transmission and distribution tools, equipment and services since 1960. Hi-Line's two full service testing labs (Illinois and Massachusetts) test over 150,000 rubber gloves, sleeves, blankets, line hose, hoods and boots each year. With more than 10,000 products in stock, Hi-Line guarantees every in-stock order placed by 4:00 p.m. Eastern Time ships the same day, guaranteed. Hi-Line also offers custom grounds, tool repair and fiberglass restoration. Dell can be contacted at (800) 323-6606 or matt.dell@hilineco.com. www.hilineco.com.