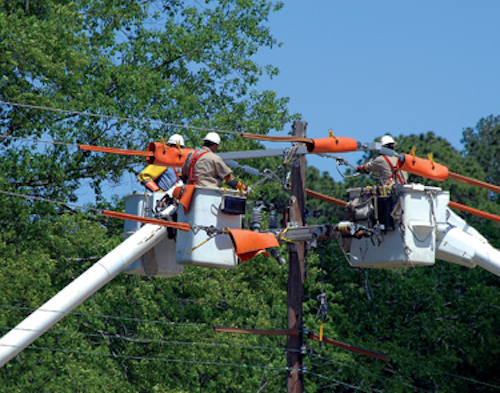 By Paul Hull
They work long hours. They contend with all kinds of weather-from nice to extremes of heat and cold, rain and ice. They receive too many negative comments for problems they never caused. Linemen are the people who keep the power coming to millions of customers, the good guys who repair distribution lines when storms (hot or cold) strike our community. They are the heart of the utility sector. The pay is usually good, the danger always there. Of all the facts I have gleaned about linemen, the most worrisome is that the average age is about 50 and there seems to be no surge of new recruits. Even though the pay is good, there are other aspects of employment that should be addressed. We will need linemen tomorrow. Would you encourage your children to be linemen? If not, why not? In this day and age, when every American child seems to be told that he or she will be a manager, supervisor, boss, senator, president or some higher authority, the job of lineman is one that has dropped in public esteem. The lineman is one of those jobs that we cannot do without.
The time has not yet come when someone in an office or parked vehicle can hit a few keys to put a utility pole up again, to do all the technical and difficult work that repairs the damage of an outage or accident. We need the linemen (or women, though there are few who pursue this job)-not just for everyday maintenance but for those occasions when an accident occurs. When a large vehicle such as a tractor-trailer or garbage truck accidentally knocks down a pole, it's the lineman who arrives to make everything right and, too often, listen to the complaining customers who think the repair should be made in 30 seconds.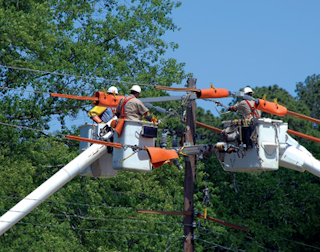 It is not obvious from the ground, through the window of a passing Cadillac or Ford, but that person at the top of the pole or in the bucket several stories above the ground is working in constant, life-threatening danger. Linemen wear protective clothing, often thick rubber gloves, rubber sleeves, eye protection, boots, flame-retardant clothing, a hard hat and a harness in case of a fall. The clothing is good protection. Can you imagine how uncomfortable it is on a hot August afternoon? If the site is not accessible, the discomfort could be much worse. If the bucket truck cannot access the site, linemen may have to haul a downed pole out by hand while wearing some 50 pounds of gear. And, they have to be careful about electrocution and other hazards. The protective clothing available-primarily protection against electrocution-improves every year. It's lighter, and that's an appreciated improvement. I've heard working aloft with electricity would be like working at an office desk with the thought you would get a severe shock and injury if you put your hand under your office chair or on the side of the monitor, or you put your coffee mug in a different place.
It is typical of linemen to always wear all the uncomfortable gear, whatever the weather, because they do not take chances. They have rules to follow for clothing and procedures, and they rarely break the rules. In the lineman's work, breaking the rules is asking for catastrophe. My neighbors who are linemen tell me they never take shortcuts that could cause any safety risk, never, because the end result can be death. It is little consolation that death for linemen can be instant because of the power of electricity; it is certainly no consolation for their families. The linemen are very careful, not making connections with rusted or dirty components. These are not technicians who believe a hammer is the universal screwdriver.
Not all linemen work with electricity, but there are still hazards associated with all communications work, hazards that are not necessarily because of the equipment used. Some hazards are animals lying in the undergrowth, some are in boxes, and some are even high on the utility poles. Slipping and falling are not difficult when you are stretching and twisting, pushing and pulling, at a height of 20 feet or more. That's why harnesses have become so important.
Tools of the Trade
Much of the equipment carried by linemen is comprised of tools designed for specific work. Tools are lighter and better designed than those from years ago-and that has been good news for our linemen. You can see a good selection of the latest tools in Utility Products, and I would encourage you to read articles about innovative techniques and tools for getting the best results in repair and maintenance. The tools are designed to be used in a certain way, and this underscores the importance of good training for all linemen. Some of the most experienced workers say they never stop learning because they come across new situations every week and must know how to handle those new challenges. However good a tool is, it is more in the way it is used than in any brand name. The tools used by linemen include impact wrenches, drivers, saws, cutting and crimping tools, tampers, pruners, testing equipment and many more. Among company names that come to mind for the manufacture of these tools are Klein, Hioki, Lowell, BURNDY, Salisbury, Bashlin, Huskie, Buckingham, Greenlee Utility, the Crosby Group, AEMC Instruments and Fargo.
Most tools are controlled with the hand. That is why gloves are so important and why research into the practical advantages of various gloves is necessary. For the lineman, a glove is not just a glove with the color mattering more than the design. The lineman must feel comfortable with his gloves. First, they are protective. They must then be flexible enough for the user to wear them with confidence. Most jobs for linemen are accomplished with their hands, and that makes the right gloves essential pieces of his equipment. There are many different types available, so, again, check this magazine's advertisements and article for styles that will suit your situations. Other gear that linemen use regularly would include suspension buckets and fall protection, hoists and grips, tool belts, bags, straps, pole-climbing hardware, tools and pads, and insulated hand tools. Companies that come to mind in this area include Youngstown Glove Co., TEGGEN, Protective Industrial Products, Silver Eagle, Carhartt, Saf-T-Gard, National Safety Apparel and Lakeland Industries.
Yes, let's give deserved praise to our linemen, whether we are thinking as employers or customers. If we are employers, let's make sure these essential technicians are correctly and thoroughly trained, that they are supplied with the right equipment, vehicles and protective gear. If we are thinking as customers, let's be fair and realize that, at times when multiple repairs are needed, linemen go first to the major points and then to individual places such as homes or offices. There's a definite order of priority for repairs after lines are downed-if the utility truck passes my front door without stopping, it may be because it's on its way to a more important location. It's not because the lineman doesn't care about me. Far from it. In times of disaster, linemen can work more hours than almost any other workers in any industry. Thank you, linemen, very much!