Data Logger: Model PEL 105 Single-Phase, Dual-phase, Three-phase Power and Energy Logger
Data logger: AEMC's Model PEL 105 is a simple to use, power and energy data logger that monitors both traditional and renewable energy sources. It monitors and records power, energy, cost and harmonics locally or from anywhere in the world.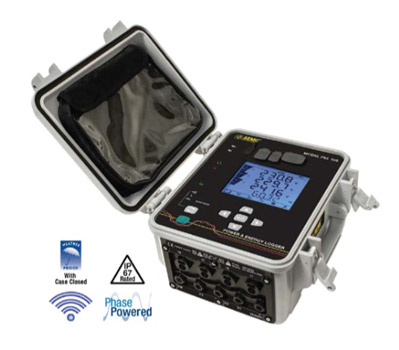 The PEL 105 is built into a waterproof case with an IP67 rating designed for outdoor use and is especially useful for pole mounting. This product is for electricians, engineers and contractors doing work in the areas of building and system monitoring and upgrades, including compliance to article 220.87 of the NEC, as well as overall energy audits and incoming power monitoring.
It is available with an Android App to configure, view and capture data wirelessly. Bluetooth and Wi-Fi wireless communication provides the operator with the ability to work from a safe distance away from dangerous voltages and currents without the need to wear PPE gear.
Features:
Waterproof IP67 rated including the current sensors;
5 voltage and 4 current measurement inputs;
Measures volts, amps, watts, VARs, KWh, power factor and harmonics out to the 50th;
Track energy costs including time of use;
Wi-Fi, Bluetooth Class 1, USB, LAN and Ethernet communication built in;
Powered from phase inputs up to 1,000 VAC or from a wall receptacle;
User selectable storage rates and demand intervals;
Pole mountable;
Can be configured directly from the front panel, can be configured through the DataView control panel or free Android App;
Satisfies the recommendations of NEC 220.87;
Minimal programming required;
Automatic recognition of the connected current sensors/probes;
1000V CAT IV; and
DataView software for data storage, real-time display, analysis and report generation.
Applications:
Measures efficiency and finds areas for potential savings,
Assign energy costs to departments or operations,
Track peak demand periods and find opportunities for surcharge reductions,
Determine present capacity and circumvent unnecessary electrical expansion costs,
Verify the reliability and operation of electrical machinery,
Improve response time to solve power related problems,
Track energy availability and reliability of supply, and
Baseline studies for system upgrades in high-rise and office buildings.
AEMC
SnapIt Stud Strap, Pack N' Roll Cable Dispenser Accessories for Installing Metal Clad Cable
Utility equipment: AFC Cable Systems, a manufacturer of electrical products, offers two time-saving accessories in its full line of solutions for installing cable products-the MC SnapIt 4-in. stud strap and the Pack N' Roll cable dispenser.
The MC SnapIt 4-in. two-circuit metal cable/low voltage stud straps helps meet cable support requirements and eliminate unsightly sagging while making installing metal clad cable on metal studs inside a wall fast and easy. The sturdy UL-listed polycarbonate straps snap directly on to standard 4-in. studs with no tools. Using SnapIt stud straps saves time. No longer do installers have to put down their cable-installing tools to pick up screw drivers or wire cutters to install other stud strap types such as metal clamps and cable ties.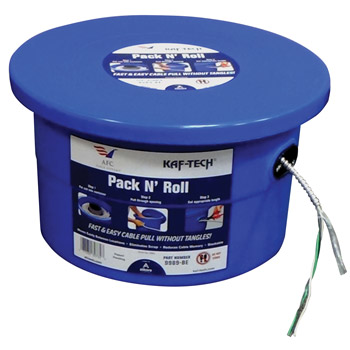 Designed to hold metal clad (MC) and armored (AC) cable in sizes from 12/2 through 10/3, SnapIt also includes clips for low voltage cable. SnapIt withstands harsh environments and is suitable for indoor use, with maximum operating temperature rated at 176F. The product is also available in 2-in. and 6-in. versions.
With a capacity of up to 250 ft., Pack N' Roll makes it fast and easy to pull cable without any tangles, prevents cable damage, reduces cable memory and eliminates scrap. It keeps cable organized, neat and clean-and easier to clean up when the job is complete.
AFC Cable Systems
In-Line Disconnect Switch Features Bolted-wedge Hybrid Connector
Safety products: BURNDY's new Bolted Wedge In-Line Disconnect Switch combines a bolted-wedge hybrid connector with industry standard components to bring the most reliable performance to switch/distribution line connections. The Bolted Wedge In-Line Switch features recognized and proven MindCore Technologies blade components, as well as Advanced Rubber Products Inc. insulators attached to a BURNDY-designed yoke plate assembly. It is especially useful for gloving and hot stick applications when paired with an industry standard loadbreak tool.

The Bolted Wedge In-Line Switch uses dual insulators to minimize switch movement during opening and closing of the blade. Installation steps are kept to a minimum because the switch can be snapped directly onto the line and secured with the BURNDY conductor pivot retainer. This retainer acts as a third hand to free up the line worker's hands to safely install the connectors.
The BURNDY bolted wedge connectors use bolted technology to provide a highly reliable mechanical and electrical connection and combines it with sliding wedge technology to ensure the connection stays tight even if the line experiences high mechanical loads. The hybrid design also takes some of the guess work out of tightening the hardware.
BURNDY
RSA-162 Remote Switch Actuator for General Electric EntelliGuard G
CBS ArcSafe, a manufacturer of remote racking and switching solutions for low-voltage and medium-voltage switchgear, offers a remote switch actuator (RSA) for General Electric EntelliGuard G circuit breakers. The lightweight, portable CBS ArcSafe RSA-162 allows technicians to remotely charge, close or trip the circuit breaker from a safe distance of up to 300 ft. while remaining stationed outside the arc-flash boundary.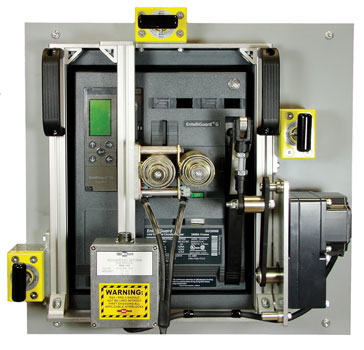 Installation and operation do not require any modifications to the existing electrical equipment because of CBS ArcSafe's magnetic latching system. The RSA-162 is compatible with GG/GJ/GH/GK-04/07/08/10/13/16/20/25/32/40/50/64 circuit breakers with ratings from 400-6,000 A. Typical applications of these circuit breakers include providing advanced circuit protection, limiting arc-fault energy, and preserving system coordination for power distribution systems. The RSA-162 is a cost-effective solution for keeping operators safe when compared to other arc-flash mitigation alternatives.
Optional features include radio remote with range up to 300 ft., 24 VDC LED light, wireless video camera system with LCD monitor, and rugged protective case assembly. All RSA units are portable, fast and easy to set up, offer mechanical and/or electrical safety protection, are adjustable to fit unique electrical equipment configurations, reduce the requirements for personal protection equipment (PPE), and help customers with NFPA 70E arc-flash safety compliance.
CBS ArcSafe
ARS607 Hydraulic Puller for Underground Pulling Applications
Line construction: The ARS607 hydraulic puller from Condux Tesmec is for a wide range of underground pulling applications including power transmission and distribution cable installation. With more than 10 tons of pulling force, the ARS607 offers features such as a negative self-acting hydraulic brake, an integrated hydraulic dynamometer, a hydraulic cooling system, advanced user controls and more.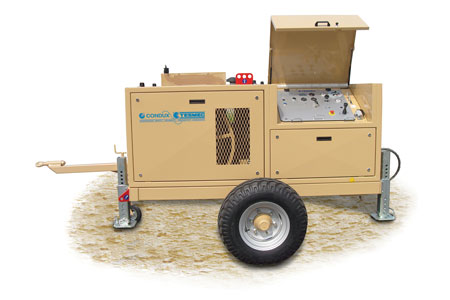 A standard electronic pull and speed monitor and recorder kit is integrated into the control panel, providing users real time data on pulling operations. Bull-wheel grooves on the ARS607 are made from heat-treated steel.
The Condux Tesmec line of hydraulic pullers, tensioners, puller-tensioners and stringing blocks are cited to represent the safest and most reliable equipment in the power transmission and distribution industry.
Condux Tesmec
Work Light: SafeSite LED Area Light Now IECEx/ATEX Zone 2, 22 Certified
Dialight offers its SafeSite LED Area Light, now IECEx/ATEX Zone 2, 22 certified for use in hazardous locations. Delivering up to 105 lumens per watt, the Zone 2, 22 SafeSite Area Light consumes half the electricity of traditional HID fittings, reportedly making it the most efficient LED fixture of its kind, all backed by Dialight's five-year full-performance warranty. The fitting is available in 21W, 38W, 48W, 58W and 68W options to replace up to 400W conventional HID fittings.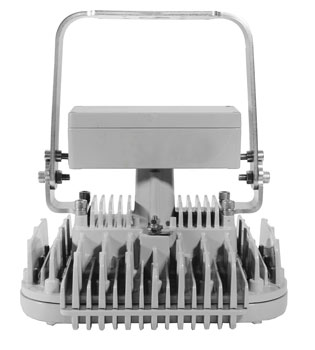 Dialight's proprietary optics deliver precise light placement in either a 180-degree forward throw or 360-degree pattern for optimum visibility without any wasted light. With a CRI of 70, the SafeSite LED provides superior color rendering compared to high-pressure and low-pressure sodium and mercury vapor fittings.
All SafeSite Area Lights come standard with a stirrup mounting bracket. Junction box models are also available, allowing through-wire of the fitting to connect multiple luminaires on a single circuit. SafeSite fittings operate on a universal 110-277V AC 50/60 Hz input.
Dialight
Natural Gas Generators With Paralleling Capabilities
Utility equipment: Doosan Portable Power offers paralleling capabilities for the NG225 and NG295 models of its natural gas generator product line. Paralleling natural gas generators are useful where remote locations, emissions regulations and 24-hour production schedules pose challenges for operators. Paralleling multiple natural gas units together avoids downtime while still achieving acceptable emissions levels by consuming wellhead natural gas as a fuel source.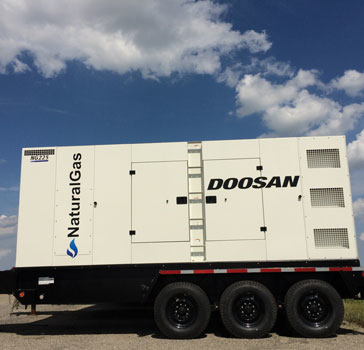 Paralleling generators share the load, and should one machine shut down or need to be taken offline for scheduled maintenance, the other unit seamlessly takes on the full load, preventing any lost production time.
Doosan Portable Power natural gas generators use a factory-installed paralleling solution that is built into the machine design. The units include a new control panel and electronically controlled circuit breaker that ensures the machines effectively communicate, bringing the units into synchronization without risk of system failure or machine damage that can occur when paralleling conditions are not precisely met.
Doosan Portable Power
Rugged Tablet for Field Service Enables an Efficient Workplace Environment Anywhere
Mobile computer: Getac Inc., a manufacturer of rugged computers, offers a portable, lightweight and feature-rich rugged tablet for field service. The Getac RX10 incorporates advanced features and specifications to tackle the toughest tasks in the harshest environments.
By combining fast processing speeds with energy efficiency, the Getac RX10 was designed with field service professionals in mind. And its light weight and ergonomic handle makes it easy to tote around during a full work shift without sacrificing critical features. Field service professionals are faced with ever-changing data capture requirements on a day-to-day basis, and with Getac's LumiBond 2.0 technology, users get a brighter, tougher display with vibrant colors and higher contrast for easy readability, even in direct sunlight.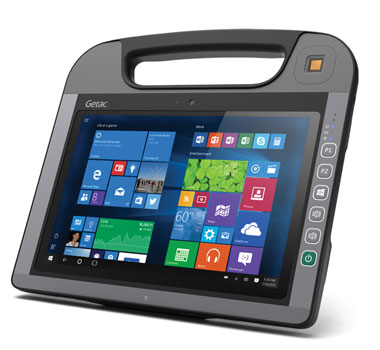 The SnapBack add-on accessories also provide enhanced functionality. The detachable rugged rubber keyboard and kickstand allow users to transform the RX10 to a 2-in-1 device, supporting data input in the field. The rubber keyboard is easy to clean and features a backlight function and IP54 dust and water protection.
The Getac RX10 provides a variety of security and connectivity features essential for protecting and sharing confidential information. Its multifactor authentication includes password protection, RFID, fingerprint reader and a smartcard reader.
Getac
Transformer Testing
Test equipment: HD Electric's ClearTest Transformer Tester provides quick and easy tests of de-energized power distribution system transformers. It is a handheld device with a single pushbutton that provides a clear indication of open circuits, short circuits, including shorted turns or shorted windings and confirmation that the test results are okay.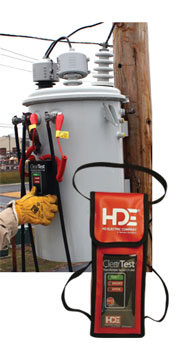 The ClearTest is a new design that briefly energizes the transformer and takes a snapshot of the transformer condition by measuring the voltage, current and power factor of the test signal.
The ClearTest finds transformer defects that include:
A single shorted turn in the primary or secondary side of a transformer;
Open coils or blown internal fuses or breakers;
Partial shorts including shorted turns, shorted turn layers, coil to core shorts and primary to secondary shorts; and
Bad transformer ratios resulting from shorted turns.
ClearTest looks both inside and outside the transformer-testing the coil, core and winding as well as between the transformer and whatever it is connected to.
Transformer tester features include:
Finds internal transformer defects before energizing;
One tester for all transformer types;
Test the primary and secondary sides of de-energized transformers without disconnecting;
Tests all connections from transformer to meter;
Improve SAIDI statistics by quickly testing and getting the transformer back in service;
Prevents line workers from installing a fuse on a shorted transformer;
Quickly verifies the secondary connections are not shorted;
Compact, lightweight and easy-to-use;
Powered by two 9V field replaceable lithium or alkaline batteries;
Audible alarm confirms successful test;
Built-in self test; and
A magnet is included to hold the ClearTest in place while testing.
HD Electric
Network Transmission Tester with Wireless Connectivity
Network testing: IDEAL Networks, a provider of network testing, installation and management products, offers its industry-standard SignalTEK copper and fiber network transmission tester: the SignalTEK NT.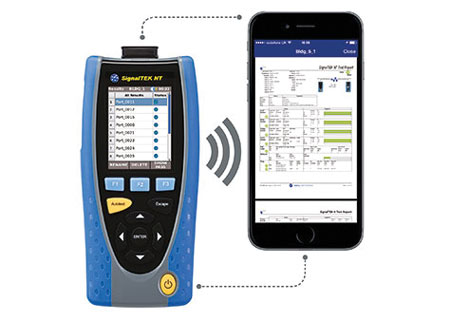 Key features include:
Gigabit performance testing on passive cabling and active networks;
Generates PDF test reports to IEEE 802.3ab standard;
Simulates VoIP/CCTV/Web/IP video network traffic;
Tests connection speed, port ID, ping, traceroute, IPv4/IPv6; and
Supports IDEAL AnyWARE App.
SignalTEK NT is completely mobile. Incorporated functionality allows it to automatically generate reports in PDF or CSV format that can be fully customized with company and operator details. Once the report is complete, the field technician can activate SignalTEK NT's built-in wireless hotspot to transfer reports to their mobile devices with the IDEAL AnyWARE app. These reports can then be sent to clients and project managers by email, ftp or cloud storage, resulting in greater collaboration and visibility, more on-time job completions, reduced costs and exceeded customer expectations. Tests reports can also be downloaded onto a USB memory key.
IDEAL Networks
Video Surveillance: IP Camera for Monitoring Harsh or Hazardous Environments
Industrial Video & Control's (IVC's) AMZ-HD41-2 compact, industrial video camera is designed and certified for use in hazardous environments. This heavy-duty camera offers 1080p resolution and high performance in a range of lighting conditions.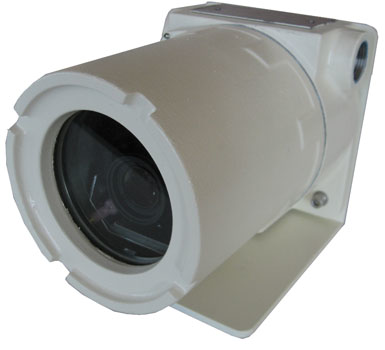 IVC sells its line of Class I, Division 1 certified video cameras to customers who require high-quality video in areas where ignitable concentrations of gases or liquids exist. Devices classified as Class I, Division 1 must also be intrinsically safe, incapable of causing ignition of a mixture of flammable or combustible material. IVC's line of Class I, Division 1 video cameras meets this rigid standard. The AMZ-HD41-2 was tested and certified by Intertek.
Manufactured in the US, the AMZ-HD41-2 is an HD, color video IP camera. It includes a 3x motor-driven optical zoom and a wide dynamic range for quality images in varying light conditions. It's housed in a heavy-duty, cast aluminum, weatherproof enclosure suitable for hostile environments. A stainless steel enclosure option is also available.
Industrial Video & Control
Test and Measurement Meter Line
Test equipment: Klein Tools' line of test and measurement products meet the safety requirements of the industry and the durability demands of the jobsite. The line offers professional clamp meters and multimeters, along with a variety of additional products, including test kits, receptacle testers and non-contact voltage testers. It also includes accessories such as line splitters, magnetic hangers, replacement leads and carrying cases.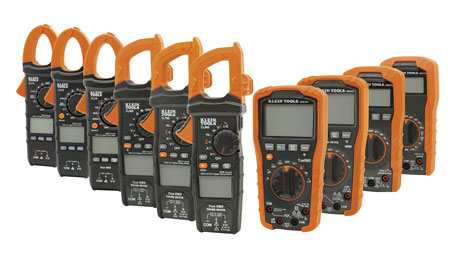 Klein's test and measurement line is engineered to deliver all the measure performance, durability and capabilities needed on the jobsite. Meters and electrical testers feature easy-to-use dials and buttons; evenly backlit displays; molded test lead holders; and compact, easy-to-hold, protective over-molded housings. The entire line meets CAT III or CAT IV safety ratings as defined by IEC 61010 (3rd edition) standards.
The clamp meters include test leads, batteries and a nylon carrying case. The CL210 and CL310 include a thermocouple while the CL700 and CL800 include a thermocouple with adapter.
Klein Tools
Safety Products: Explosion Proof Tool Tap Reel With Single Receptacle
Utility supplies: Larson Electronics offers an explosion proof tool tap reel with a single twist lock receptacle-the EPLRT-50-12.3-GCR. It provides easy management of an included 50 ft. of 12/3 AWG SOOW cord that gives operators in hazardous locations the ability to easily extend the working reach of tools and lighting equipment.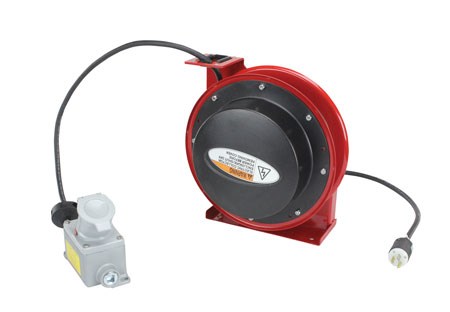 Including a Class 1, Division 1 twist lock receptacle, this industrial grade reel is built with modular components, coupled with a ratchet and slip ring housing. The cord is fed onto the steel reel assembly through a four-roller adjustable cable guide with a ball stop. It includes an integral spring actuated ratcheting mechanism for positive cord management housed within the slip ring enclosure. This unit is suitable for indoor and outdoor use, but must be installed outside of the hazardous location.
This explosion proof tool tap is for use with drop lights and tools in locations where connection to fixed receptacles is unavailable or impractical, and safely extends the operational range without creating the hazards associated with cords being strewn about the work space. Larson Electronics customizes general and explosion proof cord reels for many applications.
Larson Electronics
Crimping Pliers Utility Tools: Self-adjusting
Utility supplies: Phoenix Contact's TOOL fox line now includes the Crimpfox Centrus crimping pliers. The Crimpfox Centrus pliers are self-adjusting for the conductor's American Wire Gauge and have smaller ergonomic handles with a non-slip pressure pad. A sturdy and protective head cover saves the tool from shop-floor impacts.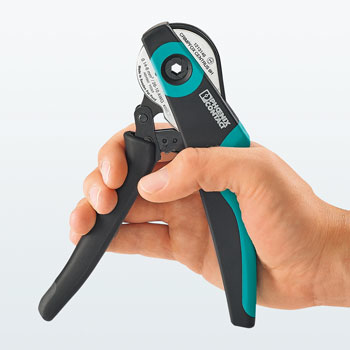 Four different versions are available to process a wide range of ferrules quickly and reliably. The Crimpfox Centrus 10S and 10H will process 24-8 AWG, and the 6S and 6H process 24-10 AWG, with a ratcheted mechanism, ensuring a proper crimp. The two crimp profiles, square or hex, were inspired by the terminal block standard. The symmetrical but slightly rectangular shape makes them compatible with Phoenix Contact terminal blocks.
Phoenix Contact
Fully Rugged Detachable Laptop Handheld Computer: Toughbook 20
Mobile computer: Panasonic's fully rugged detachable laptop, the Toughbook 20, delivers durability, reliability and performance, while adding the increased level of flexibility and functionality customers want in a single fully rugged computer. Combining the features of a laptop and tablet, the new device is useful for field workers that need a highly mobile computing solution and the ability to reliably capture large amounts of data. The Toughbook 20 is purpose-built for challenging environments, including field services, utilities and more.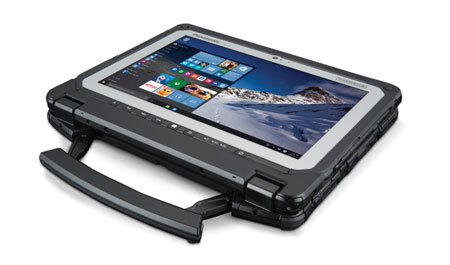 Because mobile workers are charged with completing increasingly complex tasks in the field, the Toughbook 20 features the power required to get the job done, including a 6th Generation Intel CoreTM vPro processor technology, 128GB SSD, 8GB RAM and choice of Windows 10 Pro or Windows 7 Professional (available through downgrade rights from Windows 10 Pro).
A flexible solution, the Panasonic Toughbook 20 offers six usage modes, making it useful for any situation or environment. Besides being used as a traditional laptop, tablet can be detached and used by itself or flipped 180-degrees to show content in presentation mode. The convertible mode allows users to see the display with the keyboard attached and ready when it is needed. Using the built-in handle, the device can operate in carry mode or hanging on a wall, while vehicle mode provides full functionality and operation of the device when on the move.
Panasonic
Battery Charging System for Fleets
Fleet management: Progressive Dynamics' PD9130 converter can be used as a battery charging system for utility vehicles and managed fleets to avoid dead batteries and cold weather starts. The converter allows batteries to remain charged after the converter is plugged in overnight or over the weekend, and the PD9130 can be plugged into any 115V outlet. While plugged in, a vehicle's battery remains at optimal voltage because the converter simultaneously charges the battery and provides an additional 30 amps for any equipment left on.
The PD9130 converter is for fleets, utility vehicles, power/energy and similar vehicles. It also reduces downtime associated with dead batteries from the toll of keeping technical, electrical and other equipment charged and running, as well as avoiding jump starts because of cold weather. Batteries that are discharged below 11V are lost and need to be replaced. Progressive Dynamics' chargers reduce the need to replace batteries by providing a two to three times longer service life.
Progressive Dynamics
Electronic Forms for Field Workforce Mobile Solution for Creating, Managing
Utility supplies: Retriever Communications, a provider of mobile workforce automation, offers Paperbark, an easy-to-use mobile enterprise solution for creating and managing electronic forms for workforce in the field. This highly adaptable application allows users to remotely interact with and capture data against forms, straight from their mobile device.
Paperbark's flexibility allows field force or users in the office to configure the app to meet their specific needs in a matter of hours. Non-IT staff can easily update or create e-forms to replace existing paper forms. E-forms are placed into the Paperbark solution and made accessible to authorized users or groups securely through the mobile app. Mobile users are then able to use the electronic forms, which seamlessly capture important data and deliver them to backend systems-streamlining processes and reducing wasteful double entry that comes with paper-based forms.
Additional benefits of Paperbark include:
Elimination of paper forms - Replaces paper-based processes, allowing businesses to minimize the costs associated with form distribution, collection and data entry;
Sophisticated e-form version control - Ensures employees are using the most up-to-date forms, with updates pushed out to the application automatically;
Increased capabilities - Captures data such as photos, GPS locations, time stamps, barcode scans and can provide immediate reporting once a form is submitted;
Branding facilitation - Highly configurable, businesses can make the solution their own by inserting their logos and color schemes into the mobile app and into any reports created; and
Increased access - Forms are always available to the user, regardless of coverage as they are stored on the local mobile client.
Retriever Communications
CT Ratio/Burden Tester Test Equipment
Test products: TESCO's CT Ratio/Burden Tester is a lightweight, portable and highly accurate in-service test set to assist in finding lost revenue by testing the accuracy of your meter circuits. The CT Ratio/Burden Tester can help determine if there are installations errors, loose connections, incorrect ratios, resistance buildup, open CTs or manufacturers defects.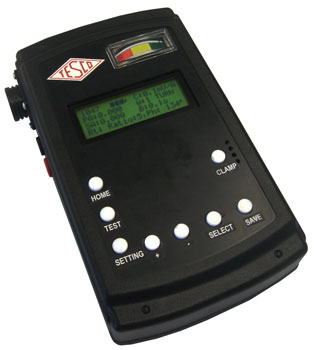 The CT Ratio/Burden Tester measures and displays the primary and secondary current of the CT under test, and the ratio of the currents. All test data is stored in the internal memory and easily uploaded to a PC or bluetooth device.
TESCO's
Tactical Pant Safety Clothing: Durable, Lightweight
Protective clothing: Workrite Uniform Co. Inc., a flame-resistant (FR) workwear manufacturer, offers the Workrite FR Tactical Pant-a durable, lightweight and stylish FR clothing option for workers.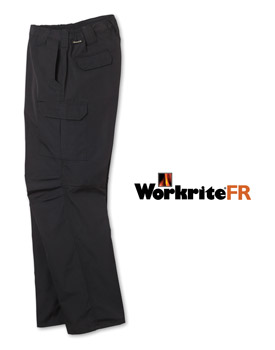 Cut from GlenGuard's strong and colorfast Ripstop fabric, the Workrite FR Tactical Pant is cited to represent a new frontier in workwear. Combining Workrite Uniform's decades of expertise in FR clothing with GlenGuard's commitment to providing lightweight and long-lasting fabrics, this product aims to improve safety in the workplace by offering a level of comfort and quality that encourages workers to properly wear their FR clothing. Made from 6.1-ounce fabric and UL-certified to NFPA 2112 as well as NFPA 1975, the Tactical Pant provides fit and feel without sacrificing protection.
Workrite Uniform
Riding Trencher Product Line Construction Equipment: Offers Additional Options
Line construction: The Toro Company offers attachments for its line of riding trenchers. The three new attachments include a direct drive trencher (available on the RT600), a combo mount system (available on both the RT600 and RT1200), and a sliding offset feature (available on both the RT600 and RT1200).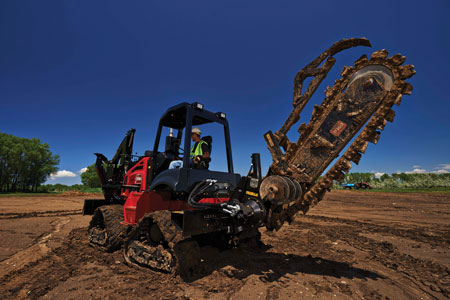 In addition, Toro offers two options of trencher drive styles. The HD PowerTrench drive, which stores power from a flywheel that is transferred to the torque-amplifying planetary system, gives the HD trencher the power to overcome rocks or other obstacles in a wide range of conditions. In contrast, the hydrostatic direct trencher drive delivers durable, cost-effective trenching performance in less demanding conditions. With the new hydrostatic direct drive trencher, the operator is able to perform trenching functions by using hydrostatic and inertial energy. The direct drive trencher can also be used as one of the attachments on the new combo mount system in conjunction with the Toro P85 plow attachment.
The combo mount system can potentially minimize downtime by allowing both a trencher and a plow to be mounted to the back of the machine, eliminating the need to change attachments depending on installation requirements. The RT1200 combo uses the HD trencher drive and the P105 plow with blade attitude adjustment, whereas the RT600 combo uses the direct drive trencher in combination with the heavy-duty P85 plow attachment. The utilization of the combo mount means the operator can achieve increased versatility by adding an attachment without sacrificing performance.
Toro
More Utility Products Current Issue Articles
More Utility Products Archives Issue Articles