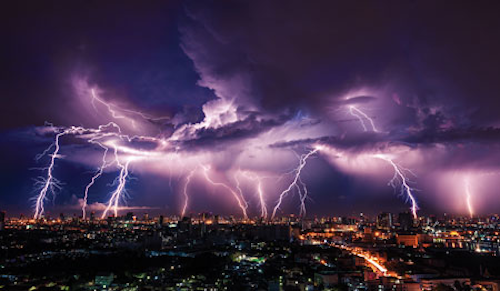 By Jim Foerser
The temperature is rising, the days are getting longer, and the storms are rolling in. With the arrival of spring comes the start of severe weather season. While this year is predicted to be a normal one in terms of severe weather, because we have had lighter-than-normal severe weather seasons in the past few years, this severe weather season should feel worse than it has in years.
With severe weather becoming more frequent, utilities must understand that weather management and response must become a proactive task. As the likelihood of severe weather increases, so do the odds of getting hit with an extreme weather event. Weather events that occurred once every 100 years are now occurring once every 10. This will place increasing strain on utilities already facing many challenges addressing aging infrastructure and sprawling communities.
As utilities and their workers prepare for what appears to be a stronger storm season than the past few years, it is time to start implementing strategies that help predict, plan for, and respond to increasingly frequent and severe weather.
Predicting 'Unpredictable' Weather
Many factors impact how a weather event will impact a territory, including the time of year, geography, topography and human development in the area. It doesn't help that severe weather events in abnormal places are increasing across the globe. Record breaking floods, for example, have hit in Detroit, Michigan and Fort Collins, Colorado in recent years-areas that don't normally experience floods. Earlier this year, tornados struck the outer islands of Louisiana and winter flooding occurred in Mississippi.
While weather is becoming more volatile, advances in weather forecasting solutions are helping utilities predict with greater accuracy where severe weather events will strike and the damage they will cause. By taking into consideration an ever growing slate of contributing factors, the correct weather forecasting solution can give utilities more accurate and more helpful information for storm preparation and crew management.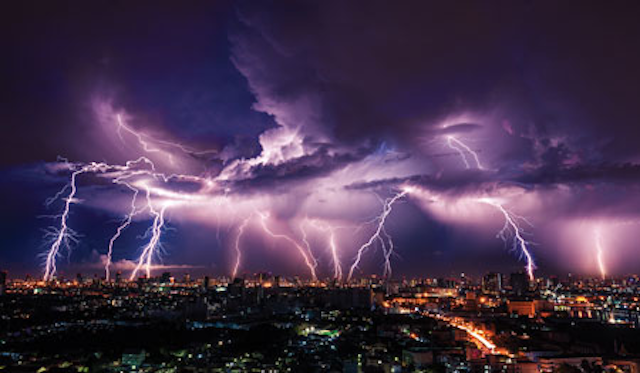 A weather event can generate a different impact to different utilities based on their service area, their distribution network, or even the time of year. Different locations have different sensitivities and, therefore, different weather management strategies to implement. It is no longer enough to simply brace for severe weather; all the nuances of a service area must be factored into the equation.
New solutions provide highly detailed geographical specificity to the weather forecast, including risk factor ratings for various threats. These reports break a utility's service area down into neighborhoods or regions to provide a more detailed and accurate threat assessment that is critical for positioning and deploying restoration crews. While the overall strength and potential storm damage might be predicted to hit a residential neighborhood sector, the threat factor for utilities could easily be greater in a sector with critical civic infrastructure such as hospitals or major thoroughfares that must be kept clear for emergency crews. These specific threat breakdowns allow utilities to make more effective strategic assessments for outage response planning and better prepare restoration crews for their work.
Know When to Make the Call
Probability assessment reports are an important tool for utilities because this information can be critical for making decisions about how to position crews and equipment before a storm to maximize response effectiveness.
Before, during and after a severe weather event occurs, critical decisions need to be made. Depending on timing, priorities shift. Before a severe weather event hits a service area, for example, a utility's decisions surround planning, positioning and getting ready for the storm. It is during this time the correct weather forecasting technology can be critical for deciding whether to call for mutual assistance.
Mutual assistance can cost tens of thousands of dollars, if not hundreds of thousands of dollars, and is essential for major storm response. Making the call but not needing crews wastes significant resources on unnecessary support, costs that cannot be easily recouped. Not making the call and getting hit with damage beyond the scale crews can handle leaves more customers in the dark longer and puts critical infrastructure at greater risk. Having an accurate, detailed threat assessment allows for greater confidence in making the initial decision to call for mutual assistance and creating the best plan for using crews to protect both people and property, as well as the bottom line.
It is critical that all utilities are in agreement when dealing with extreme severe weather events because there are only so many crews that can get power back on after an outage, and if the crews are sent to the wrong place, the decision-makers at those utilities will face many questions. Miscommunication among utilities is expensive. It costs taxpayers money, rates go up and the Public Utilities Commission gets involved.
Safety Is Paramount
During a weather event, crew safety obviously is a top priority. Behind that priority is getting the lights back on for customers as soon as possible-because that also may be a safety issue. Decisions made during a weather event will focus on keeping the power on in hospitals, and major roads open and clear of debris. Information about damage to a utility's assets is useful during a weather event because it allows crews to understand the scope of damage and see where and what type of crew they will need to send, as well as knowing when to hold off or recall crews when conditions become unsafe.
After the severe weather passes, the utility will focus on assessing damage, responding to outages, restoring power and making repairs. New advancements in technology allow utilities to predict which region of their service area will be affected the most by severe weather and to combine that with knowledge of what assets are within that region, so utilities can quickly understand what is at risk, what equipment can be pre-staged, and what crews are required for restoration purposes.
Knowing what weather will affect each region of a utility's service area keeps crews safe and reduces resource expenditures. Crews who enter known conditions are able to prepare for the job that lies ahead and get there quickly. Understanding the conditions and impacts of a severe weather event ahead of time also helps utilities maximize their response effectiveness by showing them exactly where the damage has occurred. Geographic severity assessments and probability factors allow utilities to be more confident and effective in their preparation and response to severe weather.
The New Normal
Abnormal weather has become the new norm, necessitating evolution of the response to it. New advancements in weather forecasting technology helps utilities assess unique weather situations and predict and prepare for outages in their service area. Crews are kept safe and unnecessary resource expenditure is limited when utilities use probability assessments to determine the likelihood of severe weather impacting their service area.
Severe weather cannot be eliminated, but utilities now have the tools they need to face severe weather events with confidence.
More Utility Products Current Issue Articles
More Utility Products Archives Issue Articles