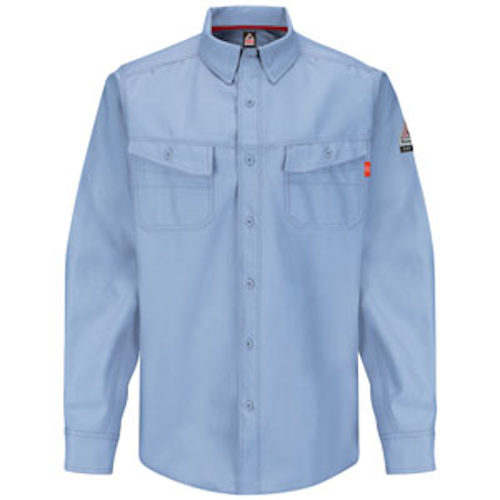 Flame-resistant Apparel iQ Series Endurance Collection is Lighter, Cooler
Protective clothing: Bulwark has announced its new iQ Series Endurance Collection flame-resistant (FR) apparel. Designed to deliver optimum performance and function, the new line combines iQ's comfort properties with a new 65 percent cotton/35 percent polyester blend fabric. The poly-blend fabric offers all the advantages of polyester, including superior abrasion resistance, improved after-wear appearance and increased strength, breathability and moisture wicking.
In addition, the Endurance Collection benefits from a level of enhanced durability that allows the garments to withstand the rigors of extreme wear and industrial wash without sacrificing comfort.
The iQ Endurance Series is a direct response to customers' call for an extra resilient, yet lightweight, soft and breathable line of stylish work wear, it's reported. Bulwark again partnered with Westex G2 fabrics by Milliken to create the iQ Endurance Collection's signature 65/35 poly-blend fabric. Dual-duty fabric allows for comfortable, lightweight FR garments with improved wear life, better color-retention and a more professional look.
Bulwark
---
Radiometric Thermal Video Camera Provides Accurate Temperature Monitoring
Video monitoring: Industrial Video & Control's (IVC's) radiometric thermal camera precisely senses temperatures for a wide range of applications including product testing, quality control, equipment monitoring, worker safety and process monitoring.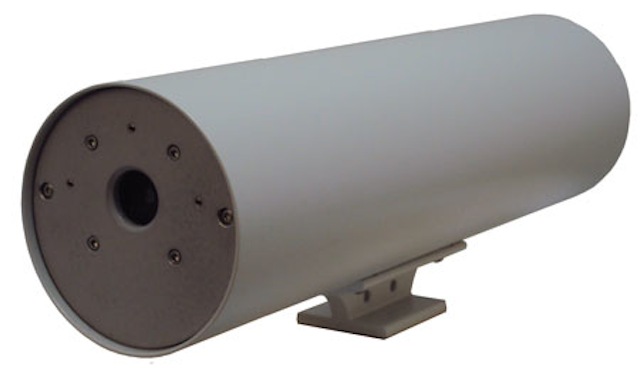 The FV-3543-1 thermal video sensor detects temperatures within up to eight user-defined zones. High, low, average and standard deviation thresholds can be set for each zone. Camera alarms can communicate to a plant's control system through OPC or MODBUS/TCP. Built for industrial applications, this fully radiometric infrared camera is especially useful for monitoring temperature changes in electrical installations, electro-mechanical equipment, process equipment, engine test cells, and other applications where temperature monitoring is critical.
Manufactured in the US, the FV-3543-1 works with IVC's full line of video management software products. The camera also integrates easily with DCS and SCADA systems. The camera is housed in a rugged enclosure making it suitable for use in harsh industrial environments. A camera mount provides for multi-axis adjustment.
Industrial Video & Control (IVC)
---
Screen Blanking Solutions Powered by Blank-It Reduce Driver Distraction
Safety equipment: Havis' Screen Blanking Solutions powered by Blank-It reduces driver distraction and improve road safety. The Screen Blanking Solutions provide easy, safe and legally compliant ways to manage in-vehicle computer displays and prevent driver distraction.
Blank-it is a combination of a multi-sensor, rugged USB and intelligent modular software technology. Once activated, the motion sensor technology recognizes a vehicle's mobility and limits the display's functionality, reducing visual, cognitive and physical distractions.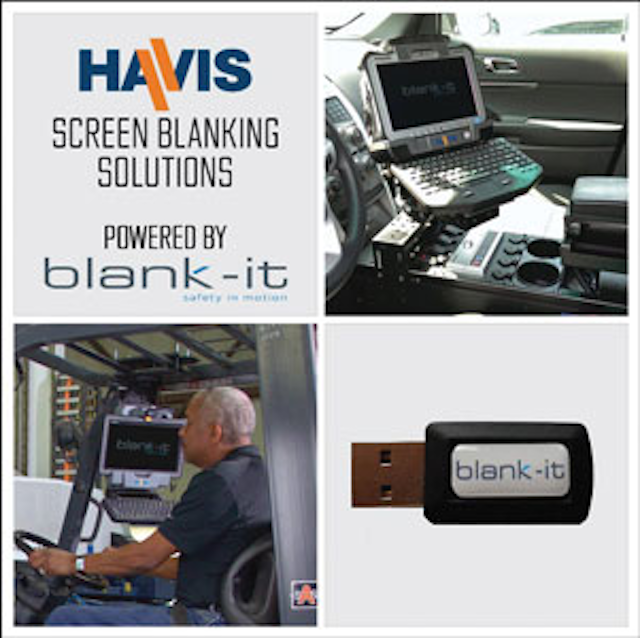 In 2013, distracted driving caused more than 3,100 deaths, 424,000 injuries and more than 616,000 damaged vehicles, according to the National Highway Traffic Safety Administration (NHTSA). In addition to the human cost, on-the-job crashes cost employers more than $24,500 per crash, $128,000 per injury and $3.8 million per fatality, according to NHTSA.
Blank-It's password-protected administration interface allows companies to determine the level of screen functionality for a fleet of any size, with options including passenger-only viewing, privacy screen, keyboard/mouse disabler, GPS override and voice command, with additional features in development.
Havis
---
Case Light Provides Durability Along With 10,000 Lumens of Portable Light
Work light: Paladin Case Light CLU10K provides durability along with 10,000 lumens of portable light that runs four hours on battery power alone. The portable work and scene light gives construction crews the flexibility to extend working hours and work safely in dark places, without power cords.
The CLU10K is built with aircraft aluminum, glass-reinforced nylon and heavy-duty rubber, meaning it can be used in even the harshest weather. These materials can withstand the kind of punishment the job site brings every day-knocks, falls and wet conditions.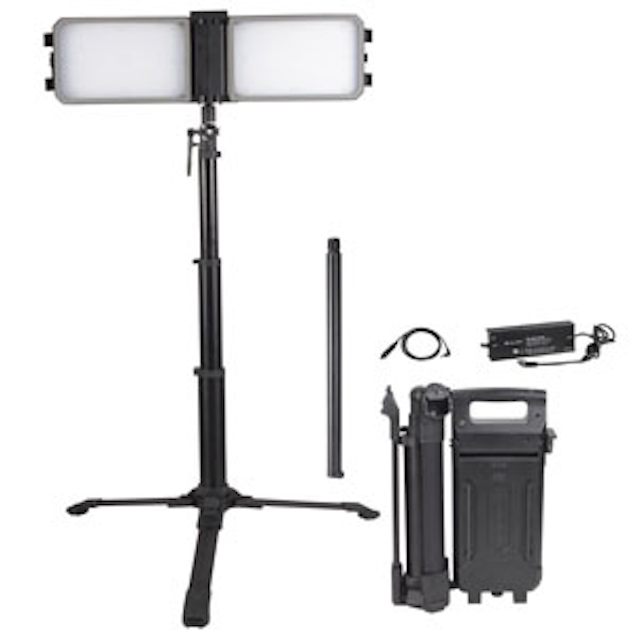 The light offers up to 10,000 lumens of LED light for four hours on battery power and can be deployed in under 15 seconds. Weighing just 17.5 lbs. and no need for a cord, the Paladin Case Light CLU10K is ready to go to any construction site that needs light.
The CLU10K output can be set to 10,000 or 5,000 lumens, giving off the correct amount of light for any situation or location. Traffic and strobe settings on the CLU10K can keep a crew safe when working roadside or in high-traffic areas.
Paladin
---
Lifter PLUS Safely and Efficiently Removes Manhole Covers, Drainage Grates
Safety products: Rock Mills Enterprises introduces the new Lifter PLUS, which complements and builds on the success of the existing Lifter. The Lifter safely and efficiently removes manhole covers and drainage grates. In most cases, removing covers and grates is as simple as pushing a button on a remote control.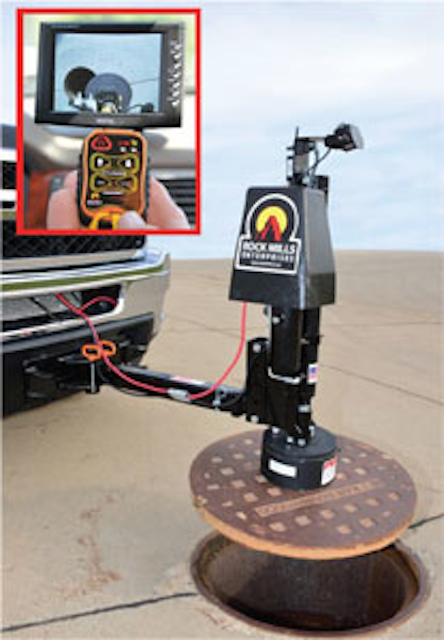 The Lifter PLUS meets a market demand for a more powerful Lifter. The Lifter PLUS delivers 3,500 lbs. of magnetic gripping capacity. This added capacity directly addresses the need for a more powerful tool to remove very heavy covers that may also have rib and lettering designs. The added magnetic gripping capacity allows the magnet to compensate for reduced surface contact area and deliver high lifting capability.
The Lifter PLUS comes with the two options now available with The Lifter. It is offered with or without the roadway camera and dash monitor. In addition, Rock Mills Enterprises is introducing a new 30-in. Swing Arm with 600 lbs. of load capacity. This addresses the demand for a Swing Arm with longer reach and greater load capacity. Rock Mills Enterprises is an innovator in manhole cover and drainage grate removal safety products.
Rock Mills Enterprises