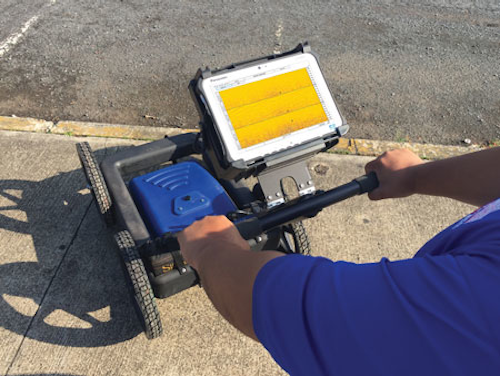 Ground-penetrating Radar Software Automated Features Added to Version 5.0
Utility safety: US Radar Inc., a manufacturer of subsurface imaging systems, has introduced Version 5.0 of its Seeker acquisition software that automates several key capabilities to help assure the accuracy of US Radar ground-penetrating radar (GPR) systems.
Seeker 5.0 simplifies use of both the software and the GPR equipment by automating several crucial settings such as gain control, which adjusts the gain of the radar signal to enhance underground target identification and layer tracing. Seeker 5.0 also automatically recognizes and confirms the GPR system's antenna and configures antenna-specific settings such as depth range and encoder interval.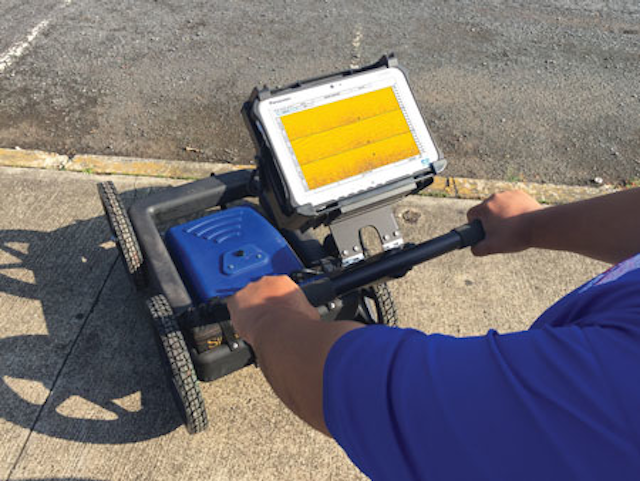 By automating the most important settings, the company has made Seeker 5.0 much easier to use accurately and productively. Correctly setting the gain level takes experience, especially continuing to adjust it while using the GPR system. Automatic gain control is especially helpful to simplify and streamline the process for GPR operators at any level of expertise.
The software also includes an industry-exclusive override capability to enable experienced operators to manually set gain levels.
US Radar Inc.
Self-leveling System Keeps Vehicles Level, Stable When Towing
Utility vehicles: Keeping a vehicle level and stable is critical for driving when towing heavy loads. Air Lift's new and improved SmartAir II automatic self-leveling system maintains optimum ride height on any road, under any load condition.
SmartAir II employs leveling sensors that accurately detect when the vehicle isn't level and automatically return the air springs to the desired ride height.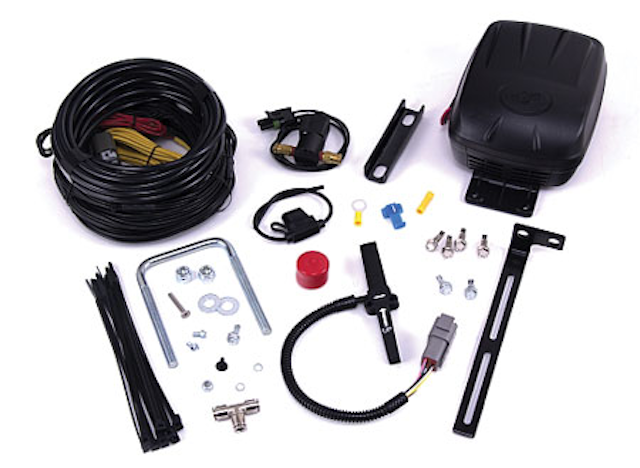 Engineered to provide true, automatic control, SmartAir II features a non-contact height sensor, which maintains a level ride with no lines or controls in the cab. The system includes an improved, weather-resistant harness and durable components that meet OEM standards for quality and function.
The kit comes complete with a pre-assembled wiring harness, electronic sensor system, compressor and an illustrated instruction manual for easy installation. Two models are available: a single-path system (#25490), which allows two air springs to inflate simultaneously, or a dual-path system (#25491), which inflates left and right springs independently, depending on load.
Air Lift
Back Fill Tamper Low-vibration
Safety equipment: CS Unitec's Trelawny VL LRS Back Fill Tamper is for safe compaction close to walls and around objects such as fragile pipes, utility poles and water meters. Model 150.5330 is suitable for narrow trench work, pathways and small area reinstatement tasks in and around restricted excavations. Integrated Vibro-Lo vibration reduction technology reduces operator fatigue, increases efficiency and helps prevent injury.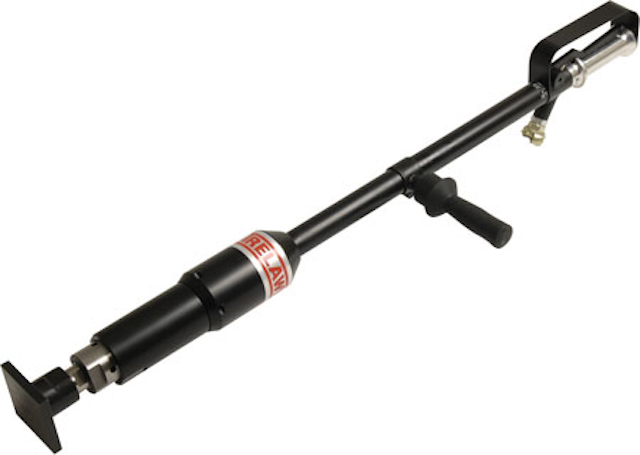 Equipped with a 4 in. x 4 in. foot tamper, Model 150.5330 uses 1,300 blows per minute to compact material up to 136 lbs. per cubic foot. The tool is 50 in. in length and weighs 48 lbs., making it easily transportable and storable. A variety of foot plates are available to suit the size and shape of the work area.
CS Unitec
Flame-resistant Garments Made From 5.3-ounce GlenGuard Fabric
Flame resistant clothing: Workrite Uniform Co. Inc., a flame-resistant (FR) clothing manufacturer, offers the Workrite FR product line featuring 5.3-ounce GlenGuard fabric. The Workrite FR GlenGuard 5.3 line is cited to offer one of the lightest weight Category 2 fabrics currently available on the FR clothing market.
Produced by Glen Raven Inc., the GlenGuard fabric offers an arc thermal performance value (ATPV) of 9.5 cal/cm2 and is UL certified to NFPA 2112. This Workrite FR GlenGuard 5.3 line aims to increase wearer compliance by providing an unprecedented level of comfort and protection.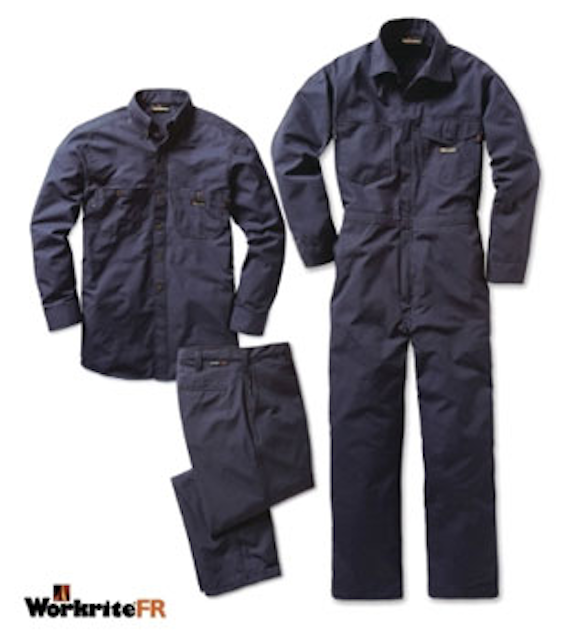 The Workrite FR line includes coveralls, shirts and pants in a variety of colors—all featuring the 5.3-ounce GlenGuard fabric. In addition to FR protection and comfortable, lightweight fabric, the garments also offer moisture management, durability and exceptional colorfastness.
All Workrite FR GlenGuard 5.3 products are now available for business-to-business (B2B) purchase in the US. Workrite Uniform Co., a B2B affiliate of Williamson-Dickie Manufacturing Co., also offers a variety of other FR apparel through its brands: Workrite FR, Walls FR, Dickies FR and Workrite Fire Service.
Workrite Uniform Co. Inc.
LSC Light Towers are Easy to Use, Maintain
Work lights: The Doosan Portable Power LSC light tower incorporates features that make it easy to own, use and maintain. Designed for reliability and durability, the LSC light tower is for illumination of road and bridge construction, emergency and disaster relief, general construction sites and more. The LSC is the perfect complement to any rental equipment fleet.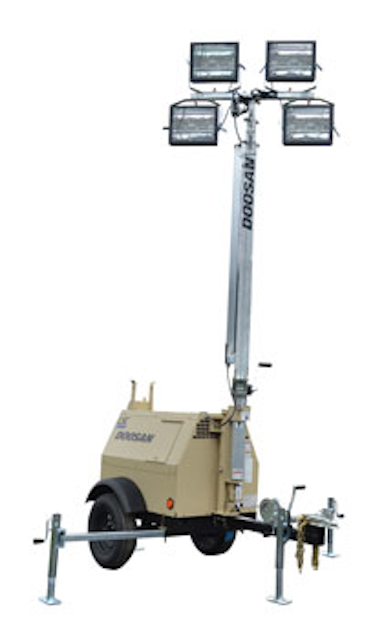 The LSC portable light tower features a Kubota D1005 engine. This 1,800-rpm water-cooled diesel engine meets EPA Tier 4 final emission regulations. The power rating of the LSC is 6 kW with the utilization of a high output alternator, and this voltage allows operators to illuminate the unit's four 1,000-watt metal halide floodlights and use the receptacle power function simultaneously.
Doosan Portable Power
Tilting Coupler Increases Productivity
Construction equipment: For use with excavators and backhoe loaders weighing between 6 tons and 26 tons, the Geith tilting coupler allows operators to more precisely position the bucket or attachment without having to reposition the machine—increasing overall productivity and versatility. The tilting coupler provides up to 180 degrees of side-to-side rotation, depending on the model.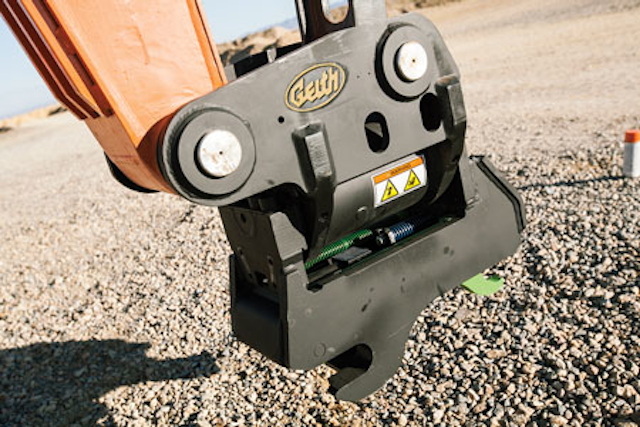 Featuring four independent locking components, the hydraulic quick coupler configuration meets current and proposed safety standards (ISO/DIS 13031).
The front lock retains the attachment in the event of improper rear pin connection while the rear lock and mechanical spring system retain the attachment in a working position should a loss of hydraulic power occur. Unlike gravity-type systems, the front and the rear spring-retained locks maintain high functionality in severe and dirty environments.
Geith
Tool's Ergonomic Value Ergonomics Laboratory Offers Equipment to Identify
Utility safety: Greenlee/ A Textron Co. has launched an industry-first ergonomics laboratory, Greenlee ErgoLab. The Rockford-based laboratory offers equipment to identify a tool's ergonomic value through scientific testing, measurement and analysis. This analysis will help utility and electrical tools users, along with purchasing officers and decision makers, determine the best tools to use on the jobsite. A mobile version of the ErgoLab was also developed to offer jobsite analysis.

This new ErgoLab will give Greenlee the ability to analyze and deliver objective data and offer all its business units the ability to quantify a tool's worth. By having the ability to compare muscle efforts against ergonomic qualities, it allows tool users and decision makers to see and understand the short and long term health and safety benefits. This insight makes the purchasing decision process much easier.
Greenlee / A Textron Co.
Four-in-One Clamp Meter Simplifies Electrical Testing
Test equipment: IDEAL Electrical is providing contractors with versatile solutions to electrical testing with its 61-704 clamp-style tester that enables electricians to perform procedures that previously required four separate tools, resulting in greatly improved cost-efficiencies, a less cluttered tool bag, and enhanced on-the-job safety because of the tester meeting CAT III standards.
The model 61-704 was designed around what electricians in the field told IDEAL they needed, making it a testing tool engineered by electricians for electricians. It features many productive capabilities and is for almost any environment, whether it's residential, commercial or industrial.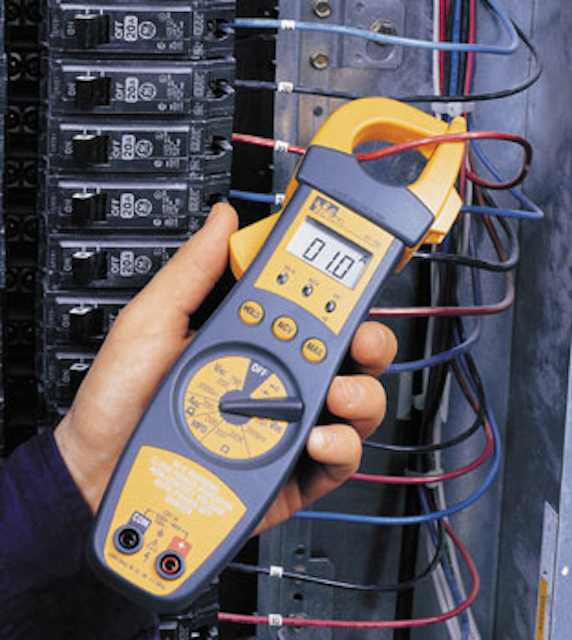 The 61-704 capabilities are:
200A clamp/multimeter with true RMS, capacitance and backlight;
Non-contact voltage tester;
AC voltage tester with shaker; and
Harmonics tester.
The Clamp/multimeter feature allows electricians to easily and accurately measure AC amperage, AC/DC voltage and resistance/continuity. Tradesmen will appreciate the meter's tapered jaw that permits access to cables inside tight spaces and its slim profile for easy use and storage.
The non-contact voltage tester allows an electrician to indicate voltage from 40-600 Vac in the tip of the meter without turning a dial or using test leads, while the Shaker provides the user with a tactile feel similar to a solenoid tester.
IDEAL
Digital Voltage Indicator Series
Voltage measurement: HD Electric Co., a Textron Inc. company, offers its HDE DVI-100 and DVI-500 Series Digital Voltage Indicators designed to be used on both transmission and distribution systems in overhead and underground applications up to 500 kV.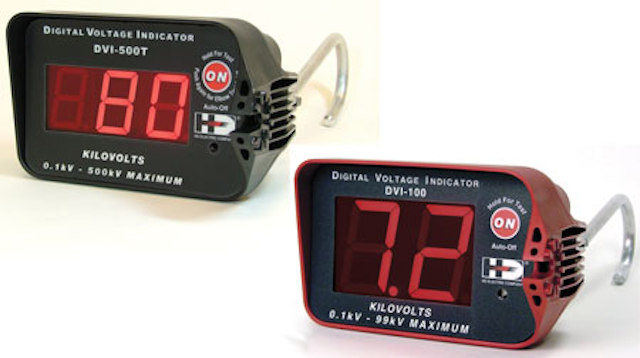 Voltage is displayed on a large LED display with a two-digit or three-digit readout. In addition, an audible alarm alerts the user to the presence of voltage above 100 Vac. Models are also available with an option to measure elbow test points.
HD Electric Co.
UNIRAP Cable Tie Mounting Bases Offer Multiple Mounting Methods
Utility supplies: BURNDY, a manufacturer and provider of connector solutions to the industrial, energy, construction, telecommunication, petrochemical, data center and transportation industries, has expanded its nylon mounting bases. Mounting bases are an effective, versatile and durable wire management mounting product for routing and securing wires and cables in place.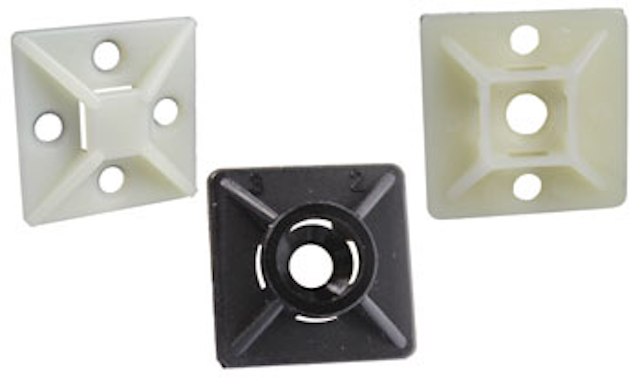 These mounting bases are easy to install and are available in a variety of styles to attach to the mounting surface. The mounting bases are square with rubber or acrylic adhesive, and/or one, two or four screw holes for mounting, depending on the design. Acrylic adhesive is recommended for applications requiring more adhesive strength and in high temperature environments. In addition, acrylic adhesive bases are more durable and suitable for mounting on plastics and metals, producing a secure bond between oily and/or contaminated surfaces. All the mounting bases are available in Natural or UV Black color.
Mounting bases are used in conjunction with cable ties to stabilize and secure wire bundles. The bases not only improve aesthetics, but are suitable for both indoor and outdoor applications.
BURNDY
All-Purpose Pliers with Crimper
Utility tools: Klein Tools offers the All-Purpose Pliers with Crimper, a more durable wire stripping tool that also has the functionality of a long-nose pliers and crimper—all in one tool.

The All-Purpose Pliers With Crimper (Cat. No. J207-8CR) features:
Cuts and strips 10-18 AWG solid and 12-20 AWG stranded wire;
Long nose grabs and loops wire;
Includes shearing holes for 6-32 and 8-32 screws;
Crimps non-insulated connectors, lugs and terminals;
Forged steel for maximum durability;
Induction-hardened cutting knives for long life;
Hot-riveted joint ensures smooth action and no handle wobble; and
Dual-material Journeyman handles provide a firm grip and added comfort.
Multi-functional tools, such as the All-Purpose Pliers with Crimper, are becoming more popular among electricians, it's reported. These products save time, save money, and save space on the belt or in the bag, making them more efficient and effective tools.
Klein Tools
High Definition Video Camera Class I, Division 1
Video surveillance: Industrial Video & Control (IVC) offers its APTZ-3045-06 high definition, industrial video camera that is designed and certified for use in hazardous environments. This rugged pan-tilt-zoom camera offers 1080p resolution and low-light performance at a low price point.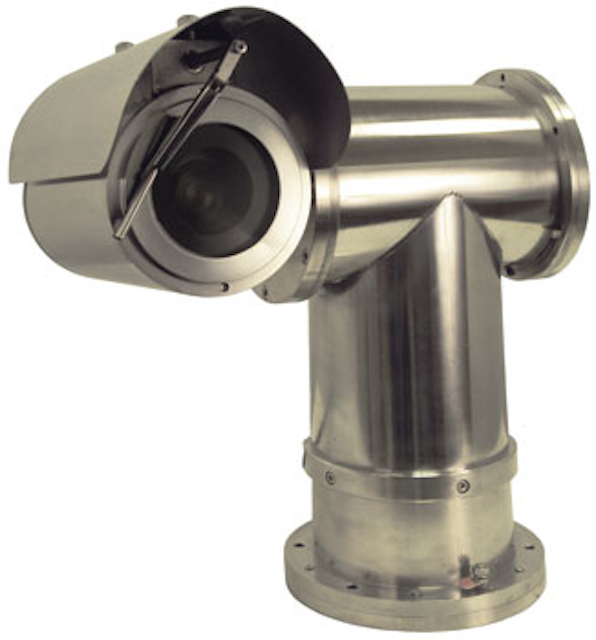 IVC sells its line of Class I, Division 1, certified video cameras to customers who require high-quality video in areas where ignitable concentrations of gases or liquids exist. Devices classified as Class I, Division 1, must also be intrinsically safe, incapable of causing ignition of a mixture of flammable or combustible material. IVC's line of Class I, Division 1, video cameras meet this rigid standard. The APTZ-3045-06 was tested and certified by Intertek.
The APTZ-3045-06 offers crisp, detailed HD-SDI video in a rugged enclosure and is suitable for a variety of applications. Manufactured in the US, the APTZ-3045-06 is a rugged, HD-SDI, color video camera and includes a 30x pan-tilt-zoom.
IVC
Hot Line Base Plate Eliminates Downtime During High-voltage Transmission Repair
Safety equipment: In the past, it was necessary to shut down an entire transmission line when repairing a high-voltage structure. The patented Hot Line Base Plate from LineWise is a solution that safely eliminates this issue, while mitigating risks and reducing costs during emergency repairs.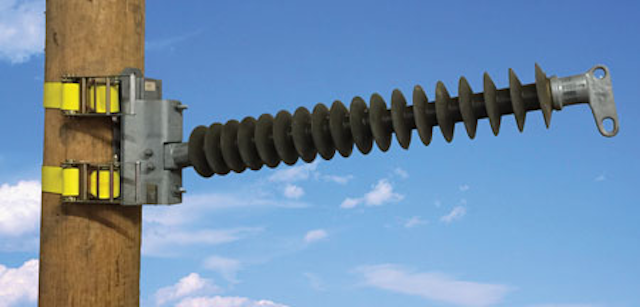 The intent of a structured power line is to maintain adequate clearance between energized conductors and the ground, as well as provide support to the conductors from potential causes of damage during storms or iced lines. The tools and techniques used to hold conductors during repairs often do not have the load rating needed to handle them, however, placing linemen at risk.
Developed by Georgia Power's Alan Holloman, the Hot Line Base Plate holds a conductor in place during planned construction or emergency repairs without the need to bore holes or for unique banding. It quickly and safely allows transmission crews to install a non-ceramic insulator on a tubular steel, concrete or wood pole.
LineWise Div., Diversified Products
Pull Tape Offers Print Legibility, Durability, Accuracy, Flexibility
Utility supplies: Milliken Infrastructure Solutions LLC, a subsidiary of Milliken & Co., announced the availability of a new line of industrial grade pull tape to assist with the installation of wiring and cable within conduit structures. Milliken's woven Vis Tape with MPrint technology features long-lasting print legibility and durability, print length accuracy and a soft feel to make pulls of fiber optic, copper and coaxial cable easier and more precise.
Vis Tape was designed using Milliken's MPrint technology, a new process, which results in print durability and legibility for measurements and other markings. Installers can rely on Milliken's process for creating Vis Tape's highly accurate print lengths—with sequential markings every two feet—to ensure cable runs are correct each pull. Vis Tape's non-abrasive coating also helps prevent conduit damage during cable installations.
Milliken's Vis Tape features an ultra-soft feel for their durable tape, which eliminates the rigidness commonly found in other tapes and ropes. This application not only makes the process of manually pulling cable less strenuous on the installer's hand, but also makes managing the tape easier, especially when there is a need to tie knots.
Vis Tape is manufactured with low elongation properties to reduce snap backs, providing a safer alternative to pull ropes.
Milliken's Vis Tape is available in a standard and detective version in a variety of tensile strengths, ranging from 1,130 lbs. to 2,500 lbs., and can be purchased in reel lengths ranging from 1,000 ft. to 100,000 ft.
Milliken Infrastructure Solutions LLC
Fall Protection Catalog Offers Advanced Safety Solutions for Working at Height
The Miller Fall Protection catalog offers in-depth product descriptions and additional support for those who need to perform their jobs efficiently and safely while working at height. Miller offers technologically advanced, yet easy-to-work-with products designed to meet a variety of applications or environments.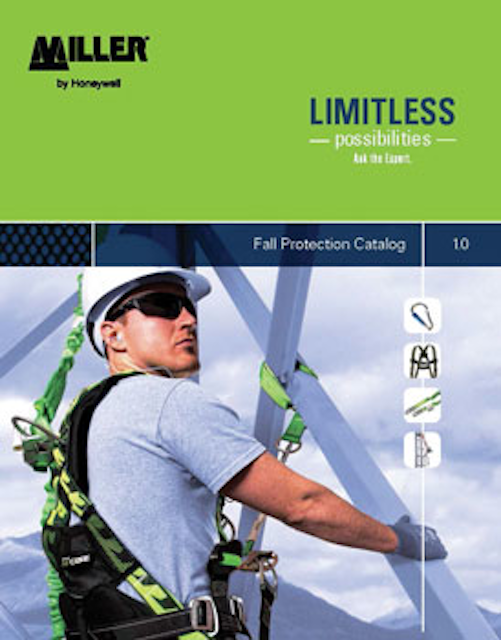 The new catalog, organized for easy browsing according to the ABC's of fall protection, features Miller Anchorage Connectors & System Kits, Body Wear, Connecting Devices, Descent/Rescue & Confined Space, Engineered Solutions, and Fall Prevention & Protection Training. Additional catalog resources offer help with understanding, inspecting and maintaining personal fall arrest systems; calculating fall clearances; donning harnesses; and more.
Miller Fall Protection, Honeywell
HYDROlite FR Rainwear Offers High Performance
Protective clothing: National Safety Apparel has launched HYDROlite FR Rainwear. Constructed with GORE PYRAD fabric from the inventors of GORE-TEX Products, these garments are lighter weight than most current options in the FR Rainwear market. This new fabric technology offers waterproof and breathable performance beyond ASTM F1891 and ANSI 107 requirements for FR rainwear.
Besides offering enhanced features and made from the newest lightweight fabric (8.3 oz.), these garments meet ASTM F2733 and are NFPA 70E complaint, HRC 3 with an arc rating of 31 cal/cm².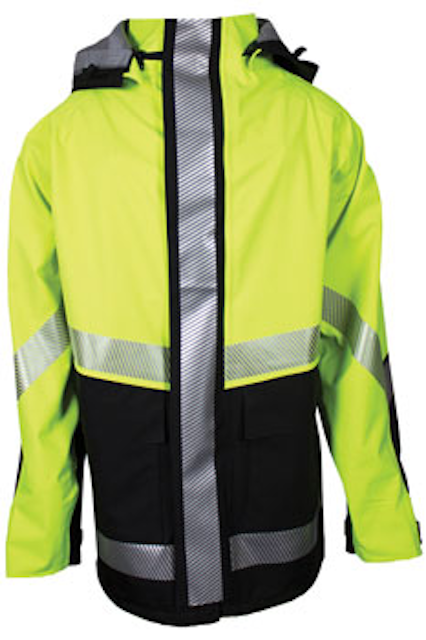 The FR Rainwear has been storm shower tested and field proven to keep workers dry. Wear trials revealed that 92 percent of participants would purchase this rainwear with money out of their own pocket if the company they worked for didn't purchase it for them. More than 90 percent of participants reported the design of the garments allowed them to work as if they were not wearing rainwear. These wear trials took place on both the East coast and West coast.
National Safety Apparel
Quickly Trace and Identify Cable Locations on Jacks or Through Walls
Cable test equipment: Platinum Tools, a provider of solutions for the preparation, installation and hand termination of wire and cable, offers the Tone and Probe Set. With the Platinum Tools Tone and Probe Set's steady tone, push-to-scan button, and a clear loudspeaker, you can quickly trace and identify cable locations on jacks or through walls. Wire bundles are easily penetrated with the tapered probe tip and the probe volume is controlled with a thumbwheel. With common send and receive frequencies, the TP150 is versatile enough to be used with other tone generators or probes.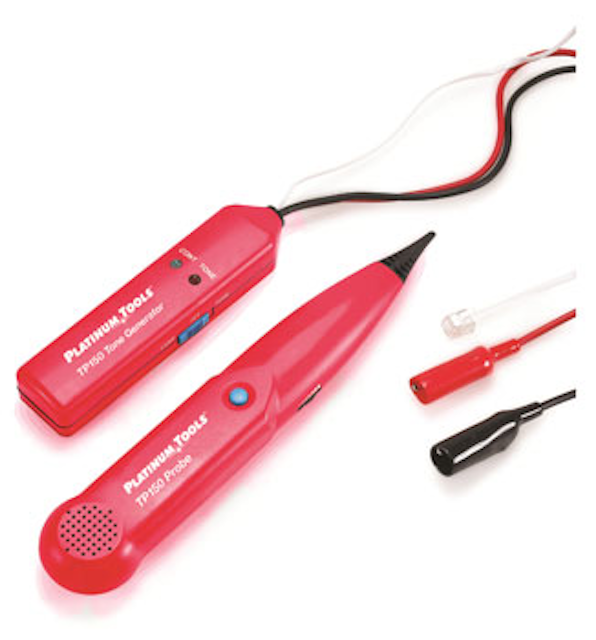 The probe features a recessed push-button that activates tone scanning when needed; the tapered tip allows easy penetration of cable bundles; side thumb wheel adjusts volume and turns off power to reserve battery power; and it has a sensitivity of 100 Hz to 300 KHz.
The tone generator features include a slide switch to select TONE/OFF/CONT, a continuity mode to verify if a wire is broken, alligator clips to test pairs, and an RJ11connector for data or phone lines.
The TP150 Tone and Probe Set includes a carrying case, 9V batteries and user instructions.
Platinum Tools
Rotary Hot Stick Operator for Use With Electrical Load Break Switches
Remote Solutions LLC, a provider of solutions for remote racking of utility, industrial and commercial circuit breakers, offers the Rotary Hot Stick Operator (RHSO) for use by field technicians in remotely opening or closing electrical load break switches.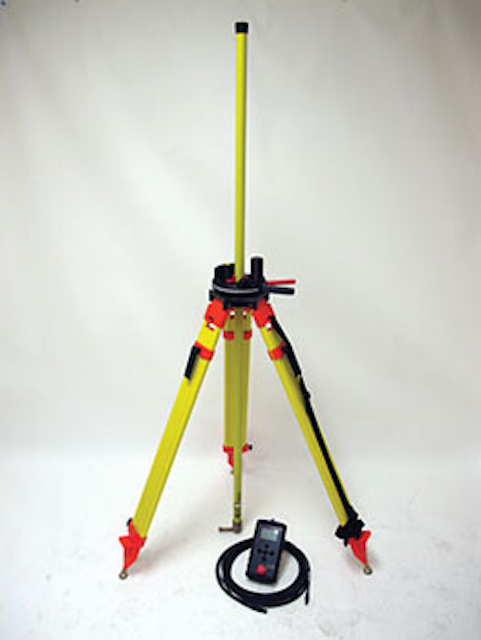 The RHSO is cited to be the first solution of its kind (along with linear LHSO version) to remove workers from hazardous locations when performing switch service. The system can be configured for both rotary and linear switch operators and will work with all switch types—air, oil, vacuum and SF6. An optional multi-axis configuration allows for either vertical or horizontal orientation.
The RHSO is suitable for use with equipment such as Load Break Oil Rotary (LBOR) switches, which provide making or breaking of specified currents. These switches are typically installed in manholes and underground or sidewalk vaults where they are subject to moisture, particulates, corrosive materials and a wide range of temperatures.
Remote Solutions LLC
Mobile Column Lifts LockLight Provides Peace of Mind When Using Mobile Column Lifts
Vehicle maintenance: Rotary Lift's LockLight technology is available for its Mach Series mobile column lifts, making it easier for fleet technicians, supervisors and health/safety inspectors to see at a glance if a lift is secure on its locks.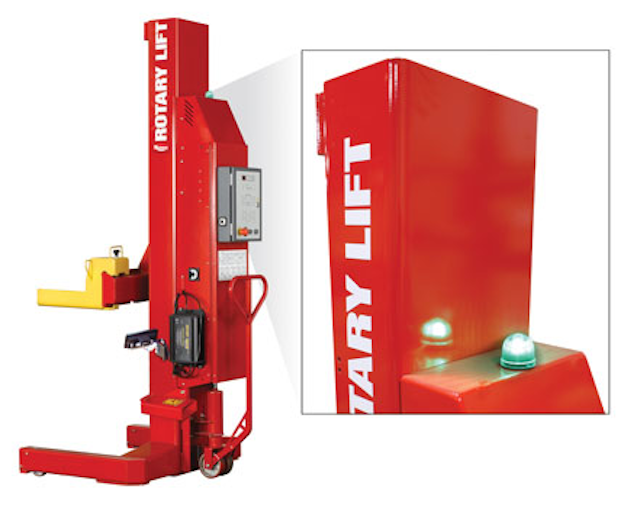 Introduced for light-duty vehicle lifts, the Rotary Lift LockLight device mounts directly to a lift and shines a green light when it detects the lift's hydraulic pressure has been relieved. The light indicates the lift is resting on its locks and work can proceed. Without LockLight, the only way to tell if a lift is on its locks is to press the "down" button—if the lift moves, its locks are not engaged.
Rotary Lift
Safety, Outages, Theft Improve Safety, Minimize Outages, Detect Theft
Utility testing: Telit, an enabler of the Internet of Things (IoT), announced that its IoT modules and IoT platform services enable the Cresatech CuTS platform, a system designed to protect and monitor electrical service environments. The integrity of grounding systems and metal theft are worldwide problems for power utilities, telecom providers and rail networks, and result in significant safety issues and high cost of replacing cables for copper networks.
Cresatech employs patented sensing technology that was developed in collaboration with the electricity distribution industry. The CuTS platform provides immediate notification of any disconnection, removal, breakdown or disturbance in the network infrastructure. Theft or other issues, such as joint corrosion, are detected by the system, which looks for changes in the inductance characteristics of the infrastructure. To enable cost-effective deployment, sites are divided into individual zones and any changes within monitored zones generate an alarm that is then pushed to the CuTS Cloud platform.
Telit IoT products and services sit at the core of the CuTS platform, connecting customers' critical field infrastructure to their own cloud-based dashboards. The sensing solutions rely on the GL865 QUAD V3 modules, a highly reliable 2.5G cellular solution that is for size sensitive and high-volume industrial applications.
Telit
Loadbreak Elbow Earns Rural Utilities Service Acceptance
Utility equipment: Elastimold 200 amp loadbreak elbows from Thomas & Betts (T&B)—enhanced with safety performance features, increased range flexibility and improved lifecycle cost reduction—have earned Rural Utilities Service (RUS) Acceptance.
The RUS governs infrastructure construction and improvements in rural communities, including water and waste treatment, electric power and telecommunications services. RUS Acceptance authorizes the use of Elastimold 200 amp loadbreak elbows (for 15 kV and 25 kV voltage ratings) in rural infrastructure construction and improvements.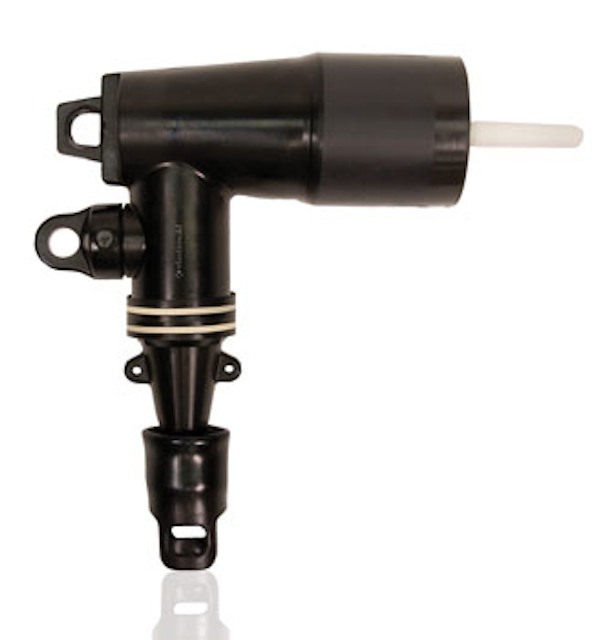 Loadbreak elbows and bushings are used for plug-in connections of underground cable to transformers, switchgear and junctions to enable disconnection when switching load currents. Elastimold 200 amp loadbreak elbows were enhanced last year with new safety performance features, including rigid probe support to ensure proper switching; increased range flexibility, including additional sizes and wider cable ranges; and improved life cycle cost reduction, including an improved seal system for traditional and jacket-seal options.
Thomas & Betts Corp.
More Utility Products Current Issue Articles
More Utility Products Archives Issue Articles