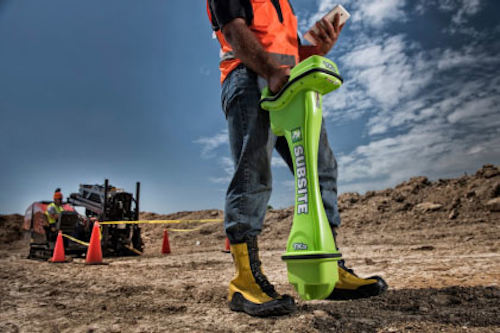 TSR Mobile Software Downloads Horizontal Directional Drilling Bore Information
Line construction: Subsite Electronics, a Charles Machine Works Co., offers TSR mobile software to download horizontal directional drilling (HDD) bore information from Subsite TK Series HDD Guidance System directly to smartphones and tablets.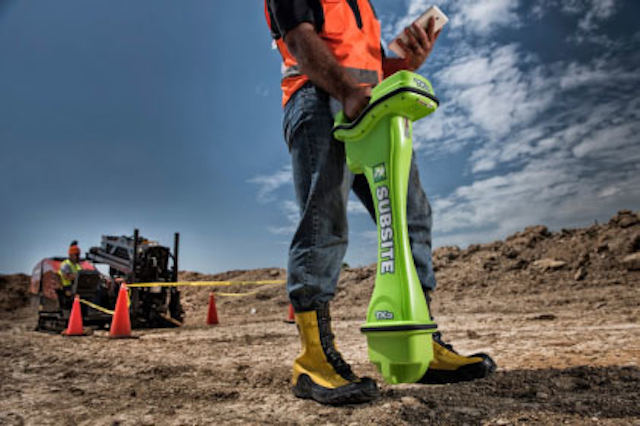 TSR mobile software enables drillers to generate an as-built report as soon as the pilot bore is completed. Information can be sent to and viewed on Android mobile phones and tablets, as well as Windows-based computers and Mac OSX.
TSR mobile software is shipped with each TK HDD guidance system sold and can be downloaded at no cost from the Subsite Electronics website for use with TK equipment already in service.
Subsite Electronics
Metal Clad Luminary Jacketed Cable Type MC-PCS for Outdoor, Direct Burial Applications
AFC Cable Systems, a manufacturer of electrical products, offers MC Luminary Jacketed Cable Type MC-PCS, an addition to its Luminary line of Metal-Clad Cables, which combine electric lighting and control circuits under a single interlocked armor. MC Luminary Jacketed Cable is for use with both LED and fluorescent dimming systems approved for outdoor and direct burial applications.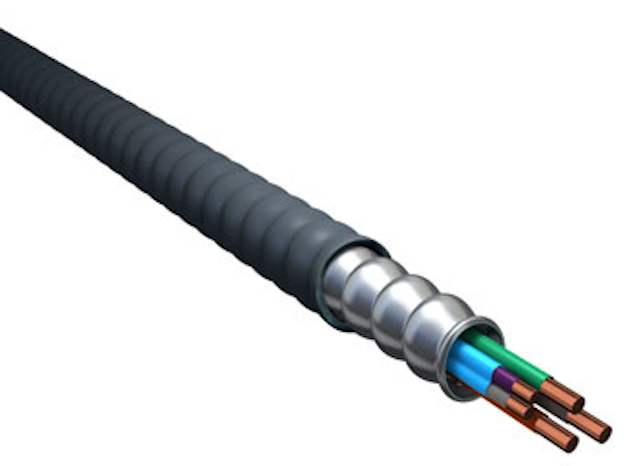 MC Luminary Jacketed Cable features an interlocking steel strip with a PVC jacket. Under one armor is a cable composed of two or three single solid copper THHN/THWN conductors and one single THHN/THWN insulated ground, along with a low voltage control assembly made of a twisted jacketed pair of 16 AWG solid TFN conductors. Use of MC Luminary Jacketed Cable allows control circuit conductors to be placed in a cable with conductors of electric light, power or Class 1 circuits. Labor and installation costs are estimated to be as much as 30 percent lower than if separate power and control cables are required.
AFC Cable Systems
IN-LINE Crimping Tool Six-ton Li-Ion Battery Platform
BURNDY, a manufacturer and provider of connector solutions to the industrial, energy, construction, telecommunication, petrochemical, data center and transportation industries, offers the Contractor Series 6-Ton Li-Ion battery platform IN-LINE crimping tool that combines performance with an economical purchase price.

The Contractor Series tool maintains the quality and reliability that BURNDY is recognized for and offers better than industry average crimp speeds. Fixed, scissor-action crimping jaws are available in three standard configurations-each accepting standard "W" and "X" style die sets. Features include 350 degree head rotation, ergonomic balance, non-slip grip area, safety-lock feature and an audible pop off indicating a proper crimp completion.
As with all BURNDY battery operated tools, the Contractor Series is powered by Makita 18V battery technology. Supplied with the tool is one 3.0Ah battery and a charger. BURNDY offers a one-year warranty on the Contractor Series of tools.
BURNDY
ARS711 Hydraulic Puller Features Dual Pulling Modes, Tier 4 Final Engine
The ARS711 hydraulic puller from Condux Tesmec is for a wide range of pulling applications including power transmission and distribution cable installation. The ARS711 features a 286 hp, Volvo Penta Tier 4 Diesel Engine, compliant with US EPA Tier 4 Final emissions legislation.
The unit also offers a hydraulic motor with dual displacement positions for two pull settings: high pull mode and high speed mode. In high pull mode, the unit offers a maximum pulling force of 40,000 lbs. at a pulling speed of 1.5 mph, and 20,000 lbs. of pull force at a maximum speed of 2.9 mph. In high speed mode, the ARS711 offers a maximum pulling force of 27,000 lbs. at a pulling speed of 2.0 mph, and 13,500 lbs. of pull force at a maximum speed of 4.0 mph.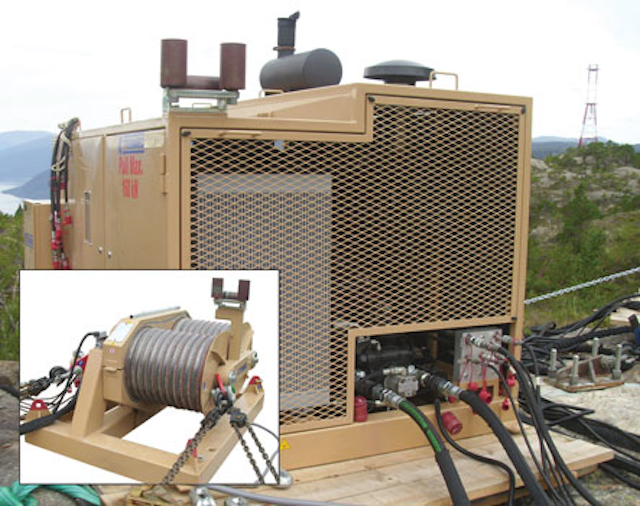 The ARS711 is available as a modular unit, allowing greater flexibility for job site transport and set up, while providing the ability for end-user mounting on an existing chassis.
A newly updated HMI control provides access to features such as a negative self-acting hydraulic brake, an integrated hydraulic dynamometer, a hydraulic cooling system and more. A standard electronic pull and speed monitor and recorder kit is integrated into the control panel, providing users real time data on pulling operations. Bull-wheel grooves on the ARS711 are made from heat-treated steel.
Condux Tesmec
HK-Style Circuit Breakers RRS-3 HK Remote Racking Solution
CBS ArcSafe, a manufacturer of remote racking and switching solutions for low- and medium-voltage switchgear, offers its RRS-3 HK remote racking solution for all HK-style circuit breakers manufactured by ABB, BBC or ITE with current ratings from 1,200-3,000A. The CBS ArcSafe RRS-3 HK allows technicians to remotely rack in or out of the HK-style medium-voltage power circuit breaker from a safe distance while remaining stationed outside of the arc-flash boundary.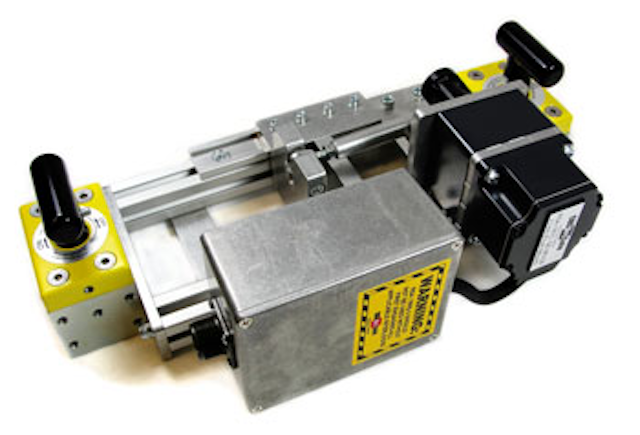 Installation and operation of the CBS ArcSafe RRS-3 HK is quick, simple and does not require any modifications to the existing equipment. HK-style circuit breakers may typically be found in generation, chiller/HVAC, petrochemical, water/waste treatment, and pulp/paper applications. By automating the racking procedure, the CBS ArcSafe RRS-3 HK reduces operator fatigue and increases operator safety.
CBS ArcSafe
FieldMaster Mobile Suite Gives Supervisors Visibility into their Field Service Organization Remotely
Fleet management: Trimble's Supervisor app has been added to its FieldMaster suite of mobile applications. The app is designed to enable managers to stay efficient and effective by empowering them to do more work in the field and manage their day-to-day operations remotely. With the FieldMaster Supervisor app, managers can leave the office and still have visibility into their fleet and mobile workers from their smartphone or tablet.
FieldMaster Supervisor is available with Trimble Fleet Management and Trimble Work Management solutions. Key features include:
Viewing all locations of your entire team on a map,
Seeing each team member's job progress, including tasks at risk,
Finding the nearest worker to another team member or customer,
Navigating to key locations using turn-by-turn directions,
Inspecting job performance and documenting status in the field, and
Receiving important vehicle and driver performance alerts in real-time.
Trimble
Dielectric Zenex Thermoplastic Safety Padlocks 406 Series
Safety products: Many energy and utility companies rely on the 406 series Dielectric Zenex Thermoplastic Safety Padlocks from Master Lock Safety Solutions. These padlocks are specifically designed for safety lockout, and electrical lockout in particular.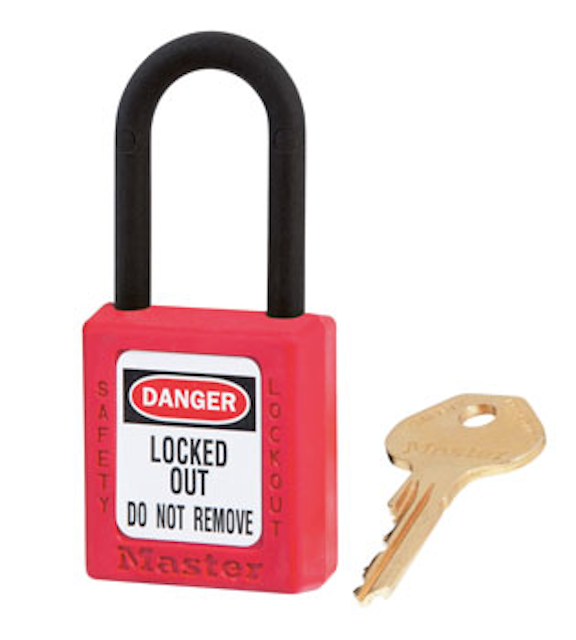 Highly durable and lightweight, the 406 series features a 1-1/2 in. wide thermoplastic, non-conducive lock body with a 1-1/2 in. tall nylon shackle to help prevent electrocution and arc flashing. The key-retaining feature ensures the padlock is not accidently left unlocked by an employee.
The 406 series, with the Master Lock exclusive-to-safety keyway, meets the "One-Employee, One-Lock, One-Key per employee" mantra. All authorized electrical lockout employees carry a unique key so no other person's key can open another employee's safety padlocks. When an employee is assigned a set of safety padlocks, all can be keyed to open by the same key for convenience.
Master Lock
Flexible Ground Penetrating Radar System for EnvironmentalAssessment and More
Utility safety: Geophysical Survey Systems (GSSI), a provider of ground penetrating radar (GPR) equipment, has announced updates to its UtilityScan GPR system for efficiently identifying and marking the location and depth of subsurface utilities. The 3D data collection and playback mode for the UtilityScan DF model provides an x-ray like image of the ground in addition to the standard 2D mode, making it suited for environmental assessment.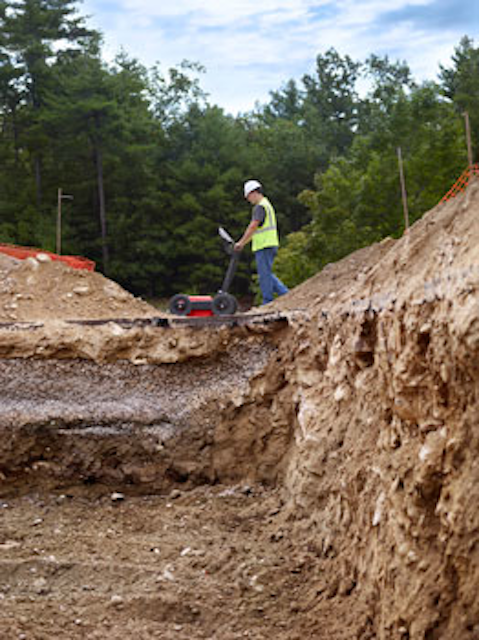 Geophysical Survey Systems (GSSI)
Insulated Hot Stick Camera-mounting
Lineman safety: Hastings, a manufacturer of hot line tools and equipment, understands that every day has the potential to bring the unexpected to lineman. That is why Hastings designs every product, including our camera-mounting hot stick, with safety in mind.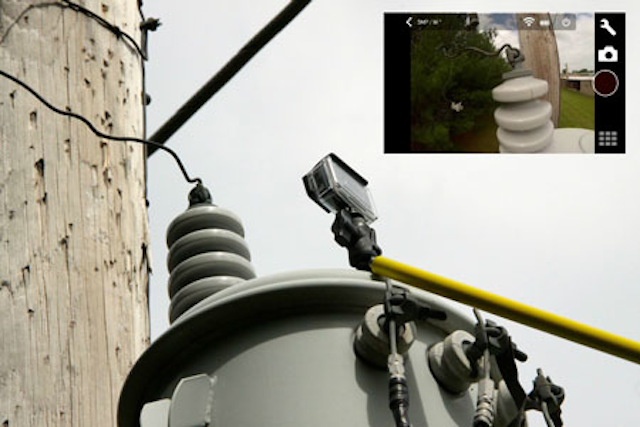 Modeled after the Hastings Tel-O-Pole series, this hot stick allows for a GoPro Action Camera to be mounted and used for quick, easy and safe inspection of and around energized lines, transformers, insulators, poles, buildings, bridges, etc.
Hastings
High Voltage Digital Ammeter HVA-2000
Test equipment: HD Electric Co., a Textron Inc. company, offers the HVA- 2000. Take ampere measurements on conductors up to 500 kV quickly and easily with the HVA High Voltage Digital Ammeter. The HVA-2000 takes true AC current measurements up to 2,000 amps, 25-500 Hz.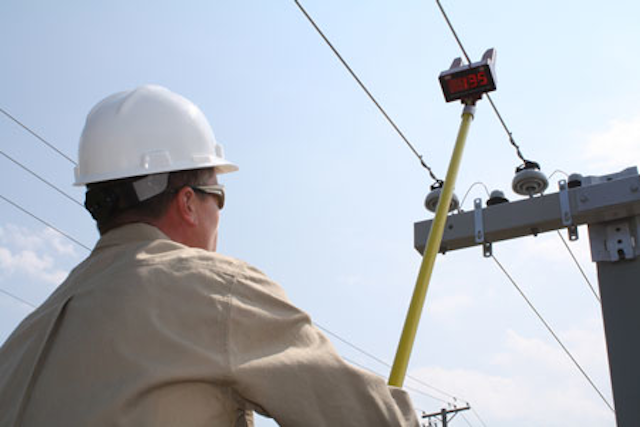 HVA-2000 High Voltage Ammeter features:
Large, bright LED display that allows real time or peak current monitoring of current from the longest of telescoping hotsticks;
Two user selectable measurement modes-peak hold and real time tracking for versatility when taking measurements; and
Storage of the last four readings-no need to bring the unit up to the conductor and then back down for each reading.
HD Electric Co.
Lineman Wrenches: Combination Sockets Save Time and Money
Utility tools: Klein Tools' Single-Ended Impact Socket Wrench (Cat. No. NRHD3) and the Slim Ratcheting Lineman Wrench (Cat. No. KT152T) are both made in the U.S.A. The Single-Ended Impact Socket Wrench features three square socket sizes on one side of the tool. There is no need to flip the tool back and forth for the size you want. The Slim Ratcheting Lineman Wrench works on four different square sizes, covering the most common utility pole hardware all in one tool.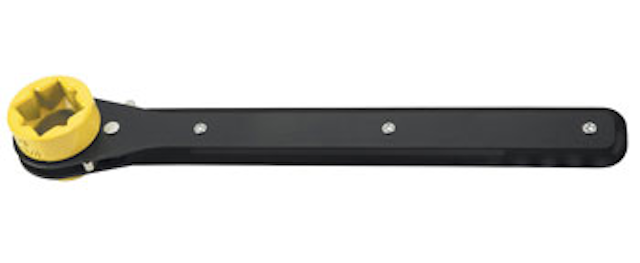 Single-Ended Impact Socket Wrench features:
Three square socket sizes (3⁄4 in., 1 in. and 1-1/8 in.) on one side saves time and reduces drops;
Extend or retract the head for easy access to the size you need;
Includes 7/16 in. hex quick-change adapter for impact gun;
Hollow shaft allows use on long-threaded bolts; and
Made in the U.S.A.
Slim Ratcheting Lineman Wrench features:
The combination square socket has four of the most common sizes for utility hardware: 3⁄4 in., 13/16 in., 1 in. and 1-1/8 in.;
Long handle designed to increase leverage;
Tight ratcheting mechanism increases efficiency;
Side ridges provide a better grip;
Bolt-through design allows bolts to pass through the socket, enabling use on long bolts;
Bright yellow socket for easy visibility and identification; and
Made in the U.S.A.
Klein Tools
Uvex Livewire Sealed Safety Eyewear With Anti-fog Lens Coating
Honeywell's Uvex Livewire sealed safety eyewear features Uvex HydroShield anti-fog lens coating. The Livewire offering is suited for workers who require the added protection of a goggle and demand lasting, fog-free visibility to remain safe and productive on the job.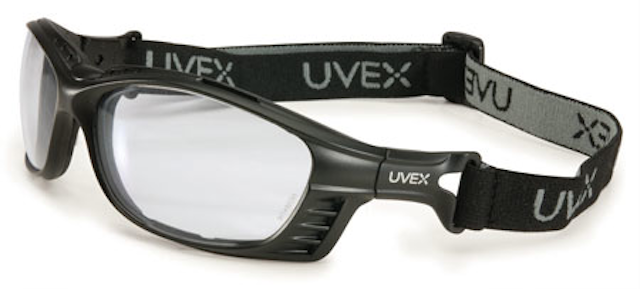 By pairing Livewire with Uvex HydroShield, workers avoid lens fogging much longer than competitive anti-fog coated products, providing a combination of complete eye protection and anti-fog coating.
Fogged lenses are the leading challenge workers face with safety eyewear, and they fog even faster in goggles and sealed eyewear because of restricted air flow. Fogging affects productivity and worker safety; when workers remove eyewear to wipe lenses clean, they are vulnerable to injury from the various hazards surrounding them.
Honeywell
Handheld Time Domain Reflectometer Locates Faults on Mixed Paired Metallic Cables
Megger, a manufacturer and supplier of test equipment and measuring instruments for electrical power applications, offers a handheld time domain reflectometer (TDR) that locates faults on mixed paired metallic cables. The CFL535G can test the capabilities of connections and locate faults for up to 12 miles.
This high resolution, compact TDR features dual channel capability and dual aspect display. Megger's CFL535G allows technicians to compare cable pairs to each other and determine if one is faulty, based on differences shown on the TDR.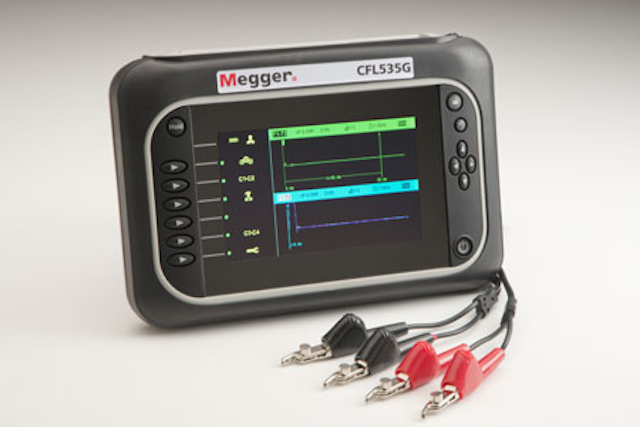 For use by telecommunications technicians, electrical service contractors as well as cable television companies on all metallic pairs including twisted pair copper, concentric or coax cables, this handheld unit is used during cable installations. The CFL535G establishes a benchmark for future comparison, measures cable length, locates and evaluates splices and joints, and detects cable taps.
The cost-effective CFL535G features an ultra-fast 2 ns pulse width that nearly eliminates dead zones and provides a real time trace for tested cables, giving quick and accurate results. It also offers two inputs that enable simultaneous measurements of two different cables.
Megger
ASYC IV Digital Multimeter Models MTX 3290, MTX 3291, MTX 3292, MTX 3293
Electrical measurement: AEMC's portable hand-held multimeters with digital display (Models MTX 3290 and MTX 3291) and graphical color display (Models MTX 3292 and MTX 3293) allow direct measurement of the main electrical quantities. They display measurement results either as numeric values or as graphs showing the trend over time. The graphical models include MATH functions and Recording capabilities. USB and Bluetooth communication allow meter configuration, real-time data streaming and downloading recordings using SX-DMM software. Instrument's firmware can also be upgraded through USB. Their design makes them compact, rugged, comfortable to grip and leak-proof to IP67 standard.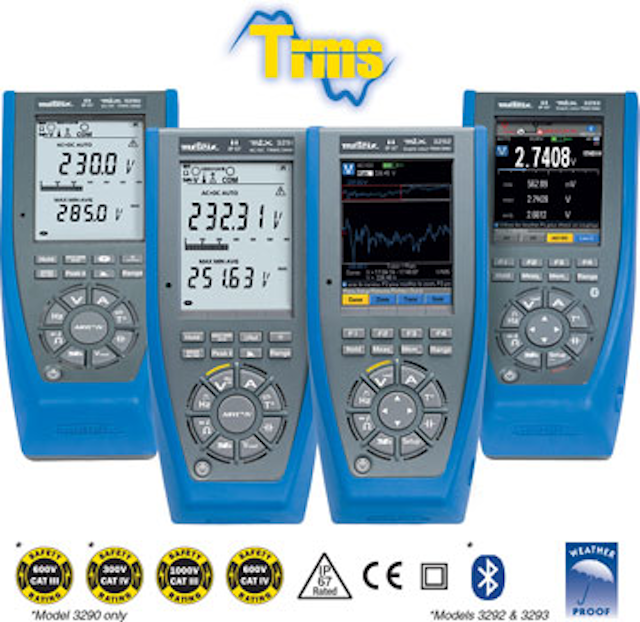 Features (model dependent):
True RMS AC voltage and current measurements;
Up to 100,000 count display;
1000V AC/DC/AC+DC;
10A AC/DC/AC+DC;
Min/Max/Avg/Peak with time and date stamp;
20 kHz to 200 Khz bandwidth;
Recording capabilities up to 6,500 measurements;
Temperature PT100/PT1000, -200oC to 800oC; K TC, -40oC to 1200oC;
Frequency measurement to 5 MHz;
Audible continuity check;
Capacitance measurement to 60mF;
Relative function for comparing measurements;
PWM low pass filter for measuring variable speed drives;
V-output Clamp function with programmable ratios;
VLowZ - low impedance (ghost) voltage measurements;
Color graphical display;
Bluetooth and USB communication; and
IP 67 Rated.
Applications:
Used in Industry, telecommunications and defense;
Electrical and electronics maintenance, as well as machine maintenance;
Electronics for wiring tests on a computer or component testing on medical equipment;
Automatic control systems and processes in industry sectors of food, plastics, concrete, metal, paper, wood, oil, nuclear, etc.;
Maintenance of many industrial machines such as numerical control, motors, generators, etc.; and
Education and research.
AEMC
Visible/Thermal Video Surveillance Systems Rugged, Continuous-pan

Sierra-Olympic Technologies, supplier of infrared (IR) and thermal imaging components, cameras and systems solutions for advanced imaging applications, offers the Oculus series by Silent Sentinel Ltd. The environmentally-rugged outdoor video surveillance systems feature simultaneous visible and thermal imaging outputs. The continuous zoom optical cameras, available in either standard definition (SD) or high definition (HD), are paired with fixed field of view (FOV) thermal imagers to provide full daytime/nighttime video surveillance capabilities. Sierra-Olympic Technologies CIRCLE 124 ON READER SERVICE CARD
Grundoburst Static Pipe Bursting System Pulls in a Variety of Pipe
Utility equipment: Burst and replace water, sewer, gas and other pipes with the Grundoburst static pipe bursting system from TT Technologies. The Grundoburst can pull in a variety of replacement pipe including PVC, DIP, ABS, cast iron, fusion welded HDPE and VCP jacking pipe.
The Grundoburst static pipe bursting system uses a bladed cutter head to make bursting ductile iron and steel pipe possible. Pulled by a hydraulic bursting unit, the cutter head's cutting wheels split the host pipe. An attached expander spreads and displaces the split pipe into the surrounding soil while simultaneously pulling in the new pipe.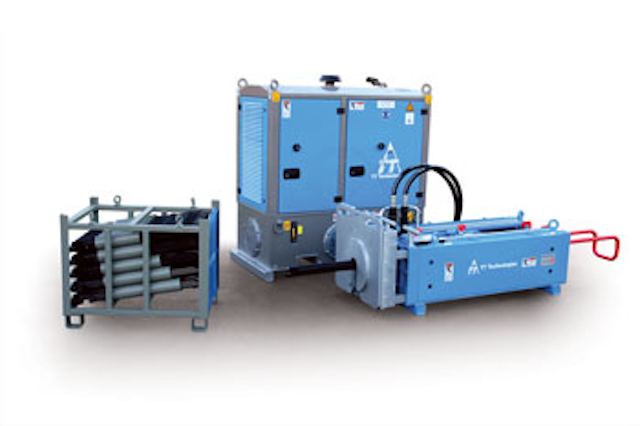 Patented QuickLock bursting rods are linked together, not threaded. This saves time, prevents twisting and extends the life of the cutter head over threaded bursting rods.
Six Grundoburst models are available for bursting 2-in. through 54-in. pipes and larger.
TT Technologies
Substation Hot Stick Telescoping, Heavy-duty
Utility Solutions' Blue Stripe Telescopic Hot Stick line has expanded with a substation stick. The heavy-duty substation stick offers several features to handle the extreme substation environment.
Extreme forces can be applied to fiberglass insulating sticks when operating large switches in substations. A standard fiberglass stick would break under these forces. The company has created fiberglass sections with a much larger wall thickness, and these heavy-duty sections allow the stick to handle tremendous forces.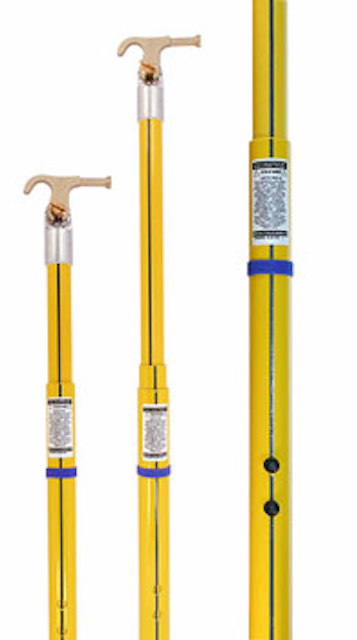 Utility Solutions Inc. uses the same non-woven fiberglass found in all of its hot sticks in the substation stick. This process creates a smooth surface and added strength. The company uses the same non-woven process found in its BLUE STRIPE Telescopic Sticks-just much more material goes into each section, creating a much heavier and stronger stick.
Space is another obstacle for substation applications. The Blue Stripe Heavy Duty Substation Stick is telescopic. This allows for an 18.5-ft. stick to collapse to 7 ft. 8 in. Not only does this allow for storage on site, but this stick can also be transported on existing vehicles.
Utility Solutions Inc.
Flame Resistant Clothing With Perimeter Insect Guard
Biting insects are challenging and cases of Lyme Disease are rising. To make matters worse, many insect repellents-such as those containing DEET-are flammable and should never be used with arc-rated flame resistant clothing (FRC). Protect yourself and your employees from disease-carrying ticks, mosquitos and other annoying insects with Tyndale's FRMC garments with durable Perimeter Insect Guard.
Perimeter interferes with insects' nervous systems-stopping them in their tracks. This non-flammable repellent is safe for use with FRC and repels insects for 50+ launderings.
Perimeter Insect Guard is available on Tyndale's Knit Henley (M06PT), Lightweight Canvas Pant (M29PT), Premium Button Down Shirt (M11PT), and Premium Relaxed Fit Jean (F29PT)-all Made in USA with inherent FRMC fabric.
Perimeter technology has been used by the US Army for more than 20 years and as standard issue for the Marines since 2007. It's approved by the Environmental Protection Agency (EPA) and recognized by the EPA and Centers for Disease Control and Prevention (CDC) as a safe and effective method of preventing insect-transmitted diseases.
Tyndale
Flame-resistant Shirts
Safety clothing: The Working Person's Store flame resistant shirts feature an Arc Defender fabric that meets safety standards and is non-carcinogenic. This material doesn't include bromide or formaldehyde, and it meets international standards for formaldehyde content. Some safety workwear is made using ammonia cure processes with natural formaldehyde levels over 600 pp, while Working Person's Store takes proper measures to keep these levels below 75 ppm. The fabric is also non-allergenic. If you have sensitive skin or need to guard yourself from arc hazards (or both), this is the type of flame-resistant workwear you should be wearing.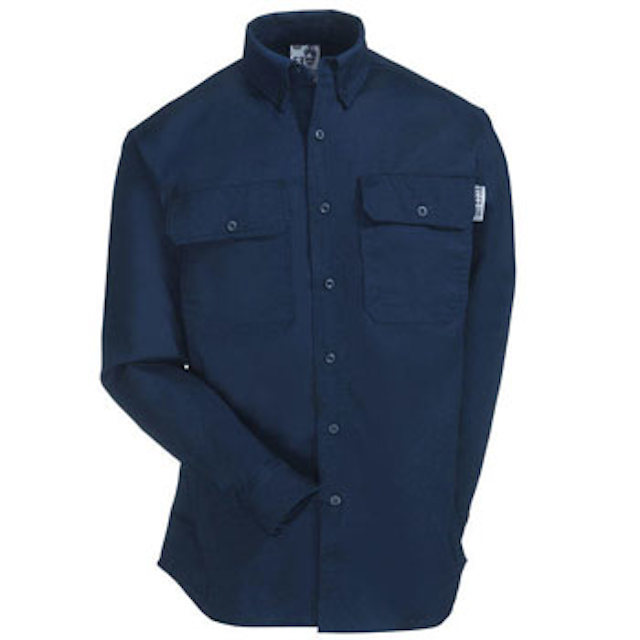 The Working Person's Store FR shirts are UL certified, meaning they've been tested and evaluated. Certification programs accredited by the U.S. Occupational Safety & Health Administration (OSHA) and the American National Standards Institute (ANSI) make sure the safety clothes you wear actually do what they claim to do.
The ARC Defender shirts go above and beyond the basic safety standards. They meet the ASTM F1506 standard for flame-resistance and have an arc flash rating of HRC/ARC level 2, ranging from an ATPV of 6.4 - 9 cal/cm². You'll also be able to rely on protection against electrical sources, because they meet the NESC 2012 standard as well.
Working Person's Store
More Utility Products Current Issue Articles
More Utility Products Archives Issue Articles