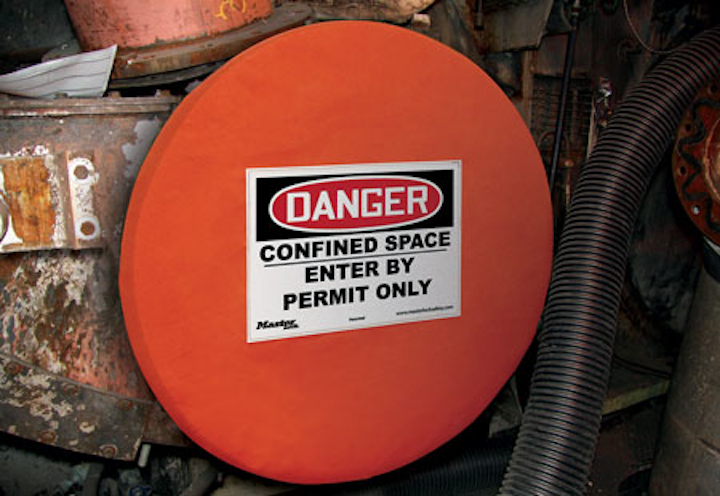 By Todd Grover
Think about the typical hazardous energy-related accident. A well-meaning worker doesn't see their coworker at risk while working on machinery. They reactivate the equipment. The sudden startup causes serious injury, sometimes death, for the coworker who was unable to react in time to escape the unexpected danger.
Confined spaces greatly expand this exposure scenario. The coworker now is impossible to observe because they have made bodily entry into an enclosed area-and start/stop controls to the dangerous equipment are always located outside this space. Add to the situation that the attendant watching the entry operation has their attention on the people inside the confined space and not on distant personnel with the ability to trigger an accident. The result can be a seriously injured worker in a difficult place to perform a rescue. Proper lockout, however, helps prevent these accidents.
Confined spaces must be evaluated for hazards before entry takes place. Control measures must be specified for all real or potential dangers that could jeopardize entry operations. OSHA's new Confined Spaces in Construction Standard 29 CFR Part 1926 specifically addresses this requirement. It also defines the use of a permit being issued to authorize entry work when potential hazards exist inside the confined space. This has long been a general industry compliance regulatory requirement. The confined space entry permit should be issued and signed before work inside the space begins.
Isolating each form of energy that could be present is critical for worker safety in confined spaces. Obvious exposures include moving mechanical equipment, flows of fluids, gases or chemicals, live electrical circuitry, and pneumatic or hydraulic systems. A detailed risk assessment of the confined space, as well as the tasks that may be performed while inside, should specify a written lockout procedure be completed for all energy sources affecting the space before entry.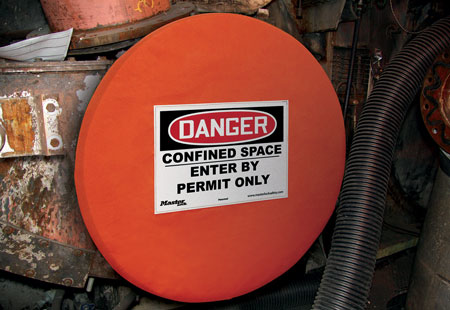 A confined space entry permit should either itemize all the identified energy sources, and the ways they have been controlled, or refer to the particular lockout procedure applicable to the equipment or processes within the space. A copy of the documented lockout procedure should be attached to the permit. The entry supervisor must verify this critical part of safety preparations has been completed before authorizing the entry permit for work to begin.
Many times, confined spaces have never been entered. They are either newly created or no prior history of needing to work inside exists. Entry supervisors must have the personal capability to create an accurate and effective lockout procedure on the spot, prior to issuing a permit, or they need to have immediate access to trained personnel who can complete a hazardous energy assessment and document the correct lockout procedure for the task to be performed along with other entry requirements.
Frequently, permit-required confined spaces are entered on short notice in response to a problem that needs to be solved. This often means the hazard assessment, including the lockout methods to be applied, needs to happen minutes before the work begins. This is why verification by testing is such a critical step of lockout-it's important to make sure energy is fully dissipated to eliminate potential exposure inside the space prior to entry.
For successful confined space entry operations, it's also important the entry team fully understands their responsibilities when applying effective lockout control measures.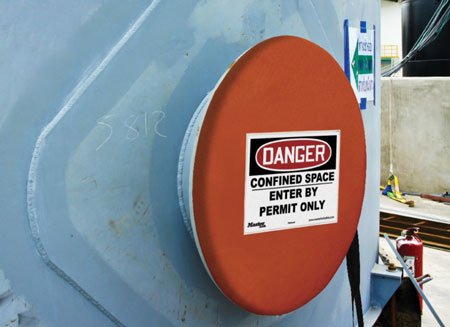 The entry supervisor ensures hazard assessments are completed and effective control procedures are applied before giving permission to begin work by signing the confined space permit. The supervisor will often participate by applying their safety locks to energy sources being controlled. This is a must if the entry supervisor enters the space to participate in the work being performed.
The entrants must fully understand all the hazards involved and the control measures required. This includes being authorized to apply lockout to protect themselves. Personal safety locks should be placed on all required lockout isolation points, and the controls should be tested to verify safe working conditions.
The attendants should monitor and protect entrants while they are inside the confined space and should verify any energy sources that could jeopardize entrants have been properly isolated prior to beginning work. This requires them to participate as authorized lockout personnel by attaching their safety locks to each isolation point outside of the space or to a group lockbox in use.
Lockout is a critical part of successful permit-required confined space entry operations. With the effective application of lockout procedures, hazardous energy exposures inside a confined space can be eliminated prior to entry, greatly reducing the chance for accidents. By removing the dangers of sudden startup and eliminating opportunities for the release of hazardous energy, workers are taking an important step towards converting a permit-required space into an even safer non-permit entry operation. UP
---
About the author: Todd Grover is the Global Sr. Manager for Applied Safety Solutions at The Master Lock Co. He has more than 30 years of experience as a practicing safety professional and environmental health safety manager. His experience with a wide range of industries has involved the preparation of numerous confined space entry and lockout policies and detailed procedures, company-specific compliance training, accident investigations and acting as the representation of many employers during OSHA citation cases. Grover is a participating member of the ANSI Z244.1 committee on Control of Hazardous Energy, as well as a delegate to the U.S. PC283 committee contributing to the upcoming ISO 45001 Global Standard for Occupational Health & Safety. Contact him through email at tgrover@mlock.com or reach him at (414) 571-5625.
More Utility Products Current Issue Articles
More Utility Products Archives Issue Articles