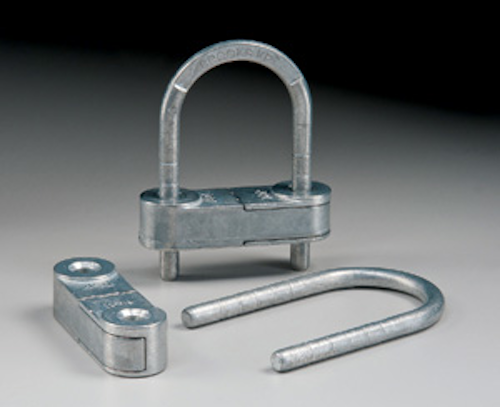 Single-use, Keyless Padlock Provides Low-cost Alternative to Keyed Padlocks
Brooks Utility Products, a supplier of metering security products for the electric utility industry, introduces the newest item in its line of products—the BROOKS keyless padlock (KP). The single-use, keyless padlock installs easily without tools, secures tightly and cannot be broken without a cutting tool. This alternative to traditional, more costly keyed padlocks is also made from a corrosion resistant zinc alloy for maximum life and security integrity—even in harsh climates.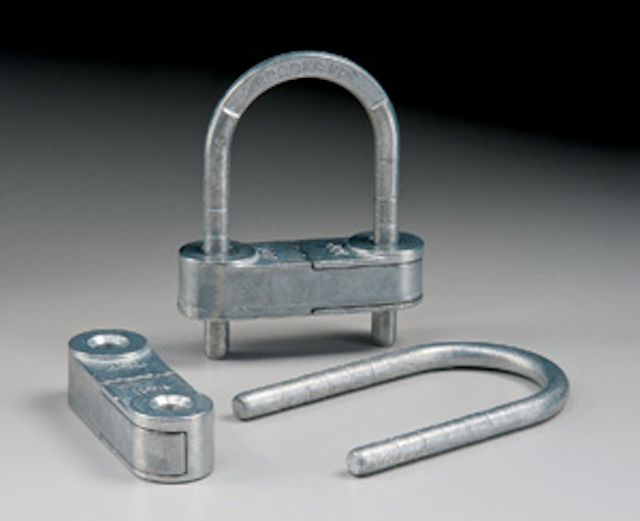 Designed to prevent unauthorized entry into energized cabinets, the keyless lock consists of a hasp and body that simply join together. No tools are required, making installation fast and easy, and keeping tampering at a minimum.
Competitively priced, BROOKS KP is a simple, cost-effective answer to the utility industry's revenue protection and security needs.
Brooks Utility Products
CIRCLE 111 ON READER SERVICE CARD
---
i-Safe 3.0 Intelligent Safety System Improves Safety Compliance, Reduces Risk
Capital Safety, home of the DBI-SALA and PROTECTA brands of fall protection equipment, now offers the i-Safe 3.0 Intelligent Safety System. The system is a significant upgrade to the existing i-Safe 2.0 system, which was launched in 2006.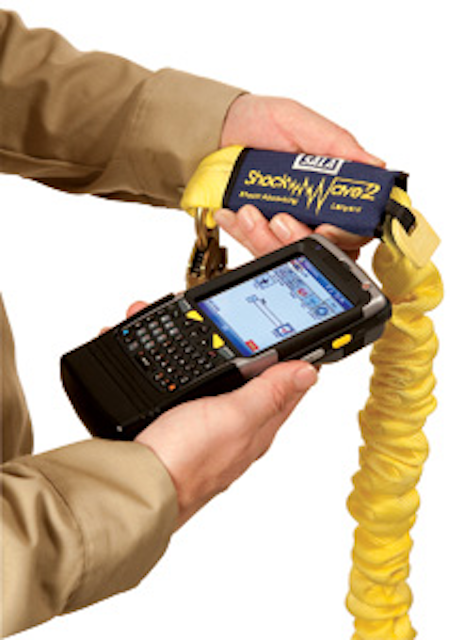 Capital Safety's i-Safe became the first radio frequency identification (RFID) system dedicated to fall protection equipment and inspection tracking, it's reported. Since the initial launch, the company has continued to make substantial investments in support of i-Safe's commitment to improve safety compliance and reduce risk. The i-Safe 3.0 is a significant upgrade that makes managing a safety program easier and more cost-effective.
Capital Safety
CIRCLE 112 ON READER SERVICE CARD
---
Rubber Insulating Gloves and Accessories
Protective Industrial Products' (PIP's) Novax products exceed all requirements of American Society for Testing and Materials (ASTM) D120, ensuring compliance with Occupational Safety and Health Administration (OSHA) regulations and satisfying National Fire Protection Association (NFPA) 70 E requirements for protection against electrical shock hazards.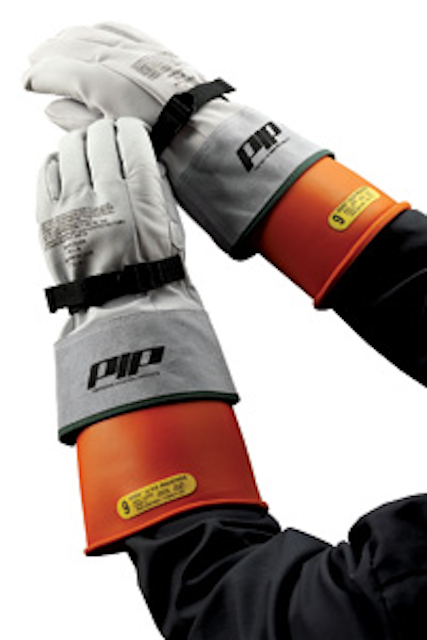 The natural rubber construction of Novax insulating gloves offers very good dielectric properties combined with flexibility, strength and durability. Other features include a contoured shape, which reduces hand fatigue and a rolled cuff for increased durability during donning and doffing. PIP offers a complete line of rubber insulating gloves, leather protectors, storage bags and electrical safety kits.
Protective Industrial Products (PIP)
CIRCLE 113 ON READER SERVICE CARD
---
Sealed-Blok Self-retracting Lifeline Offers Durable, Reliable Fall Protection
Capital Safety, home of the DBI-SALA and PROTECTA brands of fall protection equipment, introduces the new DBI-SALA 85 and 130-foot Sealed-Blok self-retracting lifelines (SRLs). These new SRLs, an addition to Capital Safety's extensive line of Sealed-Blok self-retracting lifelines, are designed to withstand the harshest operating environments and include features that maximize work site versatility and lower the cost of ownership.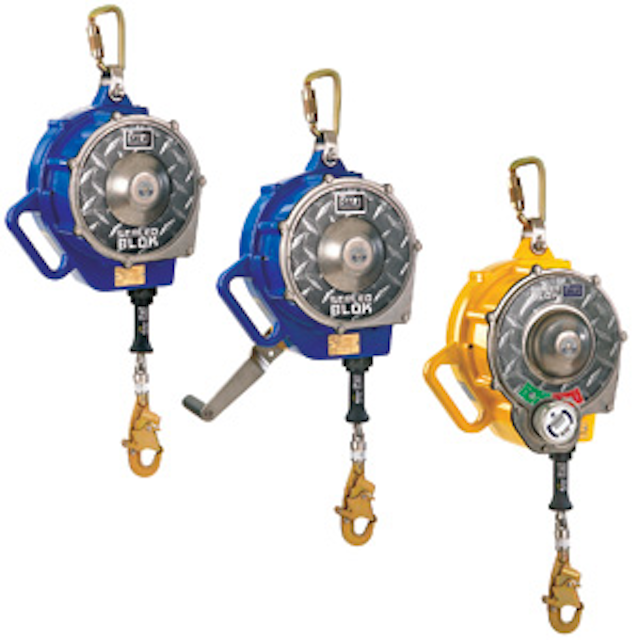 Features new to the 85- and 130-foot Sealed-Blok SRLs include the optional RSQ dual-mode rescue capability, a FAST-Line field replaceable lifeline, Ingress Protection (IP) 68 sealed rating certification and a secondary fall arrest rated anchor point. In addition, units are available with an integrated retrieval winch.
The 85- and 130-foot Sealed-Blok SRLs are cited to be the first sealed self-retracting lifelines to achieve the IP68 sealed rating certification. This code describes the product's ability to seal out solids and liquids such as dirt, dust and water.
Capital Safety
CIRCLE 114 ON READER SERVICE CARD
---
Expanded Surge Protection Devices Designed for Critical Protection Applications
ERICO now offers additional models of the TDX Series of panel protection products. The TDX200 Compact, TDX300 Modular and TDX400 Modular Series of transient voltage surge suppressors are designed for critical protection applications and exceed the Institute of Electrical and Electronics Engineers (IEEE) C62.41.2 Scenario II single shot surge rating requirements for exposed service entrance locations—Exposure 3. They provide up to 400 kA maximum discharge current of protection.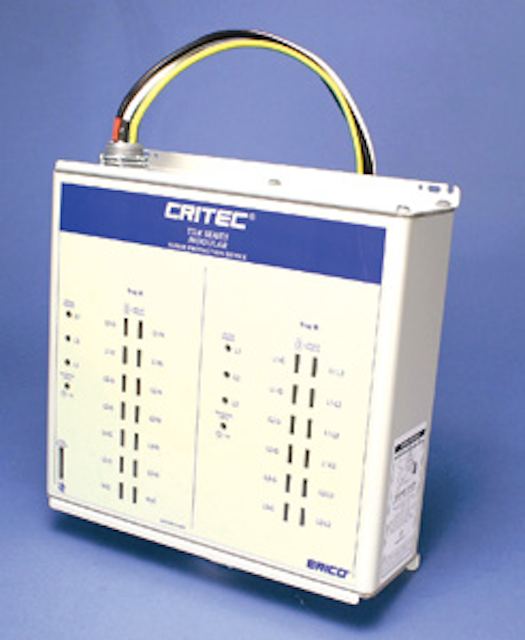 Listed as Type 1 surge protection devices (SPDs) to Underwriters Laboratories (UL) 1449 3rd Edition, the devices can be installed within a Type 1 or 2 location in accordance with the National Electric Code (NEC) 2011. They feature a National Electrical Manufacturers Association- (NEMA-) 4 weather-tight housing, which allows installation on indoor or outdoor service panels. The preconfigured connecting leads simplify installation. In addition, the narrow construction allows the SPD to fit between adjacent panel boards and connect via a 90-degree elbow.
ERICO
CIRCLE 115 ON READER SERVICE CARD
---
Portable, Protective Ground Mat
Hastings, a manufacturer of hotline tools and equipment, offers a portable, protective ground mat that allows workers to establish an equal potential zone for multiple grounding applications.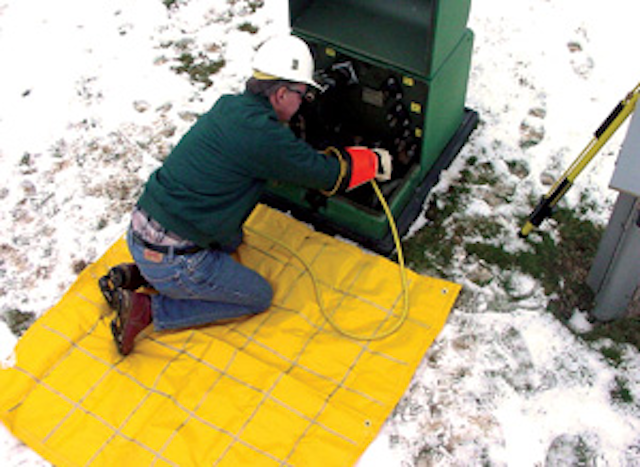 The ground mat is manufactured from a vinyl polyester, anti-skid fabric with high ampacity tinned-copper braid sewn into a grid pattern. The braided copper on the grid is connected to a 6-inch termination stud on the corner of the mat and is then bonded to the equipment being worked on by using a safe and reliable ground cable assembly.
The anti-skid material offers application in all types of weather and can be easily bonded together to create any needed work size area. Available in yellow and black, the easy-to-store, reversible ground mat can be cleaned with standard hose pressure or power washer.
Hastings Inc.
CIRCLE 116 ON READER SERVICE CARD
---
ArrowMaster Pro-Line Arrow Board Provides Low Operating Costs, Maximum Visibility
Work Area Protection now offers the ArrowMaster Pro-Line Solar-Assisted Advance Warner, a versatile, low-operating-cost arrow board that provides maximum visibility while directing traffic through construction zones.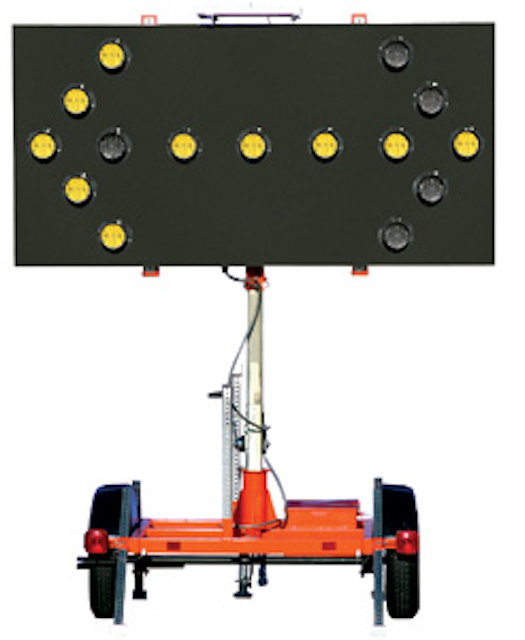 The ArrowMaster Pro-Line arrow board features several design changes for improved functionality. It is designed with a mast to provide lower center of gravity for additional stability during travel. The design allows the panel to travel parallel with the towing vehicle, which minimizes wind resistance, fatigue and maximizes fuel economy. The center frame support is continuous from front to rear to reduce stress fractures caused by towing and rough roads.
The ArrowMaster boards conform to and, in most cases, exceed all federal and state Manual on Uniform Traffic Control Devices (MUTCD) specifications.
The ArrowMaster system is powered by a 210-amp marine, deep-cycle battery storage bank that charges by a top-mounted, shadow-free solar panel. The solar panel is positioned for maximum charging capabilities in both the operating and travel modes.
Work Area Protection
CIRCLE 117 ON READER SERVICE CARD
---
Arsenal Canvas Bucket Series Expanded
Ergodyne has announced an expansion of its Arsenal Canvas Bucket Series, including the new Arsenal 5735 XL leather bottom bucket, Arsenal 5745 XL leather bottom bucket with snap, and Arsenal 5737 canvas bucket safety top.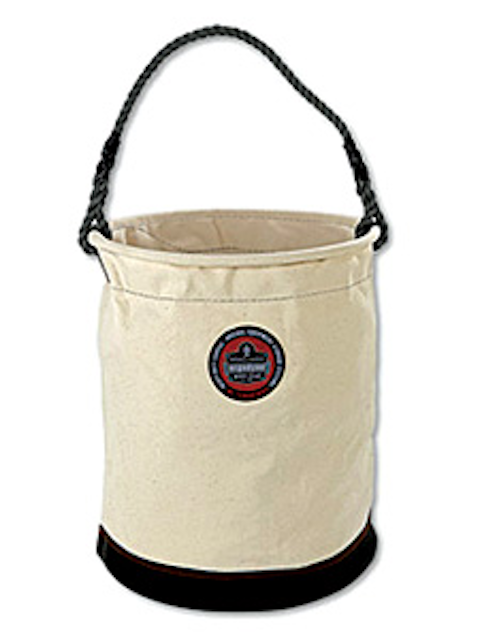 For anyone transporting heavy materials to an aerial destination, Ergodyne's new Arsenal Canvas Buckets are specifically designed to safely hoist materials that come in a five-gallon pail. With high walls made of heavyweight, 20-ounce canvas and the Arsenal 5737 safety top properly attached, these canvas buckets can carry up to 150 pounds without the threat of dropping contents.
Ergodyne
CIRCLE 118 ON READER SERVICE CARD
---
Hillside Barriers Prevent Conductivity of Electrical Currents
ProGlass Inc. uses all-fiberglass construction on its hillside barriers to prevent conductivity of electrical currents and the highest-grade marine gel coat available to make the barriers ultraviolet resistant.

The super-strong fiberglass barriers prevent corrosion and other damage by blocking dirt and rocks from falling on or against the back and sides of valuable electrical equipment that is installed on a slope.
ProGlass' fiberglass hillside barriers are attractively designed, lightweight, one-piece units that promote longevity, durability and very good weatherability. The hillside barriers are easy to install and cost effective, eliminating the need for excess manpower and large machinery.
ProGlass Inc.
CIRCLE 119 ON READER SERVICE CARD
---
Rapid Deploy Video System for Substations
Industrial Video and Control (IVC) introduces the RD-MZ-3630-01, a rapid deploy wireless video solution consisting of a high definition color camera and an internal wireless radio. The lightweight, portable, all weather manual zoom Internet Protocol (IP) camera system can be placed anywhere, at any time.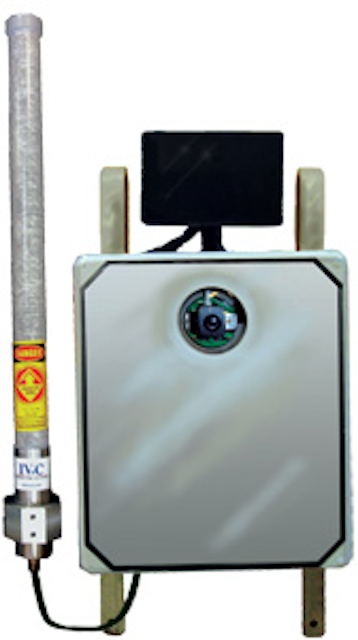 For monitoring power substations, a machine or anywhere there is an immediate need for video monitoring, the system immediately connects wirelessly to an IP network for remote viewing and recording under the control of IVC's camera management software.
The camera is capable of transmitting over 30 frames per second of video in 1280 x 1024 resolution. It also comes equipped with an infrared (IR) illuminator, allowing for clear, high-resolution images from over 200 feet in complete darkness.
In addition, the RD-MZ-3630-01 has secure clasping hooks, letting it easily attach to rails and walls up to 1 1/2 inch thick.
Industrial Video and Control (IVC)
CIRCLE 120 ON READER SERVICE CARD
---
Continuous Short Circuit Protection with 1-watt DC/DC Converters
Until now, most design engineers have had to accept low-cost, unregulated dc/dc converters that can fail quickly with a short circuit condition. Mornsun has announced the A_S-1WR and B_LS-1WR Series of single in-line package (SIP) dc/dc converters that feature continuous short circuit protection and are low cost.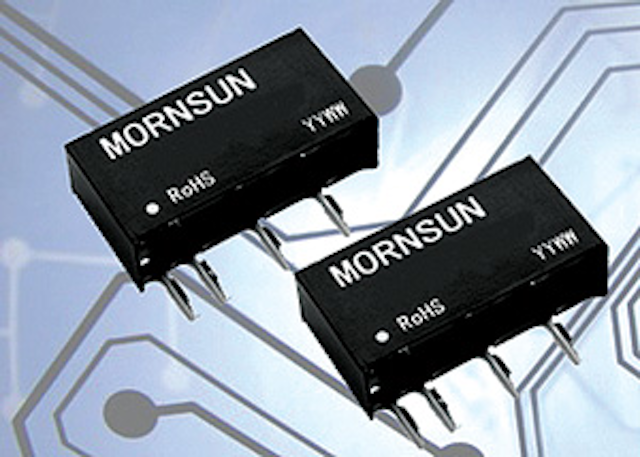 The A_S-1WR and B_LS-1WR products offer 1W of power in a high density 0.77 inch x 0.37 inch x 0.24 inch package. These converters have the ability to resist a continuous short circuit; this can guarantee the survival of the converter with a continuous output short circuit without needing to resort to the costly method of using feedback loops to cope with overload shorts.
The A_S-1WR and B_LS-1WR Series accept 3.3 Vdc, 5 Vdc, 12 Vdc, 15 Vdc or 24 Vdc input voltages and provide either single or dual outputs of 3.3 Vdc, 5 Vdc, 9 Vdc, 12 Vdc, 15 Vdc or 24 Vdc.
Mornsun America
CIRCLE 121 ON READER SERVICE CARD
---
Joslyn Surge Protection Products Ensure Reliable Operations
The Joslyn line of ac surge protection products from Thomas & Betts includes more than 1,300 standard configurations that are available through its network of authorized distributors. Joslyn surge protection devices (SPDs) protect operations from the damaging effects of electrical power surges, transients and noise.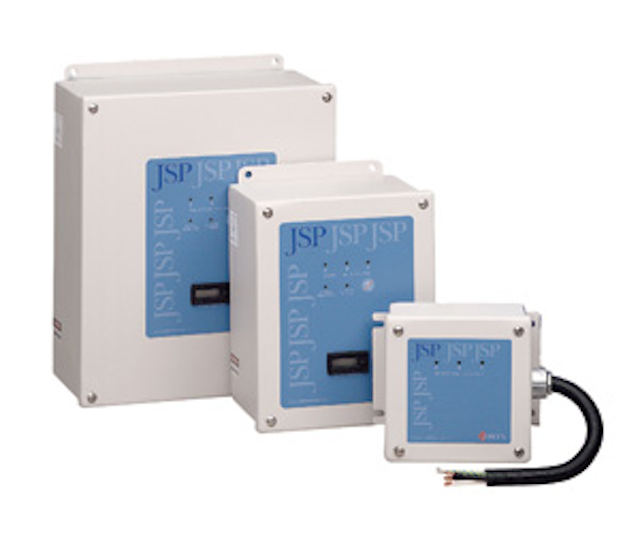 Suitable for protecting single, split and three-phase applications ranging from 120V to 600V Delta, Joslyn surge protection products are capable of handling high-surge energy to 400 kA per phase and are suited to meet many application requirements.
The Joslyn line of ac surge protection products features a surge counter, light emitting diode (LED) display, audible alarm status indicator and remote monitoring. In addition, the line features individually fused metal oxide varistors (MOVs) to provide protection from extended surge events. The products are listed to Underwriters Laboratories (UL) 1449 Third Edition and are Restriction of Hazardous Substances Directive (RoHS) compliant. Joslyn ac surge products also are available in multiple voltage configurations.
Thomas & Betts Corp.
CIRCLE 122 ON READER SERVICE CARD
---
Conqueror Safety Glasses Vanquish Workplace Impact Hazards
Gateway Safety introduces its newest line of safety equipment—Conqueror protective eyewear. This new safety glasses style is an upgrade over existing design technologies.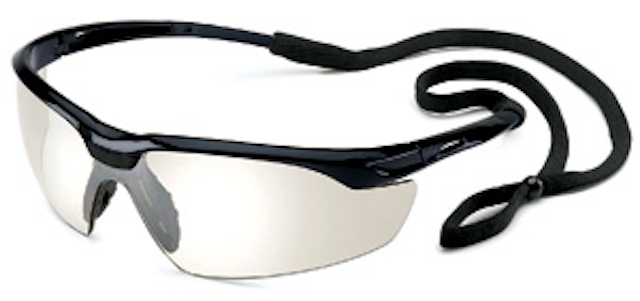 Most employees will find that Conqueror is more comfortable than similar alternatives, it's reported. At the same time, employers will find that it's a more cost-effective solution.
Highlighted by an attractive, contemporary design, Conqueror features include a soft rubber nosepiece and ergonomic, contoured temple tips that don't pinch, ensuring all-day wearability with no slipping. The sleek, strong frame is extremely lightweight and available in both a glossy black as well as Gateway Safety's new Camo frame pattern. The Camo frame—a very good solution for workers who just want to look a bit sportier on the jobsite—is available with clear anti-fog, gray anti-fog, amber anti-fog and bronze mirror lenses.
Gateway Safety
CIRCLE 126 ON READER SERVICE CARD
---
Web Strap Pullers Provide High Lifting, Pulling Power with Lighter Weight Frame
The new Model 35 and 40 web strap hoists from LUG-ALL provide workhorse lifting and pulling power with a lighter weight frame. The Model 35 and 40 provide a 3000- or 4000-lb. pulling capacity with a smaller, medium frame design starting at 12.5 lbs. The smaller frame makes these hoists easier to handle and makes repetitive lifting or pulling less cumbersome.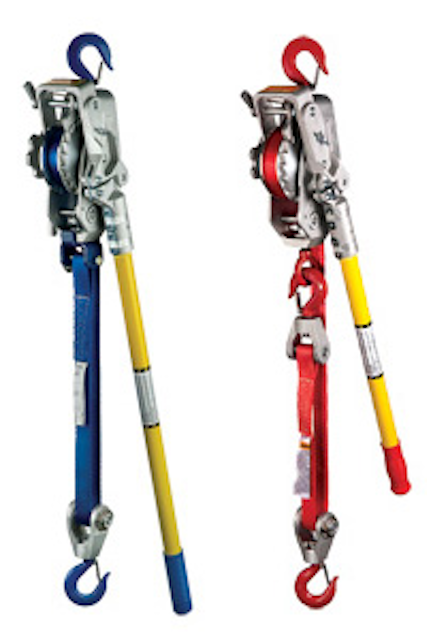 Both models are available in a standard or convertible arrangement. The convertible model eliminates the need for a third hook by incorporating a bracket that bolts directly to the frame. While the Model 40 2-ton hoist provides 10 feet of strap length, the Model 35 1 1/2-ton hoist provides an extra 6 feet of strap for an overall strap length of 16 feet.
All LUG-ALL web strap hoists are designed to meet American National Standards Institute (ANSI) B30.21.
LUG-ALL Corp.
CIRCLE 124 ON READER SERVICE CARD
More Utility Products Current Issue Articles
More Utility Products Archives Issue Articles