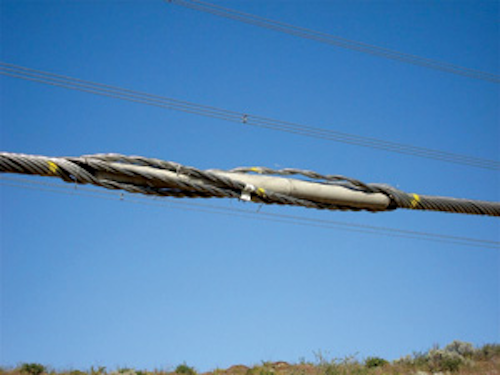 Splice Shunts for Conductor Repair
The conductor is the largest single component of the power delivery system. It is the delivery pathway from generation to the user. With vast exposure to the environment, damage is bound to occur that will impact efficient transfer of energy. To effectively and safety repair this critical system component, Preformed Line Products offers materials that are easy to install, perform like the conductor and provide worker safety.
Preformed Line Products' splice shunts are an effective solution for the repair of aging and deteriorating compression and automatic splices, and dead-ends. It can also be used as part of a solution to upgrade existing transmission and distribution lines without the need to re-conductor. Among splice shunt features:
• Helical design mimics conductor's mechanical characteristics under tension;
• Single-component, outer-layer assembly;
• Easily installed with hot sticks, eliminating the requirement of a line outage;
• Restores 100 percent of the electrical and mechanical integrity of the conductor;
• Will eliminate hot spots caused by existing electrical connections;
• No tools required; and
• Permits existing lines to be up rated.
Preformed Line Products
CIRCLE 146 ON READER SERVICE CARD
---
Coax Stripper Helps Prevent Poor Connections that Lead to Video Reception Problems
More than 70 percent of video reception problems can be traced to a bad cable connection. Often 80k pounds (300kN) the culprit is a badly stripped length of cable. IDEAL is helping assure better connections by introducing its new 45-321 coax stripper designed to perform cleaner, faster 1/4 inch x 1/4 inch strips of RG-6/6 quad and RG-59 coax cables used in the transmission of cable television, satellite broadcasting and analog closed circuit television signals.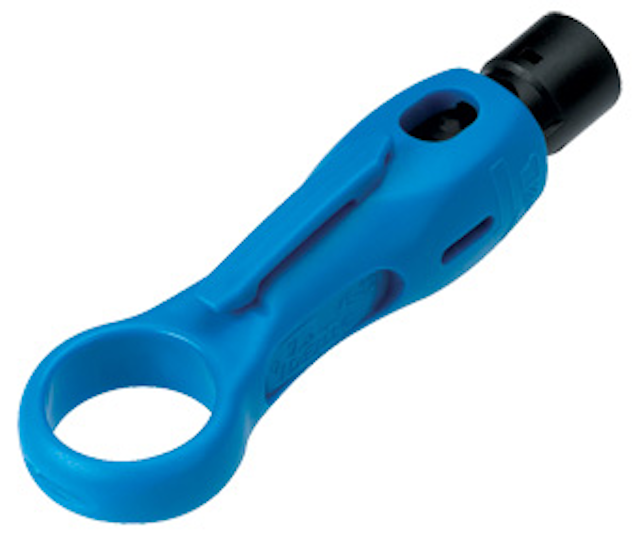 The stripper features a self-adjusting blade that instantly conforms to different diameter coax cables, resulting in higher accuracy at a lower overall cost of installation. The 45-321 has a spinner ring that orbits the full circumference of the cable to deliver faster stripping without compromising precision. The 45-321 is ergonomically shaped, lightweight and easy to maneuver in tight spaces. It is also compact in size so it fits easily inside a pocket or tool tote.
IDEAL Industries Inc.
CIRCLE 147 ON READER SERVICE CARD
---
QCI Series Shearbolt Connectors Eliminate Need for Additional Tools
For utilities looking for a reliable alternative to compression connectors for medium voltage cables, 3M Electrical Markets Division introduces the Shearbolt Connectors, QCI Series.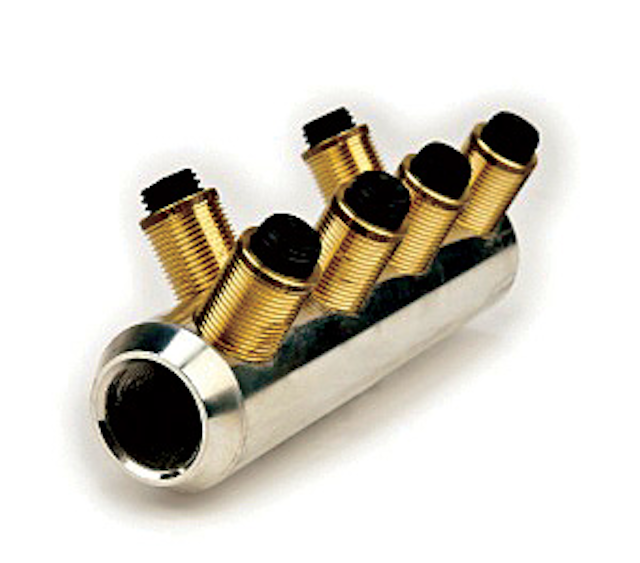 The Shearbolt Connectors create a reliable, consistent connection using continuous shearing determined by contact force—not torque value. In addition, the bolt shears below the connector body because the bolt shears axially, not at a pre-defined shear point. This eliminates the need for filing and ensures the correct contact pressure. A friction plate on the bottom of the bolt prevents conductor damage while providing increased contact force.
Designed for American Wire Gauge conductors, the Shearbolt Connectors meet the requirements of the American National Standards Institute (ANSI) C119.4, Class 2. In fact, the connectors exceed the 40 percent pull-out force required for splices by the Institute of Electrical and Electronics Engineers- (IEEE-) 404.
The shearbolt connectors reduce installation time and errors by eliminating the need for crimp tools or dies and reducing installation error.
3M Electrical Markets Div.
CIRCLE 149 ON READER SERVICE CARD
---
Plugs and Receptacles for Direct Current Applications
Meltric Corp., a manufacturer of industrial duty electrical plugs and receptacles, offers a new product line for electrical equipment powered by direct currents. Meltric's DSDC Series plugs and receptacles provide safer and more robust connections for direct current applications up to 200 amps at 250 Vdc, up to 100 amps at 600 Vdc or up to 30 amps at 750 Vdc.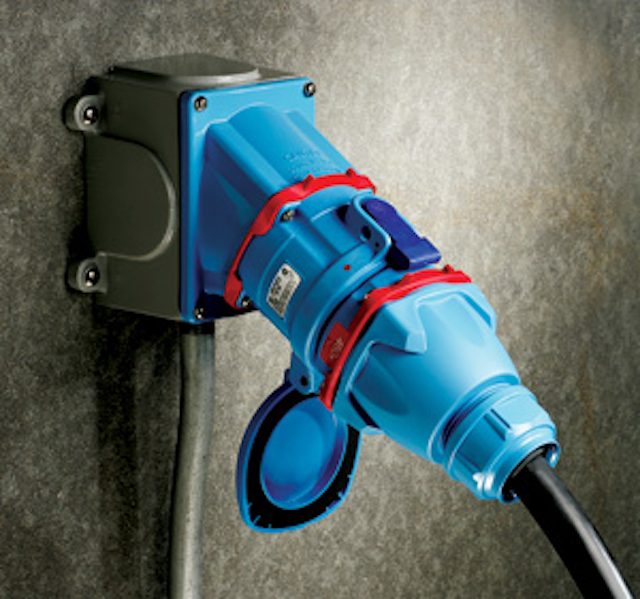 The DSDC product line offers exclusive safety features including a dead-front safety shutter that prevents user access to live parts and a padlockable pawl that enables easy locking in the connected or disconnected mode. DSDC Series plugs and receptacles utilize solid silver-nickel contact surfaces for maximum performance and durability along with spring-loaded, butt-style contacts that ensure optimal contact force over thousands of operations.
Meltric Corp.
CIRCLE 148 ON READER SERVICE CARD
---
30-degree Angle Ground Clamp
Hastings, a manufacturer of hotline tools and equipment, offers the 30-degree Angle Ground Clamp. The ground clamp allows linemen and substation mechanics to easily install grounds beyond the normal reach.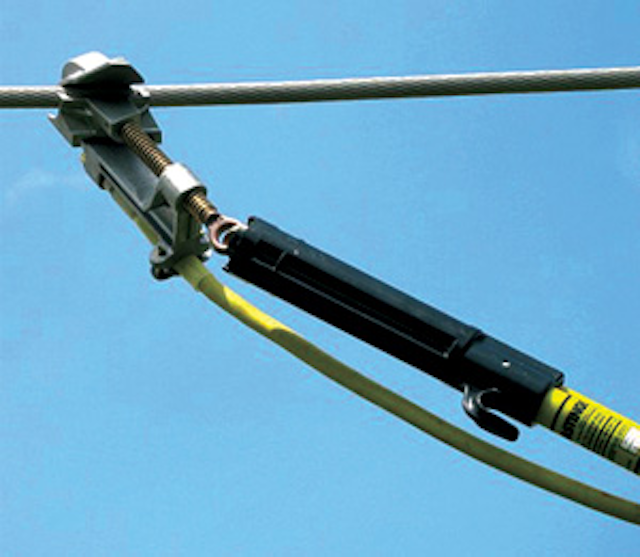 The design of the clamp consists of a solid, one-piece upper body that offers improved mechanical and electrical performance when compared with other designs. In addition, lineman can hold a shotgun stick to a nearly horizontal position and install this ground clamp.
Hastings
CIRCLE 150 ON READER SERVICE CARD
---
Cable Glands Feature Electroless Nickel Plating for High Corrosion Resistance
Appleton has upgraded the protective finish on its cable glands with new electroless nickel plating for high corrosion resistance in harsh industrial environments.
Due to its high hardness, electroless nickel plating enhances the life of cable glands exposed to severe service conditions. Parts undergoing electroless nickel plating will in many cases perform much like stainless steel.
In addition to corrosion resistance, advantages of the new finish include:
• Wear resistance to protect against galling,
• Lubricity,
• Uniformity of deposit regardless of geometries—extremely important for flameproof/explosionproof threads,
• Stable thickness control, and
• Nonmagnetic properties of high-phosphorus nickel alloy.
Appleton cable glands are used to attach ends of electrical cable to equipment in a variety of applications.
Appleton
CIRCLE 151 ON READER SERVICE CARD
---
Spacer Cable Turnkey Services Lower Costs, Save Time
Hendrix, a provider of overhead and underground power distribution products, announces its spacer cable turnkey services, which save utilities money and time and are guaranteed to reduce outages. Utilities can contract with Hendrix for full turnkey services from site evaluation to final inspection—or for any portion of a project.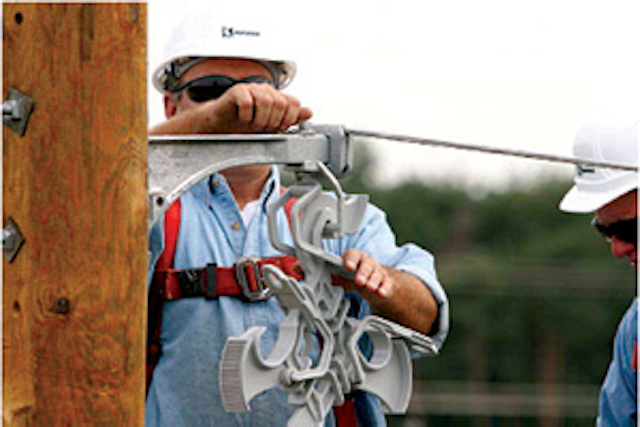 Hendrix's turnkey spacer cable services can lower costs on substation exits and under/over builds, as well as long spans or ecologically sensitive areas. Hendrix's equipment, techniques and on-site expertise make the install quick and cost effective, it's reported. Compressed project timelines with quick turnarounds save time on site reviews, designs, engineering and construction.
Hendrix provides complete project management services, including evaluation of alternatives, quotation management, scheduling and cost control. Site evaluation services include job layout/pole placement, as well as line and profile drawings.
The Hendrix spacer cable solution is designed to Hendrix standards using genuine Hendrix cable and accessories.
Hendrix Wire & Cable
CIRCLE 152 ON READER SERVICE CARD
---
Precious Metal Clad Wire is One-tenth Cost of Pure Precious Metal
Custom manufactured clad composite wire that provides superior or equal performance to pure precious metal wire at one-tenth the cost is available from Anomet Products Inc. of Shrewsbury, Mass.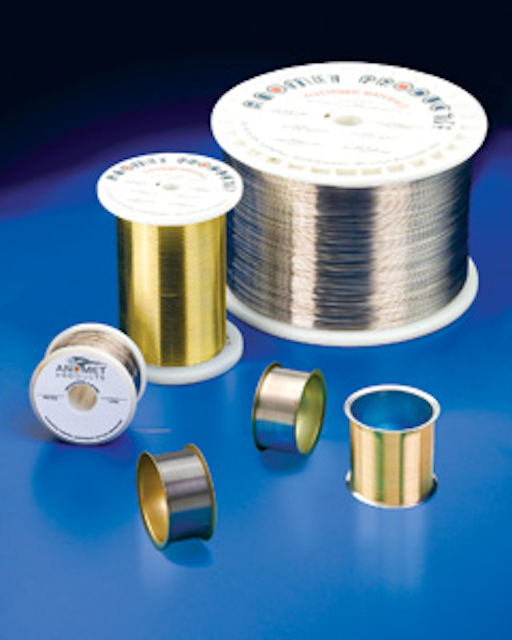 Anomet Precious Metal Clad Wire features precious metal metallurgically bonded to a core material with 2 percent or more cladding thickness offered in sizes from 0.002 to 0.125 inch outside diameter. Providing superior or equal performance to pure precious metal, it can include platinum for oxidation-resistance, corrosion-resistance and bio-compatibility; gold for contact resistance; and silver or palladium which can be clad to a variety of lower cost core materials.
Manufactured to precise original equipment manufacturer (OEM) specifications and supplied on spools, Anomet Precious Metal Clad Wire can be clad to core materials such as copper, Kovar, nickel-iron, molybdenum, stainless steel, tantalum and titanium.
Anomet Products Inc.
CIRCLE 153 ON READER SERVICE CARD
---
Quadri*Sil Transmission Insulator
The Ohio Brass 80k pound (300kN) insulator by Hubbell Power Systems is designed to ensure protection against weather and contaminants while providing increased mechanical strength for extra-high voltage applications.
Especially useful for replacing porcelain strain insulators, Hubbell Power Systems' insulators offer significant weight reduction and cost reduction because of the increased strength of a single string replacing a double string.
Hubbell Power Systems
CIRCLE 154 ON READER SERVICE CARD
More Utility Products Current Issue Articles
More Utility Products Archives Issue Articles