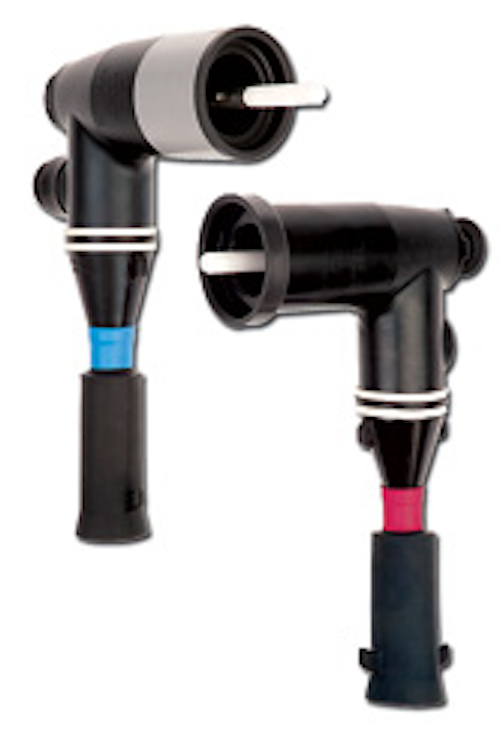 Integral Jacket Seal Elbow
The latest elbow innovation from Hubbell Power Systems offers an all-in-one design that seals the outer jacket of an underground cable, completely eliminating the need for separate seal kits. Flared cable entrance of the elbow reduces installation forces and provides each elbow with expanded cable insulation ranges. External hooks and a flared seal entrance provide an improved grip.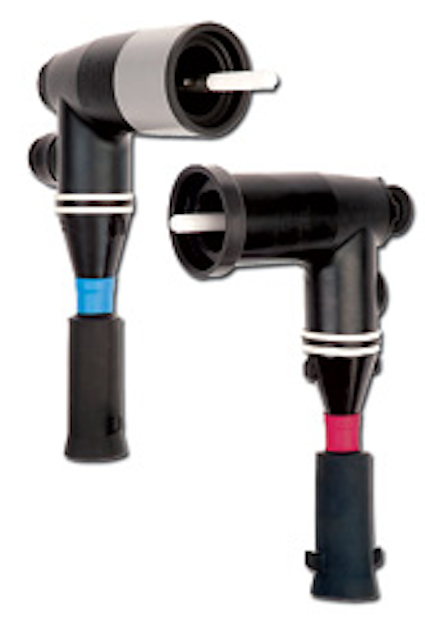 Hubbell Power Systems
CIRCLE 124 ON READER SERVICE CARD
---
Industrial-strength DuraTag Supplies for DuraLabel Printers
Industrial label printer and supplier Graphic Products Inc. has introduced virtually indestructible DuraTag Tag Stock and Ribbon supplies to its growing line of 50+ printer supplies for the DuraLabel printer.
Rugged DuraTag Stock is heat-resistant to 200F and is resistant to ultraviolet light, moisture, chemical abrasion and tearing. Available in 100-foot rolls and in five colors—yellow, red, green, orange and light blue—DuraTag Stock was created for indoor and outdoor tagging applications where both pliability and toughness are critical. DuraTag Tag Stock easily attaches with standard cable ties to facility utilities, industrial equipment, manufacturing components and pipe marking. Simply punch a hole in the printed tag and attach where needed. Users save time and money because grommets are not necessary. Custom color DuraLabel Tag Stock is also available pre-printed.
Heavy-duty tag stock is used for:
Circuit breaker tagging,
Work-in-progress tagging,
Equipment repair tagging,
Lockout/tag out,
Cyclone fence signs,
Movable signs,
Occupational Safety and Health Administration safety signs,
Kanban card tagging,
Pipe marking, and
Pipe marking.
Graphic Products Inc.
CIRCLE 125 ON READER SERVICE CARD
---
Updated Anderson and Fargo Distribution Catalog
This new Anderson and Fargo Distribution Catalog by Hubbell Power Systems has recently been updated. Essential for those engaged in power system distribution, it is a complete reference source for connectors, fittings, hardware and crimping tools.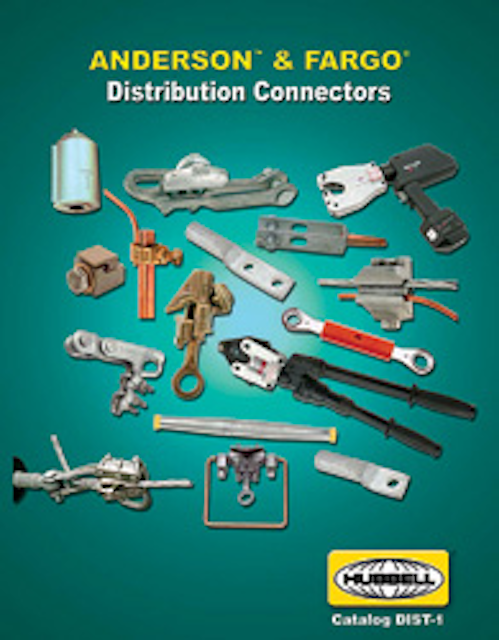 Hubbell Power Systems
CIRCLE 126 ON READER SERVICE CARD
---
ECO-SAC Containment System for Leaking Overhead Pole and Pad Mount Transformers
The ECO-SAC is a reusable, environmentally responsible containment system for leaking overhead pole and pad mount transformers. Designed with your line workers in mind, the ECO-SAC helps you get the job done safely while protecting the environment and effectively reducing operating costs.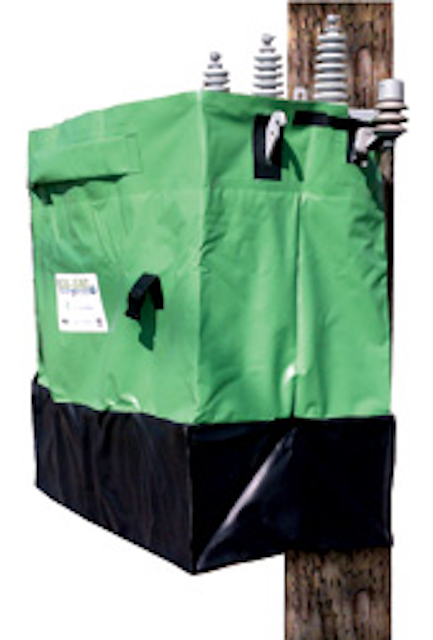 By simply dropping in a replaceable liner, the ECO-SAC can be re-used up to five times. And, since the liners are incinerable to less than 2 percent ash, that adds up to big savings when compared to existing procedures that can fill drums with waste for landfills.
Just 'bag' the transformer using the ECO-SAC and return it to the yard completely contained. The bagged transformer can be stored outside for up to a year by using the optional, ultraviolet-resistant, weather-repellant cap.
Andax Industries LLC
CIRCLE 127 ON READER SERVICE CARD
---
Utility Pole Protection System Significantly Extends Service Life
Timber utility poles have always been an economic, readily available and environmentally friendly means of supporting power and telecom cables. Their weak point has been the ground line section of the pole where conditions for decay and rot exist; poles traditionally rot through and break at this point.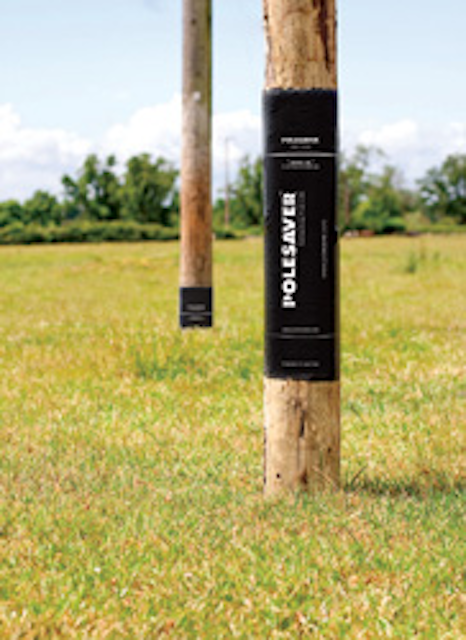 Postsaver Europe's patented Polesaver dual layer heat shrink barrier system offers a simple solution to this problem by keeping the preservative in and the causes of decay and rot out at the vulnerable ground line section of the pole—giving up to double the service life. This claim is backed by nearly 20 years of volume production, full independent testing and accreditation with well over a million sleeves in long-term service.
The non-toxic Polesaver sleeves are available in a wide range of sizes, are low cost and are quickly and easily heat applied by unskilled labor. Polesaver sleeves can be used with all timber and preservative types.
Postsaver Europe Ltd.
CIRCLE 128 ON READER SERVICE CARD
---
Horizontal Directional Drilling, Compaction Boring Products
Condux International offers the complete line of Triple D horizontal directional drilling (HDD) and compaction boring tools and equipment. Products available through Condux include reamers, paddle bits and sonde housings for HDD applications and a wide range of compaction boring tools. Triple D is a manufacturer of high quality underground construction equipment.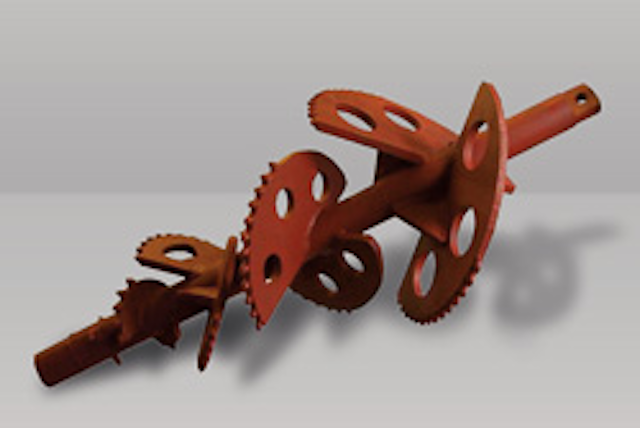 Condux International has been manufacturing cable installation tools and equipment for more than 30 years. Working directly with the electrical contracting, electrical utility, telecom and CATV industries, Condux offers high quality tools, engineered to reduce installation time and increase safety.
Condux International
CIRCLE 129 ON READER SERVICE CARD
---
No-drill Vehicle Laptop Mounts Keep Your Computer at Your Fingertips
With Forestry Suppliers' vehicle laptop mounts, installation is quick and easy—using the existing hardware of the passenger side seat rails. The dual swing arms provide articulation and 12 inches of reach for passenger and driver access to the mounted device, plus the patented rubber ball and socket joint provides additional adjustment as well as shock and vibration isolation.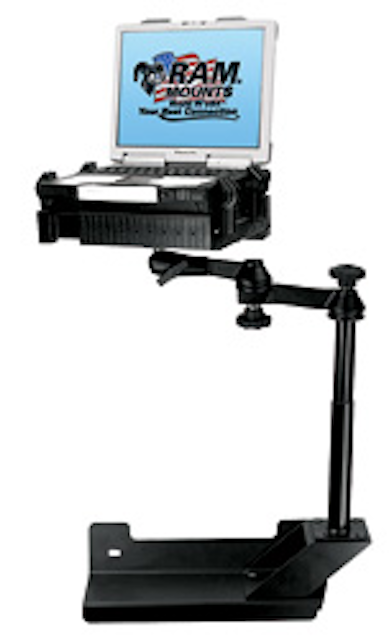 The RAM Tough Tray is spring loaded to accommodate 10- to 16-inch wide laptops (17-inch screens) and has four adjustable retaining arms that can be moved both vertically and horizontally for a custom fit for varying thicknesses of laptops and the freedom of not blocking ports or drives. Hole patterns on the tray perimeter facilitate the mounting of additional RAM systems to support global positioning systems or other electronics.
Forestry Suppliers Inc.
CIRCLE 130 ON READER SERVICE CARD
---
Duct Hunter Detectable Rodders
Jameson's Duct Hunter detectable rodders accurately locate systems such as buried cable, sewer lines and gas pipes without digging.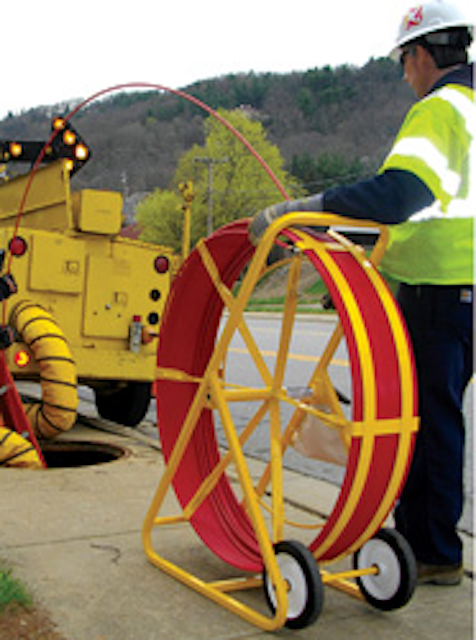 Utilizing the rugged construction of Buddy Rodders, the Duct Hunters have a copper wire in the rod to trace or map underground conduit or pipe. Connecting a signal transmitter to the Duct Hunter energizes the unit so the rod's signal radiates through the soil.
A hand-held signal receiver is then used to detect the frequency so the entire buried utility can be traced. The ability to locate without digging saves time and prevents damage to existing utilities.
Jameson
CIRCLE 131 ON READER SERVICE CARD
---
Cables Offer Accurate Radio Frequency and Microwave Measurements
RF Precision Products now offers cables for applications up to 26.5 GHz. Test grade cables are a must for radio frequency (RF) applications and serve as the extension of the equipment's test ports. Test grade cables provide flexibility for measuring cable assemblies or other microwave devices, and it is vital to system performance that they remain stable when subjected to environmental or mechanical stresses.
The company's phase stable cables have triple shielding with low loss dielectric and high temp jacketing to minimize phase effects when flexed multiple times. The connectors are made of rugged stainless steel for extended attachment and feature a strain relief support designed for armoring as an option.
Custom lengths are available, and off-the-shelf lengths are as follows:
P2RFC-1055-24 (24-inch length),
P2RFC-1055-36 (36-inch length), and
P2RFC-1055-48 (48-inch length).
RF Precision Products
CIRCLE 132 ON READER SERVICE CARD
---
4X4 Polarized Protective Eyewear Fights Harmful Glare, Impact Hazards
Gateway Safety's 4X4 Polarized protective eyewear is an outdoor eye protection solution for workers who face daily glare from light bouncing off flat, reflective surfaces such as the hood of a vehicle, paved roadway or the surface of water. At the same time, employers can be confident their workers are wearing the appropriate protection for impact hazards. 4x4 Polarized has been independently tested and certified by Underwriters Laboratories to meet and exceed American National Standards Institute (ANSI) Z87.1+ and Canadian Standards Association (CSA) Z94.3 standards.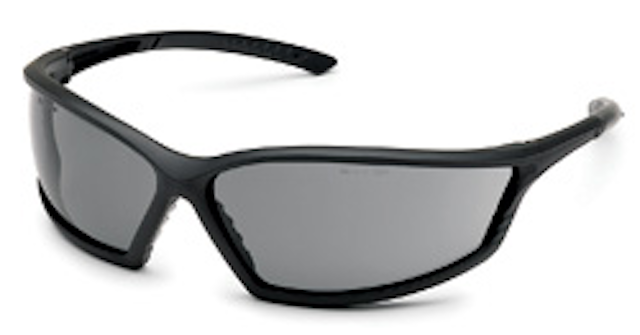 The lenses in a 4x4 Polarized spectacle are different from standard shaded lenses because they contain a special optical filter that absorbs the horizontal component of light—the "wave" of visible light that would otherwise be seen as glare—and transmit only the vertical component. 4X4 Polarized is part of the 4X4 line of protective eyewear, which also includes a standard version, 4X4 Sport and 4X4 Style.
Gateway Safety
CIRCLE 133 ON READER SERVICE CARD
---
Highly Reliable DC Power System In Limited Space
Power Sources Unlimited Inc. announces the Eltek Valere Trilogy dc power system, powered by the Flatpack2 line of power modules. With a maximum depth of 15 inches, the Trilogy system brings the Flatpack2 modules to applications where space is limited. Use of established components—including the efficient and reliable Flatpack2 rectifier, the Smartpack controller and flexible distribution—result in optimal system design and cost-effective deployment.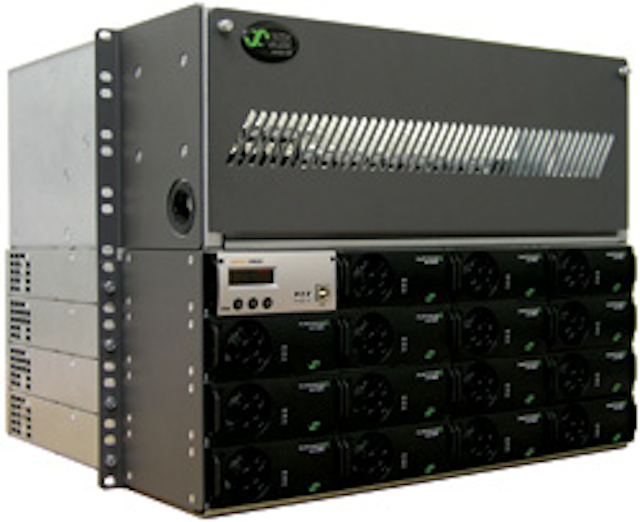 The Eltek Valere Trilogy mounts into standard 19- and 23-inch telecommunication racks. Deliveries range from 6–10 weeks.
Power Sources Unlimited Inc.
CIRCLE 134 ON READER SERVICE CARD
---
Squids Hard Hat Lanyards Comfortably, Safely Attach Hard Hat to Worker
Ergodyne has expanded its Squids Lanyard Series to include the new Squids 3150 Buckle Hard Hat Lanyard and Squids 3155 Clamp Hard Hat Lanyard. These new lanyards provide two different methods of hard hat attachment but deliver equally safe solutions for securing to the worker.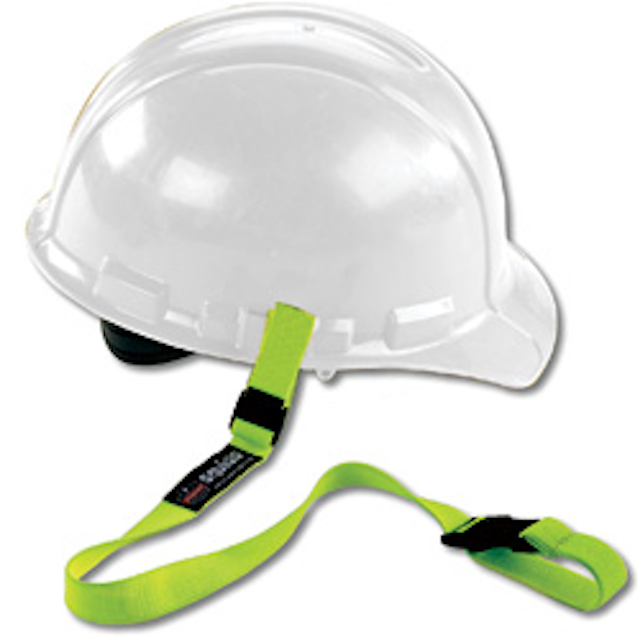 Chinstraps have traditionally been worn to keep hard hats in place, but these can be uncomfortable and inconvenient to wear—resulting in lost productivity and removal of the chinstrap. Ergodyne's hard hat lanyards keep hard hats attached to the worker without coming into contact with the worker's face—providing increased safety, comfort and productivity. In addition, the hard hat lanyards are available in hi-vis lime, improving worker visibility.
Ergodyne
CIRCLE 135 ON READER SERVICE CARD
---
Shorter Length Self-retracting Lanyards
Rigid Lifelines, a provider of overhead rigid track fall arrest and fall restraint systems and accessories, announces the addition of two new models to its line of self-retracting lanyards (SRLs). The new models provide shorter lanyard lengths of 7 and 11 feet for close proximity fall arrest scenarios.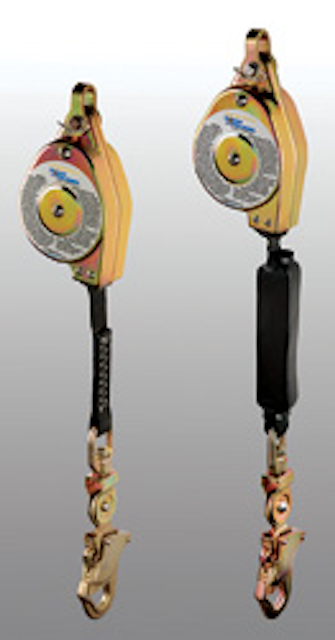 There are many industrial applications that require fall arrest lanyards where workers only need 10 or 11 feet of lanyard length. Shorter length SRLs, such as the new Rigid Lifelines 4007 and 4011 models, provide a highly durable, short length lanyard at a reasonable price.
Rigid Lifelines' 4007 and 4011 self-retracting lanyards come equipped with Dyneema webbing—a webbing fiber that has a strong strength to weight ratio—and very good abrasion, cut, chemical and ultraviolet resistance. Both models utilize a highly durable zinc plated steel case that is designed to meet the rigorous demands of industry working environments. The SRLs are engineered for use in both overhead attachment and work positioning applications.
All Rigid Lifelines' self-retracting lanyards protect workers from significant fall distances by utilizing cam-driven locking pawls that activate during a free fall event—ensuring a typical fall is arrested within 2 feet or less.
Rigid Lifelines
CIRCLE 136 ON READER SERVICE CARD
---
Gear Keeper Tethering Selection Chart Helps Choose the Best Option for any Application
With more than 3,000 different tethering configurations, Hammerhead Industries' Gear Keeper tethering selection chart helps safety engineers select the best option for any application. The chart presents the top 10 do and don'ts of personal tool tethering.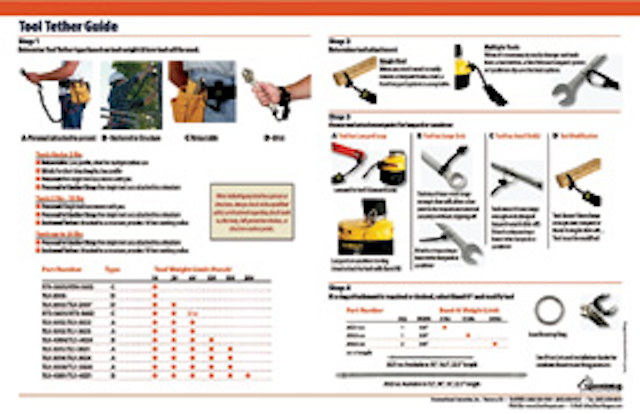 The safety engineer's goal in correct tethering procedures is to make sure the tool, application and recoil/retraction force are in balance. When the tool is extended for use, only minimal force should be necessary so as not to cause worker fatigue or, in the reverse, cause a kick when retracted. The result of correct tethering is when the tool is stored, held or used, the dangers of entanglement, fatigue and annoyance are minimized and worker satisfaction and output are maximized.
Tool tethers are considered the best way to protect employees, their tools, and the work site from falling objects. With over 3,000 personal tethering configuration options and covered by many patents, Hammerhead Industries manufactures a very large selection of industrial tool and instrument tethering devices.
Hammerhead Industries Inc.
CIRCLE 137 ON READER SERVICE CARD
---
GD3015 Tablet Personal Computer Bridges Gap
General Dynamics Itronix introduces the new semi-rugged GD3015 tablet personal computer. The durable GD3015, weighing less than three pounds, delivers the full functionality of a notebook with the critical components and options needed by mobile professionals working in utilities, public safety, transportation, warehousing and industry field services. The GD3015 comes equipped with Microsoft Windows 7 operating system, embedded security, a 10.4-inch sunlight-viewable screen and 3G wireless network connectivity. Also adaptable to the requirements of mobile computer users, the modular GD3015 offers magnetic stripe reader, barcode scanner, camera and additional options.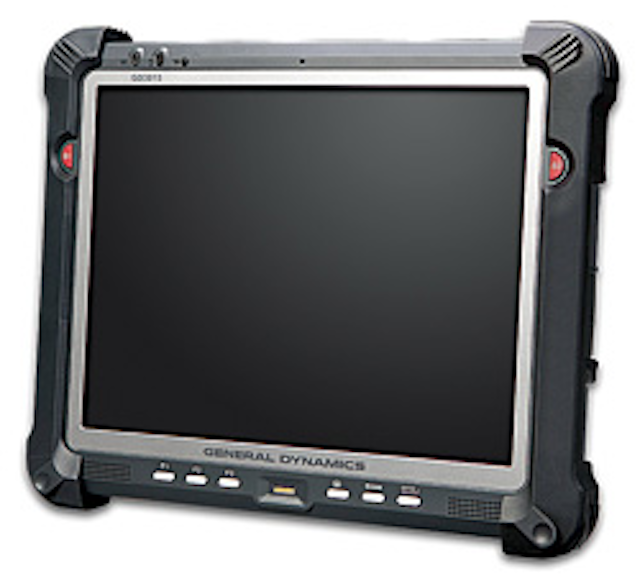 The GD3015 is cited to pair ruggedness with a Windows-based operating system so budget-constrained information technology managers have a computing solution that is easy to deploy, minimize training costs for users and leverage existing software and operating system configurations.
The ergonomically designed GD3015 is as easy to use as a commercial tablet, with the rugged durability to stand up to the dirt and weather of field environments while taking the bumps and vibration that come with life on the road.
General Dynamics Itronix
CIRCLE 138 ON READER SERVICE CARD
---
Tailor Made Interlock Systems for Faultless Security on Electrical Installations
RONIS makes operating in electrical power stations safer because of its new range of interlock systems, specifically designed to ensure the users' safety while working on medium- and high-voltage machines and other electrical installations. RONIS has developed four product ranges, which offer a large number of locks that are adaptable to any hazardous components that require manipulation in a specific order. These systems can be tailored to companies' specific needs.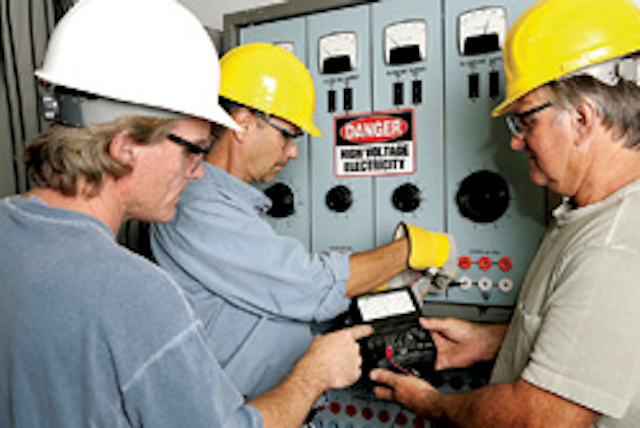 From locking isolator controls to access locks (flaps, doors, covers, etc.), including locking systems for circuit-breaker switches, inverters or transformers, the interlock range was specifically designed for maximum safety. The locks are interdependent:
Each hazardous component is protected by one or more locks;
Each lock can only be opened with its own specific key; and
A key will not be available to open a given lock if the preceding lock was not correctly released.
The system is secure because the locks are mechanical and highly reliable; each operation is carefully integrated into a complete process. The keys prevent infringement of the required procedure and eliminate any risk of error.
RONIS
CIRCLE 139 ON READER SERVICE CARD
More Utility Products Current Issue Articles
More Utility Products Archives Issue Articles