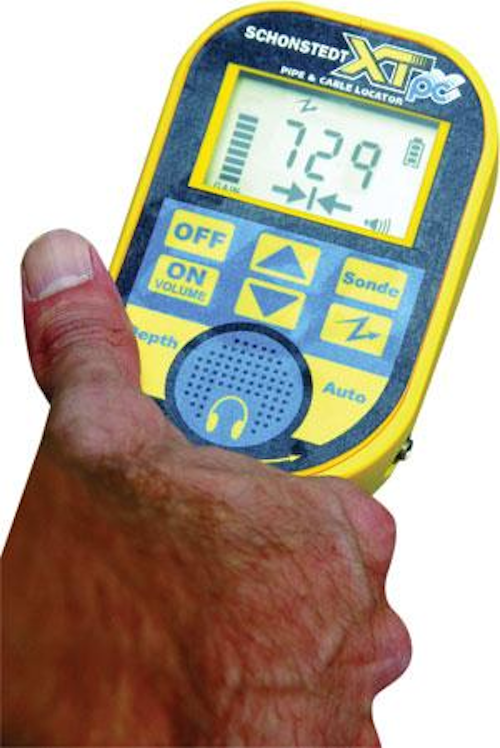 Traffic Control Devices, Inc. Finds the Right Tools for Utility Location in Crowded Areas
Traffic Control Devices (TCD), Inc., with offices in four Southern states, designs, installs, and manages large scale, sophisticated traffic control and monitoring systems, specializing in DOT work. Projects can be quite large; for example, an installation on the Tennessee Department of Transportation's Nashville Smartway featured 19 CCTV systems and cabinets, 74 radar vehicle detectors and cabinets, 10 dynamic signs, and all the other components of a truly comprehensive system.
Traffic control systems have to move a lot of data quickly and securely so TCD installs many miles of fiber optic and power lines annually, and since they maintain their own systems and cultivate DOT business, they've made a commitment to providing fast, accurate location of buried lines at all their installations. In Florida, Bridie Hackett manages utility location for the entire state, dispatching about 30 dedicated location specialists from four locations and going out on calls herself. She responds to about 300 requests a day, which come via Sunshine State One Call, Florida's 811 service. TCD has been in the business for a while, and has used several brands of utility locators. Based on research by Hackett's predecessor, and current experience, TCD currently favors equipment from Schonstedt Instrument Company of Kearneysville, West Virginia. TCD uses two Schonstedt models, the TraceMaster II Pipe and Cable Locator, and the XTpc Pipe and Cable Locator.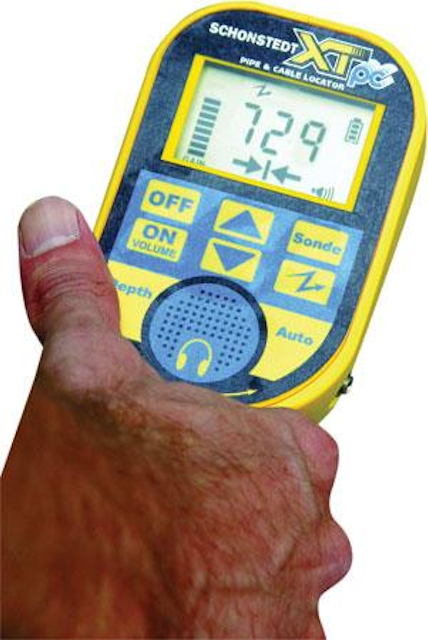 Click here to enlarge image
Schonstedt Instruments magnetic locators are legendary in the land surveying community—so much so that 'Schonstedt' is very nearly a generic name for locators among surveyors—and their MAC-51Bx, an all-purpose magnetic and dual frequency utility locator, has been in production for more than 25 years (and still has a following). The TraceMaster and XT locator lines were introduced in 2000, and rely heavily on new research and work with focus groups—multiple patents apply to both.
Since fiber optic cable, by itself, is non-conductive and virtually untraceable, TCD relies on trace wires laid with the fiber. They then use inductive methods—on both locators, current can be induced with a loose clamp around a cable or wire, or by simply setting the transmitter over the line—to put current in the trace wire. Both Schonstedt models can apply current by conductive methods, and also by conduction—applying current directly to metal with clips or leads.
Two Different Locators, Consistent Performance
Hackett likes one unique feature of the Tracemaster II quite a bit: "You can change the frequency of the transmitter by a radio link from the receiver, which is useful—it means that our locators don't have to walk all the way back to the transmitter to switch frequencies, so they can follow a line a lot farther from one setup." This feature saves time and also extends battery life, because the transmitter only broadcasts on one frequency at a time, rather than broadcasting on multiple frequencies to allow selective tuning by the receiver.
The TraceMaster II is also highly ergonomic, with a 'question mark' shape that allows a natural, balanced grip. This leaves the thumb free to manipulate the TraceMaster II's simple controls—just two buttons and two knobs, with an LCD screen. Sensitivity is excellent and responds to subtle adjustment. Hackett says the TraceMaster II does very well in areas congested with overlapping utilities.
The XTpc series is a very compact line of locators that comes in different frequencies for different purposes, including a versatile 82kHz model for general locating. It extends to a full 26 inches in use, but withdraws to 16 inches so that it can be carried in a belt holster. Because it's light and pistol gripped with 'thumbable' controls, the XTpc is also usable one-handed, leaving a hand free for marking paint or other tools. The transmitter is also quite small, and can be carried in a jacket pocket or tool belt if needed. Battery life is excellent. "The XTpc is the one I carry in my truck," says Hackett, "It's very sensitive. I love that machine, I won't give it up. It's fast and precise, and it picks things up when other locators won't." As an example, Hackett tells the story of one recent locate job: "We had to locate some fiber on a turnpike that had actually been placed by horizontal drilling… under a bridge. So it was a full 30 feet down, and I really wondered if I was going to be able to pick it up. But the XTpc got it right away. I was still nervous about it, because of the depth, and had a hard time sleeping that night. But I never got a call so everything was okay."
Training New Employees Not a Problem
TCD's training program is straightforward: "We have a couple of videos for new employees to watch, but mainly they ride around with me or another experienced locator for a month or so, getting hands-on training." Guillermo Warley, Schonstedt's vice-president of product development, says that the ease of use was a definite goal of his team. "Sophisticated doesn't need to be complicated. Our focus groups pointed out that locators hadn't changed much in recent years, and many were unnecessarily complicated by excessive buttons, menus and function keys. They felt there was no reason utility locators shouldn't be simple to operate, and even new employees should be able to learn operating basics right away. And simplicity applies to more than just the interface—battery replacement, storage, carrying, etc. should all be easy."
Schonstedt locators also feature 'one button depth'. Warley explains, "One button depth gives the user the ability to measure the depth of the utility by simply pressing a button and waiting a couple of seconds. Early models of locators did not have that capability and some modern ones still don't. In that case the only way to estimate depth is by a procedure called triangulation. Personally, I would never consider a locator without one-button depth! And consecutive depth readings at the exact same location and the exact same conditions should be fairly consistent."
Check the Warranty and Support
Schonstedt locators are backed by three-year warranties, and Hackett says she has had to take advantage of that. "We haven't had any problems at all with the XTpc, but we have sent in a TraceMaster a couple of times—although honestly, it could have been the user. When I do send one in, they're always good to deal with. They send me a demo to use while I'm waiting, and they've always been able to fix the units we send in. I've never had any problem at all with Schonstedt; the sales rep, Don Hager, has also always been helpful."
Utility locators are an interesting class of instrument: they have to be tough, and they have to be sensitive, and they have to perform consistently. After all, a failed or inaccurate locate can have extremely costly consequences. Likewise, traffic control systems also have to be tough and sensitive, and if they go down it ruins a lot of drivers' days. Traffic Control Devices, Inc., a company that really relies on successful utility location to serve their clients and keep traffic moving, has found two locators from one firm that help keep systems operating.
About the Author: Angus Stocking, LS, is a licensed land surveyor and full-time writer in geospatial and infrastructure.