Maintaining Communications During an Emergency
Today's utility organizations face a number of real threats to service continuity, some natural and others man-made.
Dec 1st, 2008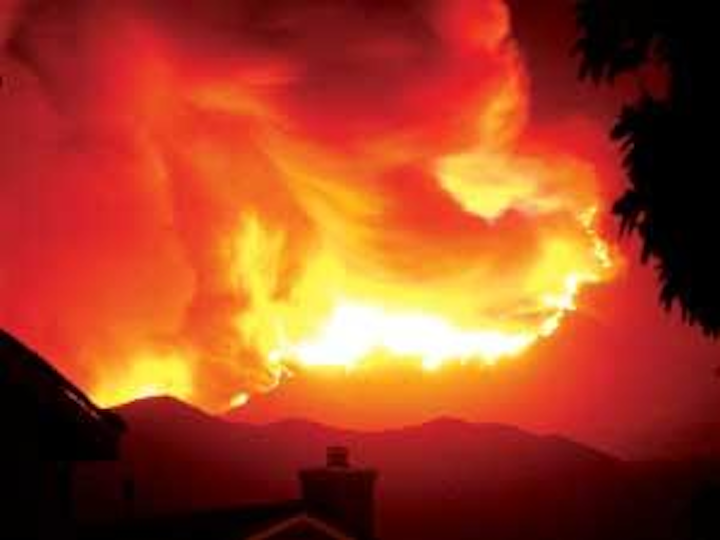 By James Mustarde
Today's utility organizations face a number of real threats to service continuity, some natural and others man-made. While it's been proven that seamless communications is the backbone of every utility emergency, many companies are still suffering from debilitating interoperability and survivability issues that unnecessarily leave workers, partner companies and paying customers in the dark. In the event of a storm, accident, terrorist attack or other disaster causing an outage, utility employees must be able to reach other internal response groups and managers as well as relevant third parties, such as fire and police departments. This type of instant, large-scale communications infrastructure is essential to restoring service more quickly, not to mention increasing customer satisfaction levels and profitability. In this article, we'll take a look at how utilities are retiring expensive, disjointed communications systems to ensure better service and response during an emergency.
On June 27, 2000, a fiery car accident sparked a blaze in Benton County, Washington near the Hanford Nuclear Site. Two days later, the fire had destroyed at least 73 structures and nearly 200,000 acres. Highways were closed, hundreds of homes were evacuated and the fire was seriously threatening a federal facility storing radioactive waste. With a disaster of this size, interruptions to electricity, water, phone and other utility services will not only threaten response crew progress, but the livelihood and safety of nearby businesses and communities.
For five days, a federal declaration of disaster covered the Benton County region. As the fire raged, public works agencies, emergency responders, and local, state and federal agencies all converged on the area in an attempt to combine forces against the blaze. Unfortunately, these organizations faced communications obstacles they were simply not equipped to overcome. Chief among these was an inability to communicate across agencies and departments, severely compromising their ability to combat the disaster.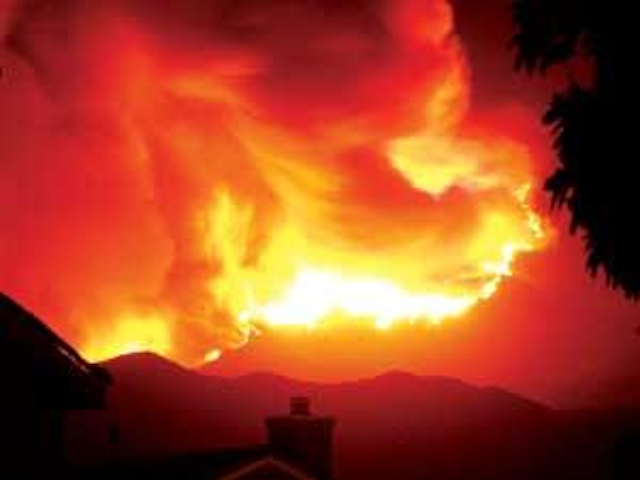 Click here to enlarge image
In the case of Benton County, at the time of the June 2000 disaster, the fire and police department, public utility district, public works agencies and five area hospitals all utilized an 800MHz simulcast trunked radio system. Lack of enough 800MHz radio equipment for first responders and poor coordination with VHF and UHF systems with other outside agencies, departments and surrounding jurisdictions, created a dangerously disconnected emergency response system.
This type of a communications meltdown is all too common in an emergency. The root cause of this issue is the fact that most communications devices work exclusively with the same brand of equipment–they simply aren't designed to talk directly to other types or brands of equipment. For utilities, these communication devices may be handheld radios, PDAs, personal computers (PCs), telephones (analog, digital or IP) or overhead paging systems, all from a variety of manufacturers. A common technology barrier might be different radio frequencies, for instance, or a utility's VHF radio equipment that cannot work with another group's UHF equipment and vice versa. And to compound the problem, these systems do not interoperate with first responder P25 systems.
Pacific Gas & Electric Corporation
Pacific Gas & Electric Corporation (PG&E), one of the largest utility providers in North America delivering gas and electric power to more than 15 million people throughout northern and central California, recently made the decision to tackle its lack of communications interoperability as part of its ongoing investment in business continuity and emergency response systems. Specifically, PG&E wanted a solution that would a) make all current and future communications systems fully interoperable and b) improve communications survivability by reducing potential points of failure.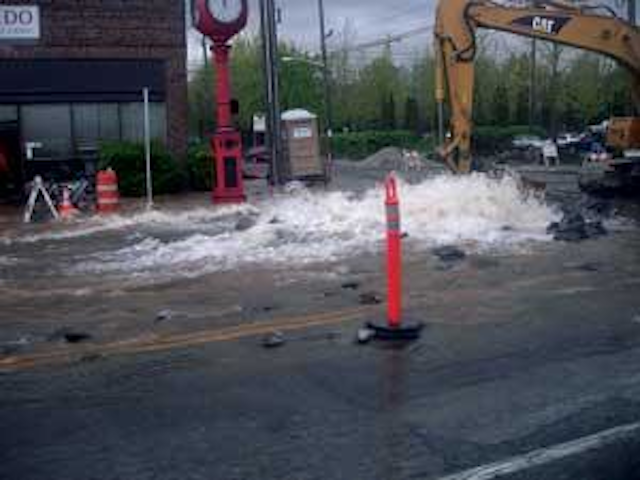 Click here to enlarge image
Utilities such as PG&E face a perplexing choice: stay with a traditional radio system upgrade path, or adopt a new unified interoperable communications platform. The radio upgrade path takes the "rip and replace" approach: replacement or upgrade of all radio handsets and the underlying infrastructure (towers, base stations, antennas and/or combiners, dispatch consoles, etc.) with P25 compatible equipment. This obviously entails a large capital investment and multi-year rollout. And while these new P25 systems will interoperate with each other, they won't work with older equipment (hence the rip and replace). Thus, in a combined emergency response situation involving external organizations, there will be bigger "islands" of operability, but technology barriers still prevent true interoperability.
Another approach is to embrace flexibility with an interoperable communications solution. This uses innovative software and an underlying IP network to provide a framework for interoperability regardless of device, including two-way radios, mobile and landline phones, PCs, PDAs and more. Moreover, it readily mixes audio signals and frequencies from many sources, including UHF, VHF, P25, TETRA, iDEN, SELCAL, GSTAR, etc., and supports backend integration with various radio or telephony gateways, including Raytheon (JPS) ACU-1000s and NXUs, Telex/Vega IP 223s, NI 223s, Daniels UIC, TOCNET, AVAYA Communication Manager, Cisco Call Manager and others.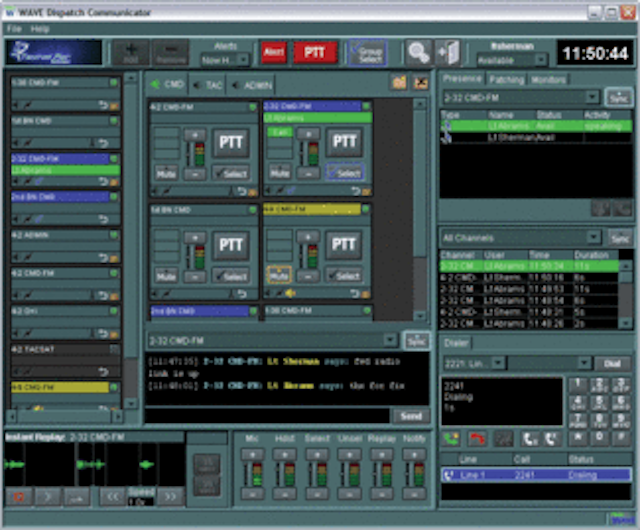 Click here to enlarge image
Interoperable communications solutions also offer broad support for industry standards to ensure future device compatibility, rather than locking customers into a proprietary platform or requiring the acquisition of additional spectrum. These interoperable communications platforms readily scale to support an unlimited number of audio endpoints and a substantial number of simultaneous audio conferences–ensuring viability for even the largest incident responses. This also means scalability over wide geographic and organizational boundaries, for instance by interconnecting multiple media gateways/servers, or by storing pre-tested connection configurations for instant retrieval during an emergency. Ultimately, this allows linking of multiple organizations to be as simple as identifying a reliable audio signal and understanding the underlying tone signaling mechanism.
Setting a New Communications Standard
For too long, utility organizations have reluctantly worked around the limitations of existing communications infrastructure, developing policies to accommodate system shortcomings. For example, organizations that have adopted proprietary solutions must immediately deal with the incompatibility of other heterogeneous systems. This forces organizations to either a) acknowledge that certain groups (internally and externally) will never interconnect or b) buy more of the same expensive proprietary hardware to artificially expand the interoperability. Until utility organizations recognize that brand standardization is not the key to interoperability, they will continue to be hung up with silos of communication technology that harm worker productivity, efficiency, collaboration, and in many cases, safety.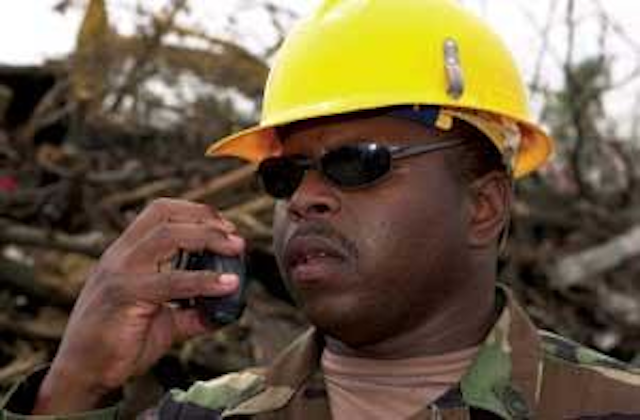 Franklin. KS, May 19, 2003 -- Seargent Hick's of Company 1A calls in dump trucks for debris removal. Photo by Adam DuBrowa/FEMA News Photo
Click here to enlarge image
PG&E is breaking away from these limitations by choosing to invest in a powerful software solution to seamlessly connect workers using existing equipment, including proprietary hardware, for a fully interoperable communications system. In fact, the company recently selected the RAVIN radio and voice interoperability solution developed by Network Integration and Consulting Services (NICS) of Draper, UT, as part a multi-year effort to consolidate its widely distributed electric control center operations.
Powered by WAVEM software from Twisted Pair Solutions, RAVIN integrates existing radio communications, telephony and IP network infrastructures to enhance an organization's day-to-day and emergency communications capabilities, while providing a massively scalable platform for future system enhancements. PG&E will deploy RAVIN as part of its plan to cost-effectively extend the useful life of its existing communications technologies and support operators with unified communications functionality, interoperability and mobility. Once implemented, PG&E will be able to interoperate seamlessly with guest support organizations, regardless of their native communications device, application and network requirements.
PG&E, like many utility companies, has a communications infrastructure using both trunk and conventional radio mixed with cellular and push-to-talk services. While these services are widely deployed, they often still don't provide full geographic coverage. And if a costly rip and replace is not feasible, then utility companies are in a quandary about how to support their operations and emergency response teams in future years. The solution for PG&E, built on open standards, enables the company to continue to use its existing systems, hardware infrastructure and end-user devices.
"Outages can happen at a moment's notice and scale to large proportions if not handled quickly and in the most effective manner possible," said Tim Willoughby, managing partner of NICS. "To further complicate this issue, utilities must collaborate with other private and government organizations with varying equipment simultaneously to make the most informed decisions. For these reasons, closed–or proprietary systems–simply don't meet the needs of today's utility businesses."
Reducing Points of Failure
Another key consideration for utility companies seeking to deploy an interoperable system for better emergency response is choosing a solution with a distributed versus a centralized architecture.
With a distributed solution, data is collected on the "edge" of the IP network and the various radio communication channels and telephony services are brought into the network in a widely distributed fashion. With communications running on a resilient IP network accessible via Web-based applications, operators have access from virtually anywhere on the network. If an electrical control operator has to leave the building in the event of a disaster, he/she can continue to perform their same job functions from anywhere with an Internet connection. Without a centralized server there are very few points of failure between the application itself and the resources it is accessing.
In PG&E's deployment, software will enable channel mixing on standard PCs, using a distributed mixing architecture to spread mixing resources out across the network, ensuring higher reliability with no single point of failure. This significantly improves upon proprietary hardware-based solutions that use dedicated Digital Signal Processor (DSP) resources, which increase system cost and risk of failure.
To further enhance security and reliability, some software solutions support advanced AES and custom encryption, with full failover and headless peer-to-peer operation, regardless of device, network or operator failures. Some solutions are designed to instantly recognize system failures and to "self-heal" so communications can continue uninterrupted.
---
About the Author:
James Mustarde is the director of marketing for Twisted Pair Solutions, Inc., provider of software solutions that enable interoperable group communications over an IP network. The company's WAVE software provides real-time, secure connectivity via an unlimited variety of devices using industry standard IP networks as the unifying medium.
---

The PG&E Solution
Part of a multi-year project to consolidate its widely distributed electric control center operations
Offers full communications interoperability across existing systems, hardware infrastructure and end-user devices
Distributed architecture reduces points of failure
Developed by Network Integration and Consulting Services (NICS) of Draper, UT
Utilizes NICS' RAVIN radio and voice interoperability solution powered by WAVE software from Twisted Pair Solutions
Planning Today for Tomorrow
The availability of interoperability software, independent of proprietary platforms, has forever changed the market landscape. Now, utility organizations can seamlessly connect workers cross-company and across varying communications systems, while leveraging existing infrastructure and without deploying any additional hardware. After demonstrating these significant advantages over hardware, software has emerged as the only sensible path to achieving communications interoperability. While hardware industry stakeholders are doing their best to position hardware at the top of the "software vs. hardware" debate, businesses are learning the truth about the fundamental building blocks of interoperability.
Four significant advantages, including flexibility, innovation, reliability and cost advantage, have emerged in the software vs. hardware debate to solidify software as the best approach to enabling communications interoperability.
Flexibility – Interoperability software leverages a standards-based approach to deliver the widest possible breadth of deployment options, suitable for even the most demanding environments. Proprietary hardware deployments lock businesses into a single framework, an unnecessary limitation for any organization.
Innovation – Software can be uniquely paired with an SDK to enable the customizations organizations need to meet unique requirements today, while providing open options for the future. This type of sustainable core architecture is an innovation simply not inherent in yesterday's hardware-based proprietary platforms.
Reliability – The unique distributed computing capabilities of software promise continuous, uninterrupted communications regardless of device, network or operator failure–an essential reliability feature not included in hardware-based systems.
Cost-advantage – Most importantly, software can support industry standard off-the-shelf hardware, minimizing upfront investments and reducing ongoing operational and maintenance costs compared to proprietary hardware solutions.
With these deployment best practices in mind, public utilities such as PG&E and government agencies such as Benton County are deploying new solutions that better support their larger emergency response initiatives. By enabling disparate communications technologies to interoperate, utilities and other support agencies are prepared for quick response in the event of an emergency while enhancing their day-to-day operations. With a clear roadmap for the future based on seamless integration of existing radio, telephony, and IP network infrastructure, leading utility companies are increasing customer satisfaction levels, achieving greater profitability and improving their competitive edge.