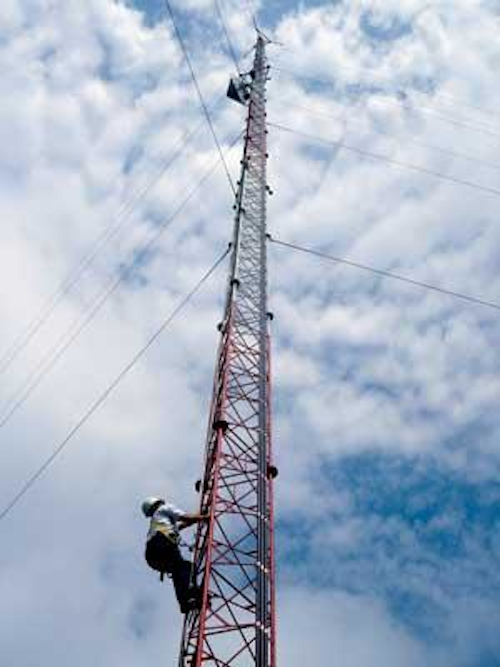 By Nate Bohmbach
There are few work environments more diversified than the utility industry. With multiple applications that require overhead work–tower, pole and ladder climbing; bucket truck and aerial lift work; electrical and transformer work; and plant and facility work–fall hazards are nothing new to utilities professionals. Each of these applications meets a different need in the utility industry, but each application has its own fall protection challenges, especially in overhead work environments. Employers need to prepare to prevent the worst from happening, and part of that preparation includes knowing what fall protection challenges might present themselves and how the challenges can be controlled to get the job done safely. As the old saying goes, 'what goes up must come down'; gravity never takes a break and fall protection equipment is designed to help a worker come down safely from heights.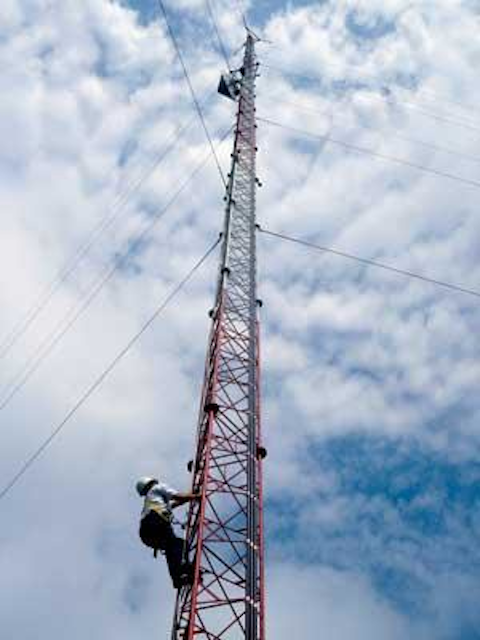 Click here to enlarge image
null
Tower and Pole Climbing
Towers and poles serve multiple purposes, including carrying electrical transmission lines and supporting communications networks. Tower maintenance can require workers to climb and move from one area of a tower to another, increasing the risk of falling. Each year thousands of new towers are erected, and whether workers are climbing to erect the new towers or to complete maintenance work on old towers, factors such as performance, safety, comfort and mobility must be considered when choosing fall protection equipment.
Pole climbing brings its own challenges to workers who commonly maintain light poles and electrical poles. Although most poles are constructed of wood or steel, some are made of concrete. Material is an important factor in proper selection of fall protection equipment. No matter what material the poles are constructed with, though, the work environment can be physically demanding as workers often climb at great heights with minimal equipment and only a few safe areas to stand or rest while getting the job done. It is common for workers on towers and poles to work overhead for extended periods of time, and as there are limited locations to rest, this greatly increases the danger of fatigue.
With both tower and pole maintenance and construction, workers may face the additional challenge of working near electrical transmission lines and always needing to be aware of the minimum air distance available in tight spots around the lines. Arc flashes are a danger in these situations as they can cause a fire, injury and substantial damage. Another challenge is the potential for a fall. Tower and pole rescues need mobile rescuers to deal with all types of overhead emergency situations, especially because time is a crucial part of a successful rescue.
Overcoming these fall protection challenges in tower and pole climbing involves choosing appropriate fall protection equipment. There are three essential pieces in any fall protection equipment "tool box": anchors, harnesses, and connectors. For tower climbing, the choice of anchor depends on whether the work requires vertical mobility or fixed connection. For work requiring vertical mobility, there are three types of anchors to choose from: the ladder safety system, a mobile rope grab or a static wire rope grab. For fixed connection work, consider using a scaffold choker or a tie-off adapter. When choosing a harness, look for comfort, performance and durability. Look for qualities such as padding and soft edging for added comfort during extended periods of wear. Choosing a connector also depends on the mobility level the worker requires. A shock absorbing lanyard or self retracting lifeline with 100 percent tie-off capability provides the most protection in the event of a fall. Use lanyards that expand and contract with the worker's movement to avoid snags.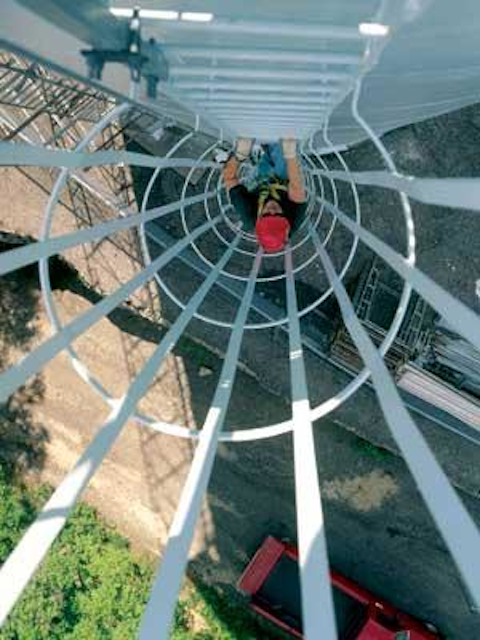 Click here to enlarge image
When choosing an anchorage for pole climbing, assess if a permanent or temporary installation is needed. For poles that will need to be accessed regularly, a permanent installation such as a ladder safety system can easily be attached to the length of the pole allowing the worker to ascend or descend unhindered. For poles requiring infrequent access, a temporary system such as a mobile rope grab may be adequate. When searching for body support, look for a comfortable, user-friendly full body harness with a no-tangle design. When deciding on a connector for pole climbing, several questions must be asked. What kind of anchorage will the worker be connecting to? How much mobility does the worker require? Does the worker require a fixed length or retractable lifeline? When less than six feet of mobility is needed, a shock-absorbing lanyard should be used. For increased mobility, a self retracting lifeline should be used. For climbing a wood pole, consider using a body belt, a pole strap and climbers that are slip-resistant.
Ladder Climbing
Ladder climbing is a major source of injury among utility workers. In most cases, there is no anchoring position, and once a worker gets from point A to point B they may not have a platform from which to conduct work. Ladder cages present a further challenge by giving workers a false sense of security because these outdated systems cannot stop a fall in progress. If a worker loses grip of the ladder while climbing without a backup safety system, the ladder cage will only prevent the worker from falling outward, but it will not prevent a worker from falling down from the cage. A ladder safety system or backup fall protection system for use with a ladder cage are much safer options than a ladder cage alone.
As with pole climbing, when choosing an anchorage for ladder climbing you need to decide if you want a temporary or permanent anchorage. For permanent installation, use a ladder safety system. For temporary installation, select either a mobile rope grab or static wire rope grab. As with any overhead job, a full body harness is essential safety equipment. Factors to consider for any body harness include safety, function and comfort. When making the choice as to which connector to use, consider the level of mobility needed. For less mobility, a shock absorbing lanyard may be sufficient to reduce the impact forces placed on the body in the event of a fall. For greater mobility, a retractable connector such as a self retracting lifeline may be the better choice.
Bucket Truck and Aerial Lift Work
Workers confined to bucket trucks or aerial lifts are not only at risk from falls because they are working overhead, but they are also at risk of being ejected from the bucket or cage. Additionally, there are many hazards associated with working in this environment, including lack of mobility, street or highway collisions, severe weather, and operational differences between trucks and lifts. Arc flashes can also occur when utility workers deal with live wires. Whether the lines are energized will reflect the type of protection required.
Bucket truck and aerial lift work require fall protection equipment that is light, comfortable, mobile and compact, so it does not get in the way while working in tight spaces for lengthy periods of time. An appropriate fall protection system will depend on whether the worker is anchoring inside a bucket or lift or on the boom arm. A boom belt should be used if there is not an anchor provided in the bucket. Most lifts now come standard with an anchorage for a personal fall protection system. If an anchorage is not provided, a D-ring anchorage plate can be bolted or welded onto the lift to provide an anchorage. The right connector depends on the mobility the worker needs. For more than six feet of mobility, a self retracting lifeline should be used. For less than six feet of mobility, use a shock absorbing lanyard that expands and contracts for complete freedom of movement. An arc flash harness and lanyard should be used when utility workers are dealing with live wires and potential explosions. The harness should have no metal above the waist, non-conductive hardware and insulated hardware. Nomex/Kevlar back, shoulder and leg padding as well as PVC-coated webbing provide added protection from arc flash.
Electrical and Transformer Work
Electrical transformers are used to reduce voltage for a variety of day-to-day electrical applications. More than 50 million electrical distribution transformers are located on utility poles and cement pads across the U.S. and Canada. To remain safe while maintaining electrical distribution transformers, workers must understand the various types of energy sources and proper use of lockout-tagout procedures. Contact with or proximity to high voltage electrical systems can cause serious injury, even death. In these situations, it is critical to use extreme caution when working on or near high voltage electrical lines or equipment, particularly when dealing with shock hazards, electric arc hazards, minimum approach distance, electrical conductivity concerns, tight/confined spaces and fall clearance issues. When this type of work takes place in remote areas, equipment should be lightweight, portable and compact for ease in transportation.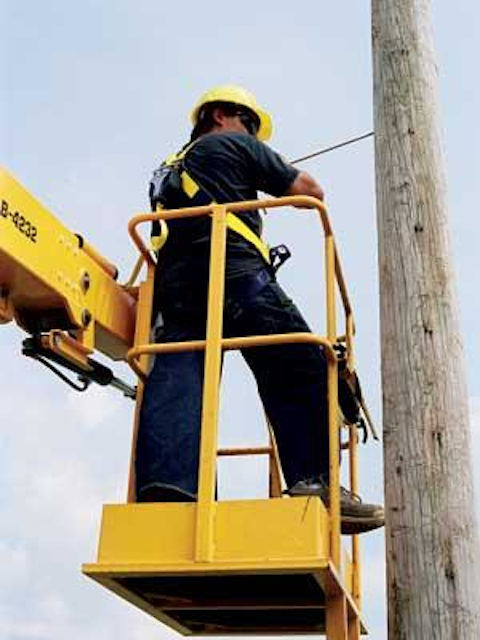 Click here to enlarge image
When choosing an anchor for ground-based work, consider if the work will be performed regularly at the same location. If the connection will be needed on a regular basis, a base-mounted system should be used. A portable fall arrest post that is compact and lightweight with various working heights and independent swiveling anchor points is an ideal selection. These systems can be used with permanent or portable bases for wider use. If work will be performed in multiple locations, a self-supporting system is needed. For worksite versatility, use a hoist system that has a base that adjusts and a pivoting davit. For easy transport, consider a high-strength aluminum tripod that folds and has adjustable legs.
An arc flash rated harness should meet the ASTM F887-05, "Standard Specification for Personal Climbing Equipment." Among other criteria, the specification covers acceptance testing of harnesses used by workers in the climbing of poles, trees, towers, and other structures, and the performance criteria of harnesses for arc flash resistance for workers who may be exposed to thermal hazards of momentary electric arcs or flame.
The application environment will determine the choice of connector. If using a confined space system, connectors will include a winch, self retracting lifeline and an optional accessory called a Y-lanyard. If connected to a fixed anchor point, a self retracting lifeline or shock absorbing lanyard should be used.
Plant and Facility Work
Whether employed in large-scale factories, treatment plants or generation stations, workers face many safety challenges in maintenance, overhaul, outages and general repair projects. Maintenance and general contractors work in versatile environments, facing different challenges each day. Workers might find themselves on tanks, ladders, platforms, rooftops, scaffolding or girders. In these circumstances, fall protection needs to accommodate holes in walking or working surfaces, poorly secured ladders, faulty scaffolds, untidy or congested work areas, obstructed walkways and slippery floors, among other potentially dangerous situations.
To meet these fall protection challenges in plant and facility work, and to adapt to the various applications, fall protection must be mobile, lightweight, portable and modular. For a permanent anchorage that stays on the structure, use a D-ring anchorage plate or concrete D-ring anchor. For temporary anchorage, a tie-off adaptor, door jamb anchor, fixed beam anchor or horizontal lifeline system provide safety and versatility. A full body harness that provides comfort, performance and durability should be connected to a self retracting lifeline for more worker mobility or a shock absorbing lanyard in environments where less mobility is required.
Safety Above All Else
Worker safety is the top concern when choosing fall protection equipment while working overhead in any industry. With multiple applications and duties, the utility industry has one of the most diversified work environments. Fall hazards are a daily occurrence for utilities professionals. Companies need to be aware of the fall protection challenges their workers face and be knowledgeable in providing the correct fall protection equipment for each specific job. After all, 'what goes up must come down,' so prepare to make it happen safely.
---
About the Author:
Nate Bohmbach is the North American product manager of softgoods for Capital Safety, designer and manufacturer of height safety and fall protection equipment and home of the DBI-SALA and PROTECTA brands, in Red Wing, Minnesota.