Vehicles & Accessories
Jul 1st, 2008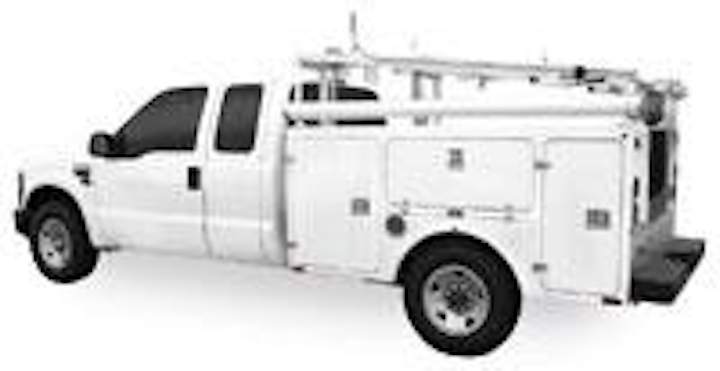 BrandFX Light Weight, Fuel Efficient, Service Bodies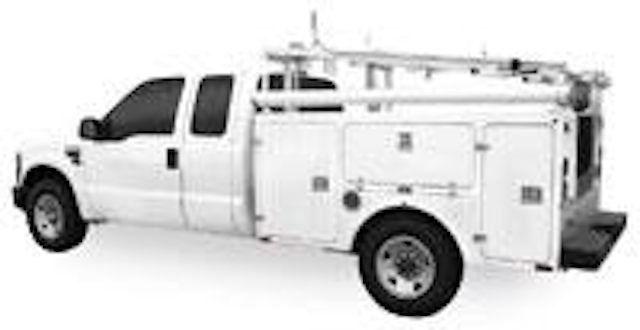 Click here to enlarge image
BrandFX composite utility & service bodies fit chassis with a cab to axle of 39" to 84". These composite bodies offer a powerful return on investment with 40% weight savings over an equivalent steel body. In a recent study comparing a Ford F-350 with a 1000-pound composite body with a Ford 350 and a 1500-pound steel body, the heavier body was found to have an increased emissions penalty of 52%, used 2.6% more fuel, and required more frequent maintenance of tires, brakes, and shocks. Many fleets re-use composite bodies, transferring them over two or three chassis life cycles, while averaging resale values of 35 to 50% more than steel. That is a powerful return on investment. Standard features include all stainless steel hardware, rust free composite construction, air-tight/water-tight ventilated compartments, tough .25 ml. gel coat exterior, and PVC high-density foam core.
Lightweight Toppers & Inserts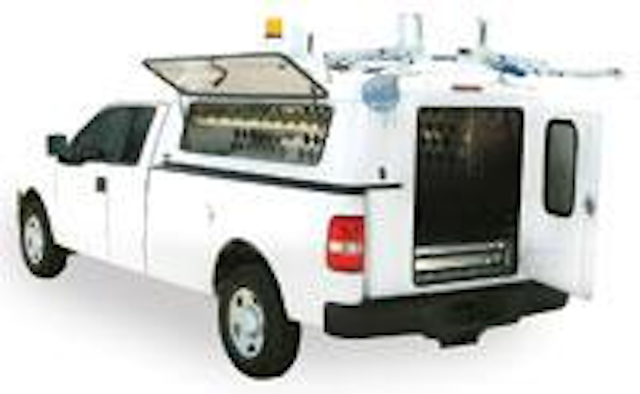 Click here to enlarge image
Versatile, practical, affordable BrandFX Toppers and Inserts are designed for easy removal and are available for all popular Chevrolet, Dodge, Ford, and GMC pickup models in both 6.5' and 8' beds. Composite offers equivalent strength and durability while weighing considerably less than steel or aluminum, which means less fuel consumed in every mile of operation, or the ability to haul more tools and equipment. Composite construction also provides worry-free, rust-free performance and fiberglass has the flexibility to absorb impacts that routinely dent metal. What's more, BrandFX Toppers and Inserts won't warp or weaken from fatigue, and thanks to their tough .25 ml. gel coat, don't need repainting. BrandFX Toppers and Inserts offer shelving, drawer, cabinet, and lighting options to make your truck a more productive mobile storage space and workplace.
Line Bodies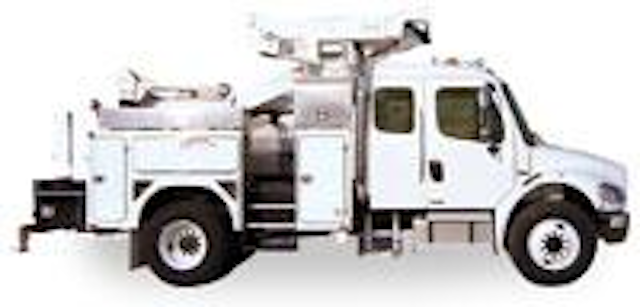 Click here to enlarge image
BrandFX offers six basic composite line body models ranging from 60" cab to axle to custom Tandem configurations with a 48" tall pack. BrandFX line bodies offer versatile storage locations, configurations, and a complete line of options with turnkey up-fitting available. The up-fitting facilities offer drop ship and driveway services, from Texas, Florida, Iowa, Indiana, Minnesota, and Oregon. BrandFX brings over 20 years of experience into building line bodies equipped to facilitate the daily needs of most utility applications.
BrandFX
www.brandfxbody.com
---
Rogue Engineering Launches National Product Line of Charge Controllers: The Rhino Product Line Comes Charging In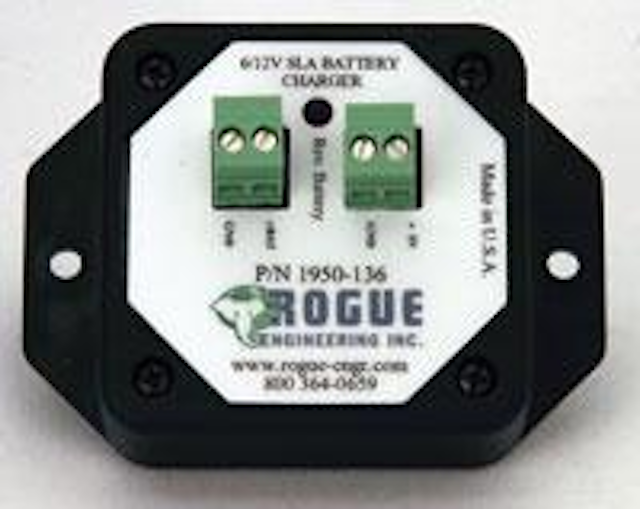 Click here to enlarge image
The Rhino, manufactured by Rogue Engineering, is a product line of 6-12volt 5amp solar charge controllers. Consuming only 400 micro amps, the Rhino provides optimal battery performance. The Rhino can be powered by a solar panel or an AC adaptor for either on- or off-grid systems. The Rhino product line is one of the only 5 amp controller lines to offer "3 stage" charging. The Rhino also features liner charging, pluggable connectors, Urethane encapsulation all in a small convenient size.
Rogue Engineering
www.rogueengineering.com
---
Ground Protection Mats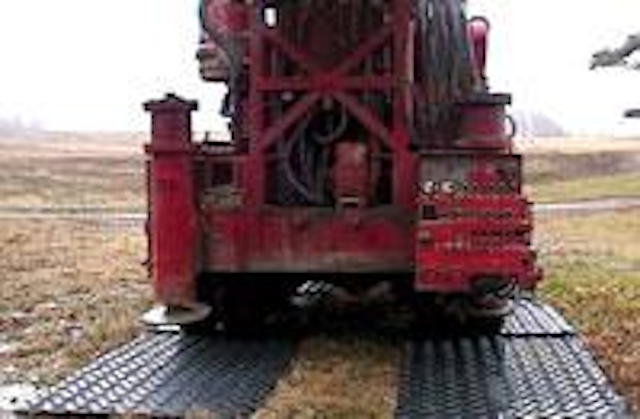 Click here to enlarge image
Alturnamats Ground Protection Mats virtually eliminate ground restoration costs. Identified as the original black mats, Alturnamats are made of 1/2" thick 100% recycled polyethylene, can withstand 60 ton loads, are available in sizes ranging up to 4' x 8' and are guaranteed for a full six years. The mats feature a bold diamond plate tread design for maximum traction. Also the mats virtually eliminate getting stuck in mud. Alturnamats are the perfect replacement for plywood which warps, splinters, and becomes waterlogged. New Turn-a-Links lock the mats together creating a continuous roadway or a large working platform.

Also, Alturnamats introduces VersaMats designed for foot traffic and where both vehicle and foot traffic are factors. VersaMats feature a flat, slip resistant tread that is safe to walk on without fear of turning an ankle. They are ideal for utilities where lawns can be torn up during repair operations.

Mobile Matt has been acquired by Alturnamats, providing three different mats. Mobile Matts are lighter in weight and feature a bold "M" tread design.
Alturnamats
www.alturnamats.com
---
Model 200 Series Track Conversion System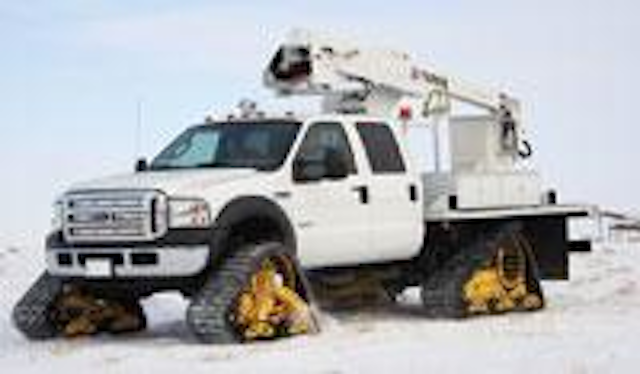 Click here to enlarge image
Mattracks' Model 200 series track conversion system adds versatility to this aerial device based on a 4X4 F550 chassis. When worksite access is critical, Mattracks offer a huge advantage in all-seasons, in all types of terrain and under the worst traveling conditions. The efficient 18" wide rubber track provides great traction and low ground pressure.
MATTRACKS
www.mattracks.com
---
Class I LED Vehicle Safety Strobe Light with Replaceable LED Lamp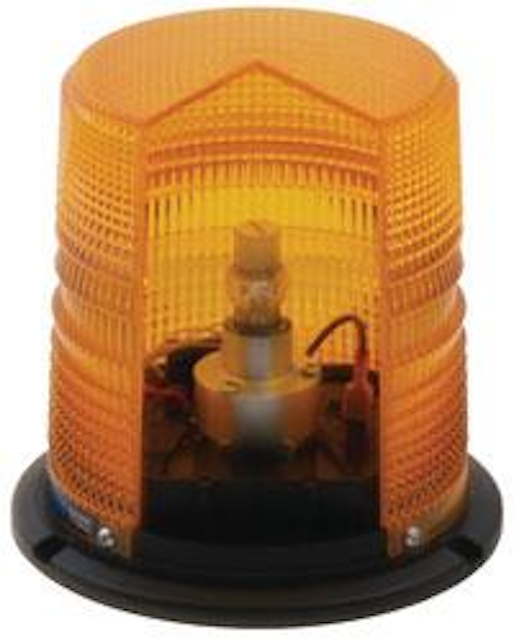 Click here to enlarge image
Now there is a Class I LED Strobe Light with a replaceable lamp. Superior Signals' Meteorlite SY22050 is a Class I heavy duty potted strobe with a high intensity LED source. Available in high or low profiles with permanent or magnetic mounts. The magnetic mount models include a lighted on/off rocker switch.

The SY22050 has 24 LEDs per head and up to 11 built-in selectable flash patterns. Constructed with a durable polycarbonate lens and aluminum base, the strobe light carries a 5-year limited warranty. Colors available are amber, blue, or red all with easy-to-replace LED lamps. The SY22050 operates at 12 – 48 voc with a maximum amp draw of .8 at 12 voc.
X Series High Intensity LED Vehicle Safety Mini Bars

Click here to enlarge image
Superior Signals continues to expand their Meteorlite X Series product line with the introduction of the new SYLEDX High Intensity LED Mini Bar.

Designed primarily for vehicles requiring a low profile, high intensity light source, the SYLEDX Mini Bar is available in either a permanent or vacuum magnetic mount. Both versions have a compact low profile design, super wide angle optics, and are capable of up to 26 built-in selectable flash patterns. The housings are manufactured in durable polycarbonate plastic with amber or clear lenses and 8 heads. The 40 LEDs are available in amber, clear, or red/blue depending on the model chosen. The 12 VDC units draw a maximum of 4.5 amps and meet SAE J575 & J845 specifications. Both models carry a 5-year limited warranty.
High Intensity LED Remote Strobe System with Encapsulated Power Supply Now Available in Surface Mount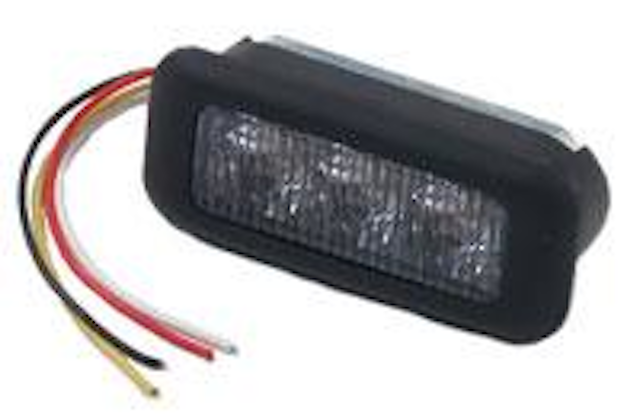 Click here to enlarge image
A grommet style kit is now available for Superior Signals' Meteorlite SYLED03 high intensity LED module safety light allowing it to be surface mounted. The SYLED03 has an encapsulated power supply eliminating the need for external power supply and is sealed to keep out moisture, making it suitable for interior or exterior use. Its simple two wire hook-up reduces installation time.

The SYLED03 has three high intensity single watt LEDs and up to 12 built-in selectable warning modes; colors available are amber, blue, clear and red. The unit meets SAE J1318 specifications, with 12-24 VDC and a 75± Quint FPM flash rate, and carries a 5-year limited warranty.
Superior Signals
www.superiorsignals.com
---
418 Compact Excavator Works Where Space is Limited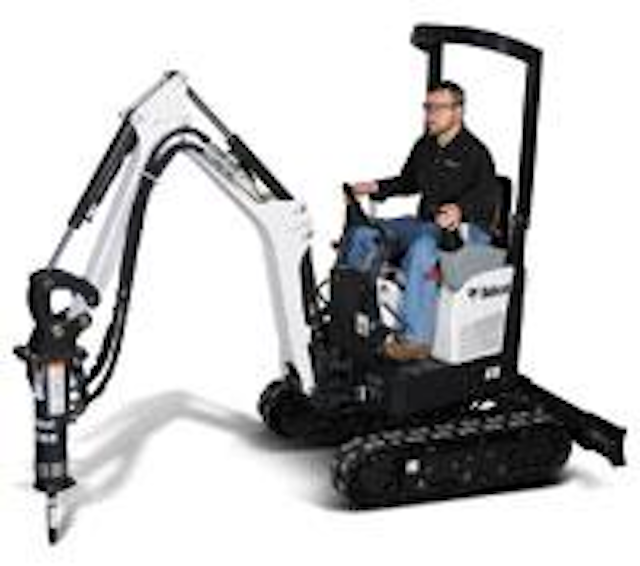 Click here to enlarge image
Bobcat introduces the 418 compact excavator, which replaces the model 316. The Bobcat 418 excavator has an operating weight of 2,593 lbs and a dig depth of 6'. The 418 excavator was developed with zero tail swing (ZTS) with tracks extended.

Pilot-operated joysticks control the 418 excavator. With these joysticks, the operator has consistent, smooth and fluid control of the machine. The operator may also choose between ISO and standard pattern joystick operation through a control pattern selector valve.

Bobcat has given operators more room by creating an exclusive two-position joystick console. The undercarriage of the excavator retracts to less than 28". The Tip-Over Protective Structure (TOPS) folds down so that the excavator can travel through a standard-size doorway and work in interior jobsites.

Two travel speeds are available to operators with a range of 1.3 to 2.1 miles per hour. The hydraulic cylinder is mounted on top of the boom to prevent the cylinder from coming into contact with the trench, bucket or nearby obstacles. The hoses on the 418 excavator have been routed through the inside of the work group to protect them from damage.
S70 Skid-Steer Loader Works Easily in Tight Jobsites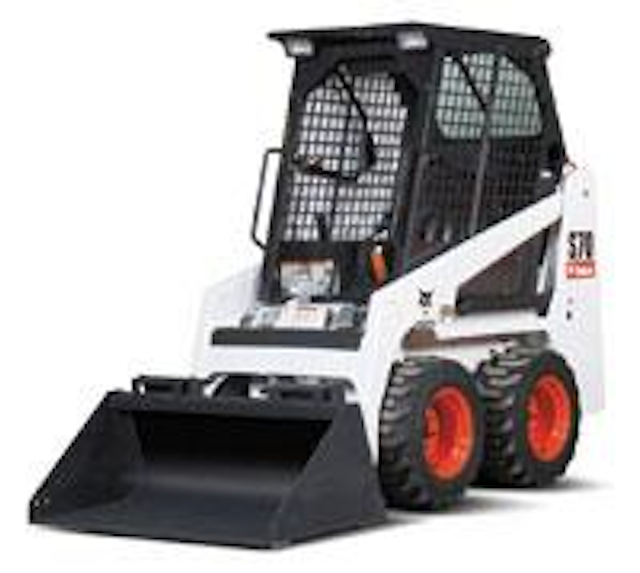 Click here to enlarge image
Bobcat Company introduces the S70, the smallest model in the company's line of skid-steer loaders. The Bobcat S70 replaces the model 463 and is 71.4"H, 35.4"W and 75.5"L without an attachment.

The S70 has a rated operating capacity of 700 lbs and is powered by a 23.5-hp diesel engine that powers a fully hydrostatic, four-wheel drive system with a travel speed of 6.1 mph. With an operating weight of 2,845 lbs, the S70 is also easy to transport.

The S70 incorporates new features, including an updated engine mount, hydrostatic pump centering and belt drive system. The new engine mount reduces vibration in the machine for greater operator comfort. The new hydrostatic pump centering is based on a similar setup in Bobcat mini track loaders and uses a tension spring instead of a torsion spring. A micro, serpentine-style V belt is used in the new belt tensioner system.

The indicator lights for the Bobcat Interlock Control System (BICS) have been moved from the rear of the cab to the right-hand instrument panel. The S70 includes the Bob-Tach attachment system and a 14-pin attachment control kit.

The S70 has a transversely mounted engine and a tip-up cab for easier access when the machine needs to be serviced. The center-mounted, maintenance-free chaincase allows the S70 to travel through deep mud and other areas more easily because of its keel-shaped belly pan.
Bobcat Company
www.bobcat.com
---
60-CFM Hydraulic-Drive Air Compressor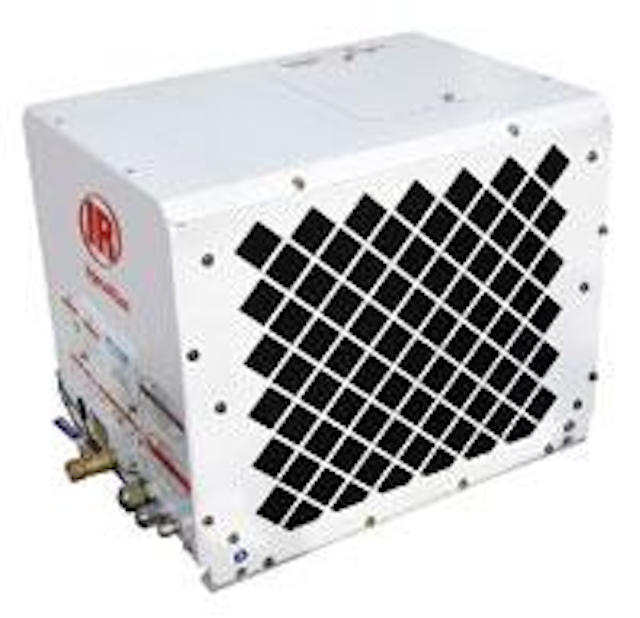 Click here to enlarge image
Doosan Infracore Portable Power offers a new hydraulic-drive, truck-mounted air compressor module. The Ingersoll Rand HP60CMH is a rotary-screw air compressor unit that delivers free air up to 60-cfm at a rated operating pressure of 150 lbs psi.

Powered by the hydraulic system on the truck, the HP60CMH requires only 18.1 gallons per minute of hydraulic flow at 2,295 psi hydraulic pressure to maintain full load. The air compressor is rugged, durable and designed for 100% continuous-duty operation.

Maintenance is made easy with conveniently located service panels to let operators reach the most important components of the system. A remote compressor oil drain, a no-spill, spin-on separator element and an easily accessible oil filter simplify changing the compressor oil. The HP60CMH provides an air / oil separation system integrally designed into it.

This system has a built-in hydraulic oil cooler. There is a hydraulic pressure relief valve incorporated into the unit to prevent system damage should a spike in hydraulic pressure occur. The hydraulic motor is equipped with an electronic solenoid valve. Other equipment can be operated off of the same hydraulic circuit without running the air compressor.
Doosan Infracore Portable Power
www.doosanportablepower.com
---
New! MD-100 Service Body Mounted Coring Truck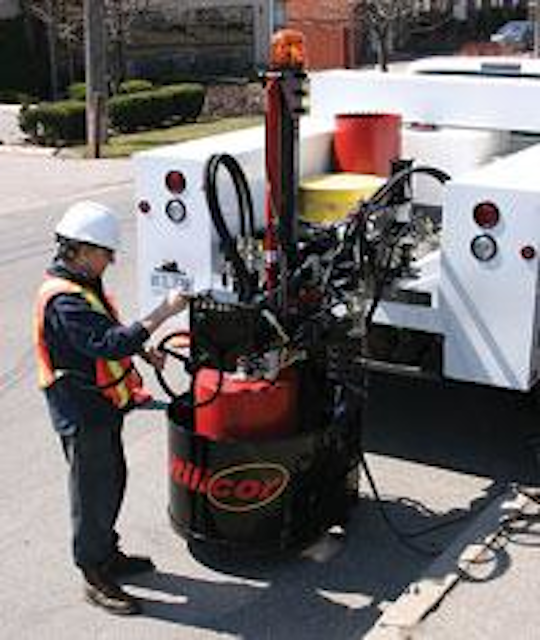 Click here to enlarge image
The unique Traversacor core-zone extension system of the Utilicor MD-100 coring truck allows the core drill to extend up to 28" out from the deck and travel from the curb to more than halfway across the width of the truck, giving you the flexibility to core anywhere within the 11 sq-ft. area behind the truck without repositioning the vehicle. Three hydraulic stabilizers adjust to ensure rock solid and dead accurate coring results, and the utility body provides more than 65 cu. ft of lockable tool and equipment storage making this new addition to Utilicor's fleet of coring equipment a must-have for both utilities and their contractors alike. When combined with Utilicor's Utilibond Permanent Pavement Bonding Compound, keyhole technology has never been easier.
Utilicor
www.utilicor.com
---
Rip Your Way Through the Most Demanding Utility Line Clearing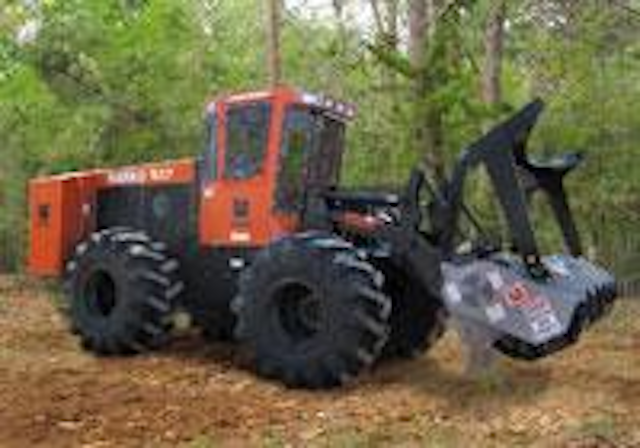 Click here to enlarge image
The Barko 937 Industrial tractors were built to rip their way through the most demanding utility line clearing and right-of-way land clearing. Equipped with a highly maneuverable carrier built to withstand extreme stress and tough terrain, these tractors are ideal for large commercial and municipal applications. With enhanced hydraulic horsepower, more standard features and higher quality components, the 937 delivers the results you expect every time.
Barko 640 Industrial Crawlers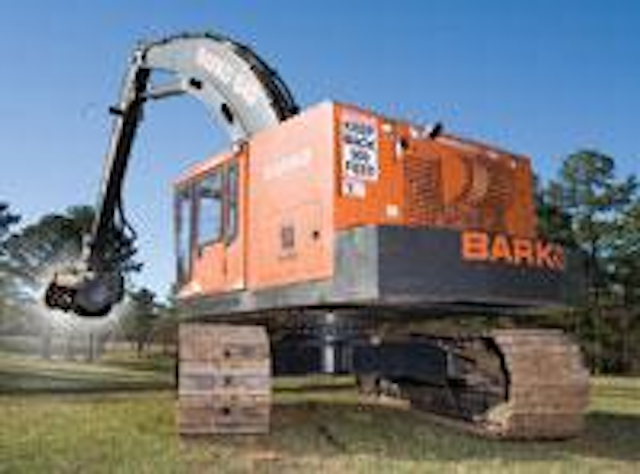 Click here to enlarge image
With its crawler and boom reach, the Barko 640 Industrial Tractor works anywhere you want it to — sloped, uneven, swampy, up hills, down hills, river banks, around utility line runs, highway right-of-ways and anywhere else rubber-tired machines can't go. And, the 640 is electronically controlled (as opposed to hydraulic) giving you superior machine controllability and added features. It provides fuel efficiency, increased work productivity, and the low total cost of operation. Equipped with more standard features and higher quality components than its competitors, the Barko 640 Industrial Crawler lasts longer, performs harder, and delivers the results you expect, all while using less fuel and providing more comfort.
Barko
www.barko.com
---
Dock for Motion Computing F5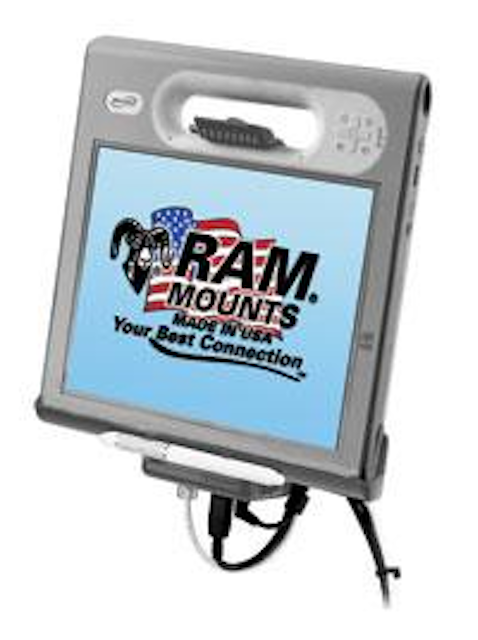 Click here to enlarge image
Sleek and purposeful in design, this dock is minimal in size but feature-packed so users get the most out of their tablet. Large radius edges help prevent injury or damage to people or other equipment. Incorporating a patent pending roller design into the cradle provides easy insertion and removal from the dock. An integrated cable securing feature prevents jacks from being accidentally pulled and keeps cables organized. The ports include (3) USB 2.0, (1) RJ-45 Lan Connector, (1) Power Input and (1) VGA Output. The RAM-HOL-MOT9P is compatible with over 2,000 different RAM mounting components making it a perfect fit for any vehicle or work environment.
G-Dock for GETAC B300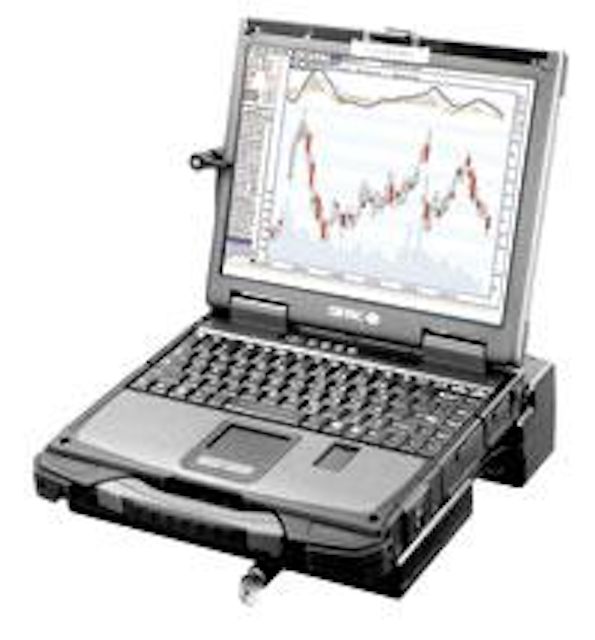 Click here to enlarge image
The RAM G-Dock is available in high strength composite and marine grade aluminum. This dock offers full powering capabilities, port replication, tamper proof lock, and integrated screen support. Internal and external hex pockets eliminate machining making a stronger unit. Integrated cable management features prevent jacks from getting accidentally pulled and keep cables organized. Also, with user safety in mind, large radius edges prevent injury or damage to persons or equipment. The RAM G-Dock is compatible with over 2,000 different RAM mounting components, making it a perfect fit for any vehicle or work environment.
Dock for Symbol-Motorola MC70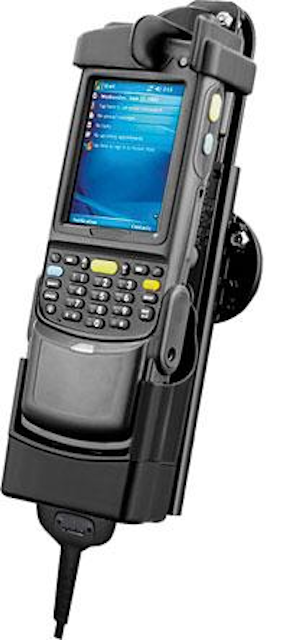 Click here to enlarge image
In designing the MC70 dock, every detail was given the utmost attention, thus creating a spring loaded composite powered dock tough enough for real world use. The internal radius provides strength, good feel, and overall appearance to this dynamic product. Holding the MC70 much like a human hand, the spring loaded feature keeps a firm yet comfortable grip on the device. Easy to dock and remove, this holder is a smart way to mount the MC70. It includes DB9, RS232 and USB ports and comes with a 12 Volt plug and open wire for powering options. This RAM dock is compatible with over 2,000 different RAM mounting components making it a perfect fit for any vehicle or work environment.
RAM
www.ram-mount.com
---
7160 Series – Reflex LED Beacon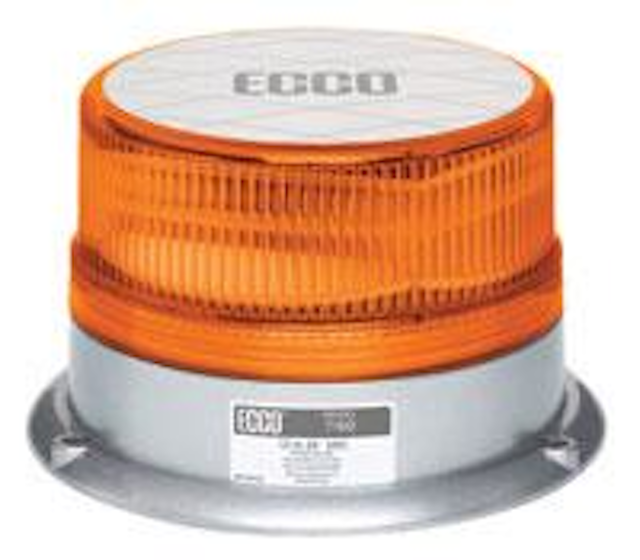 Click here to enlarge image
An exciting new LED beacon is available from ECCO, the specialists in vehicle warning equipment. ECCO is introducing the 7160 Series — Reflex LED beacon, answering the need for an LED warning solution offering premium features and high-intensity light output.

The latest high intensity LEDs combined with reflector technology produce a powerful, SAE Class I/California Title 13, warning signal in a light that offers 13 flash patterns, hi/lo intensity control and synchronization capability. The 7160 Series is backed by a 5 year warranty.
New LED Directional Lights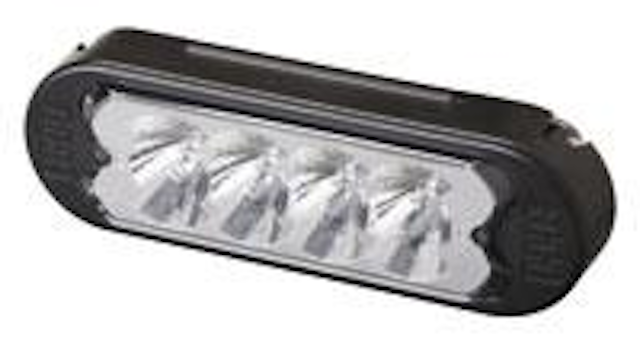 Click here to enlarge image
ECCO has introduced a new 3760 model to the popular line of the 3700 Series LED directional lights. With a grommet mount configuration this model is ideal for in-body, utility truck type applications featuring four 1-watt LEDs, 11 flash patterns, synchronization capability, and SAE Class I operation.

The 3760 Series uses side-emitting LEDs and a unique reflector design to provide outstanding light output. This model also has the added benefit of two California Title 13 approved flash patterns. The 3760 Series comes with a 5-year warranty.
ECCO
www.eccolink.com
---
Wireless Power for the Mobile Workspace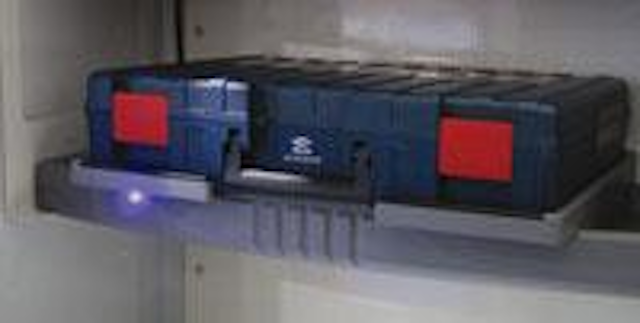 Click here to enlarge image
Leggett & Platt Commercial Vehicle Products enhances the mobile workspace with its use of eCoupled technology. Leggett's innovative use of wireless power transforms ordinary work and storage surfaces into wireless charging stations and eliminates the need for cords and battery chargers in the mobile workspace. Its convenience and versatility simplifies on-the-road charging maintenance for a variety of electronic devices, from cell phones to laptops.

Wireless power uses inductive coupling to transfer energy from Leggett's charging surfaces to any eCoupled-compatible device. Leggett's eCoupled-equipped vehicles will hit the market in 2009.
Leggett & Platt Commercial Vehicle Products
www.leggettcvp.com
---
All New SAF-OR Pads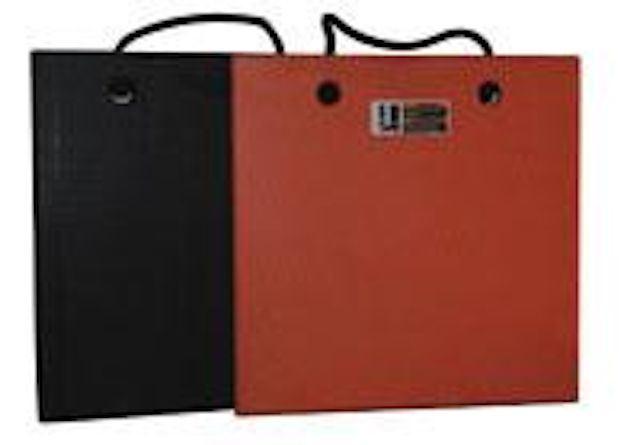 Click here to enlarge image
Bigfoot announces the all new SAFETY ORANGE Outrigger Pad, available in stock and custom sizes. These plastic pads offer you high visibility and, as with all Bigfoot Plastic Pads, carry a lifetime guarantee.

The Safety Orange offers a visual warning to keep clear. This special blend of UHMW plastic is UV stable. Bigfoot offers a full line of Outrigger Pads.
Bigfoot
www.outriggerpads.com
---
New Line of Field Service Lube Trucks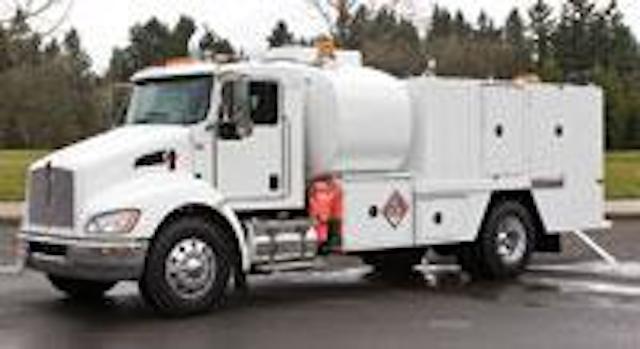 Click here to enlarge image
Auto Crane Company is pleased to introduce its line of four new field service lube trucks. The lube truck's larger capacity and fluid reservoirs make it ideal for larger worksites with greater demands. It can be configured to carry diesel, which is particularly appealing as its sole purpose is to conduct preventive maintenance on equipment, or refueling.

The field service lube trucks are available in single-axle and tandem-axle models, and come standard with a full two-year warranty.
Full Line of Articulating Cranes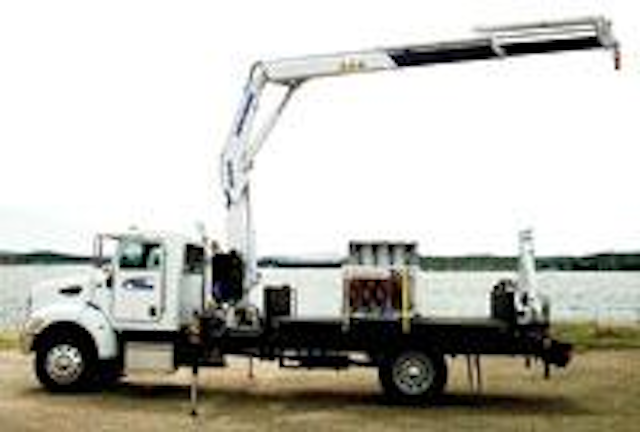 Click here to enlarge image
The controls on each side of the new Auto Crane articulating crane are identical in their positioning — the operator's right hand controls the same function from either the driver's or the passenger side. Features include:
Lift capacity ranges from 31,800 to 332,700 ft/lbs.;
Designed for use where space is at a premium, allowing for more flexibility in small spaces;
Constructed of high-tensile-strength steel, providing for a lighter, more compact crane, improving payload capacity of the truck carrying the cranes;
Come standard with a full two-year warranty; and
Designed for a variety of industries.
Auto Crane
www.autocrane.com
---
New Products and Improvements for '08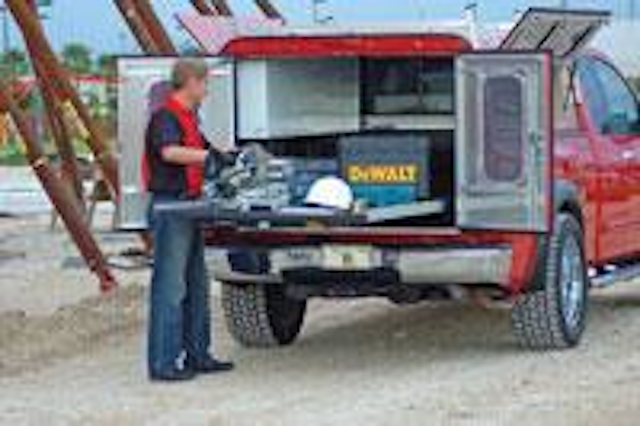 Click here to enlarge image
Bedslide has many new additions coming in '08 including their new and easy-to-use handle, and improvements to the contractor grade, including increased weight capacity of 1800lb.

Improvements have also been made to their WeatherDeck model. All models are powder coated and come with a 5-year no-hassle warranty.

The Bedslide product is unique in that it makes the entire service body, pickup or van bed accessible as well as dramatically improves worker safety as they no longer have to reach or crawl into the truck to get tools or supplies.
Bedslide
www.bedslide.com
---
New Options in Compartment Lighting and Cargo Hauling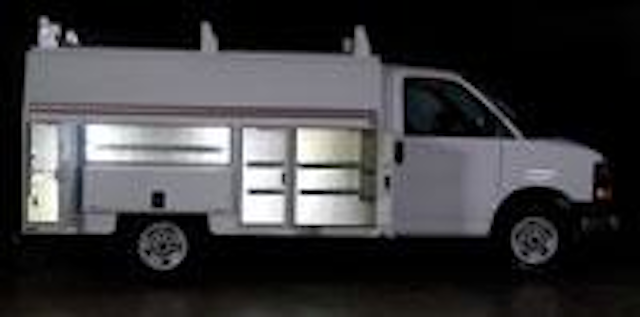 Click here to enlarge image
The Knapheide Manufacturing Company offers new options in compartment lighting and cargo hauling for the Service Body and KUV product lines.

LED Compartment Lighting is the new must-have option for working in low- and no-light environments. Installed in the exterior compartments, they are designed to illuminate the full compartment from top to bottom. Superior to incandescent lighting, LED lights are shock- and vibration-resistant and have a longer lifespan. The lights include door-activated switches that turn the lights on when opened and off after closing the door.

The new Cargo Management System has an aluminum track that mounts into the cargo area and features easy to reposition attachments with a 350 lb load capacity. Attachment options include D-ring tie downs as well as application specific attachments to secure item such as bottle gas, ladders and hoses.

The Knapheide Manufacturing Company is a full-service commercial vehicle body manufacturer.
The Knapheide Manufacturing Company
www.knapheide.com
---
The Wired Stryker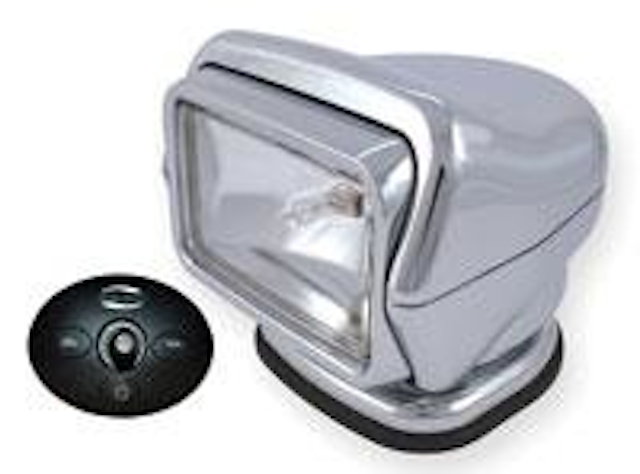 Click here to enlarge image
Golight proudly announces the release of the Wired Stryker. The new Stryker will combine all of the exceptional features of the original wireless model, including 370° rotation with 135° tilt, patented beam technology, and an unprecedented 5-year warranty, with a hardwired dash-mount control.

The new dash-mounted control features a sleek design with a backlit display and, for those who appreciate the intuitive feel, a joystick interface. The new Stryker also features an easy-to-install wiring harness with simple plug and play connectors. Built to marine standards, the new wiring harness is engineered to withstand the rigors of the harshest elements.
Golight Inc.
www.golight.com
---
Wildcat Series 80K Winch Designed for Demanding Applications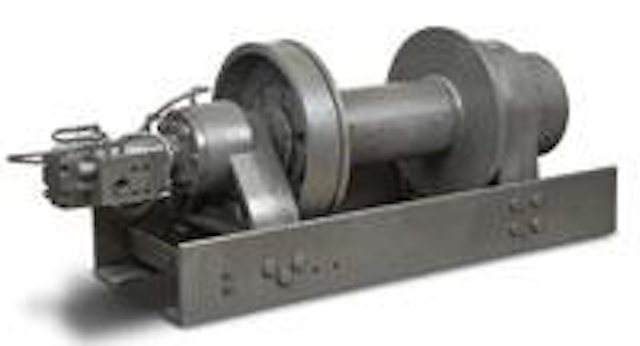 Click here to enlarge image
Ramsey Winch Company, experts in winching, are pleased to introduce the first winch in a powerful new series, the Wildcat Series 80K Oilfield Winch. The Ramsey Wildcat 80K sets the performance standard for oilfield winches with a stalwart planetary gear set providing 80,000 lbs line pull capacity. The exceptional pulling power, load handling control, and reliability of the Wildcat Series 80K Winch will allow for effortless loading and unloading of equipment. Proudly made in the U.S.A, you can be sure Ramsey's Wildcat Series winches will provide reliable service pull after pull. Over the course of the next few months the Wildcat Series will grow to include 50K, 60K, 80K, and 130K capacities.

Turning the gears of Wildcat 80K winch is a large displacement two speed motor.

The high speed gear has an astounding 60'/min with a 30,075 line pull capacity on the first layer of cable. The low speed provides a rapid 30'/min with an 80,000 lb capacity on the first layer of cable. The Wildcat 80K has a maximum flow of 60 gallons per minute and working pressure of 2500 PSI at 80,000 lbs line pull. An oilfield-proven free spool clutch allows for the rapid unspooling of cable. Additionally, the symmetrical design of the Wildcat 80K winch offers a streamline mounting system, while the spring applied hydraulic released brake provides excellent load holding control.
Ramsey Winch Company
www.ramsey.com
---
New WEATHER GUARD Hi-Side Truck Boxes Offer More Security and Durability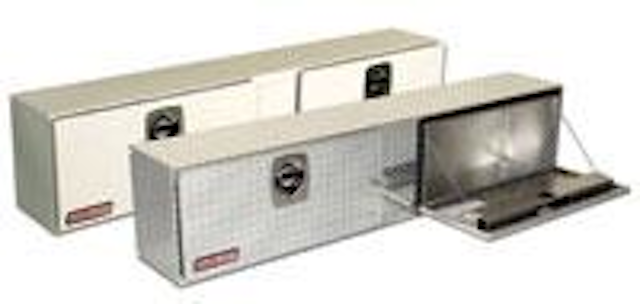 Click here to enlarge image
Knaack LLC's new WEATHER GUARD Hi-Side Truck Boxes provide secure, durable and convenient tool storage above the bed of trucks.

Available in 16 aluminum models and 11 steel models, the Hi-Side truck boxes offer a new three-point latching system that secures each side of the box with a strong seal. A large, stainless-steel D-handle allows for easy opening and locking, even when wearing gloves.

The Hi-Side boxes' picture frame body design has an extra large opening for maximum utilization of storage space and tool accessibility. Sturdy, adjustable legs allow the box mounting points to be customized for maximum bed space.

The doors of the Hi-Side truck boxes can be adjusted from 90° to 180°. Full weather stripping and close tolerance door flanges keep rain, sleet, snow and vandals away from the truck box contents. Full-length staked piano hinges on the doors provide maximum durability and rigidity, and aircraft-rated type cables connect the doors to the full-length reinforcement channel on the truck box body.

The aluminum Hi-Side truck boxes are constructed of heavy-gauge diamond plate aluminum. The steel models are constructed of heavy-gauge steel with aluminum doors and reinforcing channels.
Knaack LLC
www.knaack.com
---
Mobile Desk Fuzion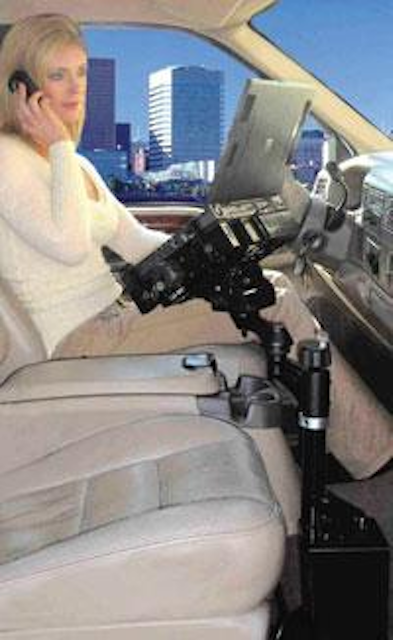 Click here to enlarge image
Looking for a rugged laptop mount with total security? Consider the new Fuzion from MobileDesk.com. The Fuzion features a new rugged design with a superior "Safe and Secure locking top" The Fuzion secures your laptop with a unique locking system and steel reinforced side brackets. Other features include: shock control, locking pedestal, heavy duty clevis, I-beam constructed double articulating arm and a unique brace system that keeps our product stable from top to bottom.
SVP Manufacturing/Mobile Desk East
mobiledesk.com