Hands-Off PQ Monitoring
Increasing access to notebook computers, PDA's, and other portable computing devices for electric utility and industrial maintenance personnel has changed the way power quality instrumentation is used on a daily basis.
Oct 1st, 2008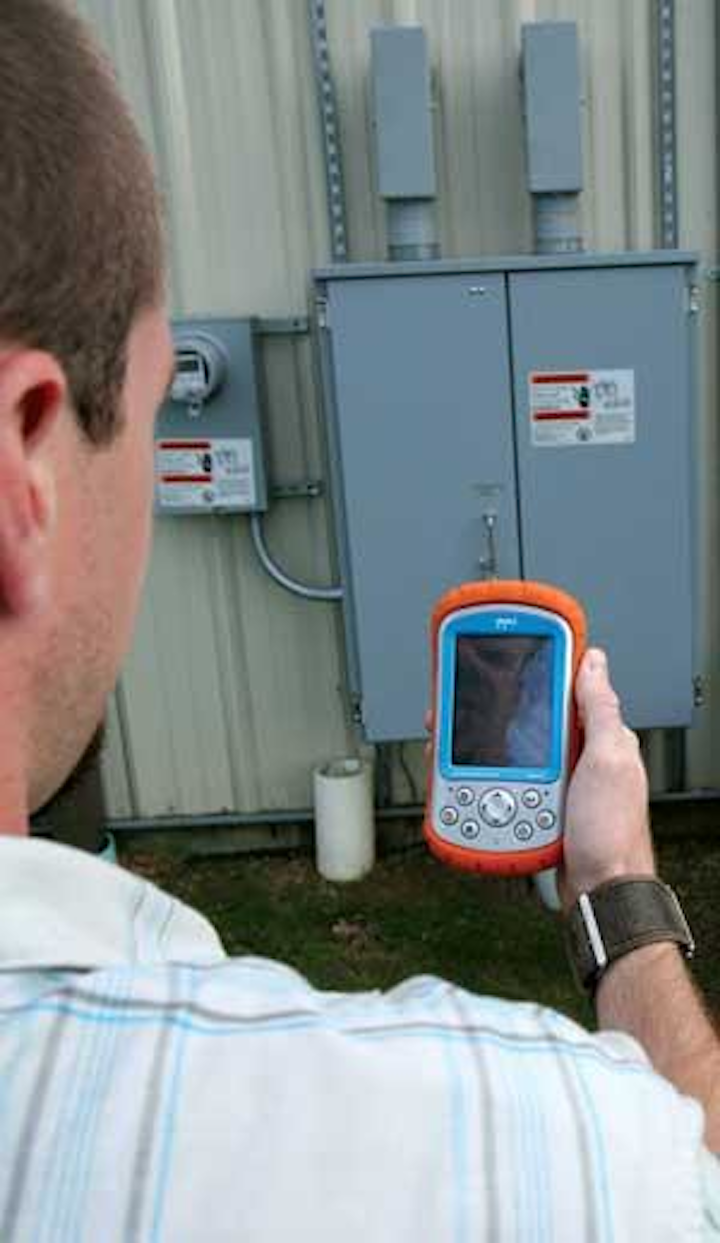 By Glen Shomo
Increasing access to notebook computers, PDA's, and other portable computing devices for electric utility and industrial maintenance personnel has changed the way power quality instrumentation is used on a daily basis. Rapid on-site setup and initialization, downloading of recorded data, and redeployment of recorders is now commonplace. This expanded flexibility has also promoted an increase in hands-on, on-site monitoring of real time waveforms, requiring safety policies and arc flash prevention procedures to be readdressed as users are more frequently exposed to hazardous voltages. Recent advancements in power quality recording instruments address these issues by providing a wireless connection to handheld display and data storage devices, allowing safe power quality monitoring and control without the need for bulky personal protective equipment.
Early PQ Monitoring
The introduction of portable, lower cost power quality monitoring equipment over 20 years ago represented a revolutionary replacement of paper strip chart recorders typically used to document long term voltage variations. Paper records were replaced with solid state storage of measured voltages and currents, allowing the detection and analysis of short duration power line events such as instantaneous sags and swells. While some small, lower to mid-range instruments provided a front panel display of measured values, on-site information was typically limited to periodic averages of rms voltage and current. Recorders were placed at locations of suspected power quality problems, left to accumulate data for some period of time, and then retrieved for data downloading and analysis using a desktop office computer.
In more recent years on-site retrieval of recorded PQ data has become more prevalent as laptops, PDA's, and other portable PC devices become more affordable. Equipping electric utility and other field maintenance crews with portable data collection devices has eliminated the need to return to a central location for PQ recorder downloading and initialization prior to installing the equipment at a new location.
Live Monitoring Risks
The use of laptops, PDA's, and ruggedized field PC's for on-site instrumentation setup, initialization, and data retrieval has produced a more efficient use and deployment of power quality recorders. The ability to quickly select appropriate recorder settings from stored profiles and view recorded data on-site has promoted shorter recording sessions at multiple locations within identified problem areas as a practical and useful approach to locating the source of electric utility disturbances and voltage distortions.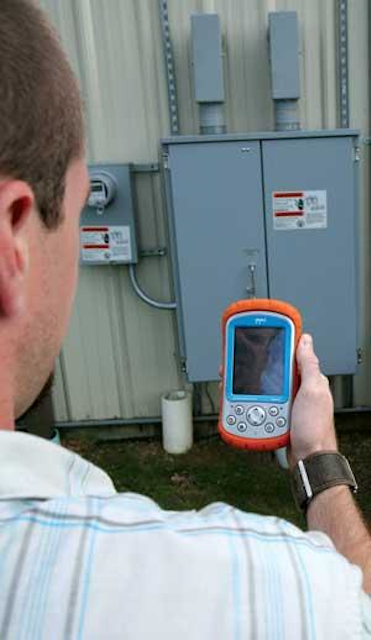 A Ruggedized Field PC is used to wirelessly view real-time power quality monitoring behind the closed doors of a service entrance.
Click here to enlarge image
This expansion in power quality monitoring features and flexibility has produced a corresponding increase in on-site monitoring of real time information. The ability to view a variety of real time displays including voltage and current waveforms, power, individual harmonics, and THD has promoted a more flexible and efficient base for on-site problem analysis and decision making. This expansion in real time information available to the user, however, has produced a corresponding increase in the risks to the safety of the user. Real time viewing of alpha-numeric or graphic displays located on the monitoring instrument typically requires the user to make direct contact with handheld or portable equipment. When monitoring hazardous voltages this requires the use of cumbersome personal protective equipment (PPE) such as insulated gloves and covers, eye protection, OSHA approved clothing, and possibly an arc flash suit to protect the user from the risk of electric shock and possible arc flash events. Using laptops or other portable computers as the real time display device can partially separate the user from hazardous voltages, but the direct connection of an RS232 or USB cable to the monitoring equipment still presents a degree of risk to the user. Voltage leads and communications cables used with hazardous voltage monitoring equipment must be regularly inspected for damage to the insulation that can result from the harsh and abusive environment associated with outdoor use. Normal wear and tear can produce damage to the outer insulating jacket of voltage leads and serial cables. Even tougher insulating materials such as those made from rubber compounds and polyurethane can eventually be cut, pinched in vehicle doors, or punctured when crushed between a hard-soled work boot and roadside gravel. Openings in the insulation from sharp cuts, for example, can spread when flexed during installation. Exposed wires on voltage measurement leads or communications cables can contact hazardous voltages on adjacent conductors creating faults and resulting arc flash events, or energize equipment being held by the operator to dangerous potentials.
Wireless Solutions
One particular advancement in power quality monitoring that has improved user safety during on-site monitoring and data collection is the integration of various wireless technologies in the instruments. A wireless connection between the monitoring equipment and a laptop or handheld display device eliminates the need for user contact with the instrument and hard-wired serial communications cables. Once the monitoring instrument is installed the wireless connection provides a safe conduit for viewing power quality information at a distance outside arc flash protection boundaries without the need for bulky personal protective equipment (PPE).
Bluetooth wireless technology, available for the past several years in some power quality instruments, provides a small, low power consumption solution for compact, lightweight instruments. The first to be introduced were Version 1.1 compliant, Class 2 devices, with a data transfer rate of 720kbps and an output power level of 2.5mW (+4dBm). While Class 2 devices are rated for practical line-of-sight operating ranges of only 30-50 feet, in practice the output power is sufficient to achieve successful wireless connections at walk-up distances with a power quality recorder installed inside most metallic enclosures such as meter bases, switchgear, and breaker panels. This is primarily due to the small quarter-wavelength (about 1.2 inches) of the 2.4GHz Bluetooth wireless operating frequency, allowing the signal to radiate from unshielded conductors, small openings, and the imperfect interface between the enclosure and a lid, panel, or door.
Wireless connections to power quality recorders have been further enhanced by the more recent introduction of higher power Class 1 Bluetooth wireless modules, with an output power of 100mW (+20dBm) and operating ranges up to 300 feet. These modules incorporate the Enhanced Data Rate (EDR) of Bluetooth Version 2.0 which provides a data transfer rate of 2.1Mbps, three times faster than the Class 1 modules.
A WiFi configured power quality instrument adds an additional dimension to remote monitoring and data retrieval via a local network or over the internet. PQ engineers can remotely view real time voltage and current waveforms, check power factor and THD trends, and schedule system status queries. More efficient monitoring and centralized information retrieval can be implemented to continuously assess system performance, allow easier location of outages, and provide faster response to system problems.
The introduction of a 153kbps CDMA cellular modem option provides an additional means of remote access to power quality recorders. While early modems provided slow 1200 baud connections through a generally unreliable analog cell network, the significantly higher reliability and wide availability of current digital cell networks provide a practical solution for wireless connection to remotely located monitoring points. Recorders equipped with a digital cell modem can be configured for unique monitoring operations such as sending email alerts of various disturbance events or over/under voltage conditions that have exceeded user settable thresholds.
These advancements in wireless connectivity in power quality monitoring equipment provide a safe interface for instrument setup, control, and evaluation of recorded data, eliminating the risks associated with wired connections and the need for confining personal protective equipment. Wireless access enhances the efficiency, application, and remote management of power quality information.
---
About the Author:
Glen Shomo is a senior design engineer with Power Monitors Inc. He has been with PMI for over 17 years, holds a BSEE degree from Va. Tech, and is a registered Professional Engineer in the state of VA.