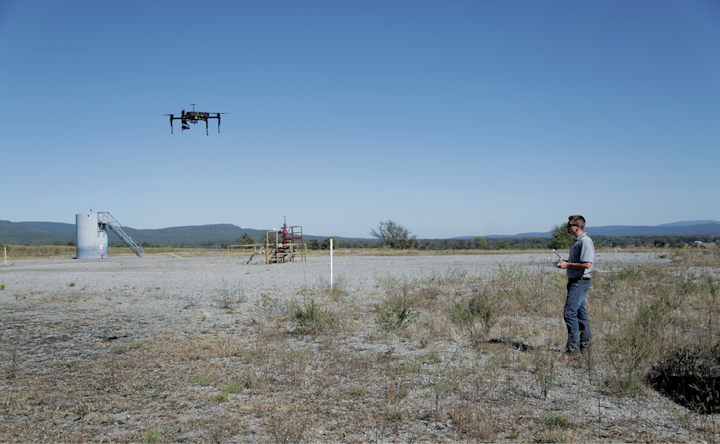 Harnessing the Power of Drones for Utility
By Patrick Lohman
Historically, utility companies conducted analysis of their distribution assets and equipment on foot. It is not difficult to imagine how time-consuming, inefficient and potentially dangerous this approach can be. Fortunately, drone technology is delivering new efficiencies and intelligence to utility companies by augmenting the inspection workflow.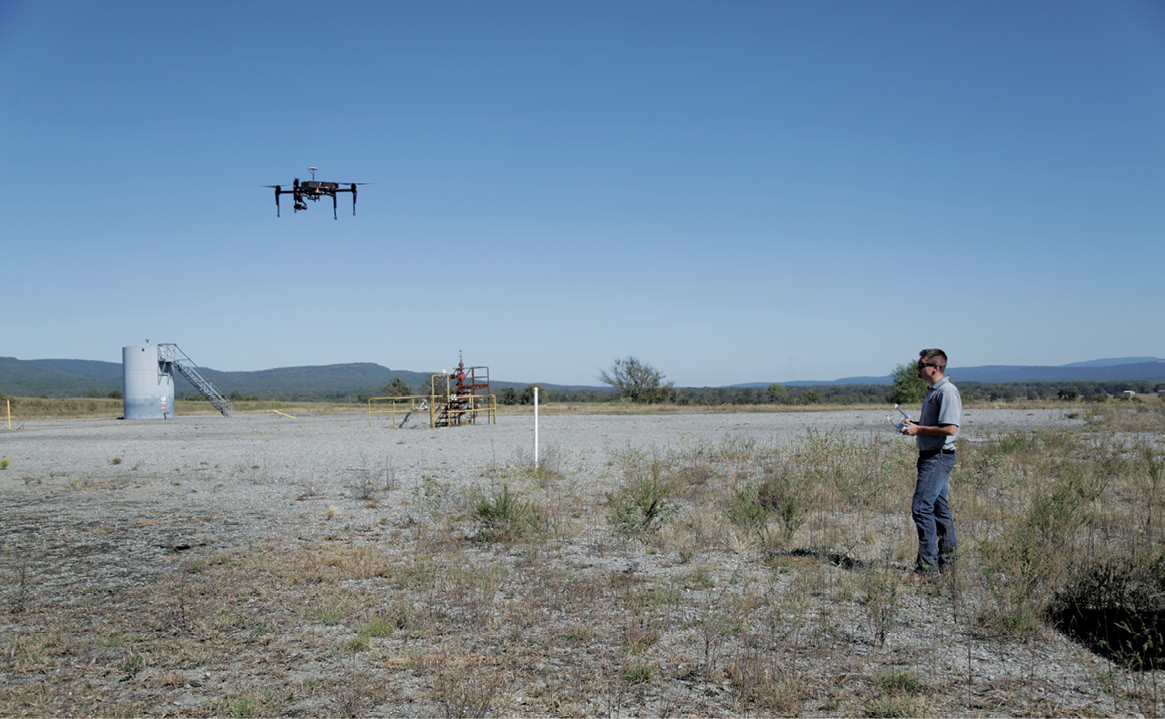 A main cause of power outages is due to tree branches or other vegetation making contact with power lines. Fortunately, deploying drones equipped with multispectral sensors can help identify vegetation encroaching equipment for distribution power lines in a fraction of the time and at a fraction of the cost.
Even a simple visual sensor can play a critical role to collect data from different angles that can be transformed into a 3D model to capture more detail for line-mile inspection than many traditional inspection methods.
According to PwC, the global power transmission sector loses some $169 billion annually because of network failures and forced shutdowns. Drones are touted as helping cut up to 50 percent in inspection costs through reduced manpower expenses and higher detailed 3D modeling. Not only does this allow utilities to prevent future problems by enabling proactive monitoring, it also reduces the risk of employee injury by assigning drones to cover high risk areas.
Tapping the Power of Drone Flight for Utilities
The electric utility industry is expected to inspect hundreds of thousands of miles of power lines strung across the country on a regular basis to keep customers satisfied. Despite the "sky's the limit" outlook that drones bring to the industry, there have been limitations and restrictions that have prohibited utilities from using drones in their daily operations—until now. Recent changes in drone regulations, particularly the permission to perform beyond visual line of sight (BVLOS) flights, have opened up new opportunities for the utilities sector and others, which allow drones to perform an increasing number of operations.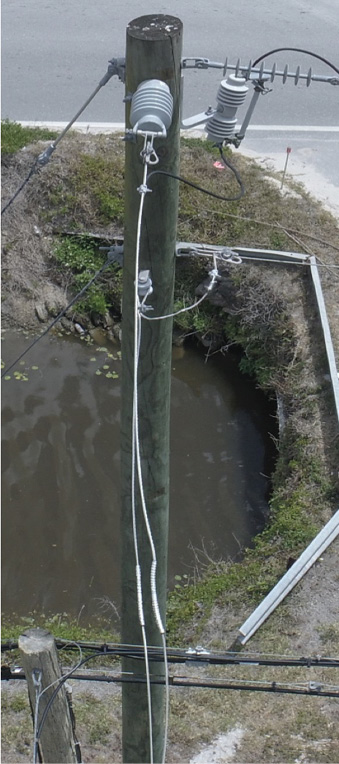 As the need for more long-distance transmission lines increases, the resource requirement and cost of maintaining these growing systems does as well. The ability to fly a drone beyond visual line of sight is the answer to cost effectively, consistently and efficiently inspect both transmission and distribution power lines. BVLOS drone operations enable utilities to quickly capture high-resolution data and facilitate the identification of problems, such as loose cables, rust and damaged insulators, before they become a potential hazard. They can do all of this without putting their employees in harm's way.

One of the greatest benefits of BVLOS drone operations to the utility industry is the sheer volume of data that drones can deliver. As drones are able to fly further from the pilot's line of sight, they are collecting exponentially more data. Depth in data opens up opportunities in the industry to use tools such as artificial intelligence to drive a never before seen depth of insights. Having a cost-effective way to collect detailed data over longer distances is critical to firms maintaining a competitive edge.
A Closer Look at the Investment
When it comes to efficiency and effectiveness, BVLOS drone operations are set to surpass a wide range of existing operational practices in utilities while providing a full return on investment. For example, transmission power lines, which must be inspected regularly, are typically reviewed using manned helicopters that can cost upward of $200 a mile.
With BVLOS capabilities, a utility could expect to spend $10 to $25 per mile, on average, when operating a drone BVLOS for the same inspection. Under this model, a company that must inspect 10,000 miles of power lines a year has the potential to save $1.7 million in the first year of operation—a savings of nearly $9 million dollars over the course of only five years.

The data captured during BVLOS drone flights is comprehensive and accurate, where the findings can be measured up to the business rules provided by the company's inspection manual instead of a visual inspection using qualitative over quantitative measurement. As a result, utility companies can increase capital efficiency by delivering projects faster while also reducing operation and maintenance costs. Soon this information will become another data feed in the engineering workflow and be used for daily planning and project tasking.
So, Why Aren't All Utility Companies Flying BVLOS?
To fly drones BVLOS, operators must obtain a special waiver from the Federal Aviation Administration (FAA). Unfortunately, this waiver is difficult to receive. So difficult, that 99 percent of the 1,200 companies that have applied for the waiver have been denied.
To ease the restrictions and make BVLOS flight more widely possible, CNN, BNSF Railway and PrecisionHawk commenced a project in 2015 in conjunction with the FAA, known as the Pathfinder Program, to develop a safety case for several types of advanced operations, including BVLOS and flights over people. In May 2018, PrecisionHawk, one of the pathfinders tasked to research BVLOS flight, released its body of work to provide best practices for BVLOS safety. The report supports the expansion of safe drone operations, marking an inflection point for the commercial drone industry.
Aside from the regulatory challenges, drone use in the utility industry is still relatively new and has not been widely promoted. Socializing such advanced technology can require a forward-thinking champion who understands the value of integrated data. Over time, the c-suite will see that the ROI of a drone program is much more than the direct cost savings of replacing manned inspections with remote sensing technologies.
How to Conduct Safe BVLOS Operations
In the Pathfinder report, it was determined that there are three necessary components for BVLOS flight operations: detection, safety and drone operator training. Assistive technology is critical to any BVLOS drone flight. Equipped with the proper tools and software, a drone can identify any nearby aircraft—allowing the pilot to take evasive action in the event an aircraft intrudes the drone's area of operation.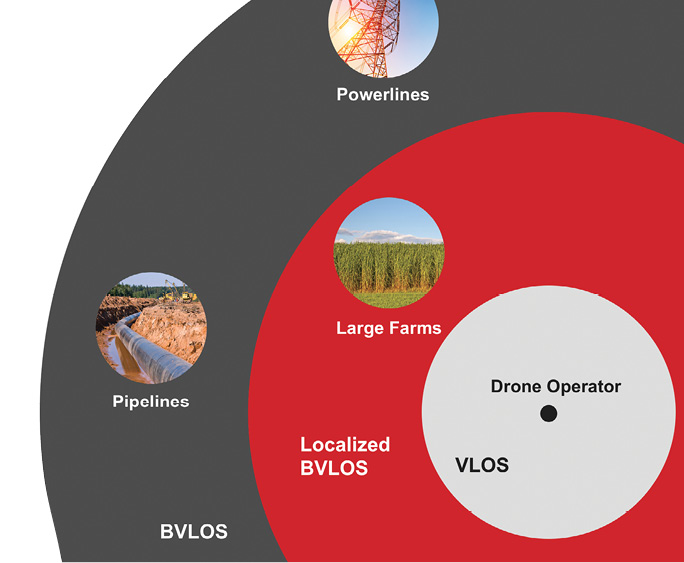 The FAA evaluates waiver applications based on the totality of operational risk and mitigating efforts, therefore following safety protocol is a must. Before a pilot can operate a drone BVLOS, he or she must have adequate experience flying within visual line of sight, complete BVLOS-specific training, and pass a practical performance evaluation. When it's time to deploy, drone pilots must always be aware of no-fly zones, temporary flight restrictions, and must conduct pre-flight hardware checks— all of which need to be displayed to the pilot in command.
Ready, Set, Flight
Drones are reshaping the utility sector, and the ability to fly BVLOS has changed the economics of drone-based data collection and analysis. With such advanced operations, companies can immediately improve the effectiveness of a singular inspection and justify a business investment in a scalable drone program. Not only is the aerial intelligence seen as a change driver, but so too is the human safety aspect. While integrating drones into utility operations requires the management of multiple moving parts, the end result is worth the investment.
Patrick Lohman is a recognized expert in drone technology and has been with PrecisionHawk since 2012; he currently serves as its vice president of energy. The full Pathfinder research report on BVLOS flight can be found at precisionhawk.com/bvlos.