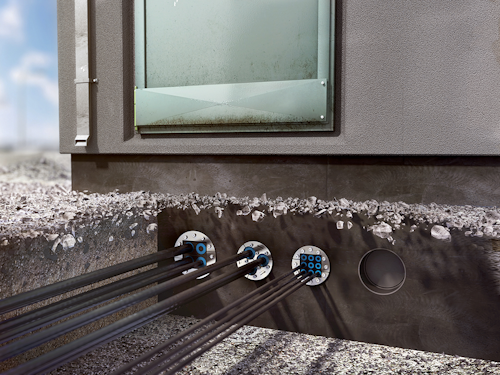 Utility safety: Safety seal manufacturer Roxtec has extended its range of cable seals with a new seal specifically for underground power cables serving structures including electricity substations and wind turbines.

Roxtec UK managing director Graham O'Hare said the new Roxtec UG sealing system is ideal for power cables entering foundations or basements because it protects against flooding, humidity and continuous water pressure.

"This specialist product has been developed by our experts in the field," said Mr O'Hare. "It has an innovative, specially-formulated high elastic EPDM rubber to seal cable ducts below ground.

"Power transmission and distribution is a fast-growing area of work for Roxtec in the UK, due to the number of substations being built on flood plains and areas with high water tables. The Roxtec UG system can be used wherever there are underground cables being served by a cable trench. It has been developed as a specialist water tight seal."

The UG seal is IP68-rated, 1 bar for catastrophic water pressure and 0.3 bar for constant water pressure. It can be used on trefoil single core cables. The system has been tested in Roxtec's specialist test laboratory with retention tests of 1400N and 3300N depending on the product selected, meaning the system can handle the weight of many cables which is often the cause of failure in traditional sealants.

Mr O'Hare added: "The seals are easy to install and can be used on different-sized cables thanks to removable layers. They eliminate flooding in substation basements. Water ingress in substations can create humidity, leading to partial discharge, switchgear failure and power outage. The seals are also resistant to corrosion and rodents and can be installed in running water applications.

"Importantly, UG seals are easy to cast into foundations and require no drying or curing, thus saving time and reducing costs. A knock-out sleeve is available and designed to be cast into the foundation structure. It is available in three different industry-standard sizes and designed to fit Roxtec seals and frames. A knock-out plate in the sleeve ensures a water-tight seal before cables are routed, meaning there is no water ingress during construction.

"This new product is a classic example of Roxtec's overall design mantra to deliver sealing solutions which are easy to fit, maintain and adapt. This makes them ideal for retrofit and new-build applications."

Engineers and designers can find out more at Roxtec's CPD accredited seminars on sealing cables and pipes in substations.
For more information about Roxtec or other products, click here to go to Utility Products' Buyers Guide.