Safety clothing: Flame-resistant UL certified shirts
Flame resistant clothing: The Working Person's Store's flame-resistant UL certified shirts come with various levels of protection. Are you really getting the coverage you need?
Aug 17th, 2015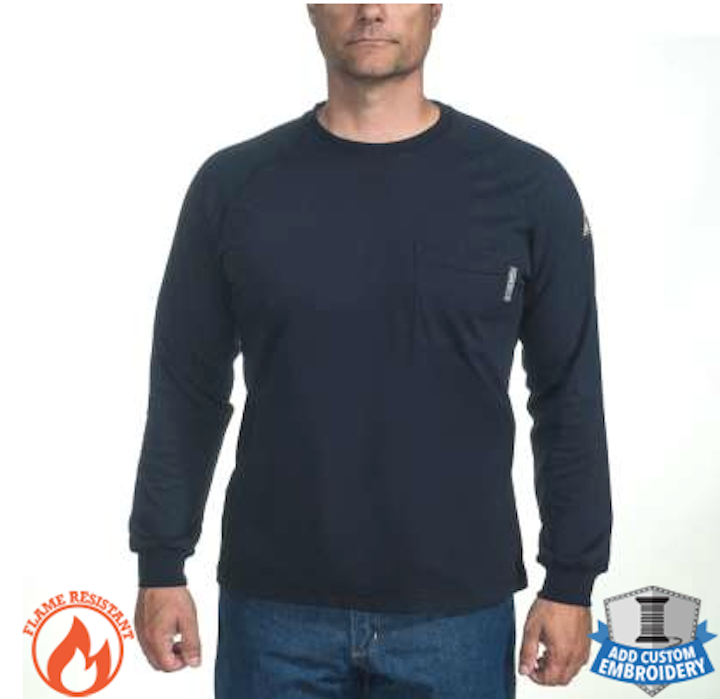 Protective clothing: When you're working around fire hazards, you don't want to be second-guessing whether or not your workwear is going to keep you completely safe. To be considered fire-resistant, work clothing must meet OSHA and NFPA safety standards (including 1910.960, 2112, and 70E).
The Working Person's Store FR shirts feature a special FR Arc Defender fabric that not only meets these standards of safety but is also non-carcinogenic. This special material doesn't include bromide or formaldehyde, and it even meets international standards for formaldehyde content. Some safety workwear is made using ammonia cure processes with natural formaldehyde levels over 600 ppm (parts per million), while Working Person's Store takes proper measures to keep these levels below 75 ppm. The fabric is also non-allergenic. If you have sensitive skin or just need to guard yourself from arc hazards (or both), this is the type of flame-resistant workwear you should be wearing.
Is your skin safe in your current flame-resistant clothes? Make sure you double-check what type of fabric they're made out of to ensure you're getting the best coverage possible.
The Working Person's Store FR shirts are UL certified, meaning they've been tested and evaluated. Certification programs accredited by the U.S. Occupational Safety & Health Administration (OSHA) and the American National Standards Institute (ANSI) make sure the safety clothes you wear actually do what they claim to do.
The ARC Defender shirts do, and they go above and beyond the basic safety standards. They meet the ASTM F1506 standard for flame-resistance and have an arc flash rating of HRC/ARC level 2, ranging from an ATPV of 6.4 - 9 cal/cm². You'll also be able to rely on protection against electrical sources, as they meet the NESC 2012 standard as well.
ATPV, or Arc Thermal Performance Value, measures the amount of thermal protection a particular fabric will give you. The higher the ATPV, the more protective the material is for you. If you're caught in the vicinity of an electric arc, serious injury and even death can occur. An arc flash happens when an electric current leaves its intended path, and then travels through the air from one conductor to another, or to the ground. Burns, fire, and high temperatures are results of this type of electrical phenomena, so you'll want to maintain a safe distance and keep yourself protected. Accidents happen, and that's where fire-resistant clothes come into play.
When your workwear is compliant with safety standards, you'll be able to feel more at ease when you're on the job site. These shirts are ideal for electricians, those working in cable and telecom industries, and other service companies that involve working around potentially dangerous electrical hazards. Your job may require your workwear to meet certain guidelines, but don't just go with the bare minimum. Your skin is the largest organ of your body (some adults carry around 8 pounds and 22 square feet of it!), so be sure to take especially good care of it.
The durable Arc Defender fabric weighs anywhere from 6.2 - 6.9 ounces, and it's built to withstand high temperatures. This doesn't just mean fire hazards. It's also a breathable material that'll help you stay comfortable during the heat of the day. When it gets humid outside or when you're close to open flames, the 100% cotton in these long-sleeve shirts takes care of you by allowing for excellent airflow. This rugged 100% cotton will not melt near hot flames, and the fire-resistant shirts are double-stitched for added durability.
In addition to being non-carcinogenic, the protective fabric is also soft against your skin. There are no toxins or heavy metals within it. It's sweat and saliva safe, too. Some of the fibers help to wick perspiration away from your skin, while others spread the moisture out more, creating a larger area for a faster evaporation time. Staying dry will add to your overall comfort. With a class 2 color fastness rating, the men's shirts maintain their color - even after multiple washings. With less than 2% shrinkage, you'll have a long-lasting shirt with a great fit.
The Working Person's Store shirts have raglan sleeves with large arm openings for ease of movement, and there's a slight shirt tail to give you a more professional look. When it comes to making these men's shirts dependable, even the smallest of details matter - the high-temp melamine buttons on some styles are also flame-resistant. The FR workwear features a tagless label system as well, which eliminates that annoying itchy tag concept that a lot of your other work shirts have. The little things really do add up in making your work days much better. You'll be able to concentrate on more important tasks at hand, instead of wanting to tear out the irritating tags in all of your work uniforms.
These shirts are proudly manufactured using all U.S. components. The USA-made shirts offer you with way more than you'd expect from other ordinary work clothes. Meeting safety standards doesn't have to be difficult or uncomfortable. Once you get the top half of your body properly protected, remember to get the right kind of safety workwear for your bottom half, too. Flame-resistant workwear plays a key role in your everyday work routine, so make sure you're taking care of business the right way. When you're messing with fire, there's no time for skimping out. Get the reliable coverage you need.
For more information about Working Person's Store or other products, click here to go to Utility Products' Buyers Guide.