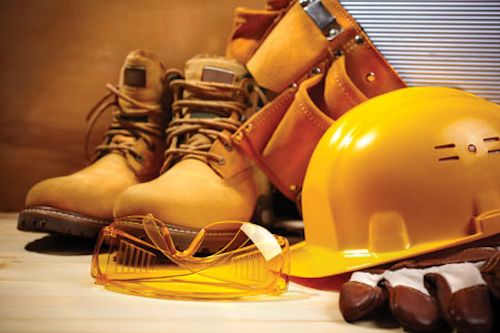 by William Pettit
Arc flash--a sudden, bright, blinding light and heat no one working for a utility wants to experience. But it is something everyone has to worry about, which is why the National Fire Protection Association (NFPA) issued regulation 70E-to help protect against exposure to arc flash. In an effort to protect men and women who work on or near electrical power lines, the Occupational Safety & Health Administration (OSHA) now requires utilities to classify arc rated flame resistant (FR) clothing as personal protective equipment (PPE) and is directing them to follow the NFPA standards.
Understand the Risks and Take Precautions
Temperatures as high as 35,000 F have been recorded in arc flash events. Direct contact with this heat is a major risk, but there are other associated hazards that can cause injury or death. These hazards do not require a worker to be in direct contact with the source because the radiant energy of an arc flash can travel several feet. In addition, a pressure wave blast from a high-amperage arc can produce a force of up to 1,000 pounds, which can forcefully throw a victim backwards-causing injury from falls and impacts-and cause hearing loss. The intense heat may also melt metal and blast the molten droplets that can lodge in a person's skin, ignite clothing and even cause lung damage.
The best way to avoid the risks of arc flash is to de-energize circuits in and around the work area. NFPA 70E only permits energized work where de-energizing introduces additional hazards or increased risk; equipment design or operational limitations make it infeasible to de-energize; less than 50 volts are involved; or the work only involves normal operation of properly installed and maintained equipment. Utility crews are often subjected to exceptions to these rules, so taking precautions around energized equipment and power lines is critical.
These precautions should start well beforehand by ensuring utility crews are educated and briefed appropriately about arc flash risks. Then it comes down to insulated equipment, tools and PPE.
NFPA 70E and Personal Protective Equipment
The 2015 edition of NFPA 70E now requires specific levels of PPE for various types and ratings of electrical equipment. Prompted by debate on the NFPA 70E changes, a 2015 report was prepared by the Fire Protection Research Foundation (FPRF), which cites:
· A corporate case study examining electrical injury reporting and safety practices found that 40 percent of electrical incidents involved 250 volts or less.
· A study of electrical injuries during a 20-year period at a Texas burn center found that 40 percent of burns were electrical arc injuries.
· A separate study found that two-thirds of the workers involved in arc flash incidents were injured when they failed to conduct an arc flash analysis for selecting personal protective equipment.
To determine the correct PPE, an arc flash boundary must be determined by the tables established in NFPA 70E. Limited approach boundaries can be as large as 26 feet, depending on the risk. Another table then specifies the required level and type of PPE to be used.
Clothing is Critical
Many factors go into choosing the right PPE. All areas that could be exposed to hazards should be protected, including the head and body, eyes and hearing. Foot protection beyond insulated soles is imperative.
And then there's the clothing under the more obvious protective equipment. The heat from an arc flash can melt clothing from several feet away, especially if the clothing is made of a synthetic blend, raising the potential for health complications beyond the burn itself. Wearing thermally resistant arc flash protective clothing outlined under the requirements of NFPA 70E makes sense. Protective clothing items, from undergarments to jackets, are rated based on their ability to protect against arc flash, with a minimum arc rating listed on the label, written as calories per centimeter squared (cal/cm2).
· NFPA 70E outlines several areas of clothing that are sometimes overlooked, including:
· Outerwear: Jackets and rainwear "thrown over" arc-rated clothing should also be arc rated.
· Underwear: Meltable fibers such as acetate, nylon, polyester, polypropylene and spandex should not be permitted in underlayers next to the skin (with the exception of an incidental amount of elastic in underwear or socks).
· Fit and coverage: Sleeves should be fastened at the wrists and shirts tucked into pants. At the same time, clothing should be loose-fitting without interfering with tasks.
Ensure the legs of pants and sleeves of shirts come completely down to the ankle and wrist, forming total coverage when gloves and protective footwear are added. Hardhat use is, of course, mandatory, but even more important to avoiding serious arc flash injury. The skin on the head is as sensitive as the rest of the body, but burns there can lead to more serious internal damage. Wearing thermal protective clothing doesn't mean other PPE doesn't have to be used, including safety glasses, hearing protection and voltage-rated gloves.
The OSHA ruling is big news for utilities, specifically addressing the total estimated cost for FR clothing in the Final Rule at an annualized cost of approximately $452.88 per employee. But whether working indoors or out, being protected against injury from arc flash is critical. Wearing specially made arc flash protective clothing is the first step to ensuring everyone a safe work environment to get the job done right.
About the author: William (Bill) Pettit, senior director of operations, leads the National Operations, MRO, Inventory Solutions and EHS teams for HD Supply Power Solutions. Previously, he served in numerous investor owner utility positions such as director of service operations, supply chain management, fleet and facility operations at DTE Energy. Prior to that he was director of New Business Engineering and Design and director of Fleet Operations at Exelon Corp.
For more information about HD Supply Power Solutions or other products, click here to go to Utility Products' Buyers Guide.