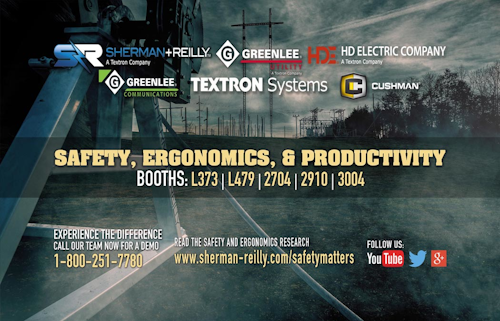 Test products and more: Sherman + Reilly Inc., a Textron Inc. company, will be offering several hands-on demonstrations of its new products at the 2015 ICUEE- International Construction Utility Equipment Expo in Louisville, KY, from September 29th through October 1st.
Sherman+Reilly will be joined this year by fellow Textron companies and brands Greenlee Utility, HD Electric Company, Textron Systems, and Cushman, all showing the latest in utility and safety-focused designs and innovations.

Sherman+Reilly outdoor booths, located at L373 and L479, will feature demonstrations on the P-2000X 20,000 lb. bullwheel puller, which features twin precision bullwheels and 23,000 ft. of anti-twist steel wire rope. Other new demonstration opportunities for power equipment are the P-1400X 14,000 lb. puller that provides for a safer and faster reconductoring experience. Demonstrations of smaller versions of the T-7212 tensioner and the PTR-7230 puller/tensioner/reconductor will also be available.

Sherman+Reilly indoor booths, located at 2704, 2910, and 3004, will feature demonstrations on its new termination tool line, including the new battery powered hydraulic cutters and crimpers. Each booth will feature tools by Greenlee® and testing equipment from HD Electric Company and Greenlee Communications. The indoor booths will be providing demos for products focusing on Safety, Ergonomics, Technology, and Productivity.

Ryan Brown, Field Technical Support Specialist for Sherman + Reilly, will be presenting on the Ultimaz® Point-to-Point Fiber drop cable installation system. This speaking engagement will take place at the Emerging Technologies for Telecom, Electric & Gas Construction session from 9:30-10:25 on Tuesday September 29th.

For a preview of things at the show, please visit the Sherman + Reilly podcast channel to see the latest product videos and news: http://news.sherman-reilly.com/news.

Sherman+Reilly Inc.
Since 1927, Chattanooga-based Sherman + Reilly, a Textron company, has been a leading manufacturer of tools and equipment for underground and aerial transmission, and distribution of electrical power and communications systems, including a complete line of bundle blocks, pullers, tensioners and reel trailers. You can see all of Sherman + Reilly's products and information downloads on their website at www.sherman-reilly.com. Product literature and information may also be obtained by calling their Customer Service Team at 1.800.251.7780.

Textron Inc.
Textron Inc. is a multi-industry company that leverages its global network of aircraft, defense, industrial, and finance businesses to provide customers with innovative solutions and services. Textron is known around the world for its powerful brands such as Bell Helicopter, Cessna, Beechcraft, Hawker, Jacobsen, Kautex, Lycoming, E-Z-GO, Greenlee, Textron Systems and, and TRU Simulation + Training.

For more information about Sherman + Reilly or other products, click here to go to Utility Products' Buyers Guide.