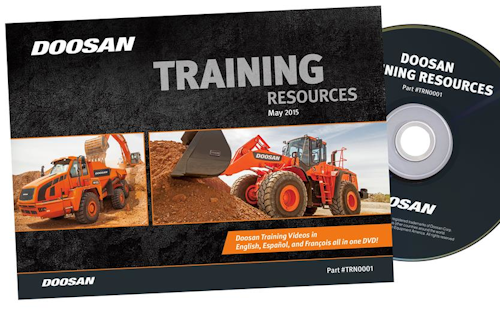 Utility safety: Doosan introduces its first safety training videos for heavy equipment owners, operators, rental companies and dealers who own or operate articulated dump trucks (ADTs), crawler and wheel excavators or wheel loaders.
"The goal is to help educate owners and operators about the importance of safety and increase their knowledge of proper operation and maintenance of the products," said Shawn Warkenthien, director of product safety for Doosan.
The videos demonstrate proper operating procedures and maintenance tips to help end users better understand their machines and become more productive. Each video is approximately 20 minutes and can be viewed in English, Spanish or French, on one DVD.
These videos are available for purchase on a single DVD from your local Doosan heavy equipment dealership. The English version of these safety training videos are available to watch online at www.doosanequipment.com.
It is important to note that the safety training videos are not a substitute for the machine¹s Operation & Maintenance Manual, which is provided upon delivery from a local Doosan dealership. The manual is the primary guide for proper and safe operation and maintenance. Additionally, operators should be familiar with safety and instructional decals provided on heavy equipment prior to operating, maintaining or servicing the machine.
Doosan also recommends the Association of Equipment Manufacturers (AEM) safety manuals for operating and maintaining off-highway dump trucks, wheel loaders and excavators.
ABOUT DOOSAN INFRACORE CONSTRUCTION EQUIPMENT AMERICA
Doosan Infracore Construction Equipment America, headquartered in West Fargo, North Dakota, markets the Doosan brand of products that includes large excavators, wheel loaders and articulated dump trucks. With more than 160 heavy equipment dealer locations in North America, Doosan is known for an unmatched dedication to service and customer uptime, and durable, reliable products. Doosan is fast becoming a global force in heavy construction equipment. Doosan Infracore Construction Equipment America is a subsidiary of Doosan Infracore Bobcat Holdings Co., Ltd., a wholly owned subsidiary of Doosan Infracore Co., Ltd.
For more information about Doosan or other products, click here to go to Utility Products' Buyers Guide.