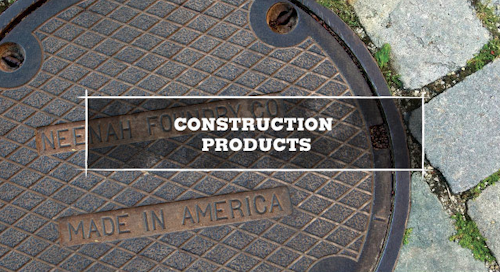 Safety equipment: Neenah Enterprises Inc. (NEI) announces the acquisition of the assets of Swiveloc LLC. The privately held Michigan-based company is home to the patented Swiveloc and Stabiloc technologies ­ a manhole cover restraint system designed to prevent unauthorized access to vital infrastructure and to mitigate explosions common in underground utility electrical vaults.

NEI and Swiveloc have enjoyed a three-year partnership, during which the Neenah Foundry division of NEI has provided the ductile iron manhole covers that are integral to this system. Neenah Foundry brings more than 140 years of stability and manufacturing experience to this cutting edge technology.

"Few technologies are complete game changers when it comes to public safety," said Scott Hoffman, Vice President of the Municipal Products Group of NEI. "With this acquisition, we are excited to expand Swiveloc and Stabiloc technologies to a mainstream audience and better protect the underground utilities, the surrounding areas, and most importantly, the citizens from explosions or the affects of vandalism."

Electrical infrastructure beneath today's roadways and streets are aging, and each year, hundreds of explosions occur due to gas and particulate accumulation in underground vaults which can be ignited by sparks from corroded wiring. When these explosions occur, manhole covers can be sent hundreds of feet in the air, posing a danger to people and property in the surrounding area.

Swiveloc technology utilizes the patented tamper resistant lock and exhaust ports to form a "dynamic air dam," while the lid raises two inches above the frame to redirect the blast in a downward direction in a controlled manner. This dynamic air dam restricts fresh air from entering the vault, which can lead to a more powerful secondary explosion.

Tested by the Electric Power Research Institute (EPRI) in Lenox, Mass., Swiveloc and Stabiloc are in use by utility companies and municipalities across North America, Canada and the United Kingdom.

About Neenah Enterprises, Inc.
Drawing on more than 140 years of manufacturing experience, Neenah Enterprises, Inc., (NEI), headquartered in Neenah, Wis., is a leader in producing durable castings for municipal and industrial sectors across the world. Our facilities provide casting, forging, machining and assembly for key component parts for heavy truck, agriculture, construction, HVAC and a host of other industries.
For more information about NEI or other products, click here to go to Utility Products' Buyers Guide.