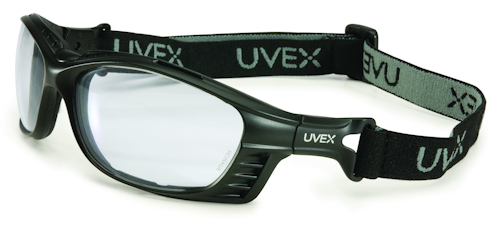 Safety products: At Safety 2015, Honeywell launched Uvex Livewire sealed safety eyewear with Uvex HydroShield anti-fog lens coating, for a style that delivers unbeatable performance and protection. The new Livewire offering is ideally suited for workers who require the added protection of a goggle and demand lasting, fog-free visibility to remain safe and productive on the job.
"Uvex Livewire has become a fast favorite among customers in high-particulate and other extreme environments," said Dave Iannelli, senior product manager for Honeywell Safety Products. "Precision-engineered to deliver a comfortable, gap-free fit, it effectively seals out debris, wind, sun and heat."
By pairing Livewire with Uvex HydroShield, workers avoid lens fogging for more than 60 times longer than competitive anti-fog coated products*, providing a winning combination of complete eye protection and the best anti-fog coating on the market.
Fogged lenses are the leading challenge workers face with safety eyewear, and they fog even faster in goggles and sealed eyewear due to restricted air flow. Fogging affects productivity and worker safety: when workers remove eyewear to wipe lenses clean, they are vulnerable to injury from the various hazards surrounding them. Permanently bonded to the lens, HydroShield will not wear off after extended wear or repeated cleanings. It also delivers two times greater scratch resistance than competitive anti-fog coated products for extended lens life. Click here for a video illustrating the coating's revolutionary performance.
Uvex Livewire with Uvex HydroShield features a solid black frame and is available in Clear or Espresso lens tints. It can be worn with easy-to-exchange temples or headband to ensure a secure, sealed fit across applications. The style is 100% dielectric for safe wear in electrified environments and delivers 99.99% UV protection. It meets both ANSI Z87.1-2010 and CSA Z94.3 safety standards.
Uvex Livewire sealed eyewear with HydroShield is available now through major safety equipment distributors in the Americas. Contact the Honeywell Safety Products customer care department at 800-430-5490 for more information about Uvex Livewire and where it may be purchased. Uvex brand safety eyewear is offered for sale by Honeywell Safety Products exclusively in the Americas.
*Comparative lens life test performed using a Bayer Abrasion Test method and may vary between environment and application. Anti-fog performance based on independent lab test results when compared to median test results of competitive anti-fog coated products under EN166 and EN168 testing standards.
About Uvex
Uvex is the world's top-selling protective eyewear brand. Through high-performing products, Uvex is the eye and face protection brand that inspires people to heighten awareness, increase productivity and foster a culture of safety in the workplace. For more than 60 years, Uvex has delivered the most advanced coatings, styles and materials to protect workers in every industry. Its commitment to rigorous testing and extensive research and development ensures that every Uvex style meets or exceeds industry safety standards while delivering unparalleled comfort.
About Honeywell Safety Products
Honeywell Safety Products (HSP), a global manufacturer of leading personal protective equipment (PPE) and provider of safety solutions, helps company employees make safer decisions on their own and build an enduring culture of safety. With world class brands such as Honeywell, Uvex®, North®, Howard Leight®, Miller®, Fibre-Metal® and Servus®, HSP offers a full range of quality PPE, including: protective clothing; fall and hearing protection products; solutions that protect hands, head, feet, eyes and face; along with respiratory, welding, first-aid, lockout/tagout and traffic safety equipment.
About Honeywell
Honeywell is a Fortune 100 diversified technology and manufacturing leader, serving customers worldwide with aerospace products and services; control technologies for buildings, homes, and industry; turbochargers; and performance materials.
For more information about Honeywell or other products, click here to go to Utility Products' Buyers Guide.