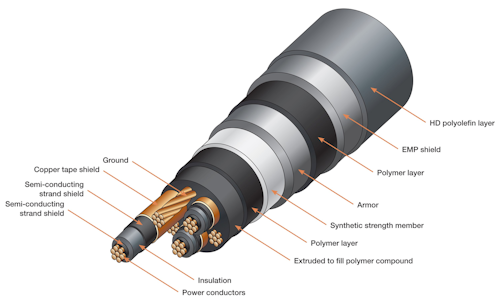 Safety products: Aetna Insulated Wire, a manufacturer of medium-voltagepower cablesfor the electric utility and industrial power industries, introduced SafeGuard® at POWER-GEN 2015. Safeguard Security Systems is a grid-hardening power cable system, designed to be cut-proof, ballistic-proof, and EMP-proof to guard against critical circuit attacks.
Aetna was established in the 1920s and has long been a leading manufacturer of interlocked armored power cable, Gardex™ continuously corrugated and welded power cable, URD cables, and medium-voltage cables. As a major innovator of specialty power cables and systems for harsh applications — where critical protection is paramount — Aetna has developed SafeGuard Security Systems in response to NERC's Critical Infrastructure Protection (CIP) 014 mandate. Under CIP-014, all U.S. utilities must assess the vulnerability of their transmission and distribution system and devise methods to protect critical assets from damage and failure.
As the only engineered solution to address the security requirements of CIP-014, SafeGuard Security Systems is a critical circuit protection system that incorporates highly engineered 600 V through 35 kV power cable, a Connector/Grounding System, and professional installation by certified grid-hardening experts. It's a turnkey solution that only Aetna Insulated Wire can deliver.
"Aetna has always been on the leading edge of innovation for specialty power cables for harsh applications," says Marmon Energy President Greg Smith. "And our development of SafeGuard is another example of how we're at the forefront of a critical industry issue. Grid hardening, and the need to protect against inherent vulnerabilities of the system, is of serious concern to utilities across North America. SafeGuard gives them another tool in the toolbox."
About Aetna
Aetna Insulated Wire is a member of the Marmon Energy Group, a Berkshire Hathaway Company. Aetna's product offering includes its new UltraGuard™ Thermoset Low Smoke Zero Halogen cables for Power, Mining, and Transit; Gardex™ continuously welded and corrugated armor cable for hazardous locations; medium-voltage power cables; and FastTrack™ delivery option for the shortest lead times in the industry.
For more information about Aetna Insulated Wireor other products, click here to go to Utility Products' Buyers Guide.