Utility safety: Polyester enclosures and junction boxes
Safety products: Emerson launches polyester enclosures and junction boxes. Appleton JBEP series provides stronger, more versatile protection in hazardous and corrosive locations.
Apr 21st, 2015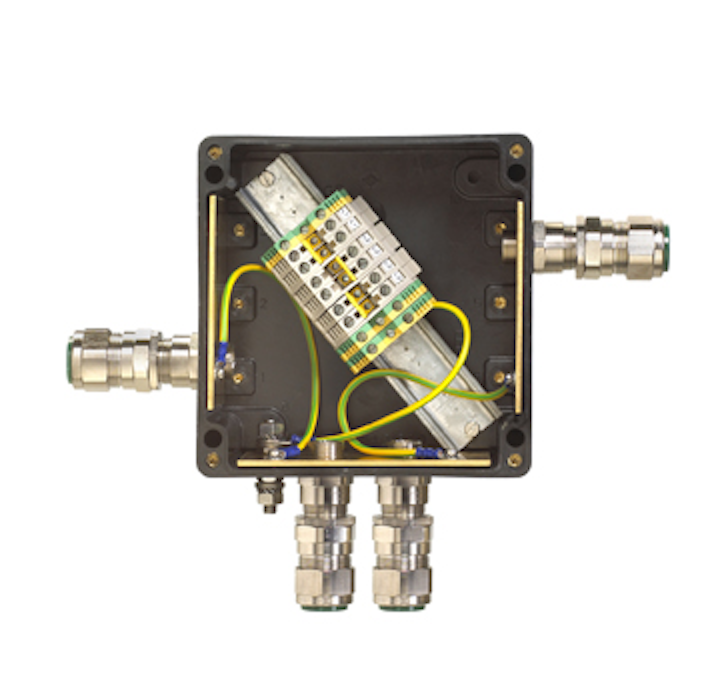 Safety equipment: Emerson Industrial Automation has designed a dependable yet highly versatile solution for customers to protect instrumentation, terminals and other electrical equipment with its Appleton® JBEP polyester enclosures and junction boxes.
Providing durability, impact-resistance, and an IP66 rating to prevent water ingress, Appleton JBEP enclosures and junction boxes can be deployed with confidence in hazardous or highly corrosive environments.
A unique advantage of Appleton JBEP enclosures and junction boxes are their fully non-metallic housings that deliver optimum performance in weather-exposed and corrosive locations. The 5mm fiberglass reinforced polyester also provides extreme durability with an IK10 impact rating of 20 joules. In addition, because the material is carbon-filled, it resists static buildup, practically eliminating the risk of electrical discharge.
"JBEP nonmetallic enclosures and power junction boxes can be used in the most corrosive locations without a worry," said Rehanual Hasan, Marketing Manager, Emerson Industrial Automation-Appleton Group. "They are impervious to the galvanic reactions and oxidation that can attack improperly specified metals. They are also lightweight, and are made very strong with the right materials and engineering."
Appleton JBEP Series enclosures and junction boxes are simple to specify with worldwide certifications and no need to recertify after field modifications. Modular in design, the boxes can be easily coupled together to suit application and footprint requirements. The complete selection of sizes range from 85 x 85 x 60mm to 750 x 320 x 230mm, with a choice of empty, undrilled boxes as well as models preconfigured for instrumentation or electrical and power applications.
JBEP Series enclosures and junction boxes are certified for ATEX and IECEx locations worldwide. IEC, cCSAus, NBR, Inmetro and GOST certifications are pending. JBEP Series enclosures provide a nonmetallic solution for projects in virtually any region or location.

About Emerson
Emerson (NYSE: EMR), based in St. Louis, Missouri (USA), is a global leader in bringing technology and engineering together to provide innovative solutions for customers in industrial, commercial, and consumer markets around the world. The company is comprised of five business segments: Process Management, Industrial Automation, Network Power, Climate Technologies, and Commercial & Residential Solutions. Sales in fiscal 2014 were $24.5 billion.

About Emerson Industrial Automation
Emerson Industrial Automation, a business of Emerson, provides automation and power generation technologies and services to a wide range of industries. With its global capabilities and deep industry expertise, Emerson Industrial Automation is a trusted partner for products and solutions that increase machine performance, efficiency, reliability, and availability. Its industry-leading brands include Appleton®, ASCO®, Branson®, Control Techniques, Leroy-Somer®, Numatics®, O-Z/Gedney, and SolaHD.
For more information about Emerson Industrial Automation or other products, click here to go to Utility Products' Buyers Guide.