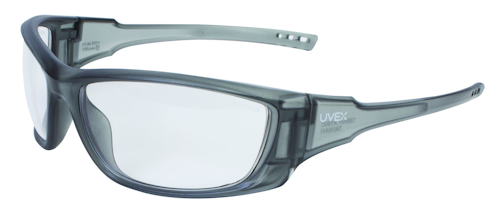 Safety products: Honeywell offers Uvex A1500 safety eyewear, which combines protection and performance in a sport-inspired, full-frame design. The new style provides versatile protection to workers in many indoor or outdoor industries, including utilities, construction, chemical, oil and gas, landscaping, and manufacturing. The lightweight, adjustment-free eyewear is available in two frame colors, two lens coatings and a wide variety of lens tints.
"It's a proven fact that workers wear safety eyewear more consistently when they feel it offers both comfort and style," said David Iannelli, senior product manager for Honeywell Safety Products. "The Uvex A1500 delivers the sleek, sporty look that workers desire and the protective performance that safety managers demand, for a single solution everyone can feel confident in."
Available in Solid Gray or Matte Brown frames, Uvex A1500 eyewear features a molded nosepiece and flexible temples that ensure a comfortable, secure fit. Six lens tint options including Clear, Gray, Amber, Silver Mirror, SCT-Reflect 50 and Red Mirror ensure high-performance protection in nearly any lighting application. Lenses also come with either hard-coat for long-lasting scratch resistance or Uvextra® anti-fog coating to reduce fogging and ensure safe visibility.
Uvex A1500 meets ANSI Z87.1-2010 and is certified to the requirements of the CSA Z94.3 standard. The style is available now through major safety equipment distributors in the Americas.
About Uvex
Uvex is the world's top-selling protective eyewear brand. Through high-performing products, Uvex is the eye and face protection brand that inspires people to heighten awareness, increase productivity and foster a culture of safety in the workplace. For more than 60 years, Uvex has delivered the most advanced coatings, styles and materials to protect workers in every industry. Its commitment to rigorous testing and extensive research and development ensures that every Uvex style meets or exceeds industry safety standards while delivering unparalleled comfort.
For more information about Honeywell or other products, click here to go to Utility Products' Buyers Guide.