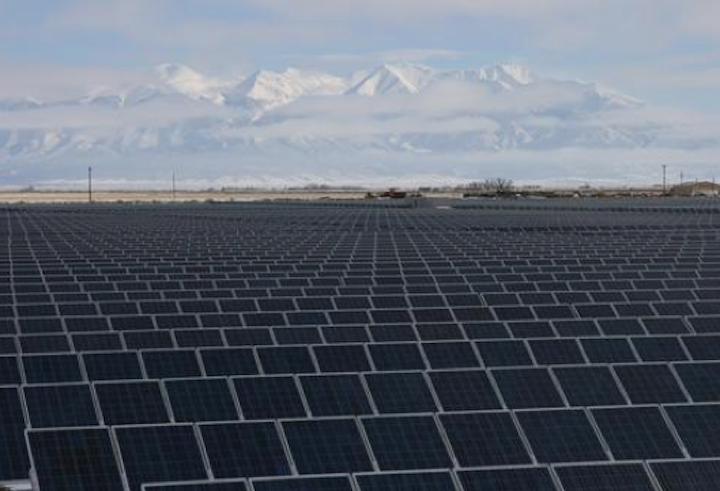 ALAMOSA, Colo. (AP) — Large-scale solar energy development on public lands may contribute to a brighter economic future for the San Luis Valley, but will there be a cost to the environment?
The Bureau of Land Management, which could host solar power development in the valley, is trying to determine how it would affect the natural environment and what could be done to mitigate negative effects.
The BLM is currently concentrating on mitigation efforts on three of four solar energy zones in Colorado all in the San Luis Valley that the Department of Interior identified as Colorado's "hot spot" for solar development.
Those three solar energy zones include Antonito Southeast, the largest at about 9,700 developable acres in Conejos County near the Colorado-New Mexico border, bordered by private and other BLM lands with an existing transmission line about three miles away. It has potential solar generation capacity of 1,554 MW, enough to power about 500,000 homes.
Another is De Tilla Gulch, the smallest at about 1,000 developable acres in Saguache County next to Highway 285 and adjacent to an existing transmission line, with potential solar generation capacity of 170 MW, enough to power about 56,000 homes, and the third potential location is Los Mogotes East, 2,650 developable acres in Conejos County about three miles west of Highway 285 and about three miles from an existing transmission line, with potential solar generation capacity of 424 megawatts, or about enough to power 140,000 homes.
Four solar plants are already operating in the San Luis Valley, all on private lands in Alamosa County, generating 86 MW.
BLM Colorado Renewable Energy Program Project Manager Joe Vieira said the BLM wants to develop environmentally responsible solar energy, so it is undertaking efforts now to consider all the impacts solar development might have in the designated solar energy zones and develop mitigation strategies.
The BLM and its contracted consultant Argonne National Laboratory held public meetings and field trips last fall and continue to accept comments on the Impacts Warranting Mitigation tables through Jan. 15.
Vieira said BLM-Argonne hopes to have a draft solar regional mitigation report out by early summer.
Argonne Project Manager Heidi Hartmann said impacts being considered include fire, climate change, human development and invasive species.
In developing mitigation strategies, the first step would be to identify potential impacts of solar development and determine what impacts could be avoided and what could not be avoided, Hartmann said.
The agency said there is bound to be some disturbance and extra noise during construction of any solar facility, which could not be avoided, but mitigation measures might involve limiting hours or restricting construction to times that would least affect wildlife.
Unavoidable or residual adverse impacts that have been identified include air quality, vegetation, wildlife, Native American concerns, soil erosion and the visual impact such a facility could have on the valley.
Some of the comments received during and following on-site visits last fall included written comments from the Conejos County Clean Water Inc.; Defenders of Wildlife; National Park Service; San Luis Valley Ecosystem Council; The Nature Conservancy; and The Wilderness Society.
Some of the recommendations made during that time include adding Colorado Natural Heritage Program Potential Conservation Areas to sites of conservation concern, reviewing additional sources such as climate change documents, requiring that machinery used on site should be cleaned to remove weed seeds, provide fencing safe for wildlife and consideration of lost hunting areas.