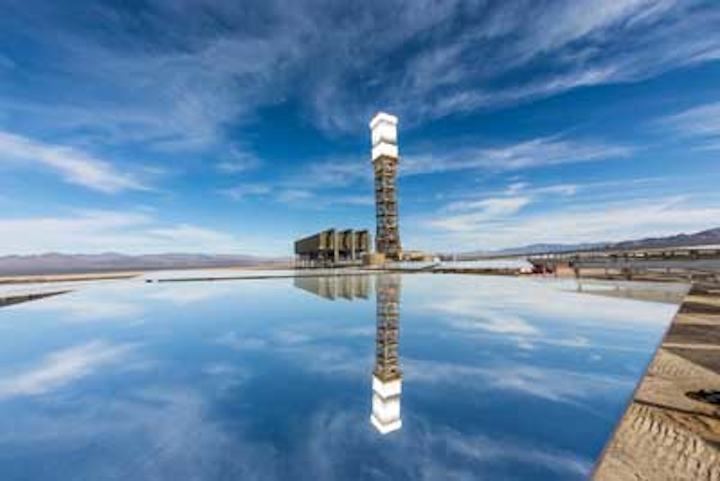 LAS VEGAS (AP) — Three solar projects proposed on federal land northeast of Las Vegas have been approved with output projections rivaling what has been expected from one of the world's largest solar power plants nearby.
Invenergy's Harry Allen Solar Energy Center, First Solar's Dry Lake Solar Energy Zone Project and NV Energy's Dry Lake Solar Energy Center will pay a total of $5.8 million in leasing fees to the U.S. Bureau of Land Management for the rights to the 3,000-acre Dry Lake Solar Energy Zone in Clark County, according to an announcement Monday by the Interior Department.
Construction plans haven't been finalized, but the bureau said the aim is to begin in the fall and finish by the end of 2016. Once completed, the projects are expected to generate enough electricity to power 132,000 homes.
That output expectation rivals what has been expected of the Ivanpah Solar Electric Generating System, unveiled last year on federal land in California at the Nevada border as one of the world's largest solar power plants.
It is supposed to produce enough to power 140,000 homes. But Ivanpah has struggled to meet expectations so far and been criticized for harming wildlife even after battling regulatory and legal challenges for years. Ivanpah has said it expects to hit its projections within its four-year timeline to ramp up operations.
The two also use different systems, with solar-thermal technology used by Ivanpah and photovoltaic technology, traditionally seen with solar panels, proposed by the Dry Lake projects.
The Interior Department said it took away lessons learned from Ivanpah.
A total of 19 zones in six western states, including Arizona, New Mexico, Colorado and Utah, considered ripe for development were vetted to establish wildlife mitigation standards. Then, bids were accepted for the entire area at once for a quicker review process. Ivanpah is not in a Solar Energy Zone.
Jessica Kershaw, a spokeswoman for the Interior Department, said establishing the zones encouraged development, providing for more certainty in environmental approval while also ensuring wildlife-protection measures will be accounted for.
"Firstly, we're looking at the notion that thoughtful planning upfront that includes the permitting agency, the public and industry helped get everybody on the same page to begin with," she said.
Since 2009, there have been 32 solar projects approved by the Bureau of Land Management, including 12 in Nevada.