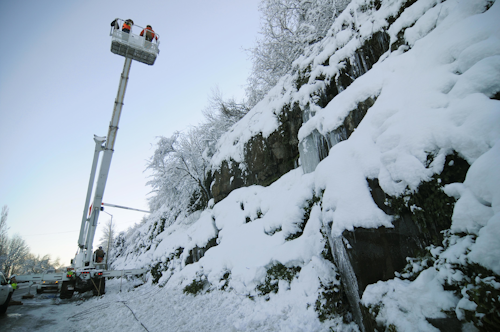 ATLANTA (AP) — As much as 5 inches of snow has left about 45,000 homes and businesses without power in Alabama.
Alabama Power Co. says the largest number of outages is in metro Birmingham, where about 25,000 customers were dark at midday.
Around 5 inches of snow covered the ground in the city's southern suburbs, slowing traffic to a crawl on roads including Interstate 65 in heavily populated Shelby County.
The National Weather Service said roughly the same amount of snow could fall in a roughly 50-mile-wide band stretching from southwestern to northeastern Alabama.
Travel problems could worsen overnight and continue into the weekend since overnight low temperatures are predicted to drop into the mid-20s, freezing any snow left on roads.
Temperatures are expected to reach the mid-40s with a clear sky by Saturday afternoon.
Heavy, wet snow is causing widespread power outages in southeast Louisiana and south Mississippi.
Louisiana utilities report nearly 100,000 customers without power, with outages concentrated around Baton Rouge and on the northern shore of Lake Pontchartrain, north of New Orleans.
Utilities in Mississippi report nearly 80,000 customers without power, with outages concentrated around McComb and Hattiesburg. Brock Williamson, a spokesman for Taylorsville-based Southern Pine Electric Power Association, says snow is weighing down tree branches, which are falling onto power lines. He says officials aren't sure how long it will take to restore power to more than 20,000 of the cooperative's customers whose lights are out. Southern Pine and other cooperatives are seeking extra crews from other utilities to help.