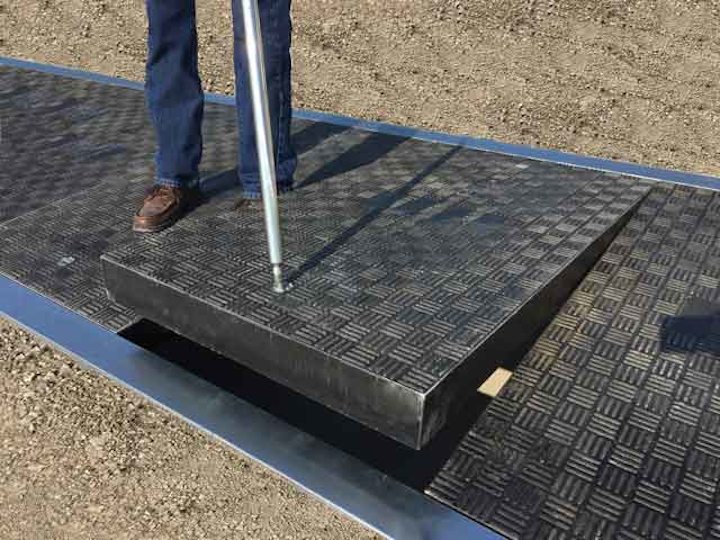 Line construction: Trenwa, a manufacturer of precast concrete trench systems, has announced it will present its new line of lightweight, HS-20 load rated composite trench lids at the IEEE Conference and Exposition taking place this May 3rd - 5th at the Dallas Convention Center. The new composite trench access covers are manufactured by Fibrelite and are designed to work with any of Trenwa's HS20 standard Road Crossing Trench sizes.
Trenwa will be exhibiting this new product line in booth #5015 and their technical experts will be on hand to demonstrate the many benefits of Fibrelite's composite (FRP) trench lids. The new composite trench lids can handle heavy vehicle load ratings at a fraction of the weight of similarly sized concrete lids. In addition, the lids are corrosion resistant, non-conductive and highly durable.
Trenwa and Fibrelite Join Forces
Jim Goodman, Fibrelite's Director of Sales for North America said, "We believe that Trenwa is the perfect partner for Fibrelite's composite trench covers - this partnership brings together the leading U.S. manufacturer of pre-cast concrete trench with the world's leading manufacturer of composite access lids and trench lids."
George Schurr, Trenwa's President said, "We are very pleased to be working with Fibrelite as the quality of their composite trench lids is far better than any other comparable products we have seen in the past. We believe that our customers that require road crossing trench will be impressed with the durability and performance of the Fibrelite HS-20 load rated trench covers."
Health and Safety Comes First
Fibrelite and Trenwa increasingly see a huge demand for these composite covers as health and safety becomes a growing concern within the trench and manhole cover industry. Unfortunately back injuries, crushing of fingers and toes and other harmful occurrences can happen when removing or replacing conventional trench covers made of concrete, steel or other metals. This has caused Fibrelite, the leading manufacturer to prioritize health and safety by designing ergonomic manhole and trench panels made from fiber-reinforced plastic (FRP), a lightweight yet durable substance that can be safely removed using lifting handles. This process eliminates the risk of back injury or the use of heavy machinery while still being strong enough to withstand loads up to 90 tons.
With these added safety features, Fibrelite's manhole and trench covers can also be custom-made to include size, color and logo to fit a wide variety of needs.
• Fibrelite is the world-leading manufacturer of innovative fiber reinforced plastic (FRP) composite access covers and is renowned for its high quality technical support and service
• Initially developed over 30 years ago and industry standard for gas stations, Fibrelite covers are increasingly specified as an alternative to heavier metal and concrete options for both new construction and retrofit work across all major industries
• Fibrelite has high volume manufacturing facilities in the US, UK and Malaysia
• Fibrelite is part of OPW, a Dover Corporation company
• For more information about Fibrelite please go to: www.fibrelite.com
• For more information about Fibrelite case studies please go to: www.fibrelite.com/t-case-study-industries
• Family owned and operated for over 50 years, utilities, industrial companies and others have relied on Trenwa precast concrete trenches at thousands of sites across North America and the Caribbean.
• For more information about Trenwa's Fibrelite trench lids go to: http://www.trenwa.com/html/Fibrelite.html
For more information about Trenwa or other products, click here to go to Utility Products' Suppliers Directory.