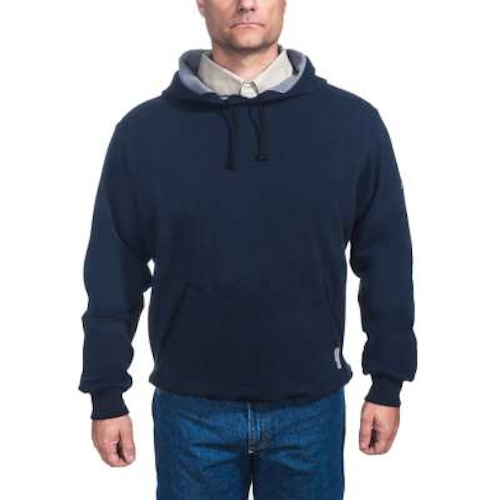 Safety clothing: Whether you're prepared or not, fire hazards can happen during any season of the year -- especially if you're an electrician or work around wires and cables. If you know what kind of flame-resistant workwear to look for, staying safe is easy.
There are plenty of options out there, so you have to be cautious when deciding what FR clothes are right for you. Your workplace probably has specific guidelines you need to meet when it comes to safety workwear. Always check with your supervisor so you can stay up­to­date on job requirements.
For work clothes to be considered fire-resistant, they have to meet OSHA and NFPA safety standards. This includes the following: 1910.960, 2112, and 70E. If you work in the cable and telecom industry or are closely involved with potentially dangerous electrical hazards, you have to find the proper protection. Your skin and life depend on it!
FR Arc Defender fabric, which can be found in W​orking Person FR sweatshirts,​ meets the above safety standards. Even better yet, the durable material is also non-carcinogenic. This means it doesn't contain formaldehyde or bromide, which are known to cause cancer.
The formaldehyde content in the Working Person sweatshirts also meets international standards. Natural formaldehyde levels (which is made utilizing ammonia cure) are usually around 600 ppm (parts per million), while Working Person's Store takes careful steps to keep these levels down below 75 ppm. Proper precautions are made to make sure your skin stays safe, so take advantage of options like this. Do you have sensitive skin? The rugged fabric is non-allergenic, too, just in case.
Do your current work clothes offer you with this kind of coverage? There are varying levels of protection available, so you have to be smart when choosing f​lame-resistant gear.​ A quick double-check on what type of fabric a particular piece of clothing is made out of can make a difference. You wouldn't settle for second best if you had the option, so do yourself a favor and guard your skin with the best possible garments.
Beyond the basic safety standards, the A​rc Defender shirts​offer so much more. In addition to accommodating sensitive skin, they also have an arc flash rating of HRC/ARC level 2, protecting up to an ATPV of 8+ cal/cm2. ATPV, or Arc Thermal Performance Value, tells you the amount of thermal protection you'll get from a particular fabric. The higher that number is, the more protection you'll get.
Have you ever been caught around electrical arcs? You don't want to be in a situation like that. They can cause serious and even life-threatening injuries. When one electrical current leaves the path it's supposed to travel along, it then moves through the air from one conductor to another. This is known as an arc flash. It can also go to the ground. Results of electrical phenomena like this include fires, burns, and high temperatures. As you can imagine, staying away from this type of hazard is important -- since these flashes are so unpredictable, keeping yourself protected is critical.
Accidents happen. That's why fire-resistant clothes go through rigorous testing to make sure they can withstand such hazards. The Working Person sweatshirts are UL certified, which indicates they've gone through a lot of testing and evaluation. The U.S. Safety & Health Administration (OSHA) and the American National Standards Institute (ANSI) have been established to set guidelines, making sure safety clothes actually keep you safe. There are certain guidelines safety clothes must meet, and these organizations are in place to ensure you're definitely getting the coverage stated by workwear brands.
The protective fabric in the ​Working Person ​pullovers is designed to tolerate high temperatures so your skin doesn't have to take on that kind of damage. This type of coverage is great for electricians and anyone wanting to keep safe around fire hazards. The navy blue material feels soft against your skin, and there aren't any toxins or heavy metals within it. Not only is it non-carcinogenic, but the Arc Defender material is also breathable. There are side seam panels to encourage better airflow, so you'll stay comfortable during those intense work days.
Slightly chilly work days can be a pain, even in the spring. A lined hood is included in the design of the flame-resistant sweatshirt, and this has a drawstring for an adjustable fit. Rib knit cuffs also provide a secure fit, locking out the cool outside air and keeping the warmth inside. A front kangaroo handwarmer pocket has a woven flag label, describing the level of protection provided by the fire-resistant garment. Velcro tab closures secure items inside, and there's even a hidden pocket for extra storage.
These Working Person shirts are entirely USA-made, so they give high quality protection you can trust. Fire hazards can happen even on any given work day, so stay warm on those cooler days and protected at all times by choosing the ultimate flame-resistant workwear for you.
For more information about Working Person's Store or other products, click here to go to Utility Products' Buyers Guide.