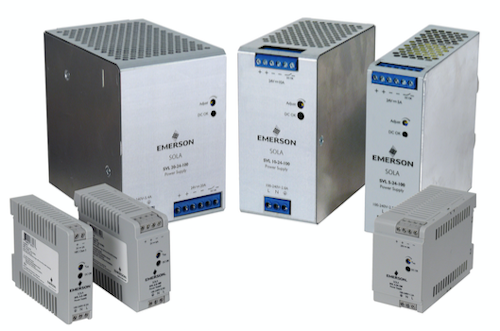 Energy management: SolaHD has launched its new SVL Series of DIN rail power supplies ideal for high volume, controlled environments where essential features are the sole requirement. Building on SolaHD's impressive three tier DIN Rail AC-DC power supply family, these new units are designed to deliver all the essential advantages of power quality technology -- power factor correction, overload, under-voltage and short circuit protection with visual verification -- in a compact, easy to install design.
"SolaHD continues to broaden the capabilities of its DIN rail power supplies to ensure the reliability of critical machinery in virtually any operating environment, including hazardous locations," said Natalia Boyce, Product Marketing Manager, SolaHD. "With the SVL line we now offer three tiers of power supplies for customers to choose the right power supply for their application needs."
Today's announcement extends the SolaHD power supplies line fromthe SVL Series providing essential performance for controlled environment applications to the SDN-P/SDP Series providing core performance for industrial processes and culminating with the SDN-C series providing the highest performance for extreme applications. Customers seeking the highest level of machine reliability can now realize the immediate benefits and value of SolaHD power supplies, whether they're on the floor of a petrochemical processing plant or designing a building automation system.

SVL Series: Compact, Reliable Power
Available in a versatile range of 15 to 480 Watts in 5, 12, 24 and 48 Volt combinations, SolaHD SVL power supplies deliver reliable power in an efficient design. Convection cooling reduces the temperature of internal components without the need of a fan that may serve as a failure point for the device. Further, models above 120 Watts feature active power factor correction reducing harmonic emissions that can waste energy and affect power quality.
Mounting power supplies is a challenge in smaller machinery. When space inside an enclosure is at a premium, SVL power supplies' small footprint makes them an excellent alternative to embedded open frame switchers. The clip-on DIN rail mounting capability provides quick, hassle-free installation while allowing for enhanced design flexibility. In addition, the universal input voltage means SVL power supplies adapt to locally available power. The screw clamp connections make them exceptionally simple to wire.
Machinery that would benefit from the SVL's essential features include ATMs, vending machines, building automation systems, industrial instrumentation and control equipment, test and measurement, and life sciences devices protected from excess shock, vibration or temperature extremes.
SolaHD's SVL Series power supplies meet UL 508 requirements for industrial control equipment and UL 60950 requirements for Information Technology Equipment and CE Low Voltage Directive standards for worldwide applications. They are backed by a two-year limited warranty.
About Appleton
Appleton Group (www.appletongroup.com), a business unit of Emerson, provides electrical products for hazardous, industrial and commercial environments to serve a wide range of industries. With its global capabilities and trusted expertise, Appleton Group products have led the industry for decades in safety, durability, and quality with signature brands Appleton®, O-Z/Gedney®, Nelson® Heat Trace, EasyHeat® and SolaHD™
About Emerson
Emerson (NYSE: EMR), based in St. Louis, Missouri (USA), is a global leader in bringing technology and engineering together to provide innovative solutions for customers in industrial, commercial, and consumer markets around the world. The company is comprised of five business segments: Process Management, Industrial Automation, Network Power, Climate Technologies, and Commercial & Residential Solutions. Sales in fiscal 2015 were $22.3 billion. For more information, visit Emerson.com.
For more information about SolaHD or other products, click here to go to Utility Products' Buyers Guide.