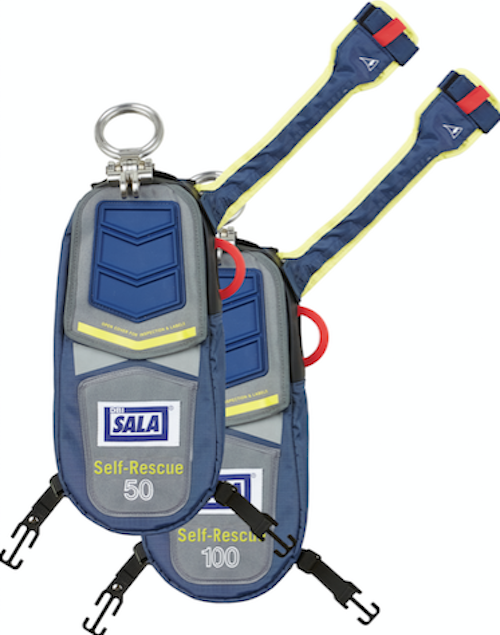 Safety products: 3M Personal Safety Division and 3M's Capital Safety business are introducing the DBI-SALA® Self-Rescue, a detachable self-rescue device. The device easily connects to a worker's current safety harness, providing a fast, effective method of escape from suspension, while minimizing risk for the wearer, coworkers and rescue personnel.
"Self-rescue is the safest approach in a rescue situation as it can be activated by the wearer immediately, and it keeps coworkers in the surrounding area out of danger," said Chris Coyle, hard goods product manager at Capital Safety. "With the DBI-SALA Self-Rescue device, we wanted to create a solution that was among the quickest and easiest to deploy in the field. It's a smarter way to rescue."
Self-Rescue features a patent-pending EZ-Link™ D-ring to simplify connection, a secondary rescue ring for assisted rescue, and a sealed, padded package to protect the descent device from damage during use. In an effort to ensure reliable performance in the field, Self-Rescue has gone through rigorous testing. The sealed design allows the product to perform as expected after it has been soaked in water for two hours and frozen in temperatures of negative 40 degrees Celsius. With 50- or 100-foot versions available, the self-rescue device is among the most flexible and adaptable ever created.
About 3M
At 3M, we apply science in collaborative ways to improve lives daily. With $30 billion in sales, our 90,000 employees connect with customers all around the world. Learn more about 3M's creative solutions to the world's problems at www.3m.com.
About Capital Safety, a 3M company
Capital Safety, a global manufacturer of fall protection, confined space and rescue equipment, is home of the DBI-SALA® and PROTECTA® brands. All of Capital Safety's fall protection equipment and services are backed by extensive training, knowledgeable technical assistance and professional customer service. Capital Safety was acquired by 3M in August 2015. For more information, visit www.capitalsafety.com.
For more information about 3M or other products, click here to go to Utility Products' Buyers Guide.