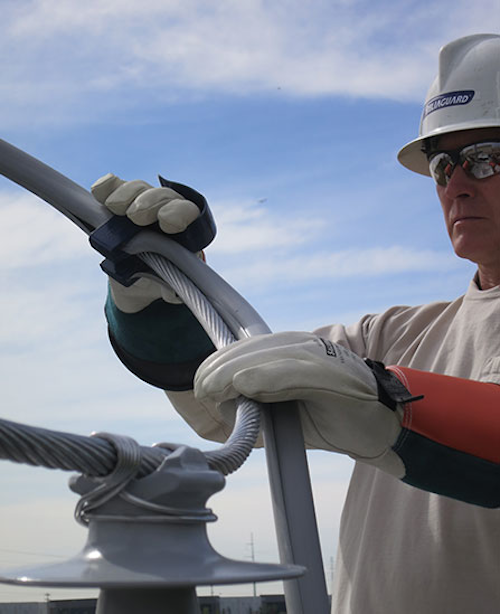 Safety equipment: Reliaguard is the manufacturer of GreyEEL Conductor Cover, which prevents animal and bird caused outages on the powerline. Reliaguard's GreyEEL Conductor Cover prevents contacts by eliminating gaps in coverage. GreyEEL's improved protection is achieved with a significantly overlapped seam design and material memory technology that supports exceptional closure performance.
Reliaguard Inc., a subsidiary of Cantega Technologies Inc., is dedicated to preventing contacts and resulting power outages on distribution lines by designing superior bird and animal cover-up. Identifying bird and animal species that are present and the risks caused by their proximity from phase to ground, or from phase to phase must be considered when making coverage recommendations.
• Reliaguard® is dedicated to the manufacture of injection mold and thermoform cover-up parts as well as conductor cover – all intended for use for the prevention of animal and bird-caused power outages.
• Reliaguard parts are produced on a volume basis and priced affordably for large volume purchases.
• Reliaguard parts are predominantly used on the powerline, however, some products may be used in substations.
• Reliaguard's GreyEEL and EEL Slider form an important part of any animal mitigation solution
Reliaguard also offers The EEL Slider to purchasers of GreyEEL. The EEL Slider is a dielectric tool designed for applying GreyEEL with the rubber glove work method or for de-energized installation.
Reliaguard Uses Reliatanium
Reliaguard uses a self-extinguishing non-drip proprietary material, known as Reliatanium, for the manufacture of its parts. Up to 20% of all outages are animal and bird caused. Securing the best cover to ensure reliability is maintained for your customers is your best choice. For customers looking for a superior fitting product that is manufactured to meet customer expectations, please visit www.reliaguard.com for more information or contact Billy Huard at 949 305 3311 | sales@reliaguard.com.
Visit Reliaguard at DistribuTECH, booth #2608
At DistribuTECH, visit Reliaguard at booth #2608 where we are launching six new cover types for preventing animal and bird caused outages on the powerline. The cover types are designed to fit:
• Bushings
• Switches
• Lightning Arrestors
• Terminations
• Dead Ends
• Pin Insulators
For more information about Reliaguard or other products, click here to go toUtility Products' Buyers Guide.